Cities with the fastest-growing home prices in the Louisville metro area
Published 3:35 pm Wednesday, September 27, 2023

Cities with the fastest-growing home prices in the Louisville metro area
The real estate frenzy spurred by the coronavirus pandemic continues, though at a slower pace. Buyers are still competing for a limited supply of housing, driving up prices for affordable properties.
The typical home value in the United States was a record $351,423 in August, 1.3% higher than the year before.
Increasing mortgage rates have slowed growth, with prices even declining in some places. But some areas are still seeing price jumps compared to the year before.
Stacker compiled a list of cities with the fastest-growing home prices in the Louisville/Jefferson County, KY-IN metro area using data from Zillow. Cities are ranked by their one-year price change as of August 2023. Data was available for 64 cities and towns.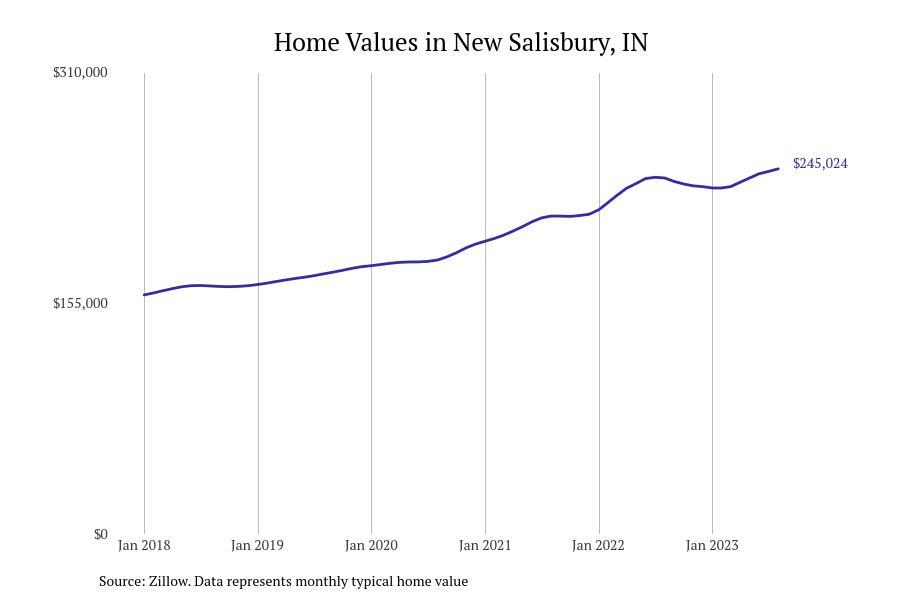 Stacker
#30. New Salisbury, IN
– 1-year price change: +$6,150 (+2.6%)
– 5-year price change: +$78,586 (+47.2%)
– Typical home value: $245,024 (#36 most expensive city in metro)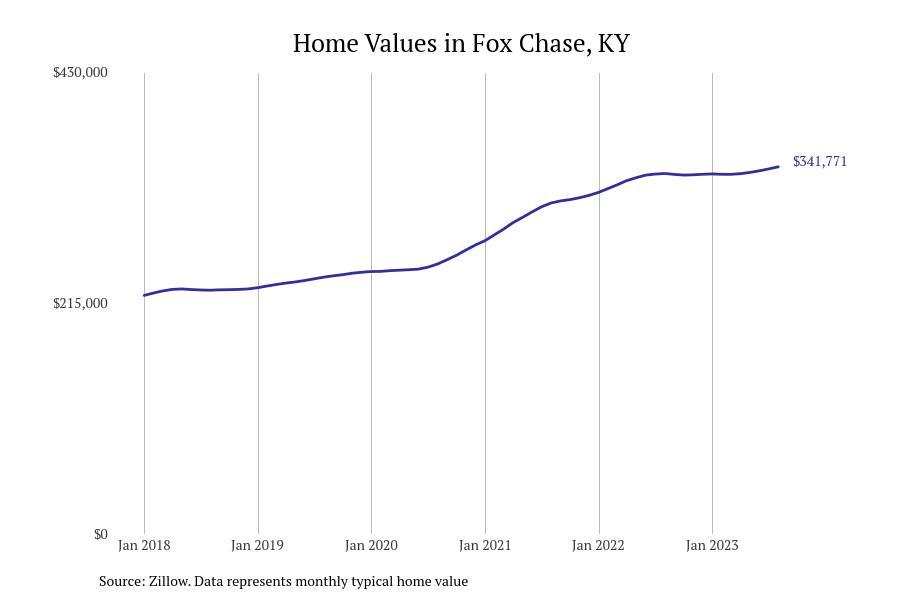 Stacker
#29. Fox Chase, KY
– 1-year price change: +$6,242 (+1.9%)
– 5-year price change: +$114,870 (+50.6%)
– Typical home value: $341,771 (#11 most expensive city in metro)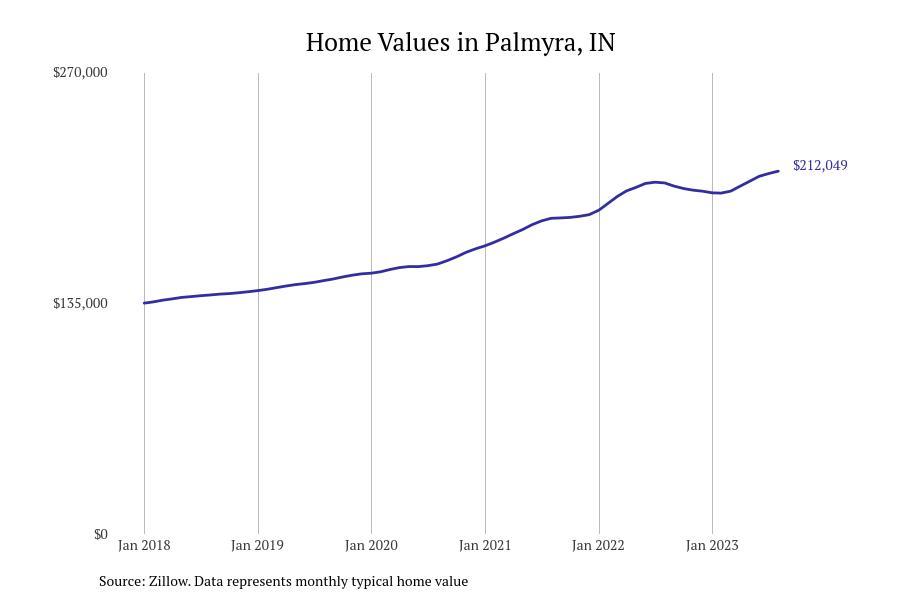 Stacker
#28. Palmyra, IN
– 1-year price change: +$6,885 (+3.4%)
– 5-year price change: +$72,360 (+51.8%)
– Typical home value: $212,049 (#50 most expensive city in metro)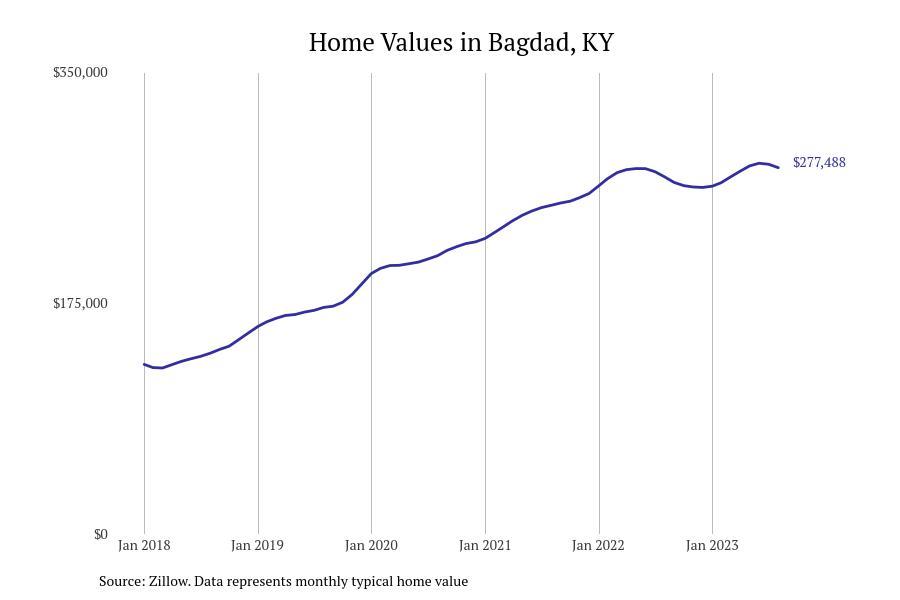 Stacker
#27. Bagdad, KY
– 1-year price change: +$6,984 (+2.6%)
– 5-year price change: +$140,543 (+102.6%)
– Typical home value: $277,488 (#27 most expensive city in metro)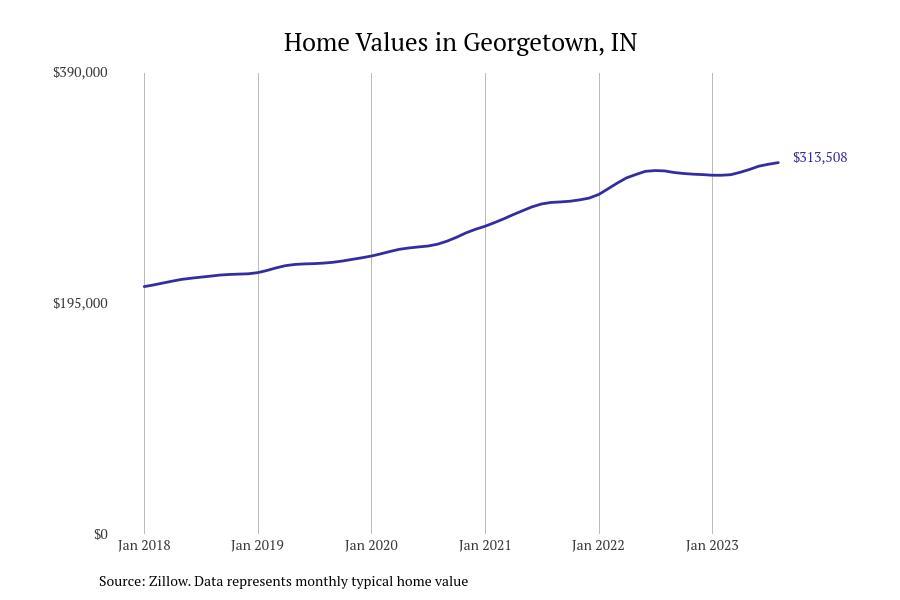 Stacker
#26. Georgetown, IN
– 1-year price change: +$7,010 (+2.3%)
– 5-year price change: +$95,861 (+44.0%)
– Typical home value: $313,508 (#17 most expensive city in metro)
Stacker
#25. Laconia, IN
– 1-year price change: +$7,040 (+3.0%)
– 5-year price change: +$79,977 (+49.7%)
– Typical home value: $240,968 (#38 most expensive city in metro)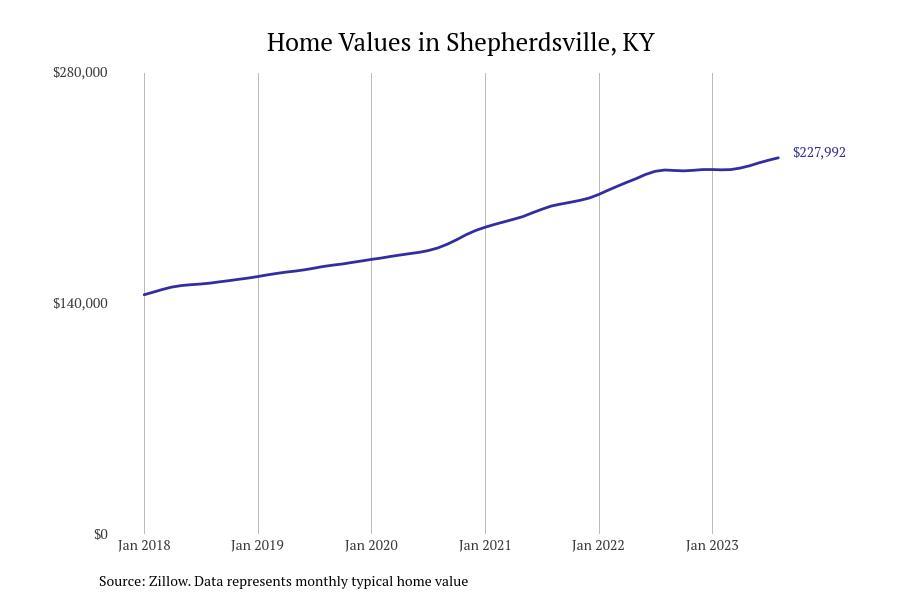 Stacker
#24. Shepherdsville, KY
– 1-year price change: +$7,386 (+3.3%)
– 5-year price change: +$75,945 (+49.9%)
– Typical home value: $227,992 (#43 most expensive city in metro)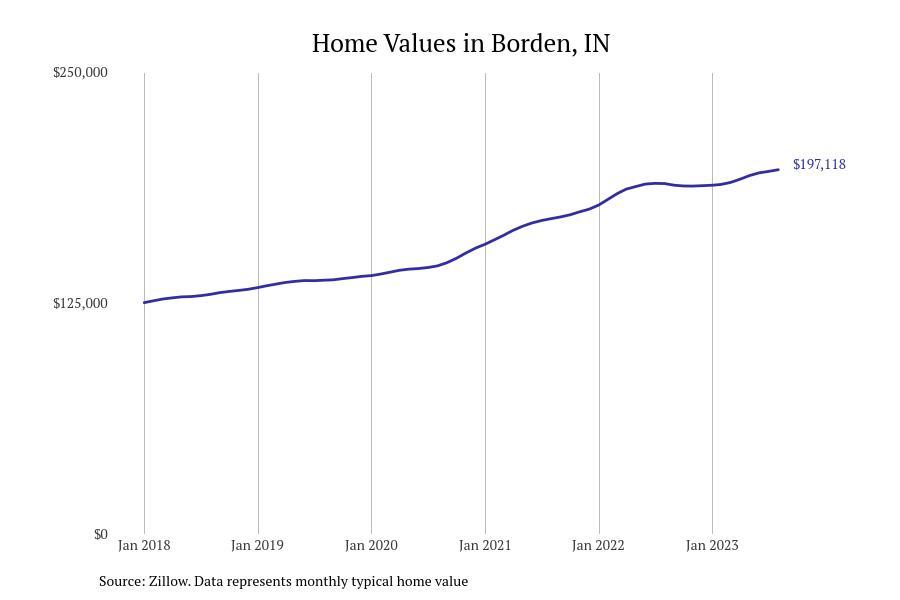 Stacker
#23. Borden, IN
– 1-year price change: +$7,485 (+3.9%)
– 5-year price change: +$67,452 (+52.0%)
– Typical home value: $197,118 (#54 most expensive city in metro)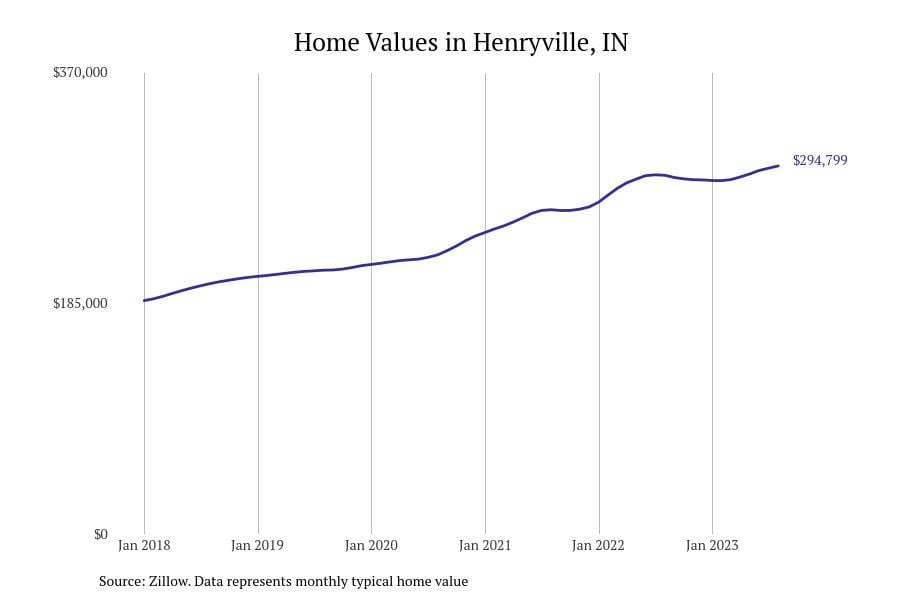 Stacker
#22. Henryville, IN
– 1-year price change: +$7,488 (+2.6%)
– 5-year price change: +$94,260 (+47.0%)
– Typical home value: $294,799 (#20 most expensive city in metro)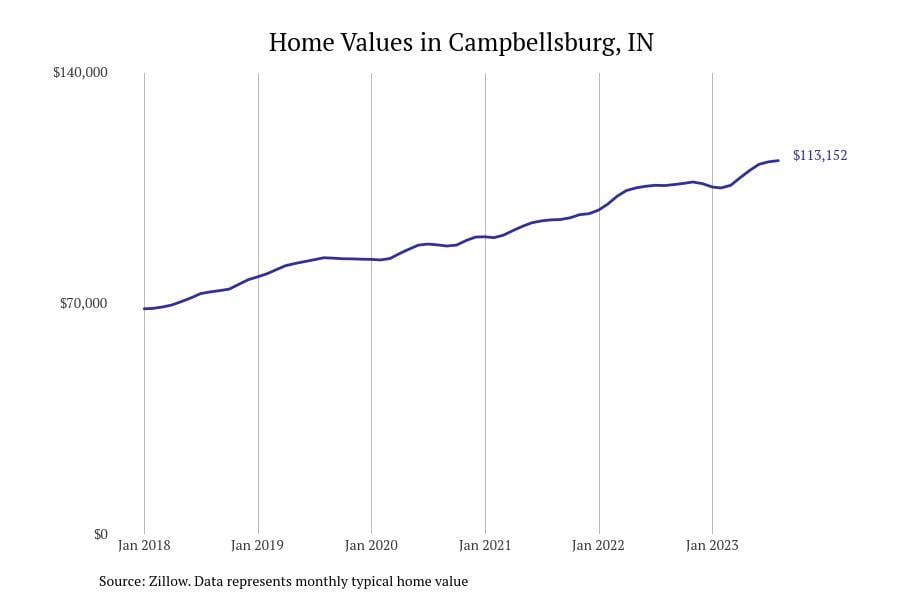 Stacker
#21. Campbellsburg, IN
– 1-year price change: +$7,574 (+7.2%)
– 5-year price change: +$39,791 (+54.2%)
– Typical home value: $113,152 (#64 most expensive city in metro)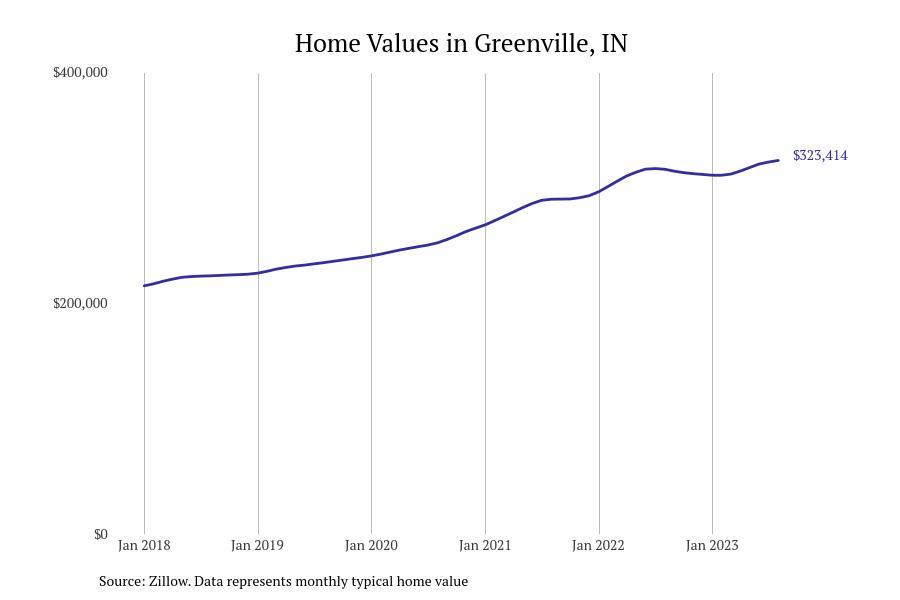 Stacker
#20. Greenville, IN
– 1-year price change: +$7,627 (+2.4%)
– 5-year price change: +$99,896 (+44.7%)
– Typical home value: $323,414 (#16 most expensive city in metro)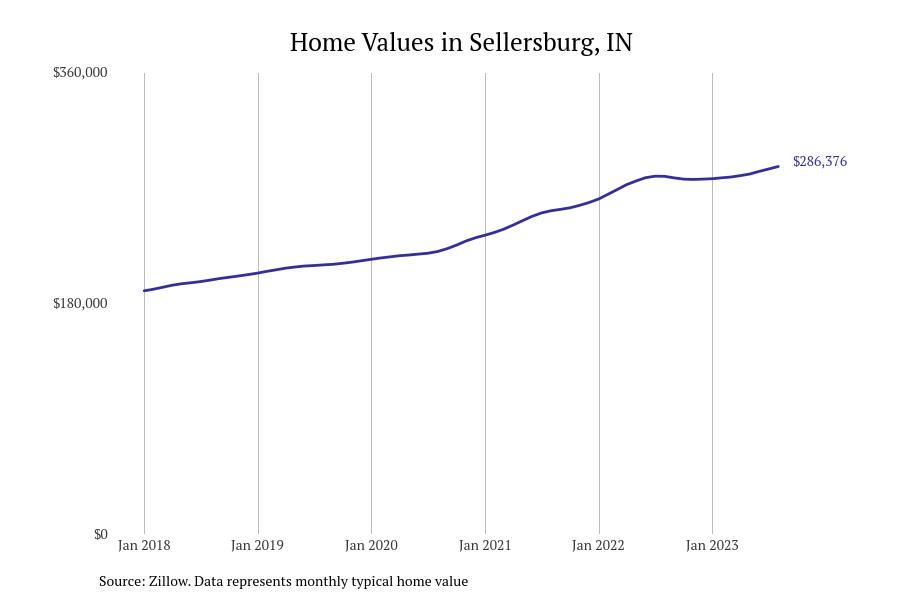 Stacker
#19. Sellersburg, IN
– 1-year price change: +$7,670 (+2.8%)
– 5-year price change: +$88,523 (+44.7%)
– Typical home value: $286,376 (#24 most expensive city in metro)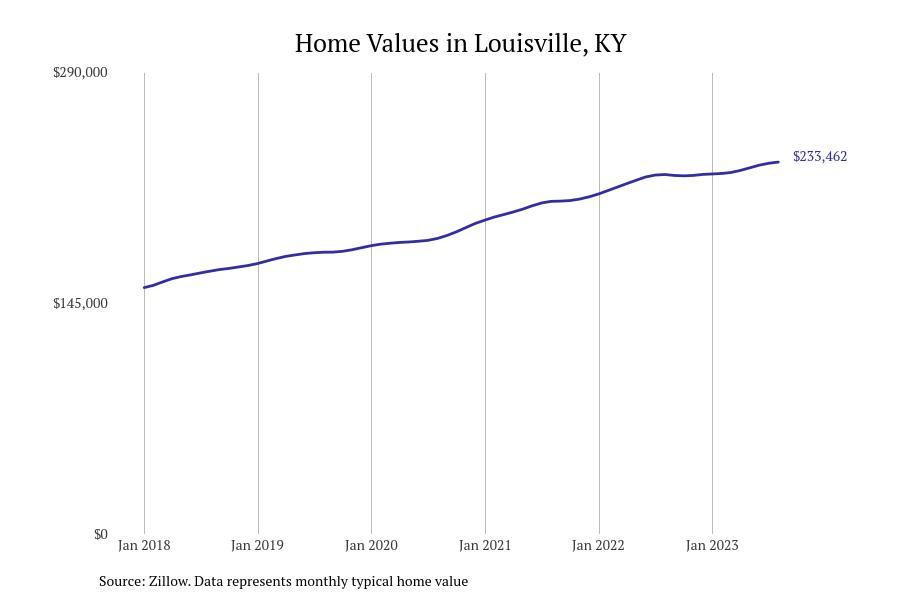 Stacker
#18. Louisville, KY
– 1-year price change: +$7,805 (+3.5%)
– 5-year price change: +$68,474 (+41.5%)
– Typical home value: $233,462 (#39 most expensive city in metro)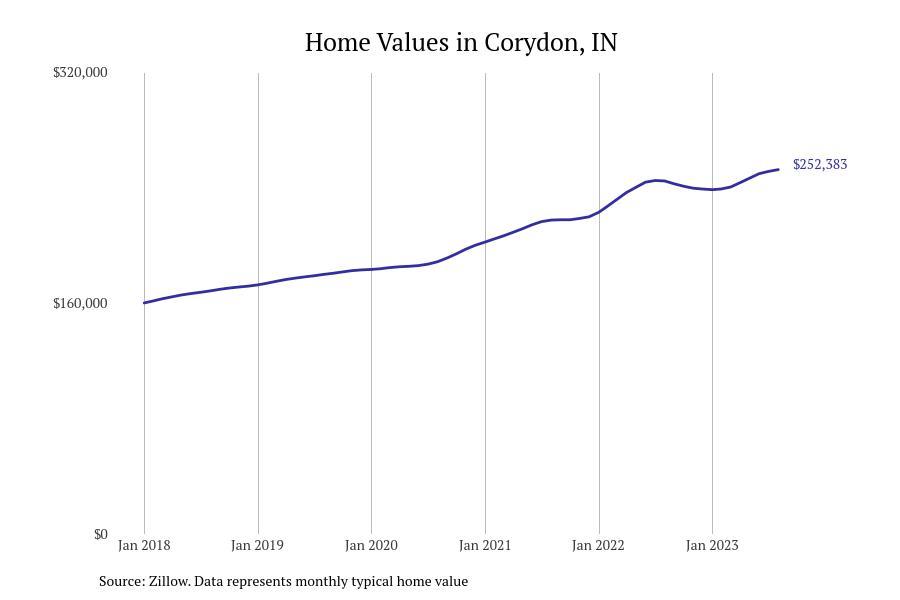 Stacker
#17. Corydon, IN
– 1-year price change: +$7,856 (+3.2%)
– 5-year price change: +$84,014 (+49.9%)
– Typical home value: $252,383 (#34 most expensive city in metro)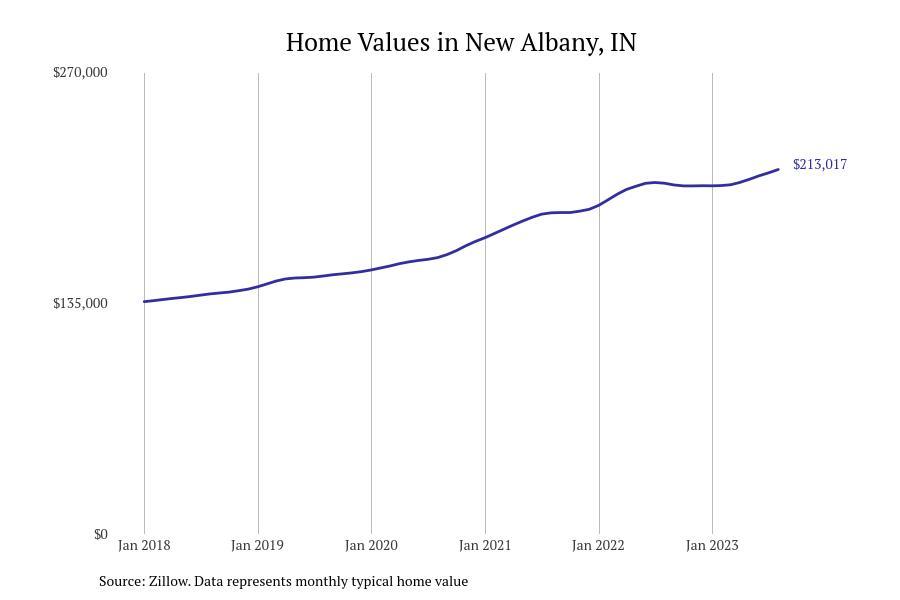 Stacker
#16. New Albany, IN
– 1-year price change: +$8,032 (+3.9%)
– 5-year price change: +$72,701 (+51.8%)
– Typical home value: $213,017 (#49 most expensive city in metro)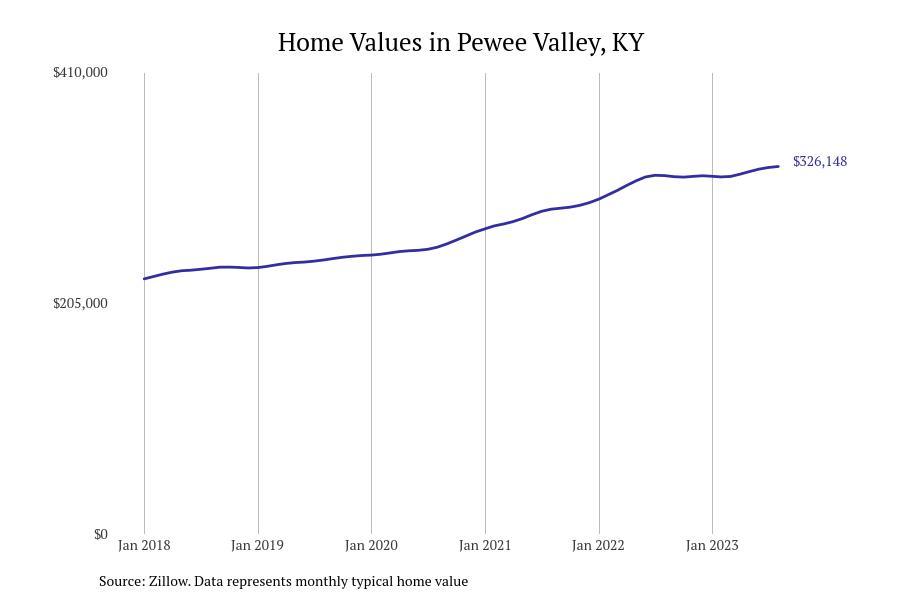 Stacker
#15. Pewee Valley, KY
– 1-year price change: +$8,093 (+2.5%)
– 5-year price change: +$90,371 (+38.3%)
– Typical home value: $326,148 (#14 most expensive city in metro)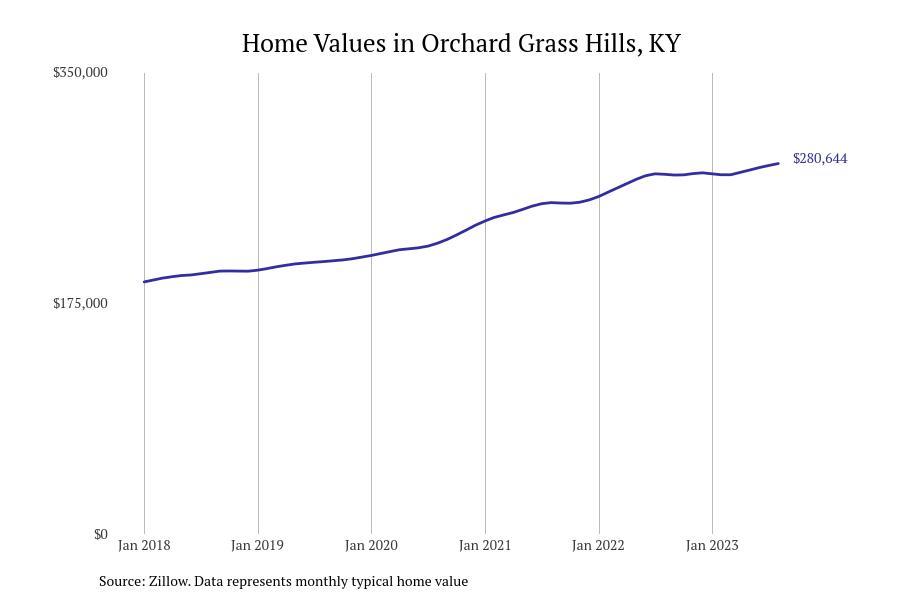 Stacker
#14. Orchard Grass Hills, KY
– 1-year price change: +$8,136 (+3.0%)
– 5-year price change: +$82,475 (+41.6%)
– Typical home value: $280,644 (#25 most expensive city in metro)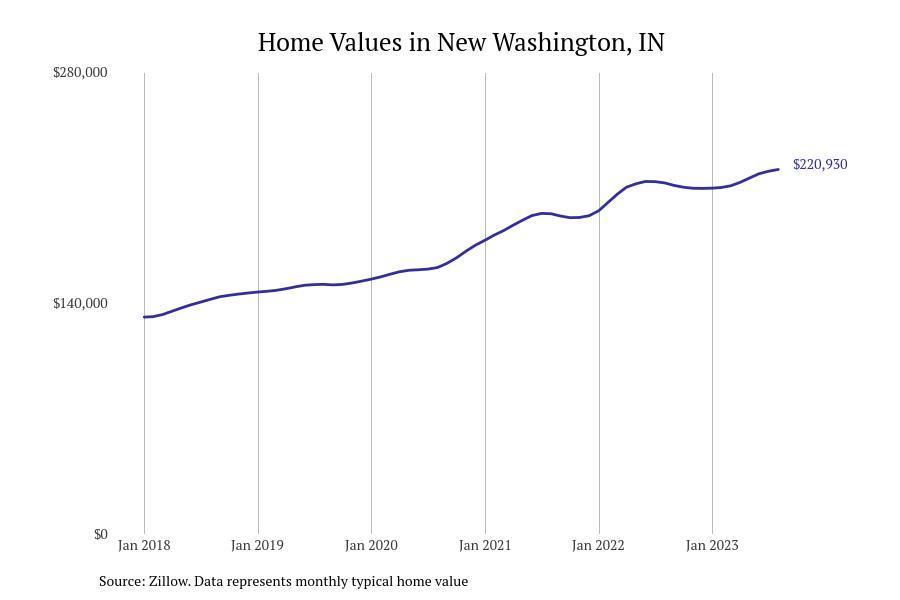 Stacker
#13. New Washington, IN
– 1-year price change: +$8,160 (+3.8%)
– 5-year price change: +$78,728 (+55.4%)
– Typical home value: $220,930 (#47 most expensive city in metro)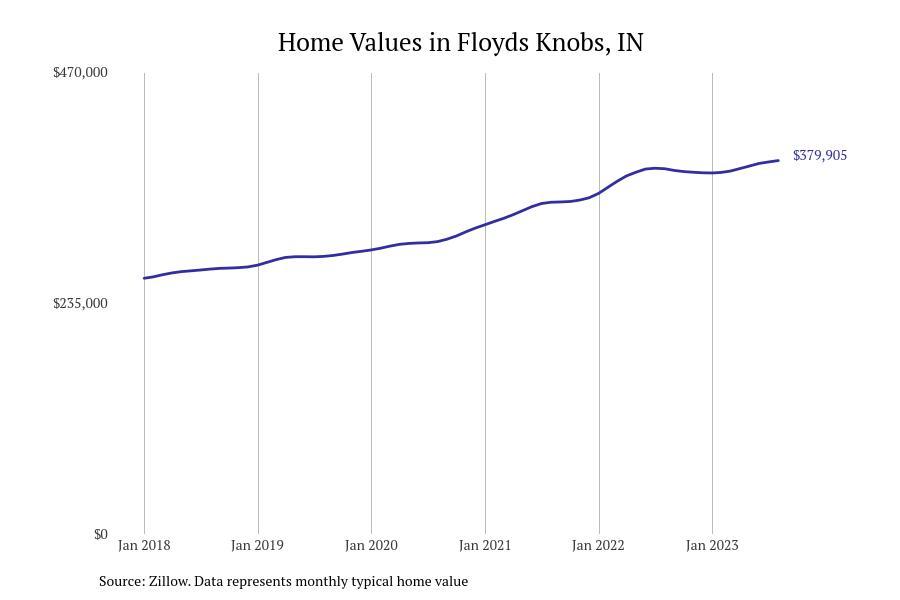 Stacker
#12. Floyds Knobs, IN
– 1-year price change: +$8,308 (+2.2%)
– 5-year price change: +$110,398 (+41.0%)
– Typical home value: $379,905 (#8 most expensive city in metro)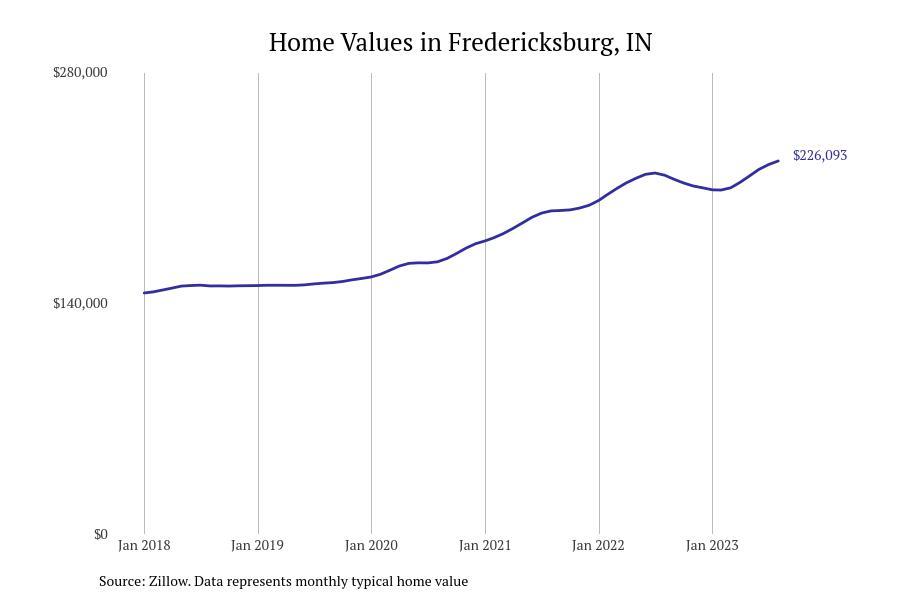 Stacker
#11. Fredericksburg, IN
– 1-year price change: +$8,656 (+4.0%)
– 5-year price change: +$75,769 (+50.4%)
– Typical home value: $226,093 (#44 most expensive city in metro)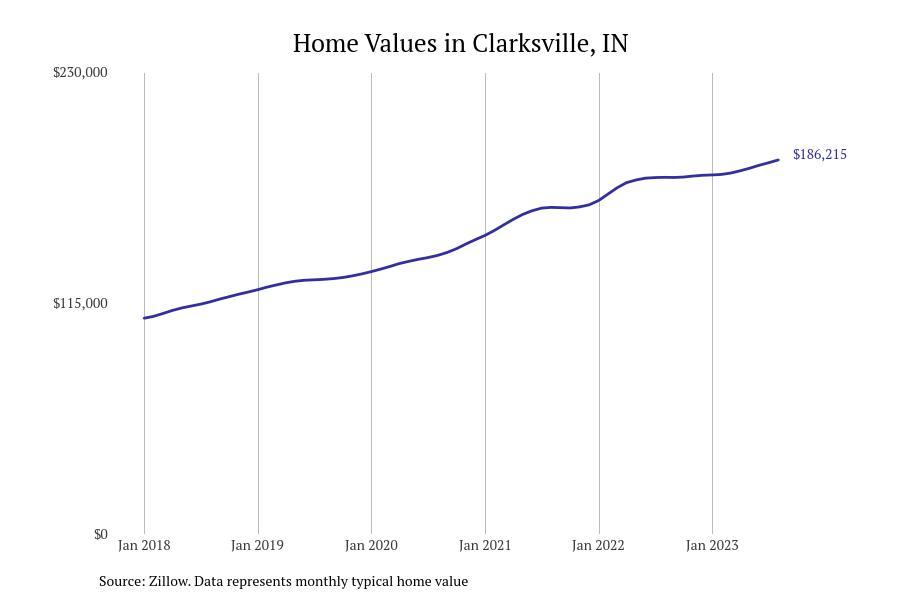 Stacker
#10. Clarksville, IN
– 1-year price change: +$8,657 (+4.9%)
– 5-year price change: +$70,647 (+61.1%)
– Typical home value: $186,215 (#59 most expensive city in metro)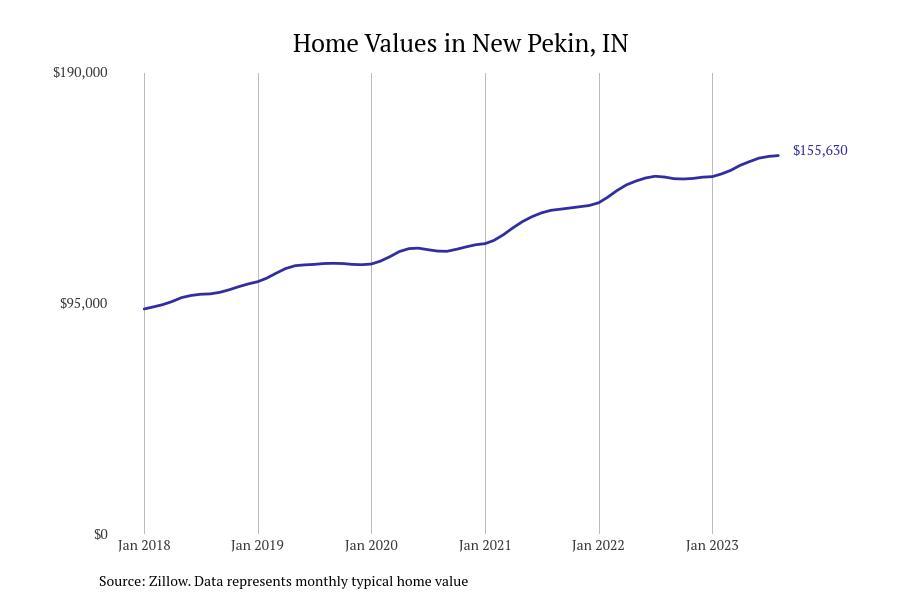 Stacker
#9. New Pekin, IN
– 1-year price change: +$8,834 (+6.0%)
– 5-year price change: +$56,883 (+57.6%)
– Typical home value: $155,630 (#62 most expensive city in metro)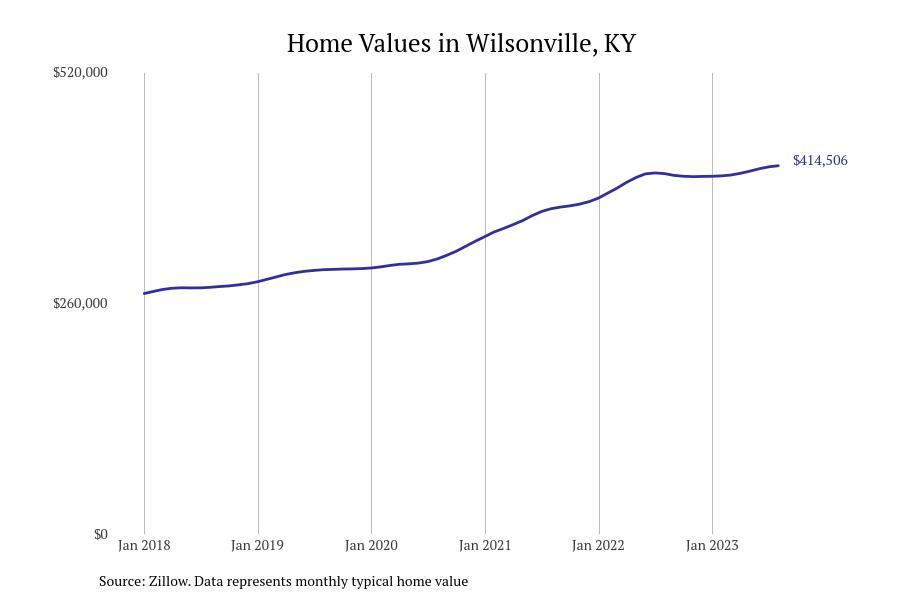 Stacker
#8. Wilsonville, KY
– 1-year price change: +$8,888 (+2.2%)
– 5-year price change: +$136,860 (+49.3%)
– Typical home value: $414,506 (#6 most expensive city in metro)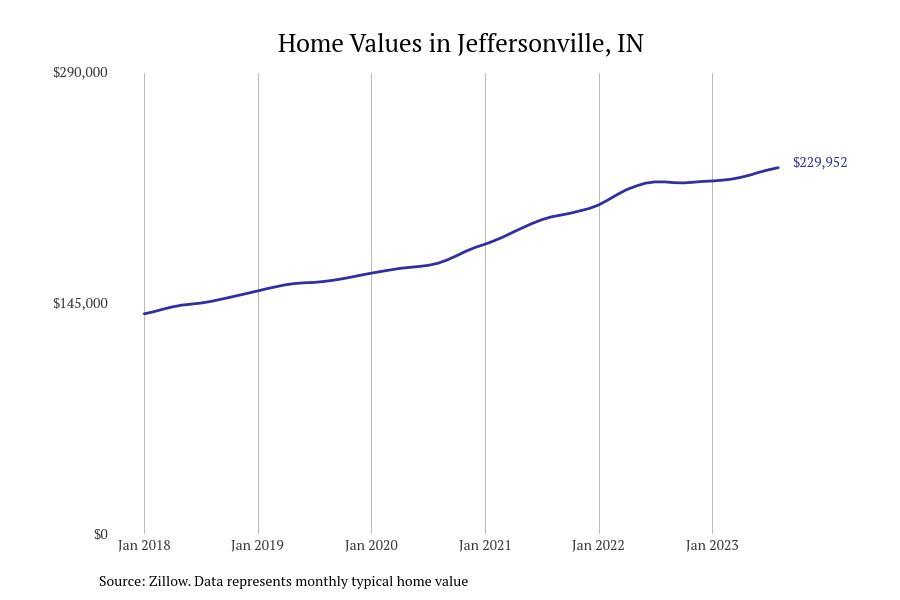 Stacker
#7. Jeffersonville, IN
– 1-year price change: +$8,930 (+4.0%)
– 5-year price change: +$84,059 (+57.6%)
– Typical home value: $229,952 (#41 most expensive city in metro)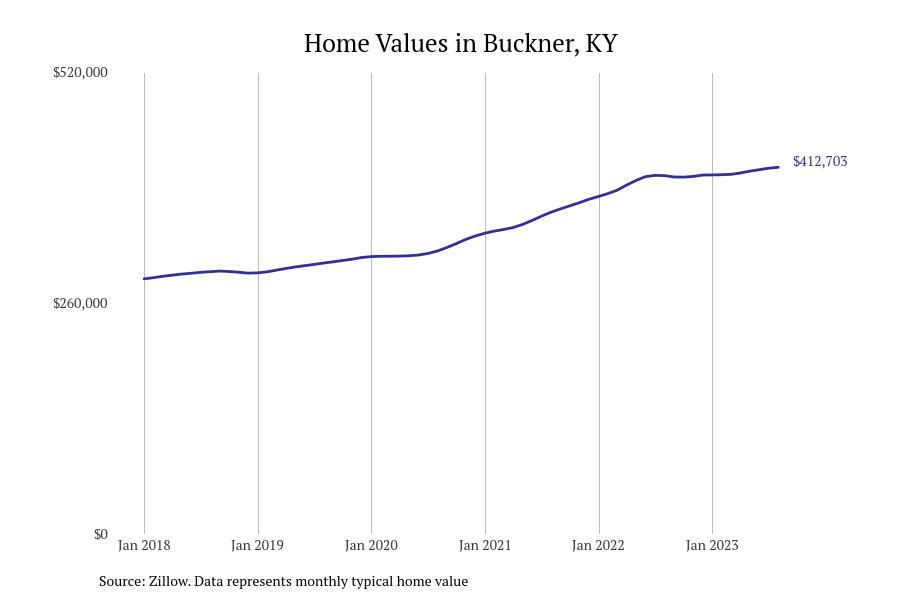 Stacker
#6. Buckner, KY
– 1-year price change: +$9,351 (+2.3%)
– 5-year price change: +$117,485 (+39.8%)
– Typical home value: $412,703 (#7 most expensive city in metro)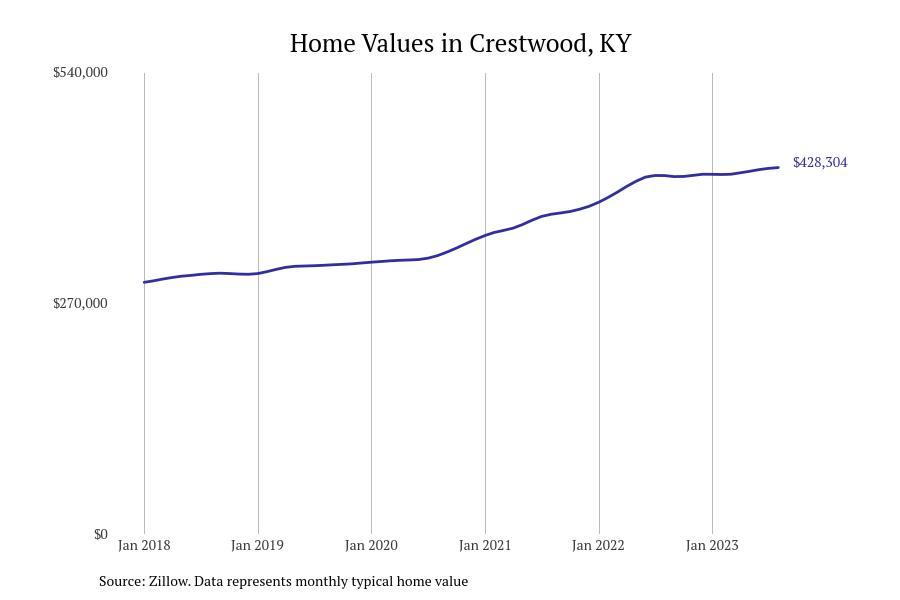 Stacker
#5. Crestwood, KY
– 1-year price change: +$9,367 (+2.2%)
– 5-year price change: +$123,999 (+40.7%)
– Typical home value: $428,304 (#4 most expensive city in metro)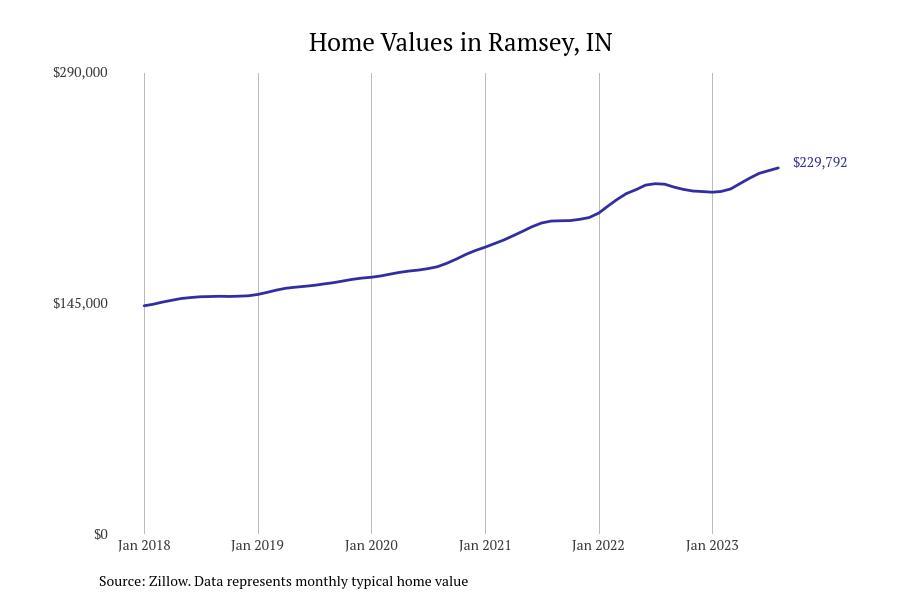 Stacker
#4. Ramsey, IN
– 1-year price change: +$10,215 (+4.7%)
– 5-year price change: +$80,733 (+54.2%)
– Typical home value: $229,792 (#42 most expensive city in metro)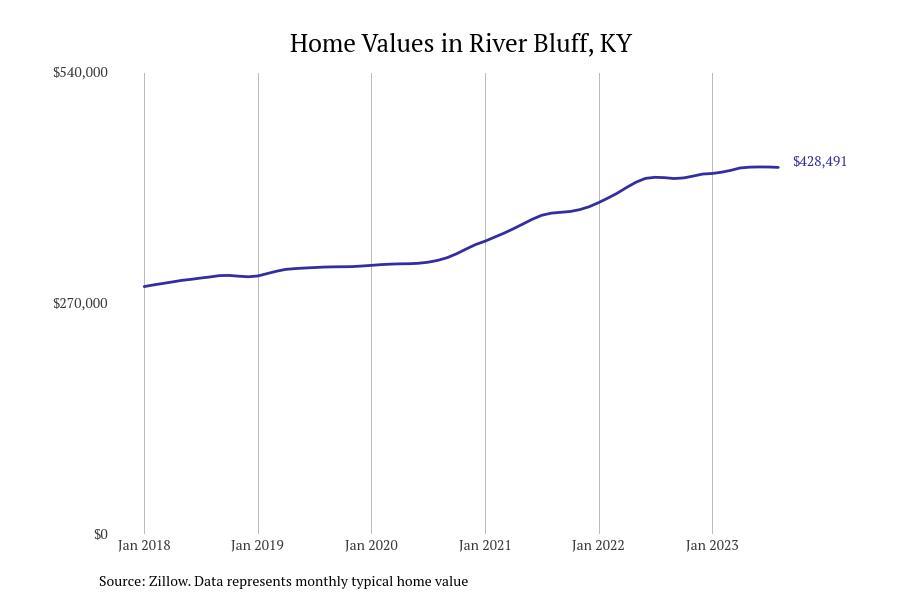 Stacker
#3. River Bluff, KY
– 1-year price change: +$11,999 (+2.9%)
– 5-year price change: +$128,018 (+42.6%)
– Typical home value: $428,491 (#3 most expensive city in metro)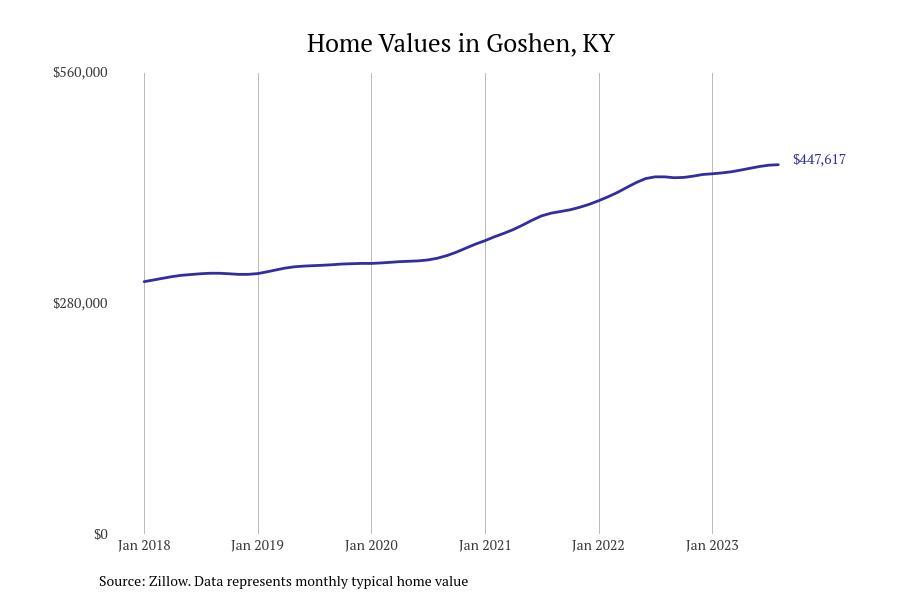 Stacker
#2. Goshen, KY
– 1-year price change: +$14,700 (+3.4%)
– 5-year price change: +$131,562 (+41.6%)
– Typical home value: $447,617 (#2 most expensive city in metro)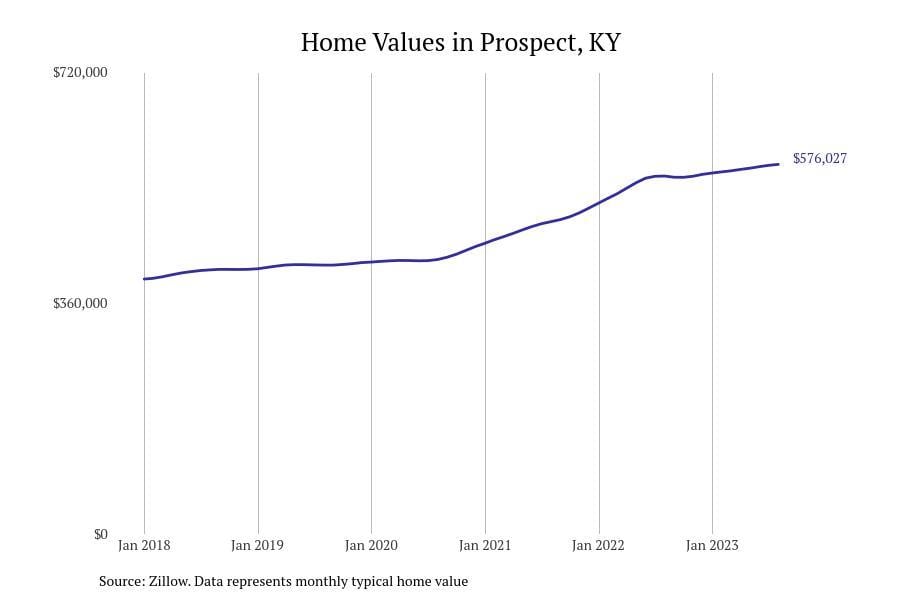 Stacker
#1. Prospect, KY
– 1-year price change: +$18,188 (+3.3%)
– 5-year price change: +$164,374 (+39.9%)
– Typical home value: $576,027 (#1 most expensive city in metro)