Cities with the fastest-growing home prices in Kentucky
Published 4:17 pm Friday, March 24, 2023

Arina P Habich // Shutterstock
Cities with the fastest-growing home prices in Kentucky
Stacker compiled a list of cities with the fastest growing home prices in Kentucky using data from Zillow. Cities are ranked by the dollar change in Zillow Home Values Index for all homes from the twelve months ending February 2023. The charts in this story were created automatically using Matplotlib. Data was available for 569 cities and towns in Kentucky. Home values in the top city on the list grew by $47,644 over the last 12 months.
Metros with the most cities in the top 50
#1. Cincinnati, OH-KY-IN: 9
#2. Bowling Green, KY: 6
#3. Campbellsville, KY: 5
#4. Clarksville, TN-KY: 4
#4. Louisville/Jefferson County, KY-IN: 4
#6. Danville, KY: 3
#6. Mayfield, KY: 3
#6. Murray, KY: 3
#9. Elizabethtown-Fort Knox, KY: 1
#9. Glasgow, KY: 1
#9. London, KY: 1
#9. Somerset, KY: 1
Read on to see which cities made the list.
You may also like: Best counties to live in Kentucky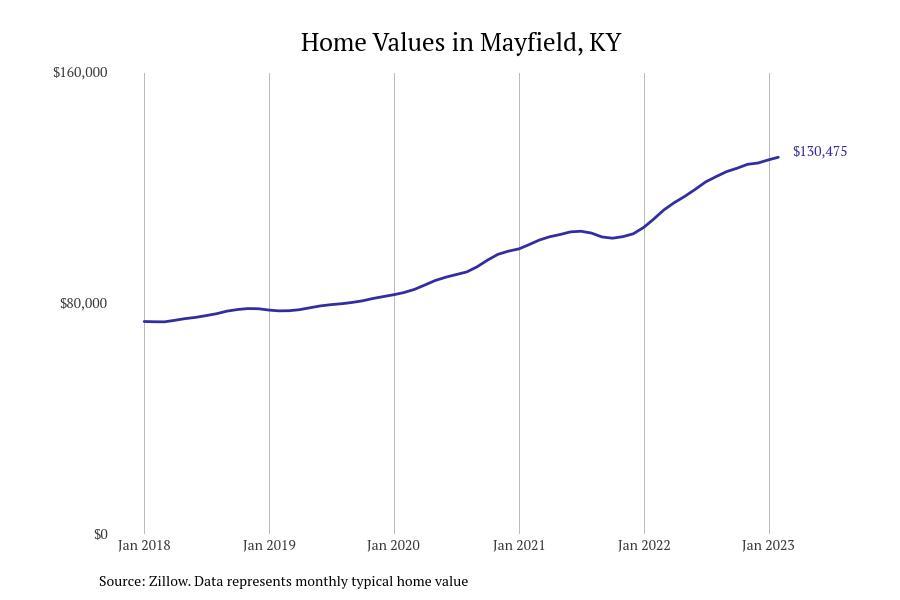 Stacker
#50. Mayfield
– Typical home value: $130,475
– 1-year price change: +$21,483 (+19.7%)
– 5-year price change: +$56,967 (+77.5%)
– Metro area: Mayfield, KY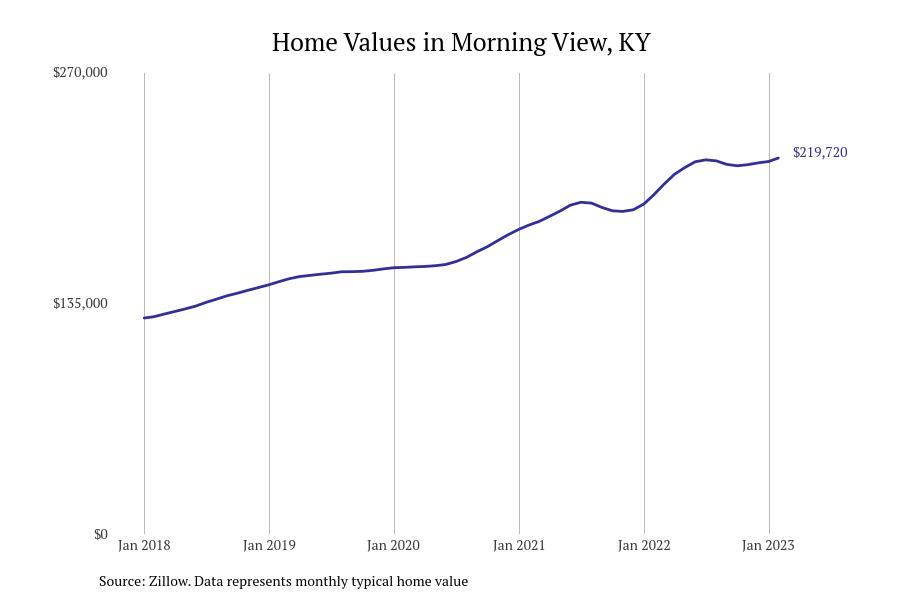 Stacker
#49. Morning View
– Typical home value: $219,720
– 1-year price change: +$21,666 (+10.9%)
– 5-year price change: +$92,757 (+73.1%)
– Metro area: Cincinnati, OH-KY-IN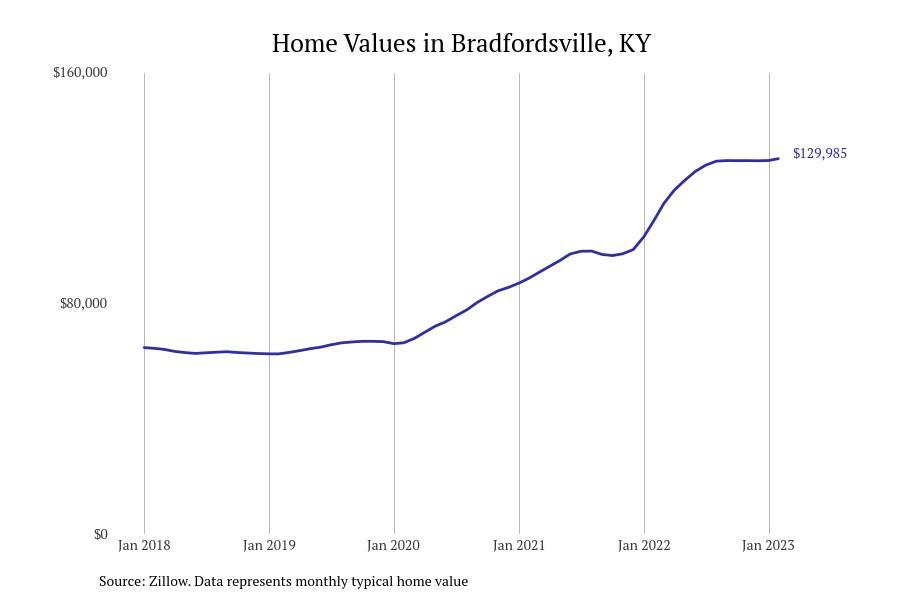 Stacker
#48. Bradfordsville
– Typical home value: $129,985
– 1-year price change: +$21,687 (+20.0%)
– 5-year price change: +$65,668 (+102.1%)
– Metro area: Campbellsville, KY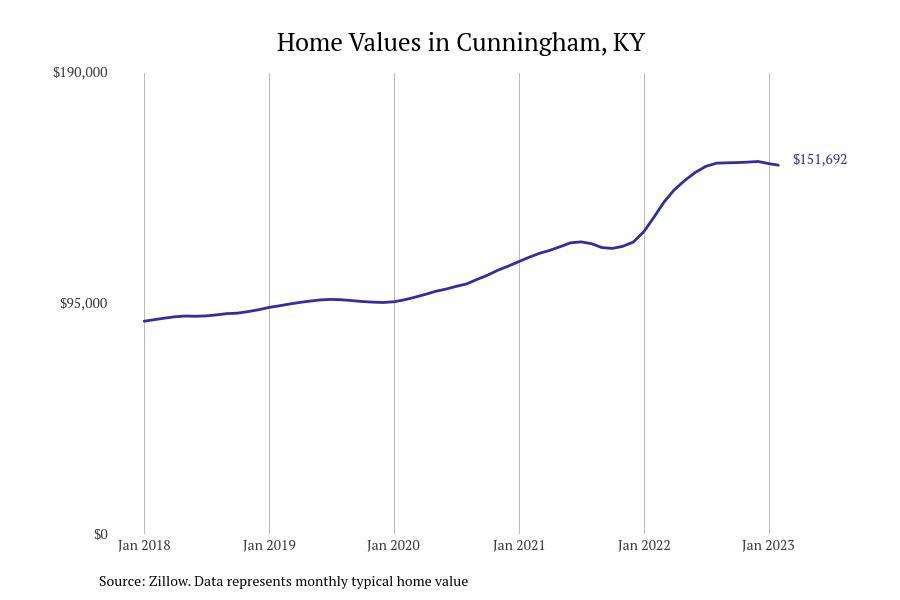 Stacker
#47. Cunningham
– Typical home value: $151,692
– 1-year price change: +$21,705 (+16.7%)
– 5-year price change: +$63,588 (+72.2%)
– Metro area: Mayfield, KY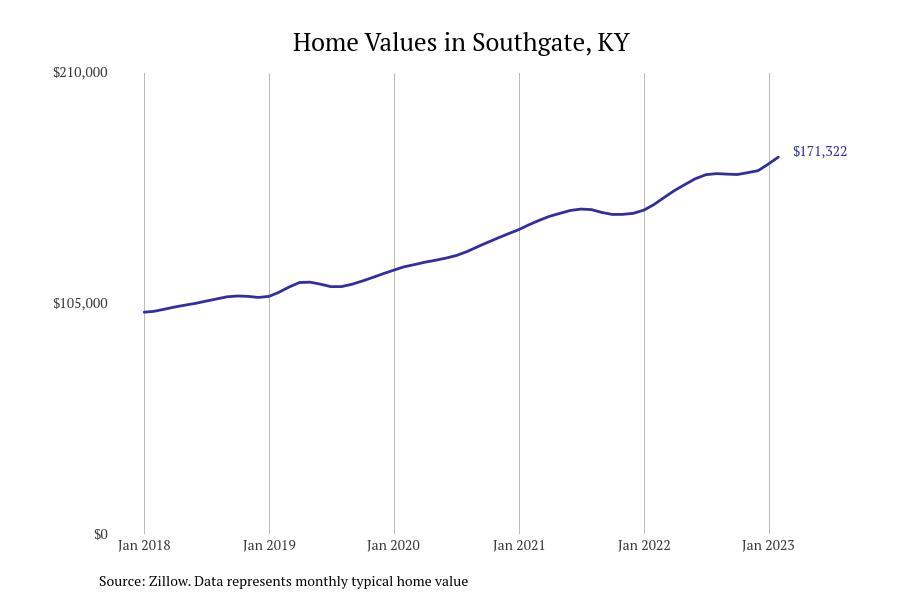 Stacker
#46. Southgate
– Typical home value: $171,322
– 1-year price change: +$21,730 (+14.5%)
– 5-year price change: +$70,117 (+69.3%)
– Metro area: Cincinnati, OH-KY-IN
You may also like: Highest-rated specialty museums in Kentucky, according to Tripadvisor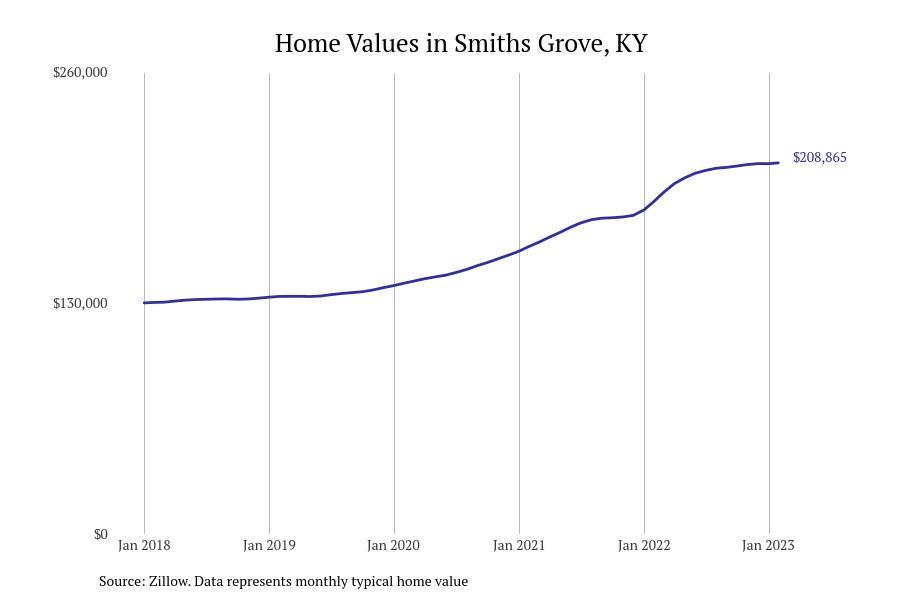 Stacker
#45. Smiths Grove
– Typical home value: $208,865
– 1-year price change: +$21,968 (+11.8%)
– 5-year price change: +$78,561 (+60.3%)
– Metro area: Bowling Green, KY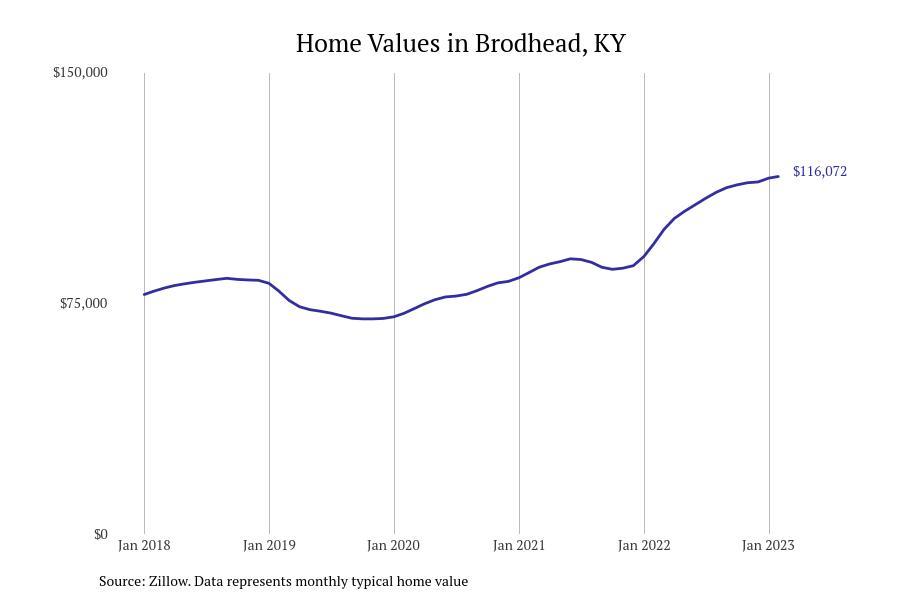 Stacker
#44. Brodhead
– Typical home value: $116,072
– 1-year price change: +$21,992 (+23.4%)
– 5-year price change: +$37,244 (+47.2%)
– Metro area: not in a metro area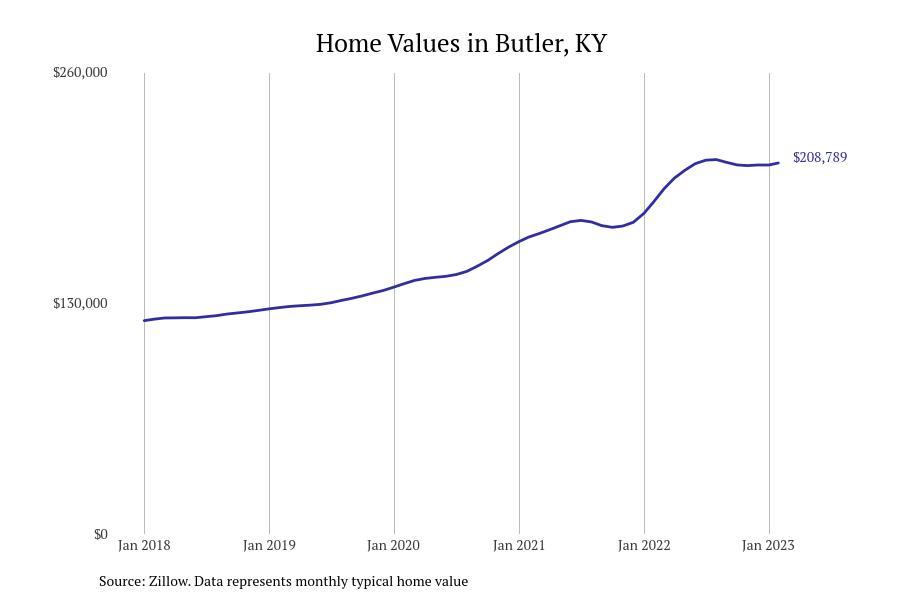 Stacker
#43. Butler
– Typical home value: $208,789
– 1-year price change: +$22,018 (+11.8%)
– 5-year price change: +$87,905 (+72.7%)
– Metro area: Cincinnati, OH-KY-IN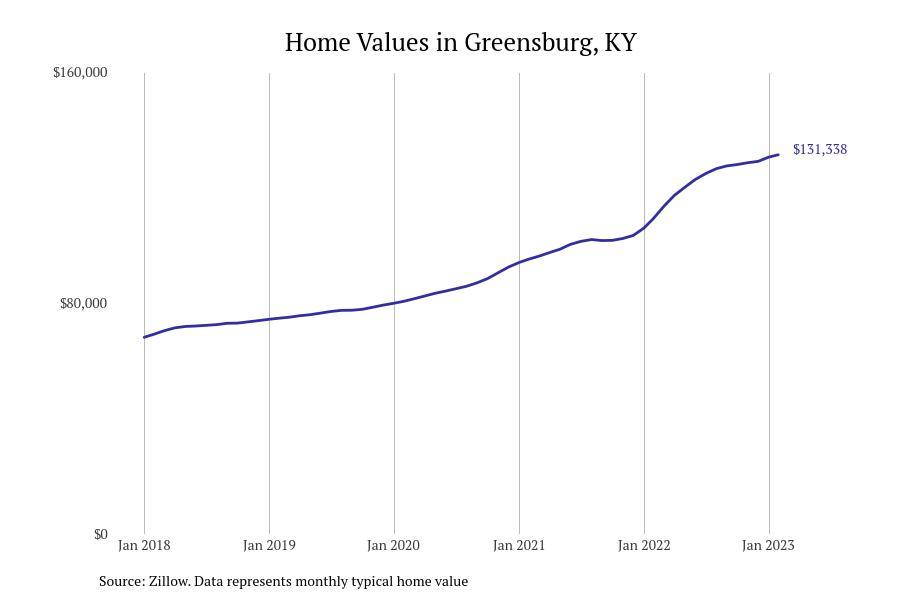 Stacker
#42. Greensburg
– Typical home value: $131,338
– 1-year price change: +$22,066 (+20.2%)
– 5-year price change: +$62,179 (+89.9%)
– Metro area: Campbellsville, KY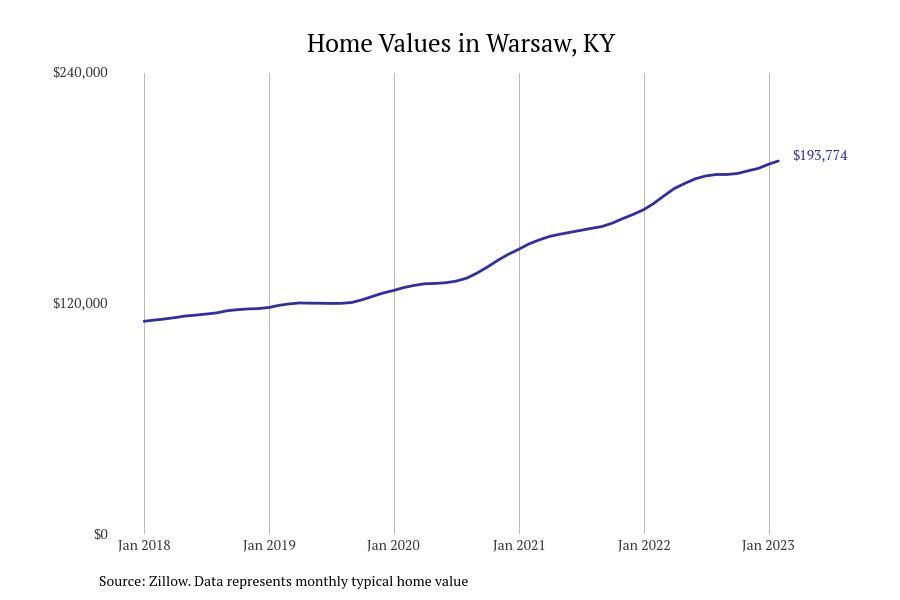 Stacker
#41. Warsaw
– Typical home value: $193,774
– 1-year price change: +$22,158 (+12.9%)
– 5-year price change: +$82,680 (+74.4%)
– Metro area: Cincinnati, OH-KY-IN
You may also like: Counties with the oldest homes in Kentucky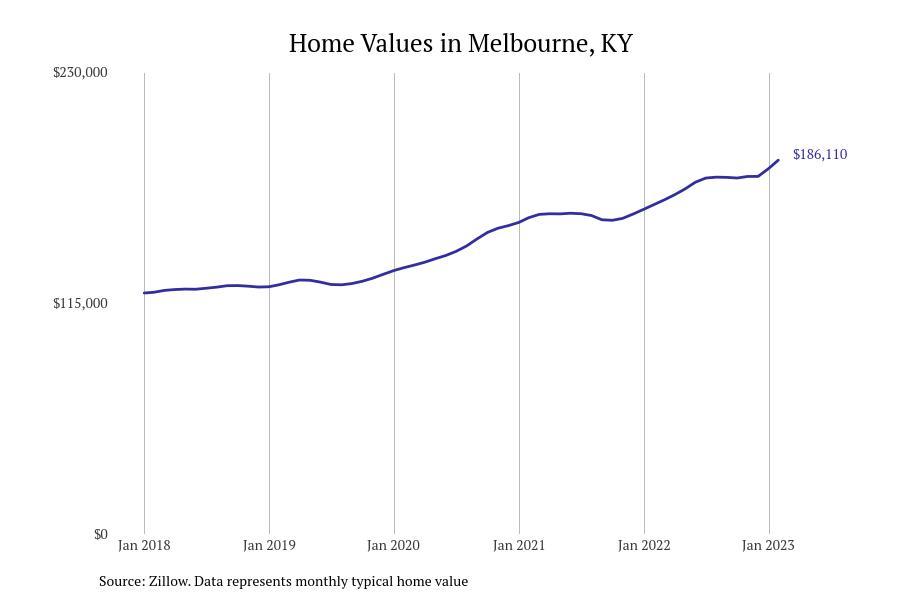 Stacker
#40. Melbourne
– Typical home value: $186,110
– 1-year price change: +$22,238 (+13.6%)
– 5-year price change: +$65,777 (+54.7%)
– Metro area: Cincinnati, OH-KY-IN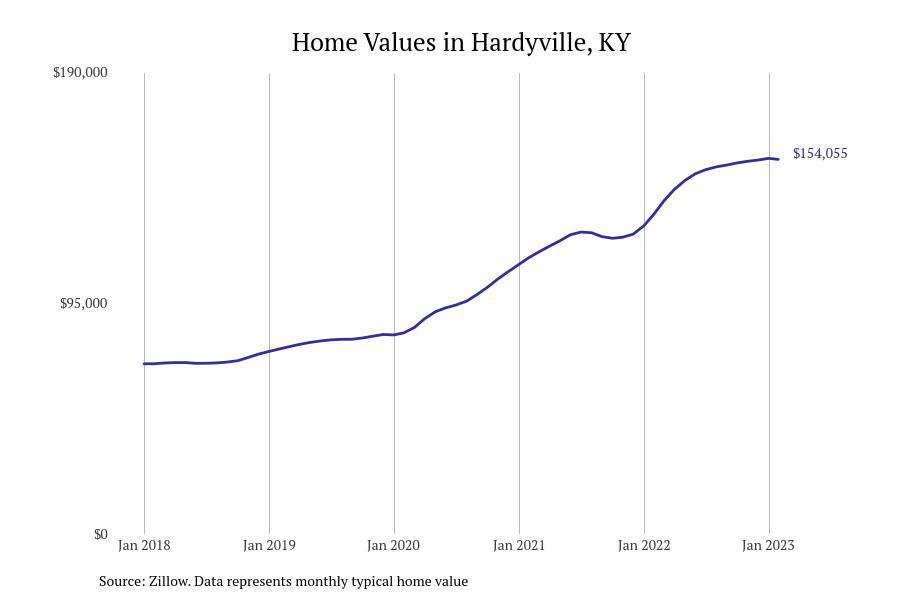 Stacker
#39. Hardyville
– Typical home value: $154,055
– 1-year price change: +$22,763 (+17.3%)
– 5-year price change: +$84,053 (+120.1%)
– Metro area: Campbellsville, KY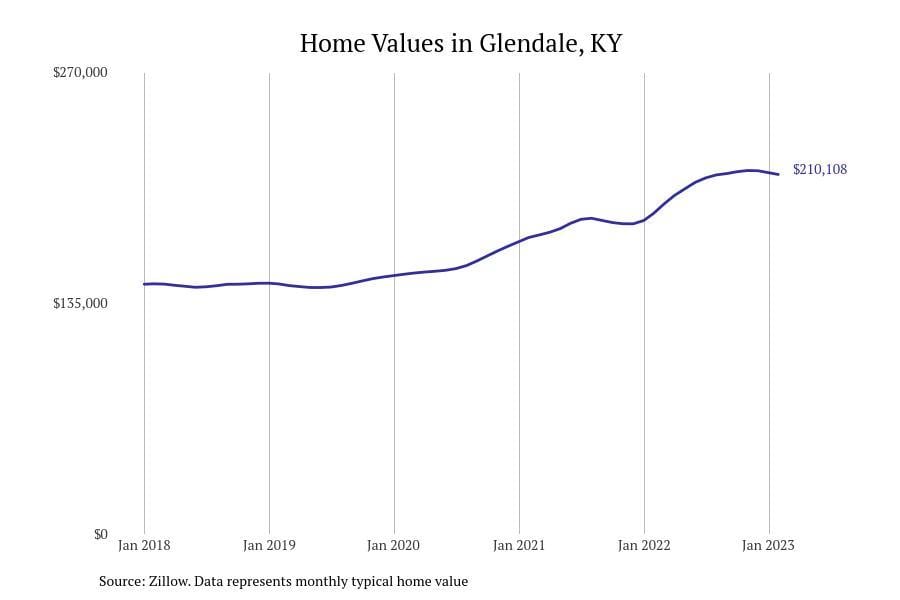 Stacker
#38. Glendale
– Typical home value: $210,108
– 1-year price change: +$22,798 (+12.2%)
– 5-year price change: +$63,899 (+43.7%)
– Metro area: Elizabethtown-Fort Knox, KY
Stacker
#37. Herndon
– Typical home value: $203,971
– 1-year price change: +$22,860 (+12.6%)
– 5-year price change: +$64,848 (+46.6%)
– Metro area: Clarksville, TN-KY
Stacker
#36. Newport
– Typical home value: $179,597
– 1-year price change: +$23,030 (+14.7%)
– 5-year price change: +$84,198 (+88.3%)
– Metro area: Cincinnati, OH-KY-IN
You may also like: Where people in Kentucky are moving to most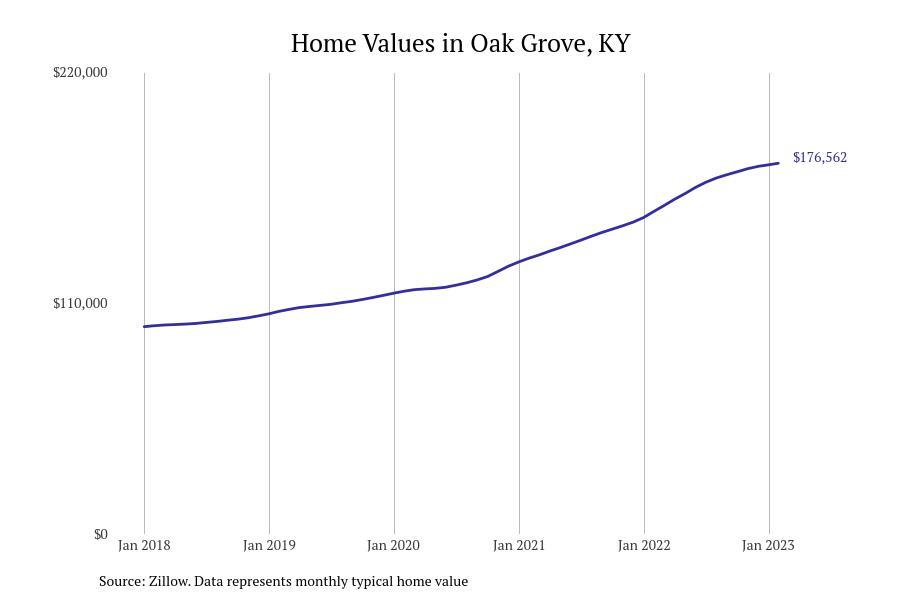 Stacker
#35. Oak Grove
– Typical home value: $176,562
– 1-year price change: +$23,065 (+15.0%)
– 5-year price change: +$77,403 (+78.1%)
– Metro area: Clarksville, TN-KY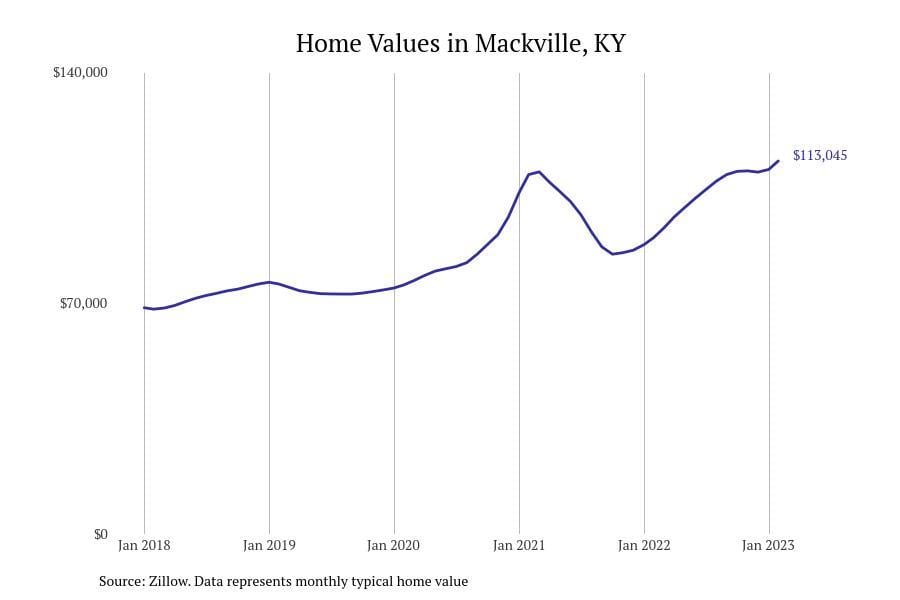 Stacker
#34. Mackville
– Typical home value: $113,045
– 1-year price change: +$23,289 (+25.9%)
– 5-year price change: +$44,908 (+65.9%)
– Metro area: not in a metro area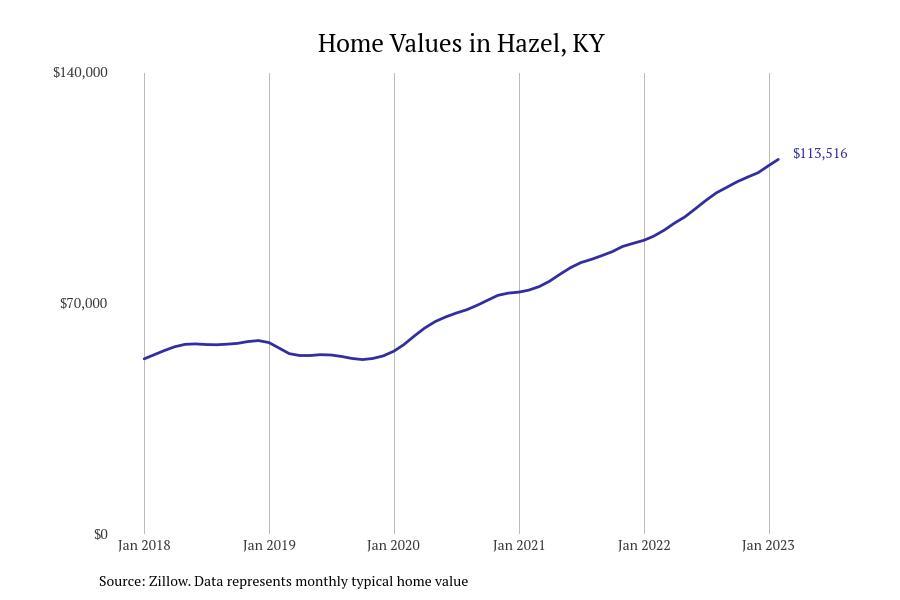 Stacker
#33. Hazel
– Typical home value: $113,516
– 1-year price change: +$23,303 (+25.8%)
– 5-year price change: +$59,244 (+109.2%)
– Metro area: Murray, KY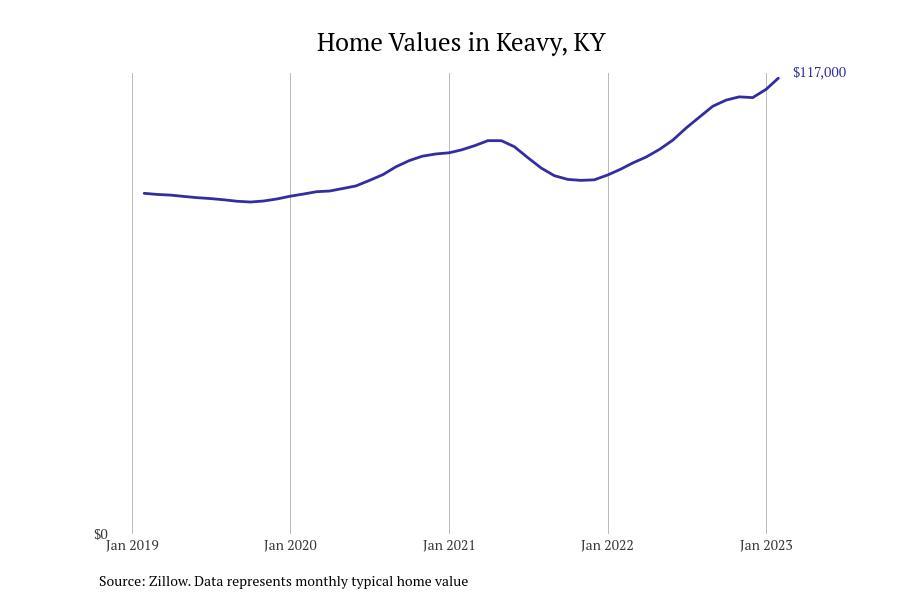 Stacker
#32. Keavy
– Typical home value: $117,000
– 1-year price change: +$23,452 (+25.1%)
– 5-year price change: data not available
– Metro area: London, KY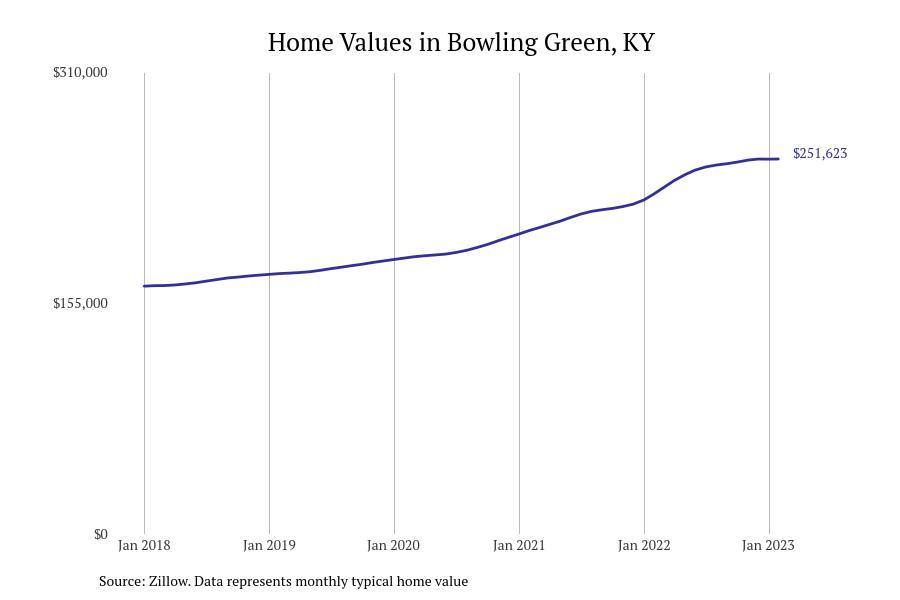 Stacker
#31. Bowling Green
– Typical home value: $251,623
– 1-year price change: +$23,672 (+10.4%)
– 5-year price change: +$85,007 (+51.0%)
– Metro area: Bowling Green, KY
You may also like: Cities in Kentucky with the most living in poverty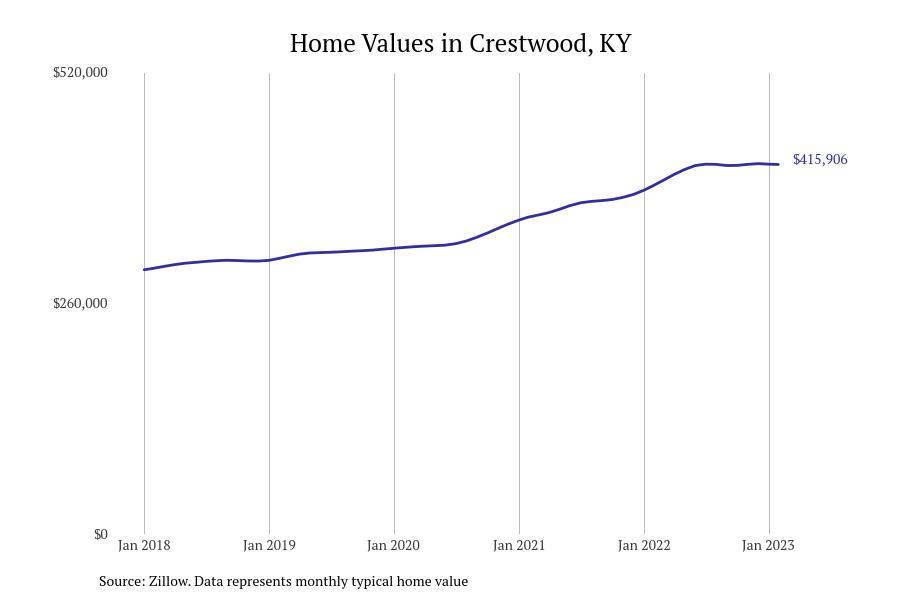 Stacker
#30. Crestwood
– Typical home value: $415,906
– 1-year price change: +$23,689 (+6.0%)
– 5-year price change: +$116,834 (+39.1%)
– Metro area: Louisville/Jefferson County, KY-IN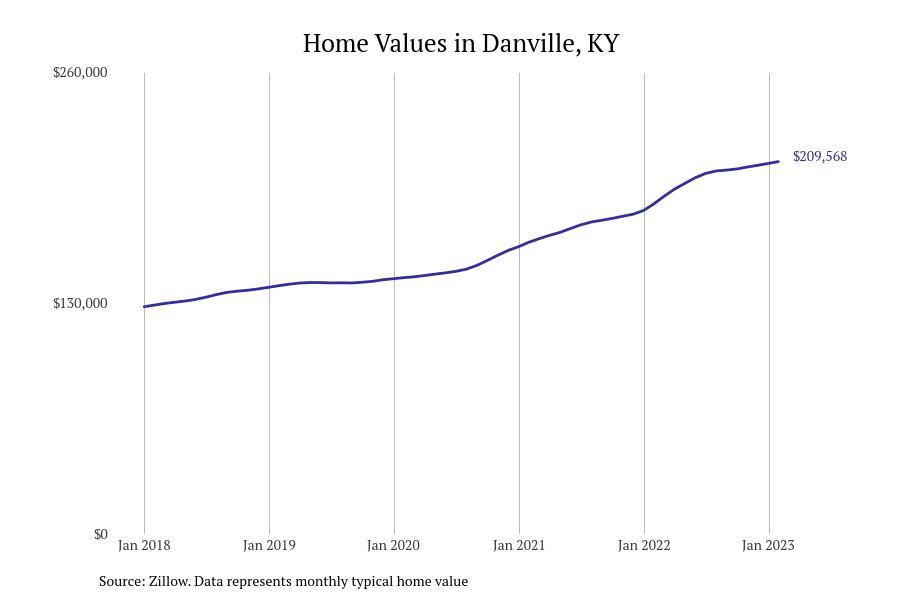 Stacker
#29. Danville
– Typical home value: $209,568
– 1-year price change: +$23,924 (+12.9%)
– 5-year price change: +$80,796 (+62.7%)
– Metro area: Danville, KY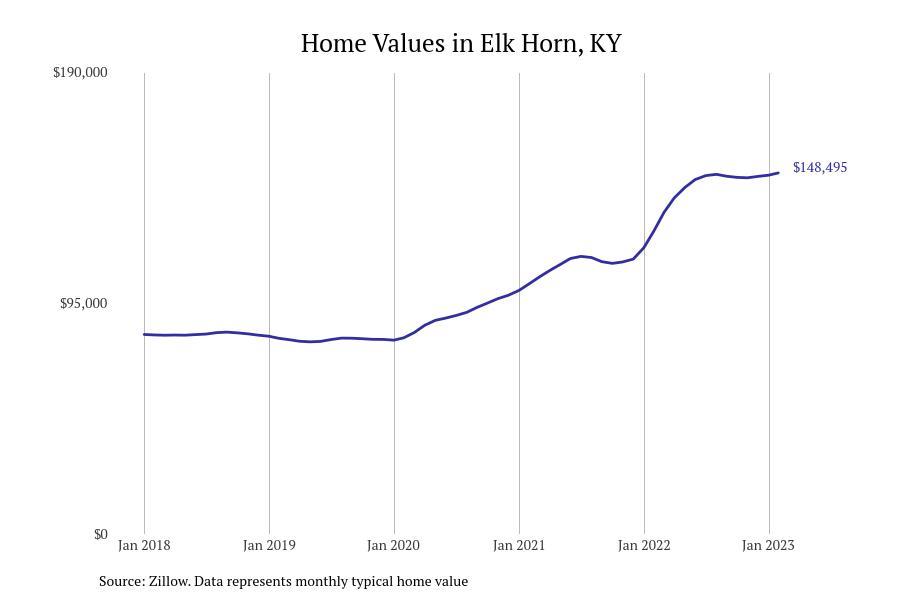 Stacker
#28. Elk Horn
– Typical home value: $148,495
– 1-year price change: +$24,190 (+19.5%)
– 5-year price change: +$66,623 (+81.4%)
– Metro area: Campbellsville, KY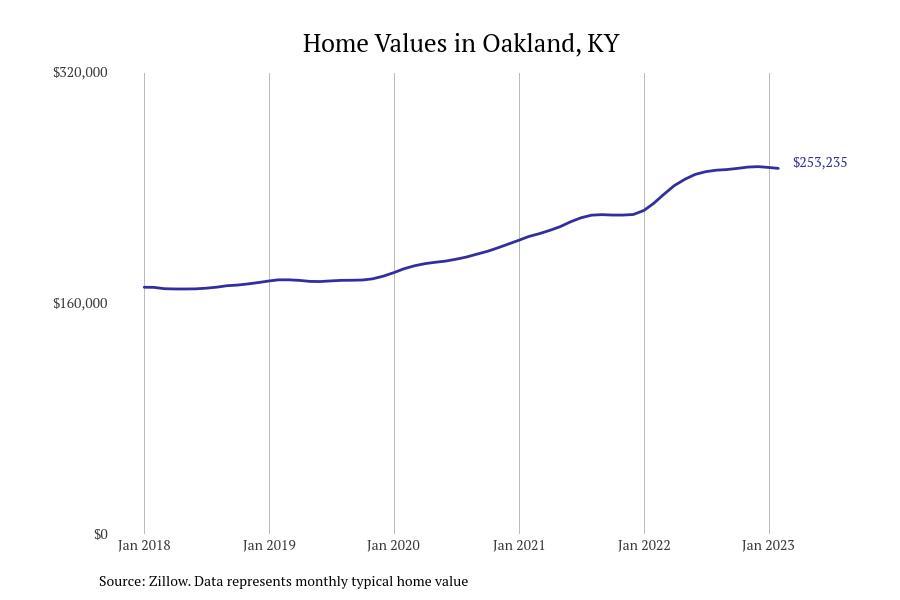 Stacker
#27. Oakland
– Typical home value: $253,235
– 1-year price change: +$24,335 (+10.6%)
– 5-year price change: +$82,397 (+48.2%)
– Metro area: Bowling Green, KY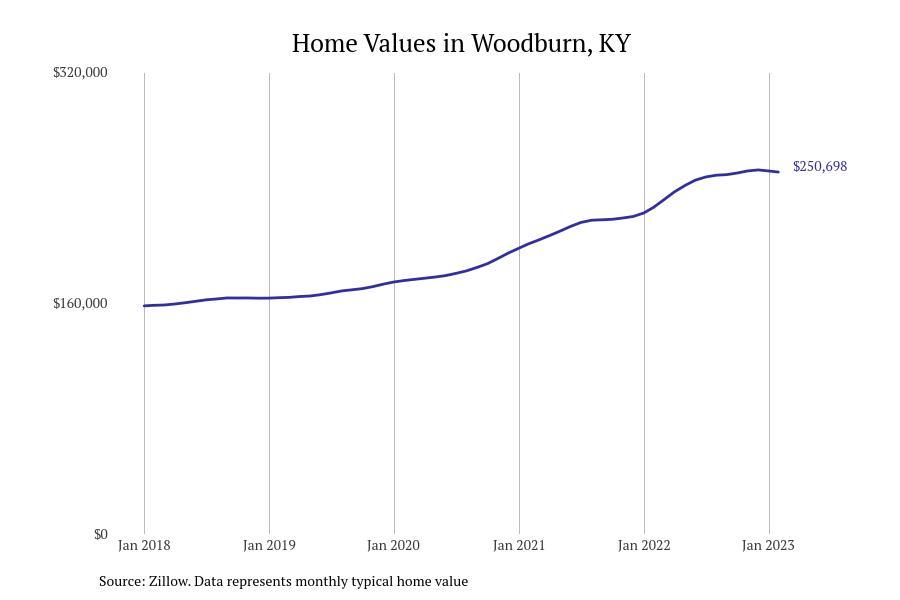 Stacker
#26. Woodburn
– Typical home value: $250,698
– 1-year price change: +$24,495 (+10.8%)
– 5-year price change: +$92,305 (+58.3%)
– Metro area: Bowling Green, KY
You may also like: Counties with the lowest home prices in Kentucky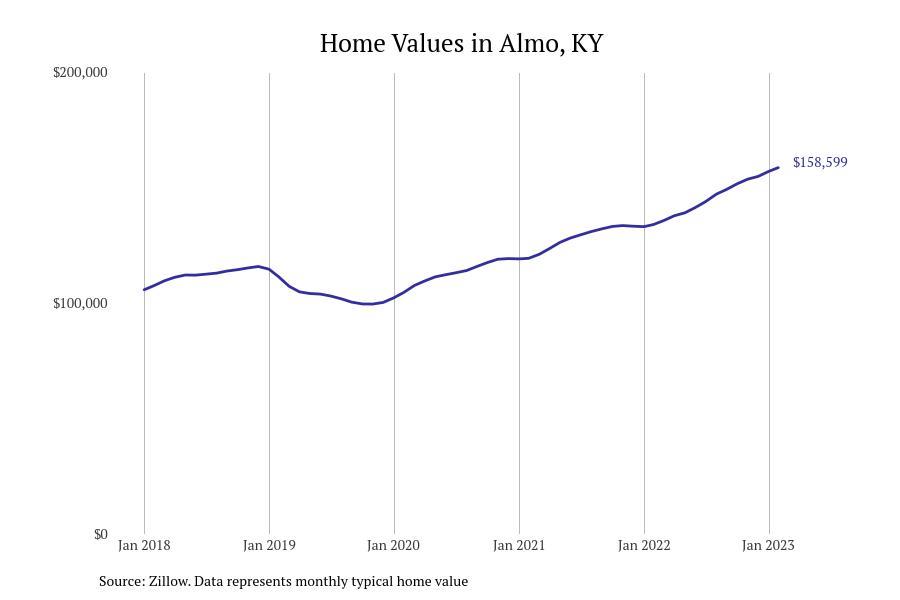 Stacker
#25. Almo
– Typical home value: $158,599
– 1-year price change: +$24,641 (+18.4%)
– 5-year price change: +$51,128 (+47.6%)
– Metro area: Murray, KY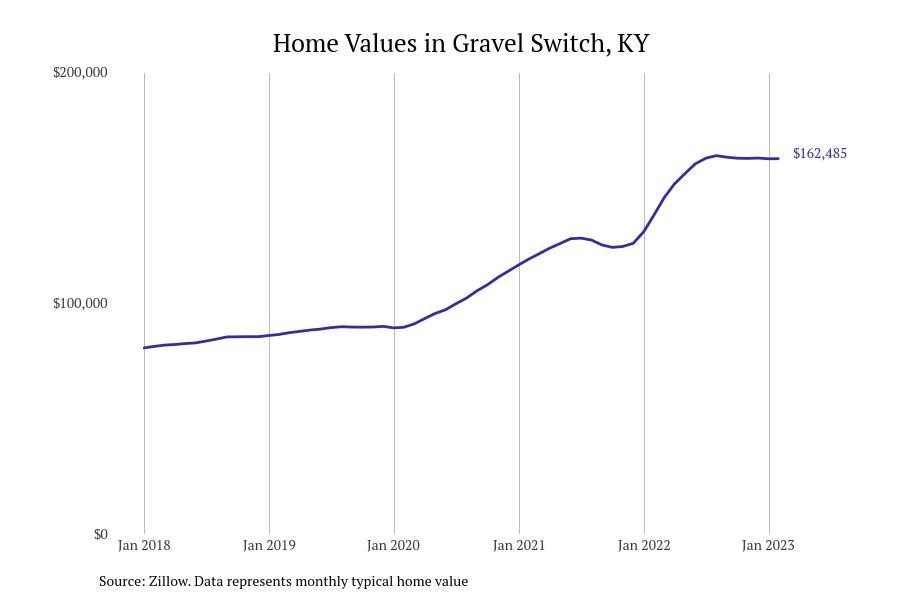 Stacker
#24. Gravel Switch
– Typical home value: $162,485
– 1-year price change: +$24,783 (+18.0%)
– 5-year price change: +$81,294 (+100.1%)
– Metro area: Danville, KY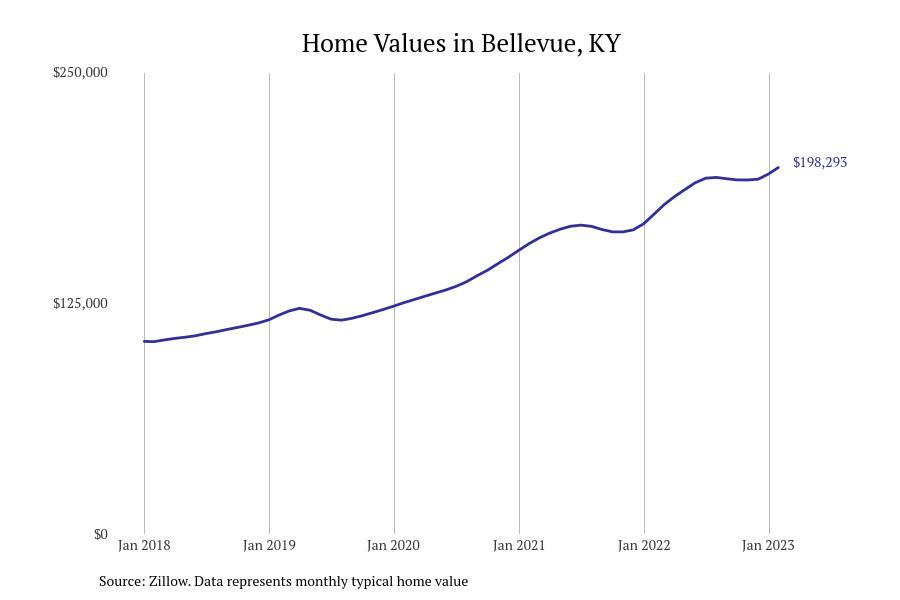 Stacker
#23. Bellevue
– Typical home value: $198,293
– 1-year price change: +$25,527 (+14.8%)
– 5-year price change: +$94,235 (+90.6%)
– Metro area: Cincinnati, OH-KY-IN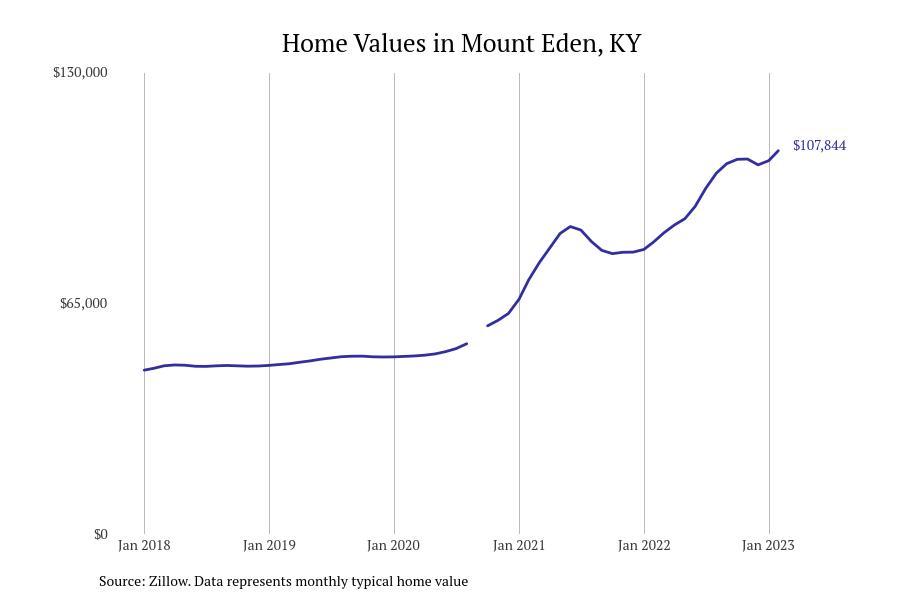 Stacker
#22. Mount Eden
– Typical home value: $107,844
– 1-year price change: +$25,709 (+31.3%)
– 5-year price change: +$61,222 (+131.3%)
– Metro area: Louisville/Jefferson County, KY-IN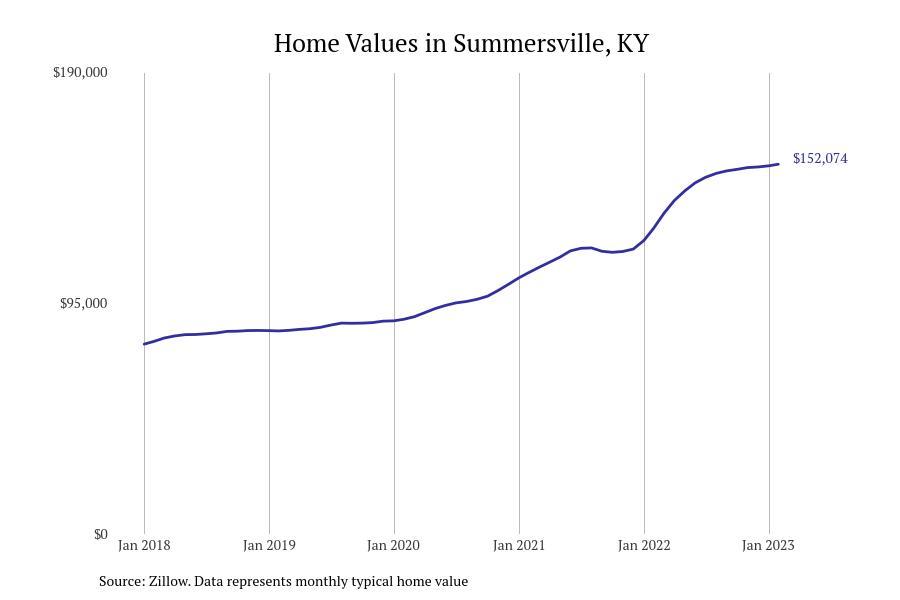 Stacker
#21. Summersville
– Typical home value: $152,074
– 1-year price change: +$26,440 (+21.0%)
– 5-year price change: +$72,890 (+92.1%)
– Metro area: Campbellsville, KY
You may also like: Counties with the highest rate of food insecure children in Kentucky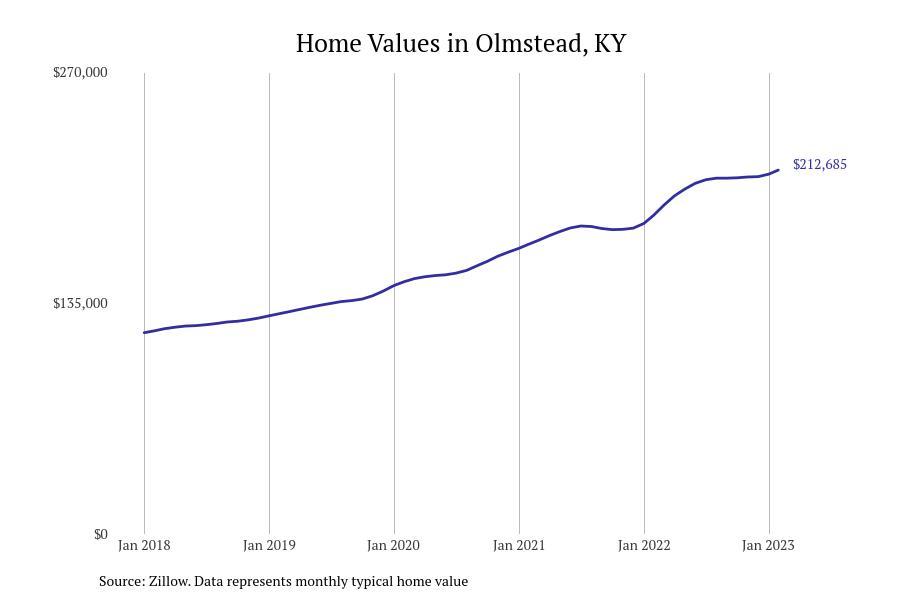 Stacker
#20. Olmstead
– Typical home value: $212,685
– 1-year price change: +$26,529 (+14.3%)
– 5-year price change: +$94,027 (+79.2%)
– Metro area: not in a metro area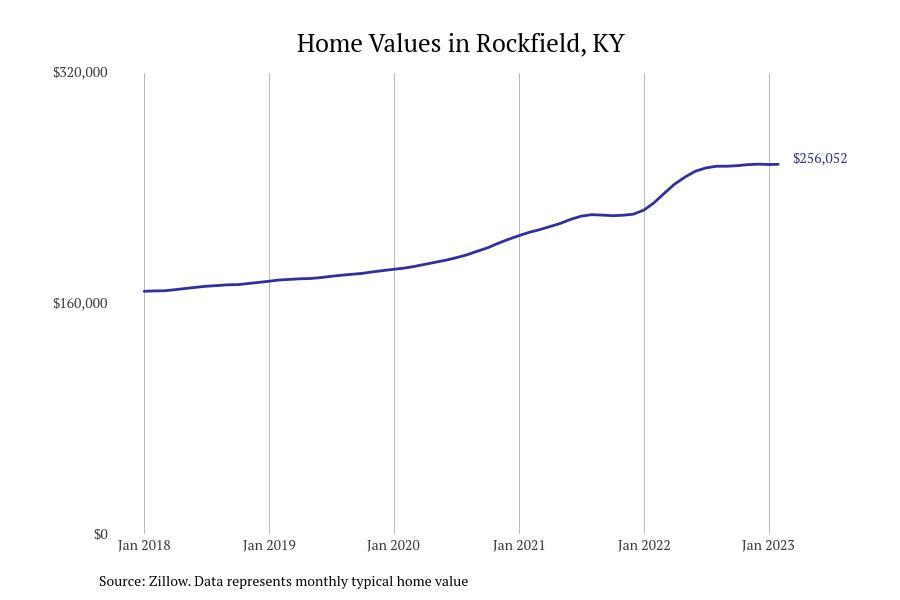 Stacker
#19. Rockfield
– Typical home value: $256,052
– 1-year price change: +$26,950 (+11.8%)
– 5-year price change: +$87,674 (+52.1%)
– Metro area: Bowling Green, KY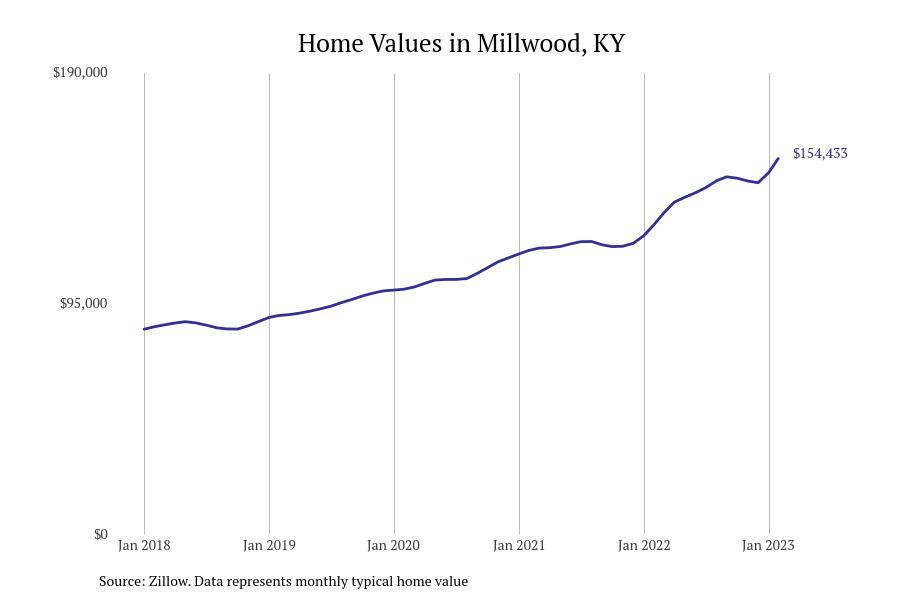 Stacker
#18. Millwood
– Typical home value: $154,433
– 1-year price change: +$27,469 (+21.6%)
– 5-year price change: +$69,249 (+81.3%)
– Metro area: not in a metro area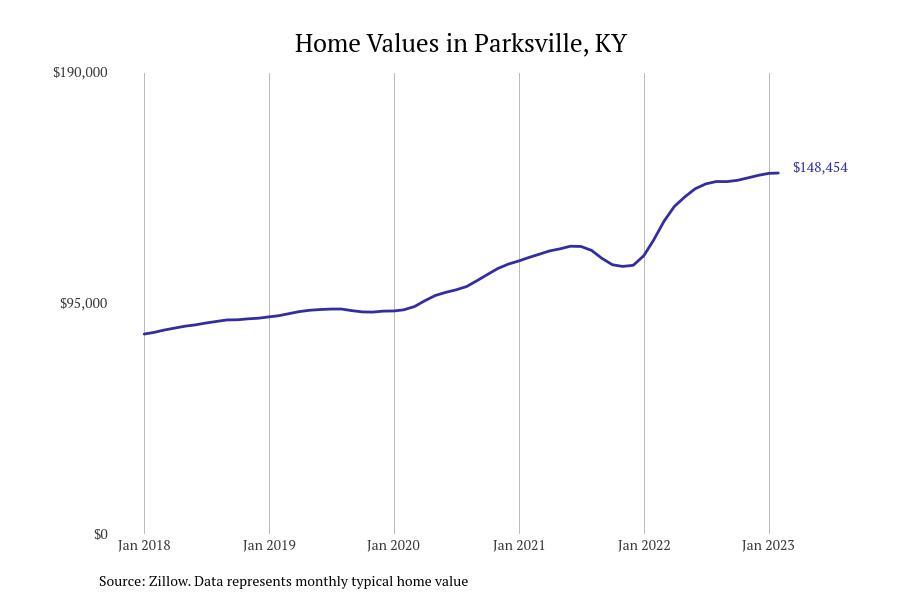 Stacker
#17. Parksville
– Typical home value: $148,454
– 1-year price change: +$27,680 (+22.9%)
– 5-year price change: +$65,568 (+79.1%)
– Metro area: Danville, KY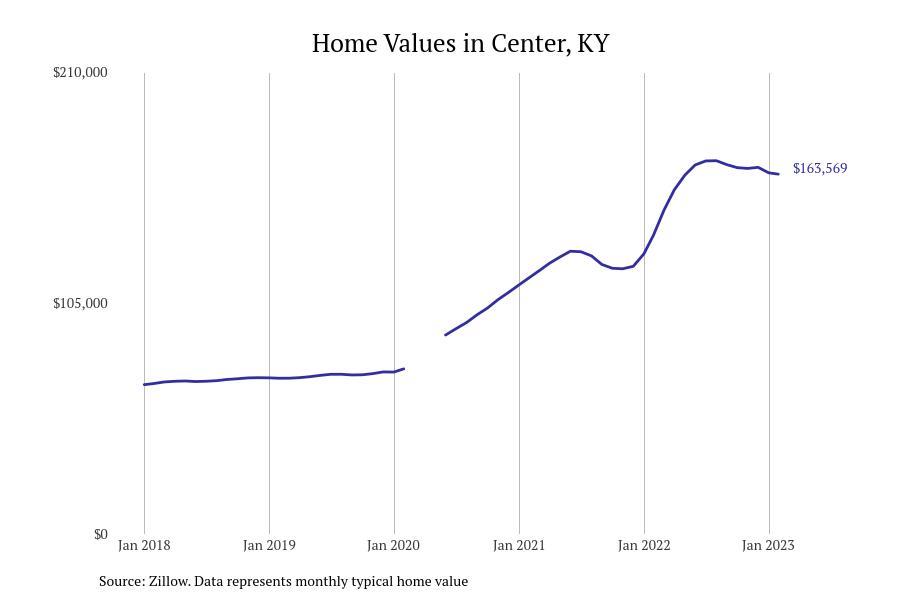 Stacker
#16. Center
– Typical home value: $163,569
– 1-year price change: +$27,768 (+20.4%)
– 5-year price change: +$95,179 (+139.2%)
– Metro area: Glasgow, KY
You may also like: Best high schools in Kentucky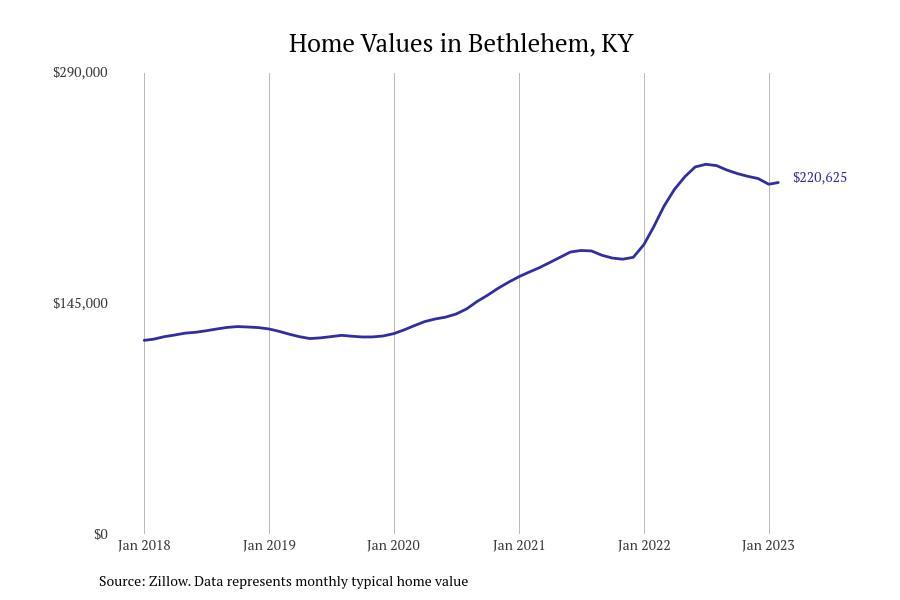 Stacker
#15. Bethlehem
– Typical home value: $220,625
– 1-year price change: +$28,096 (+14.6%)
– 5-year price change: +$98,310 (+80.4%)
– Metro area: Louisville/Jefferson County, KY-IN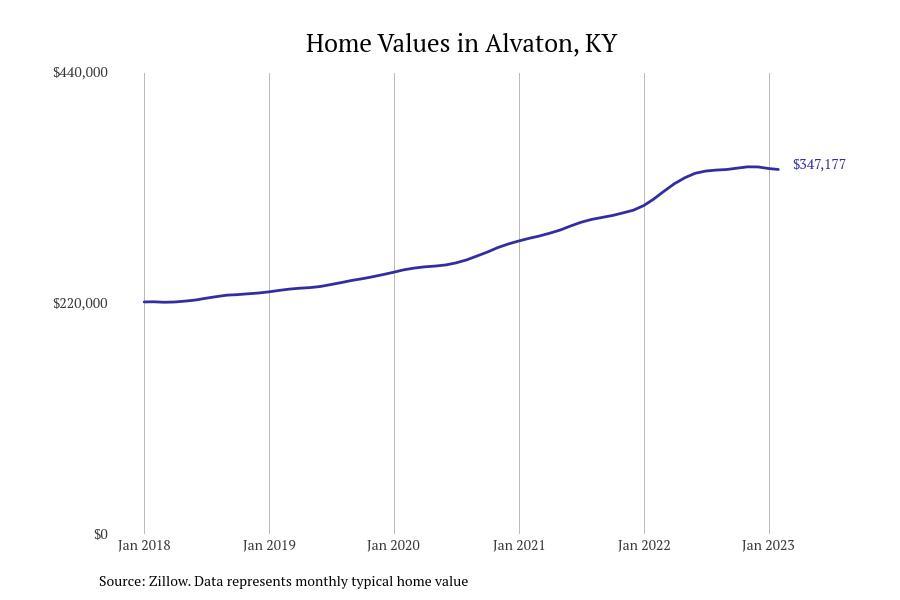 Stacker
#14. Alvaton
– Typical home value: $347,177
– 1-year price change: +$28,358 (+8.9%)
– 5-year price change: +$126,024 (+57.0%)
– Metro area: Bowling Green, KY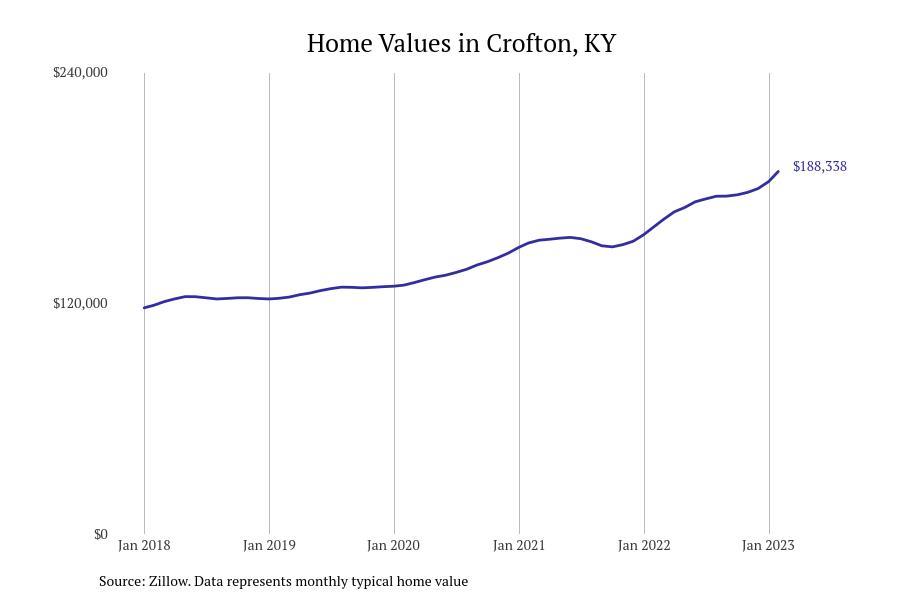 Stacker
#13. Crofton
– Typical home value: $188,338
– 1-year price change: +$28,927 (+18.1%)
– 5-year price change: +$69,535 (+58.5%)
– Metro area: Clarksville, TN-KY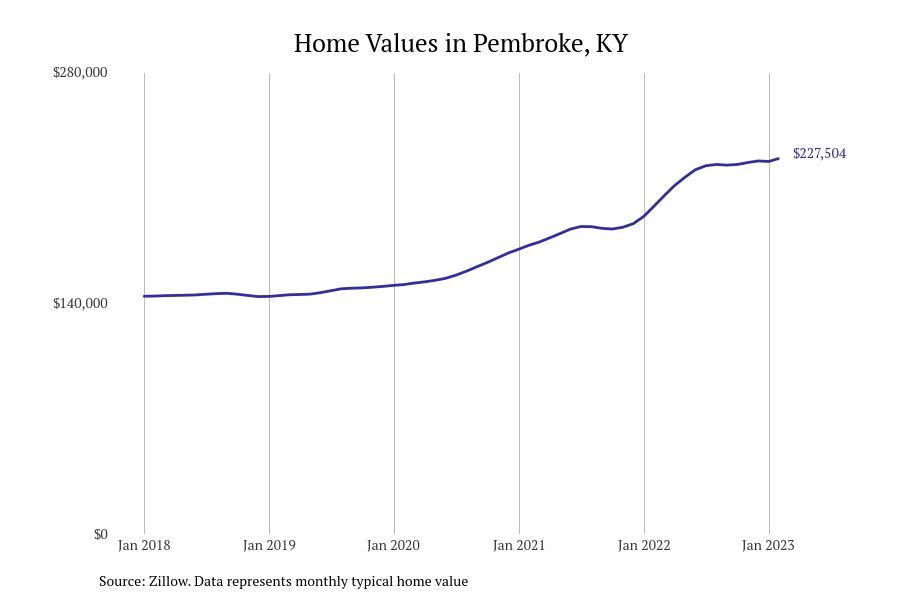 Stacker
#12. Pembroke
– Typical home value: $227,504
– 1-year price change: +$29,172 (+14.7%)
– 5-year price change: +$83,311 (+57.8%)
– Metro area: Clarksville, TN-KY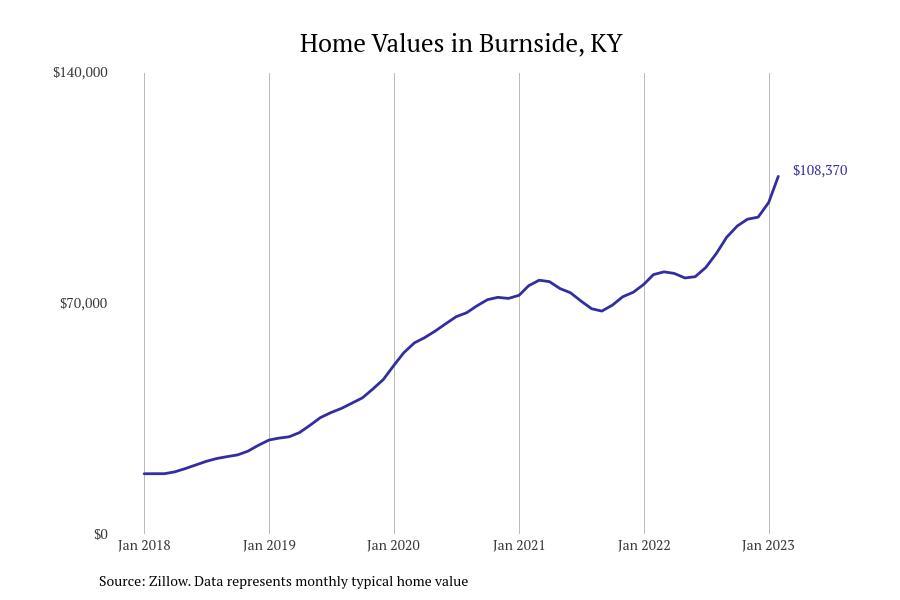 Stacker
#11. Burnside
– Typical home value: $108,370
– 1-year price change: +$29,759 (+37.9%)
– 5-year price change: +$90,095 (+493.0%)
– Metro area: Somerset, KY
You may also like: Highest NFL draft picks from Kentucky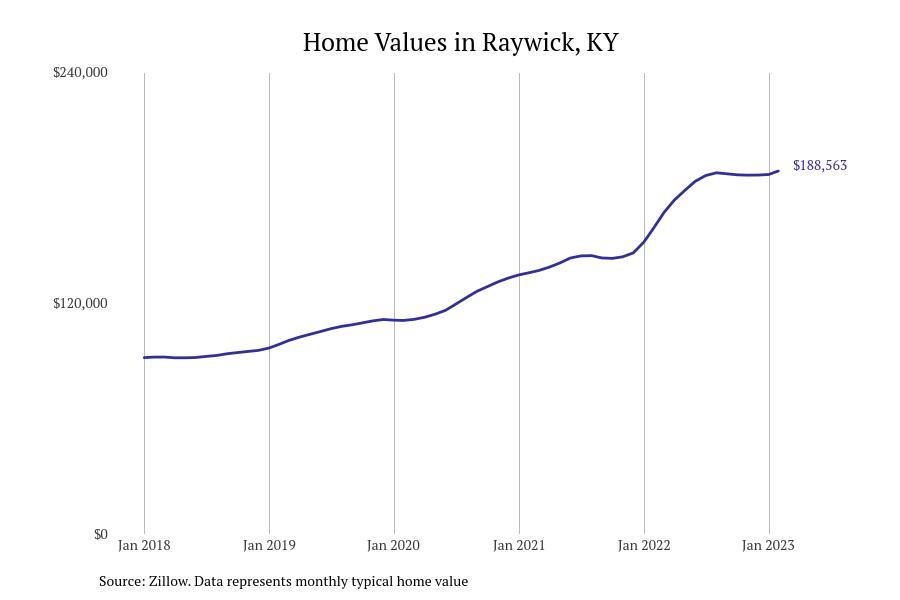 Stacker
#10. Raywick
– Typical home value: $188,563
– 1-year price change: +$29,789 (+18.8%)
– 5-year price change: +$96,669 (+105.2%)
– Metro area: not in a metro area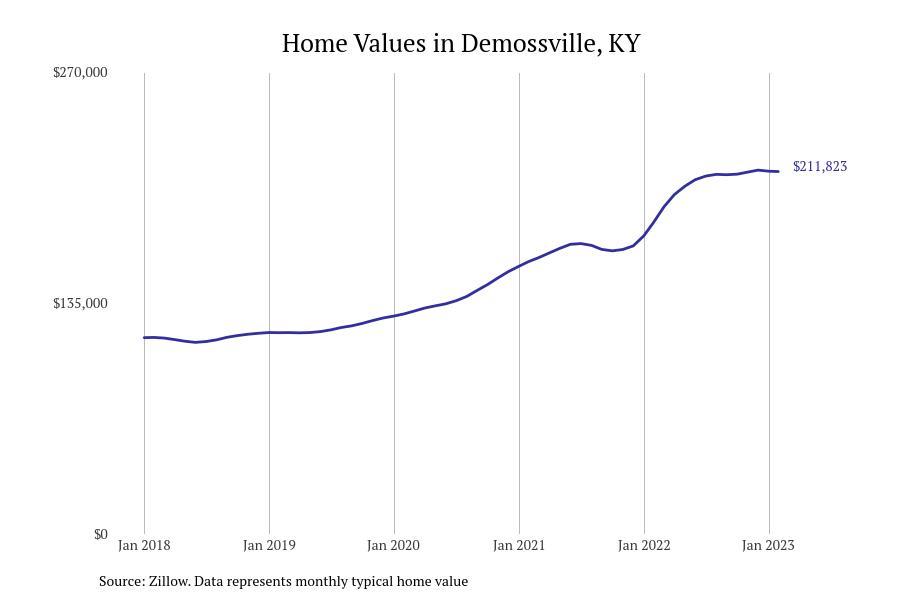 Stacker
#9. Demossville
– Typical home value: $211,823
– 1-year price change: +$29,817 (+16.4%)
– 5-year price change: +$96,946 (+84.4%)
– Metro area: Cincinnati, OH-KY-IN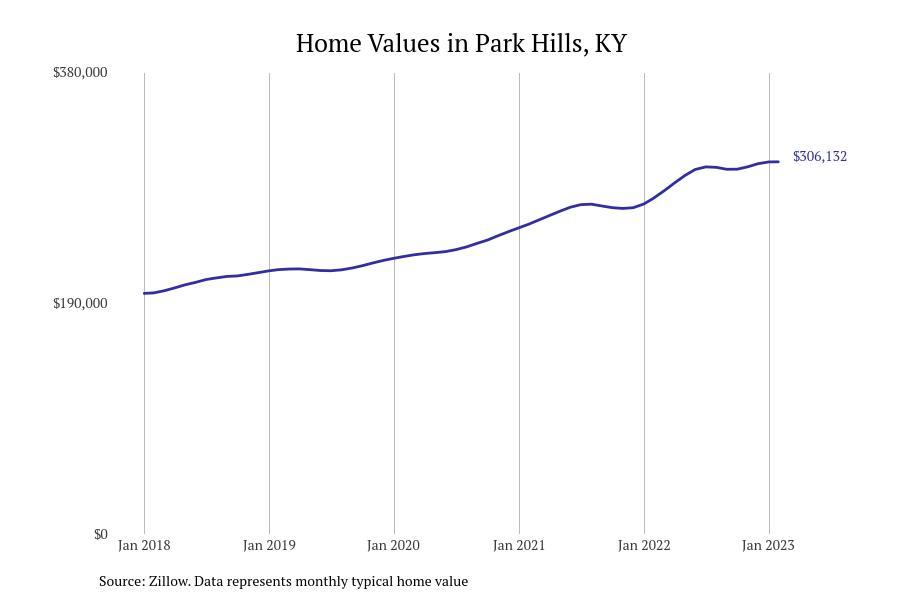 Stacker
#8. Park Hills
– Typical home value: $306,132
– 1-year price change: +$30,007 (+10.9%)
– 5-year price change: +$107,804 (+54.4%)
– Metro area: Cincinnati, OH-KY-IN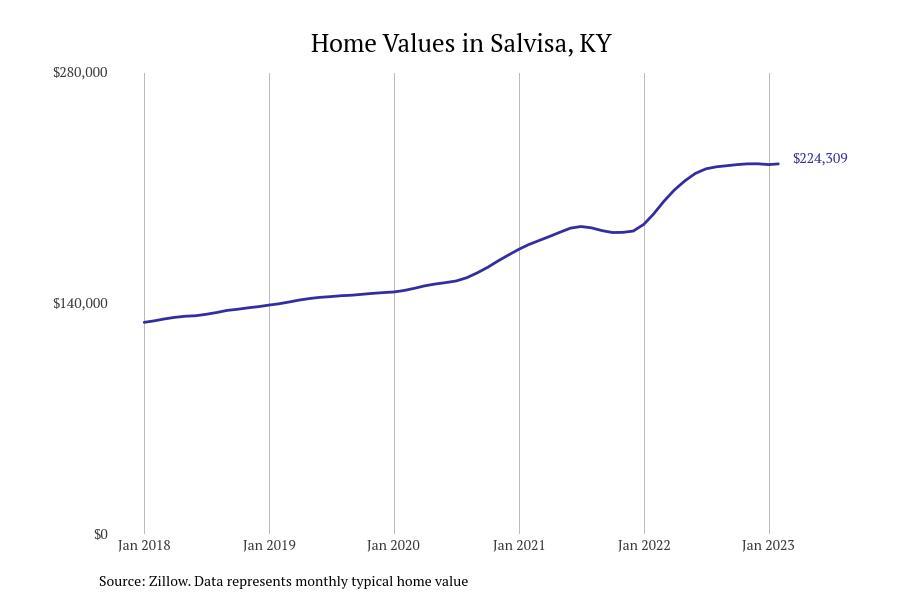 Stacker
#7. Salvisa
– Typical home value: $224,309
– 1-year price change: +$30,436 (+15.7%)
– 5-year price change: +$95,174 (+73.7%)
– Metro area: not in a metro area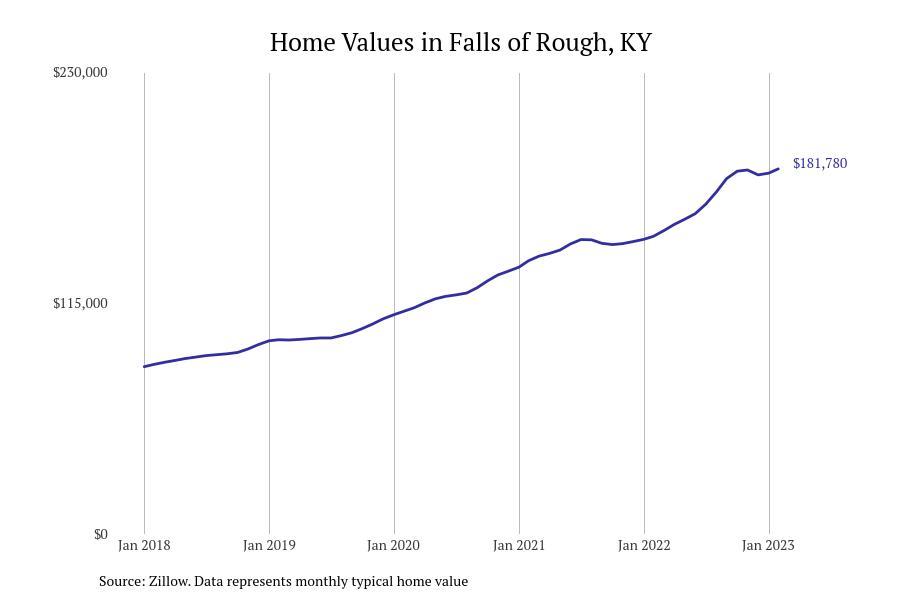 Stacker
#6. Falls of Rough
– Typical home value: $181,780
– 1-year price change: +$33,579 (+22.7%)
– 5-year price change: +$97,375 (+115.4%)
– Metro area: not in a metro area
You may also like: What to know about workers' compensation in Kentucky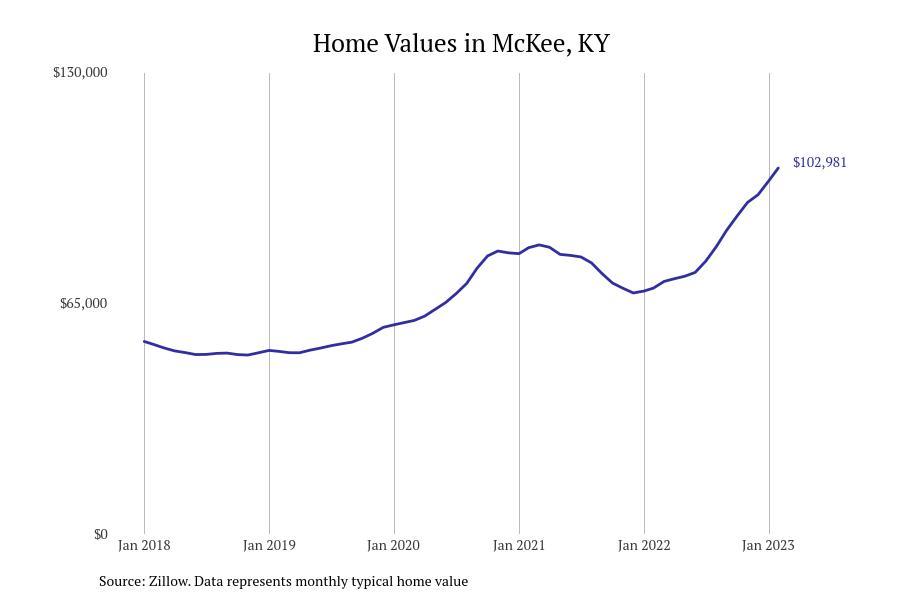 Stacker
#5. McKee
– Typical home value: $102,981
– 1-year price change: +$33,788 (+48.8%)
– 5-year price change: +$49,658 (+93.1%)
– Metro area: not in a metro area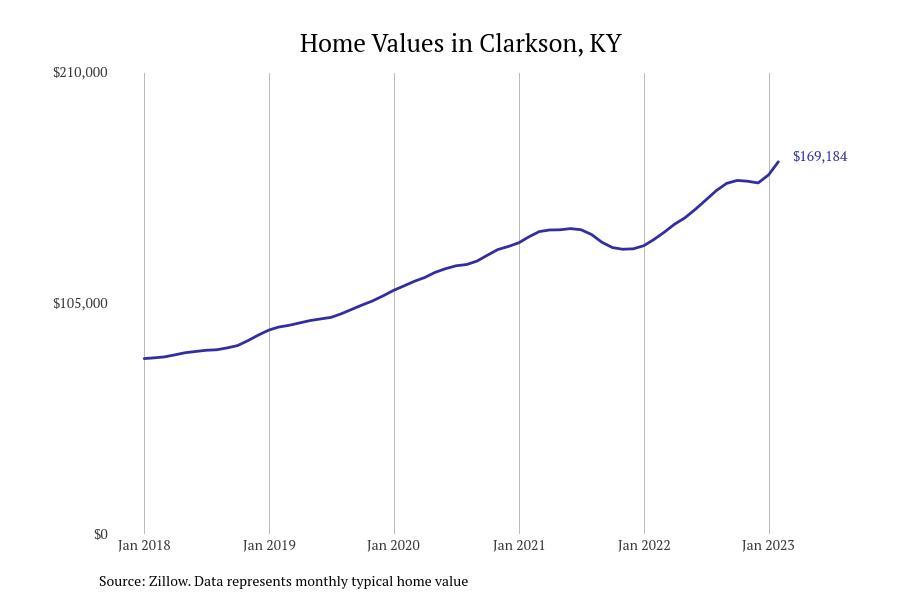 Stacker
#4. Clarkson
– Typical home value: $169,184
– 1-year price change: +$35,449 (+26.5%)
– 5-year price change: +$89,128 (+111.3%)
– Metro area: not in a metro area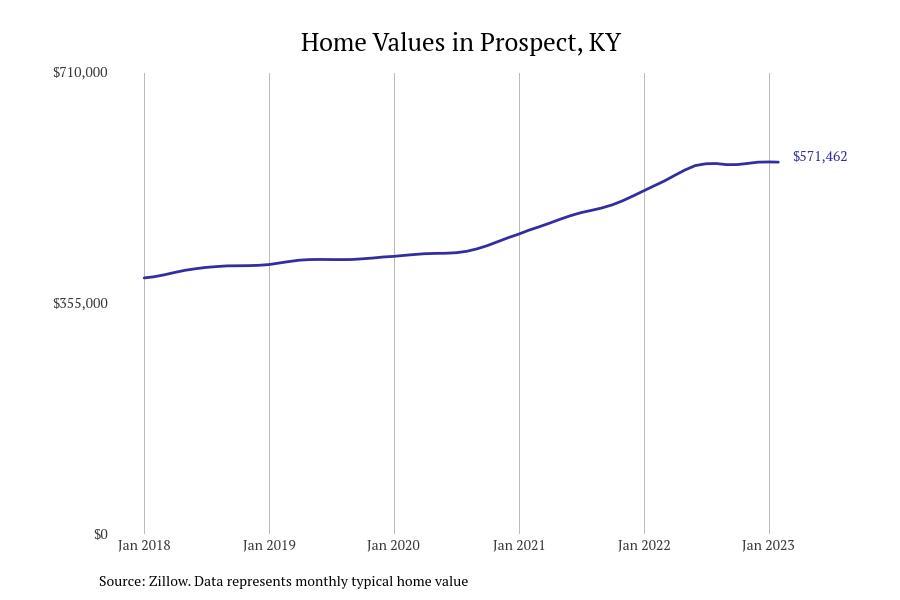 Stacker
#3. Prospect
– Typical home value: $571,462
– 1-year price change: +$36,859 (+6.9%)
– 5-year price change: +$176,200 (+44.6%)
– Metro area: Louisville/Jefferson County, KY-IN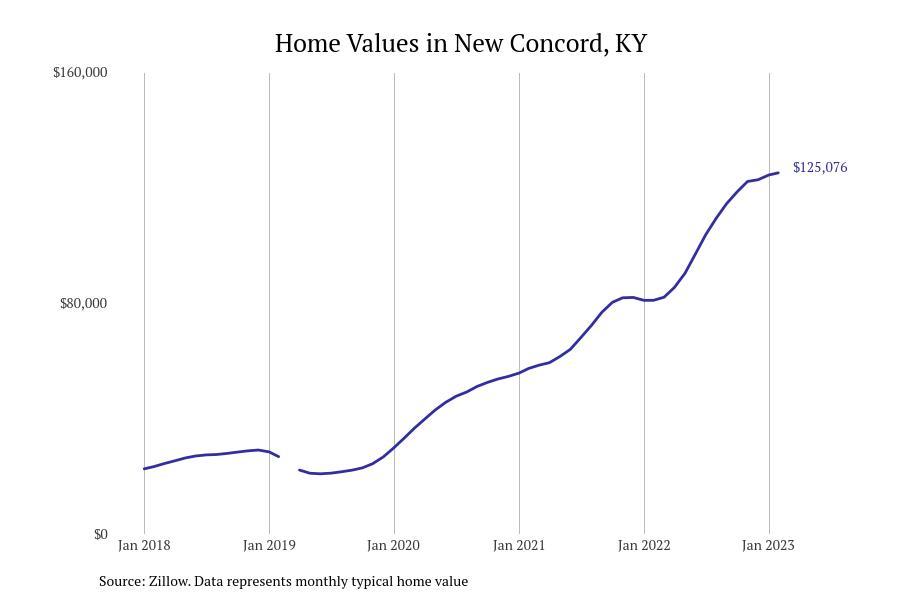 Stacker
#2. New Concord
– Typical home value: $125,076
– 1-year price change: +$44,150 (+54.6%)
– 5-year price change: +$101,749 (+436.2%)
– Metro area: Murray, KY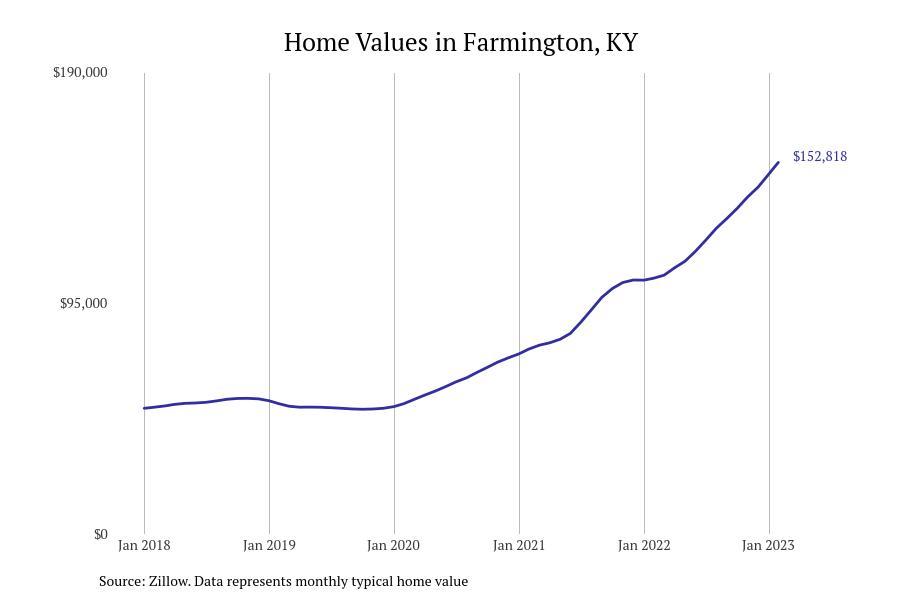 Stacker
#1. Farmington
– Typical home value: $152,818
– 1-year price change: +$47,644 (+45.3%)
– 5-year price change: +$100,700 (+193.2%)
– Metro area: Mayfield, KY
You may also like: Counties with the most veterans in Kentucky
More Stacker