Cities with the fastest growing home prices in Elizabethtown metro area
Published 12:20 am Friday, January 20, 2023

ungvar // Shutterstock
Cities with the fastest growing home prices in Elizabethtown metro area
It goes without saying that the coronavirus pandemic has sparked a wave of uncertainty across myriad industries, and no other market has quite felt its impact like that of real estate.
The pandemic has become a driving force behind the continued real estate boom, with high demand for vacation homes and a limited supply of housing that has prompted buyers and investors to bid up prices for affordable properties, causing home prices to skyrocket. The ability to work remotely played a role in the vacation home demand in mid-2020, as affluent Americans opted to ride out the pandemic with more amenities and space outside dense urban areas.
Stacker compiled a list of cities with the fastest-growing home prices in Elizabethtown-Fort Knox, KY metro area using data from Zillow. Cities are ranked by 1-year price change as of December 2022. The typical home value in the United States increased over the last year by +8.4%% to $356,819. All 21 cities and towns with data available were included in the list.
You may also like: Zip codes with the most expensive homes in Elizabethtown metro area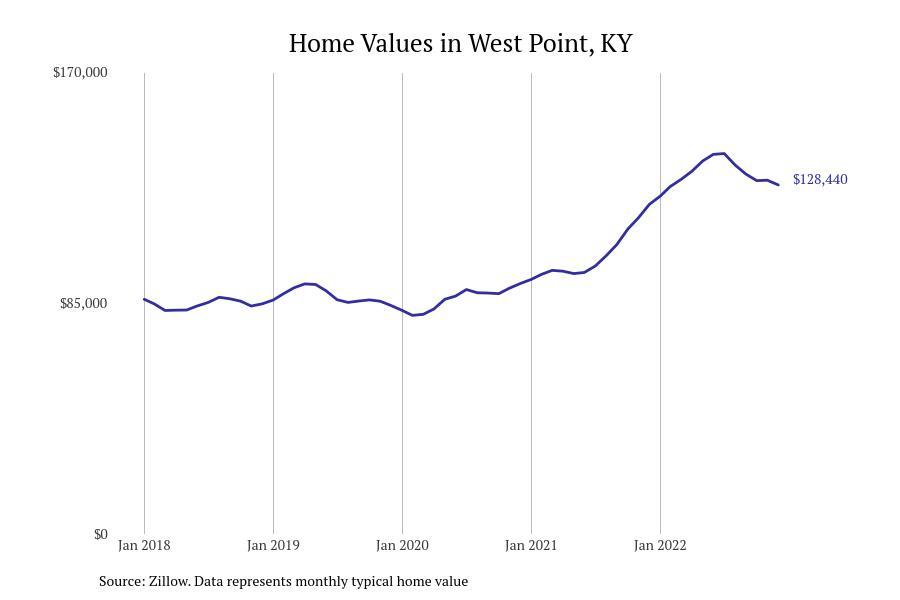 Stacker
#21. West Point, KY
– 1-year price change: +$7,151 (+5.9%)
– 5-year price change: +$40,348 (+45.8%)
– Typical home value: $128,440 (#21 most expensive city in metro)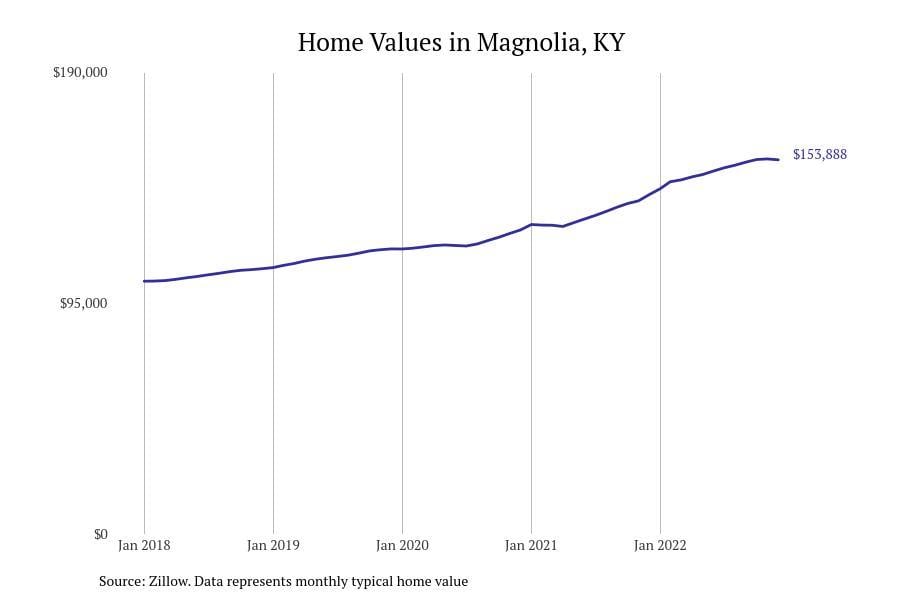 Stacker
#20. Magnolia, KY
– 1-year price change: +$14,292 (+10.2%)
– 5-year price change: +$50,187 (+48.4%)
– Typical home value: $153,888 (#18 most expensive city in metro)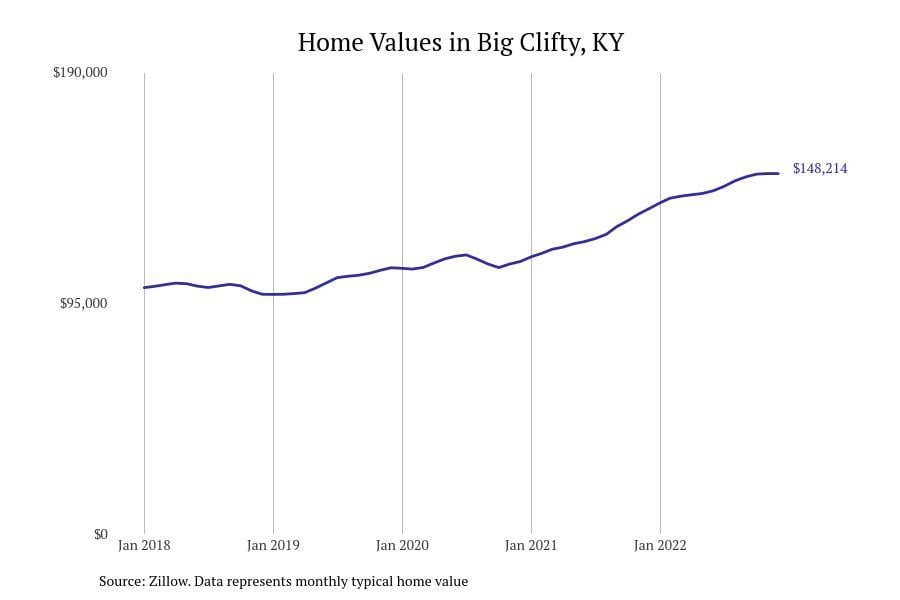 Stacker
#19. Big Clifty, KY
– 1-year price change: +$14,360 (+10.7%)
– 5-year price change: +$46,212 (+45.3%)
– Typical home value: $148,214 (#20 most expensive city in metro)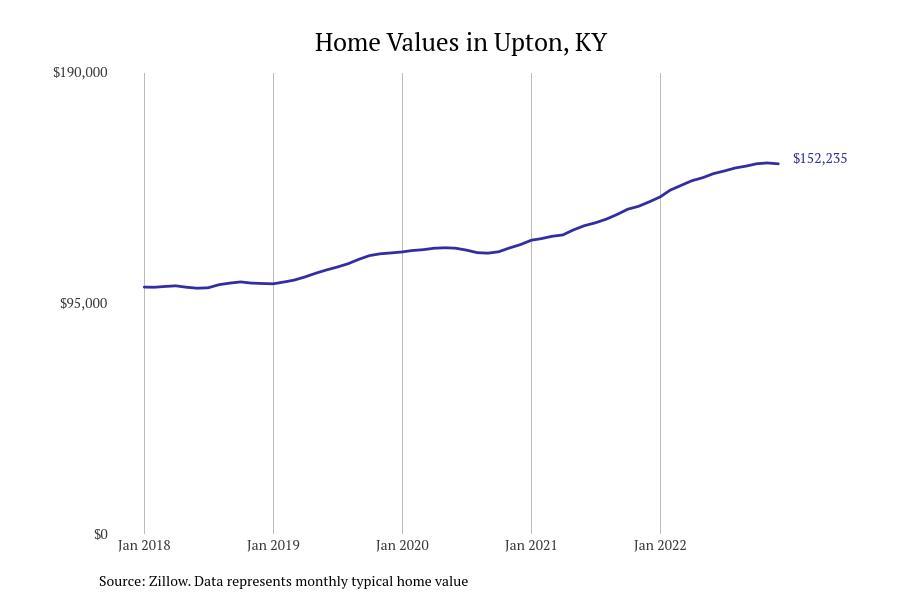 Stacker
#18. Upton, KY
– 1-year price change: +$15,617 (+11.4%)
– 5-year price change: +$50,728 (+50.0%)
– Typical home value: $152,235 (#19 most expensive city in metro)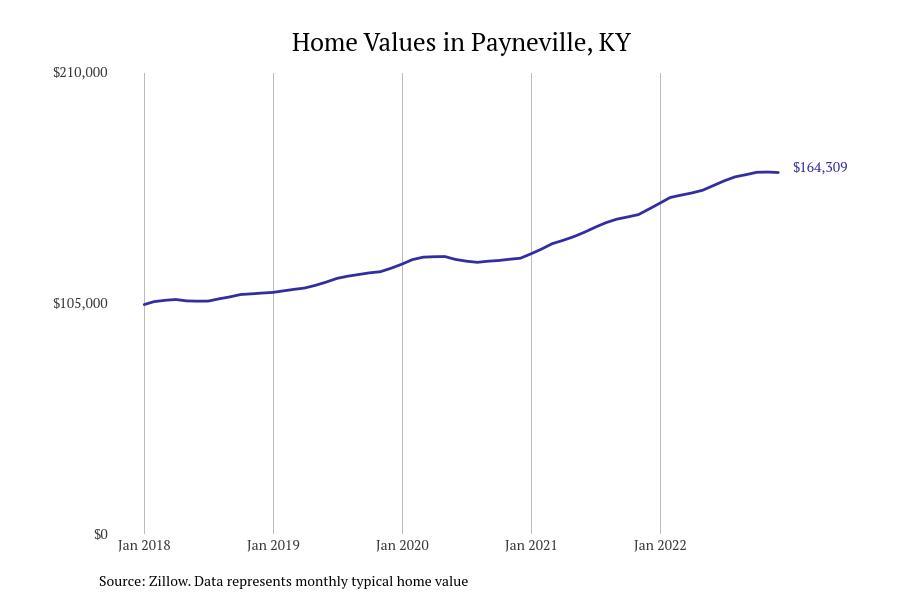 Stacker
#17. Payneville, KY
– 1-year price change: +$16,525 (+11.2%)
– 5-year price change: +$60,451 (+58.2%)
– Typical home value: $164,309 (#17 most expensive city in metro)
You may also like: Metros sending the most people to Elizabethtown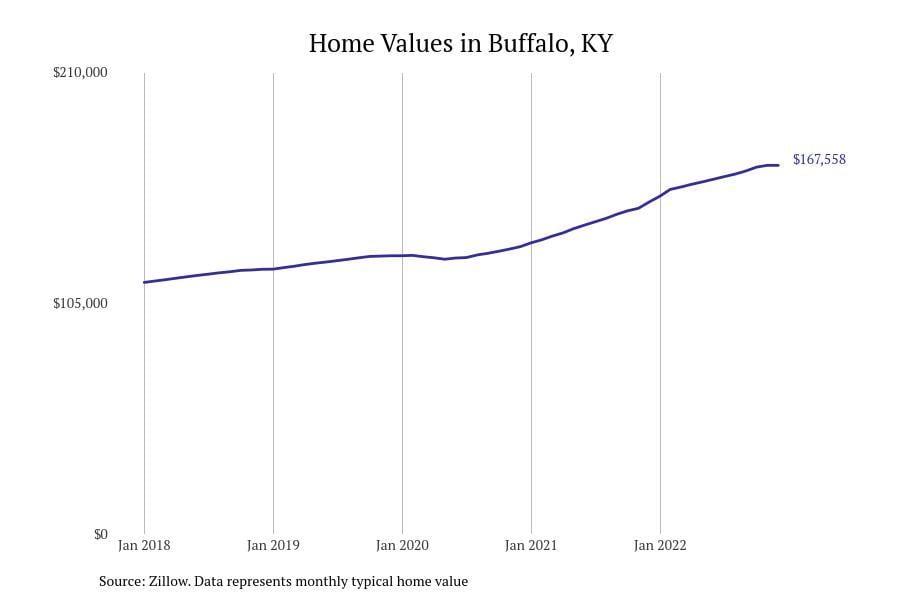 Stacker
#16. Buffalo, KY
– 1-year price change: +$16,607 (+11.0%)
– 5-year price change: +$53,858 (+47.4%)
– Typical home value: $167,558 (#16 most expensive city in metro)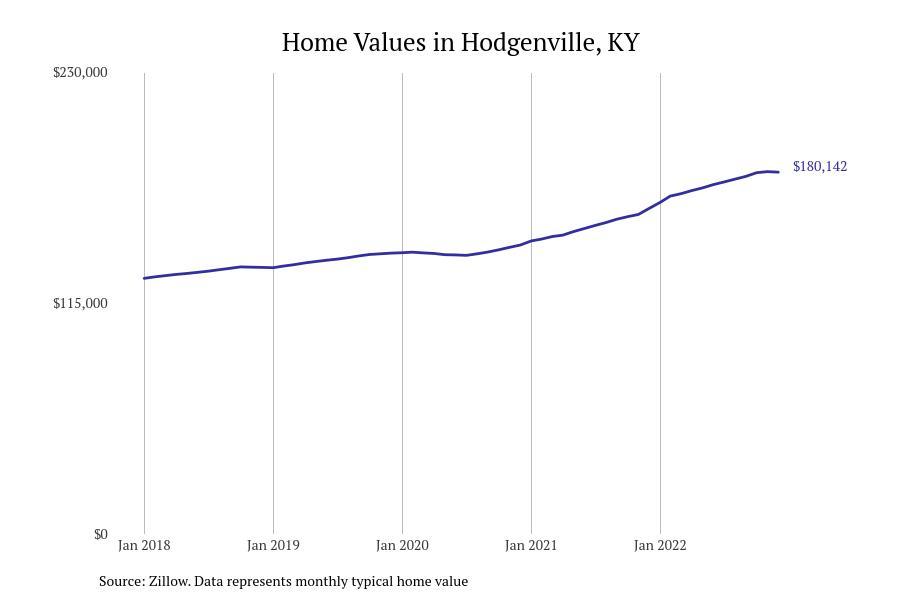 Stacker
#15. Hodgenville, KY
– 1-year price change: +$17,997 (+11.1%)
– 5-year price change: +$53,742 (+42.5%)
– Typical home value: $180,142 (#14 most expensive city in metro)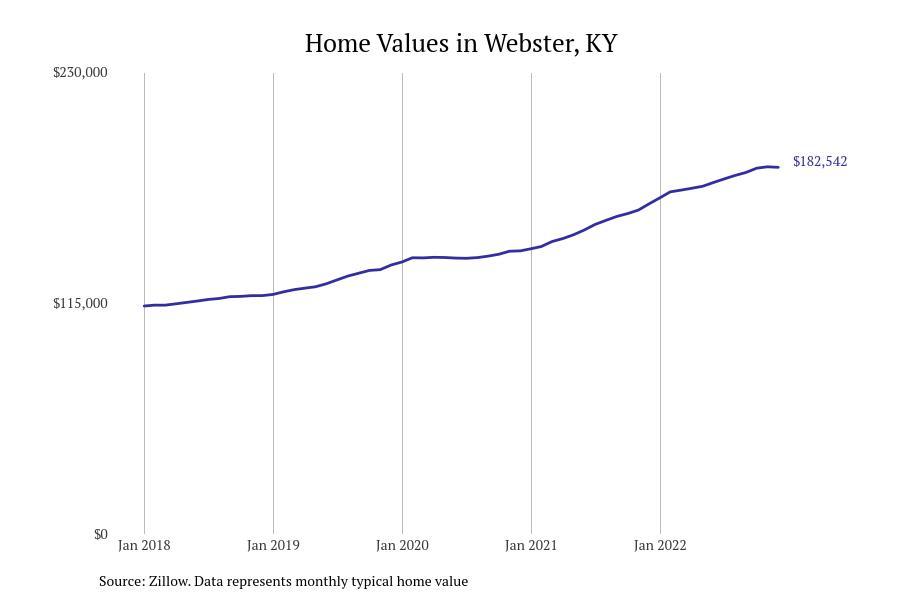 Stacker
#14. Webster, KY
– 1-year price change: +$18,097 (+11.0%)
– 5-year price change: +$69,669 (+61.7%)
– Typical home value: $182,542 (#13 most expensive city in metro)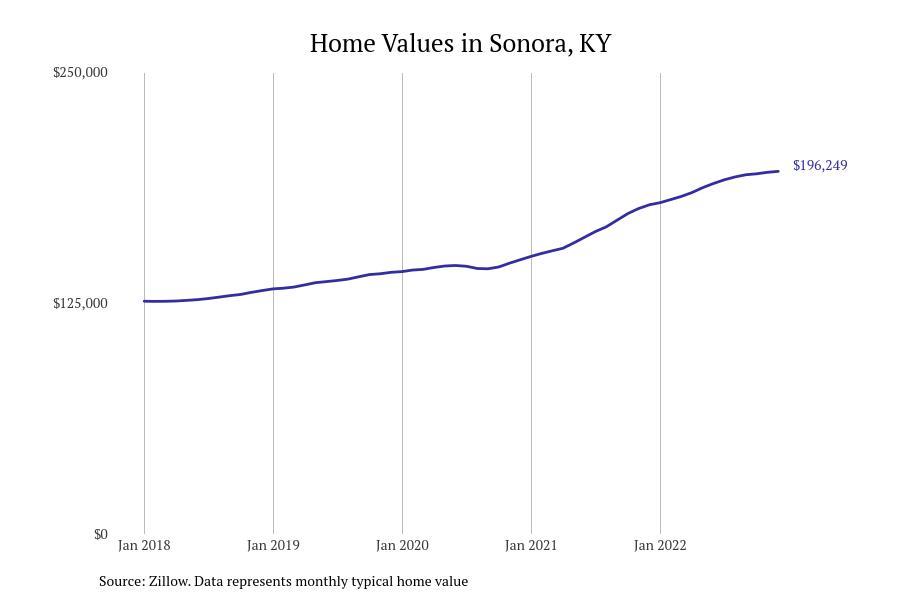 Stacker
#13. Sonora, KY
– 1-year price change: +$18,106 (+10.2%)
– 5-year price change: +$70,205 (+55.7%)
– Typical home value: $196,249 (#9 most expensive city in metro)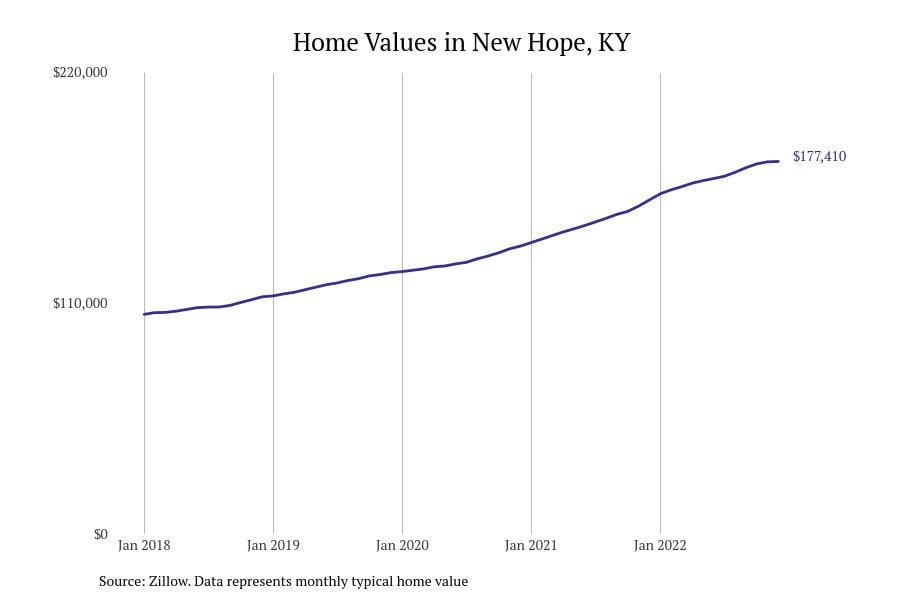 Stacker
#12. New Hope, KY
– 1-year price change: +$18,349 (+11.5%)
– 5-year price change: +$73,645 (+71.0%)
– Typical home value: $177,410 (#15 most expensive city in metro)
You may also like: Metros where people in Elizabethtown are getting new jobs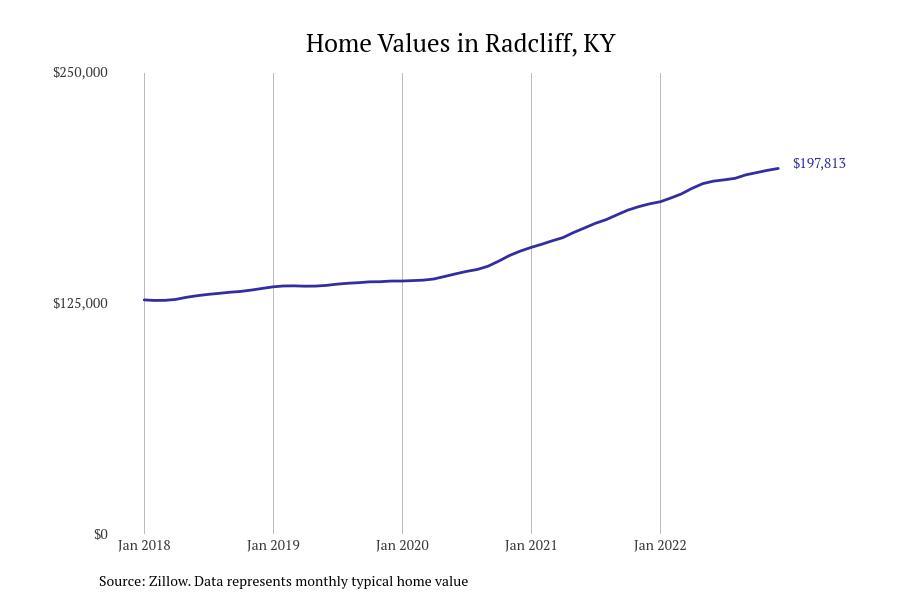 Stacker
#11. Radcliff, KY
– 1-year price change: +$19,175 (+10.7%)
– 5-year price change: +$71,246 (+56.3%)
– Typical home value: $197,813 (#8 most expensive city in metro)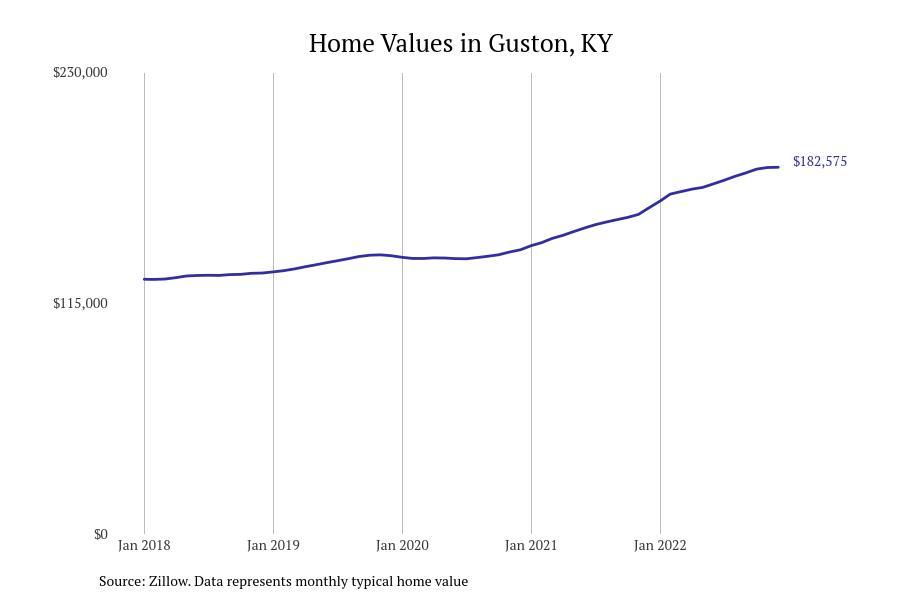 Stacker
#10. Guston, KY
– 1-year price change: +$20,077 (+12.4%)
– 5-year price change: +$56,027 (+44.3%)
– Typical home value: $182,575 (#12 most expensive city in metro)
Stacker
#9. Eastview, KY
– 1-year price change: +$20,084 (+11.8%)
– 5-year price change: +$67,946 (+55.5%)
– Typical home value: $190,474 (#11 most expensive city in metro)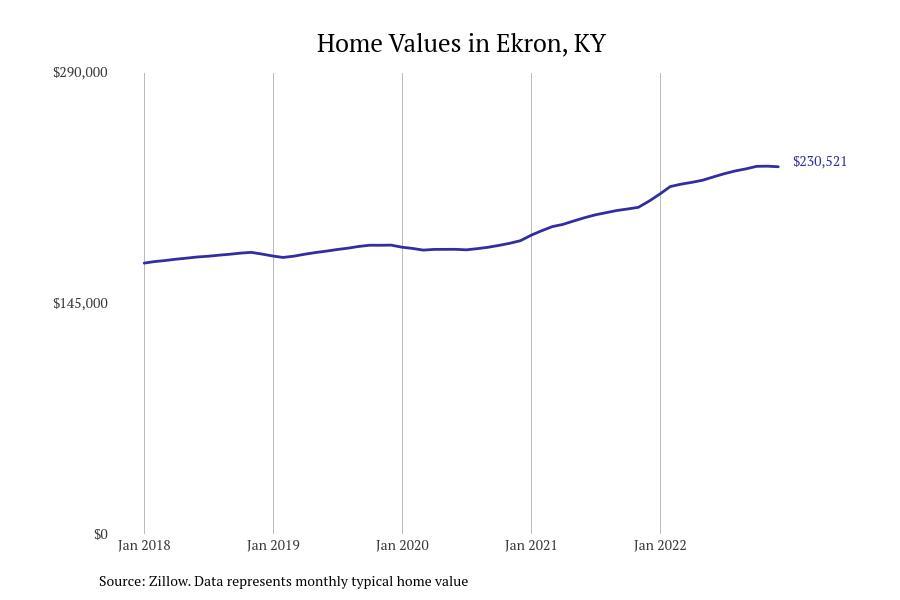 Stacker
#8. Ekron, KY
– 1-year price change: +$21,465 (+10.3%)
– 5-year price change: +$61,279 (+36.2%)
– Typical home value: $230,521 (#6 most expensive city in metro)
Stacker
#7. Battletown, KY
– 1-year price change: +$21,884 (+12.6%)
– 5-year price change: +$61,279 (data not available)
– Typical home value: $195,686 (#10 most expensive city in metro)
You may also like: How Elizabethtown feels about climate change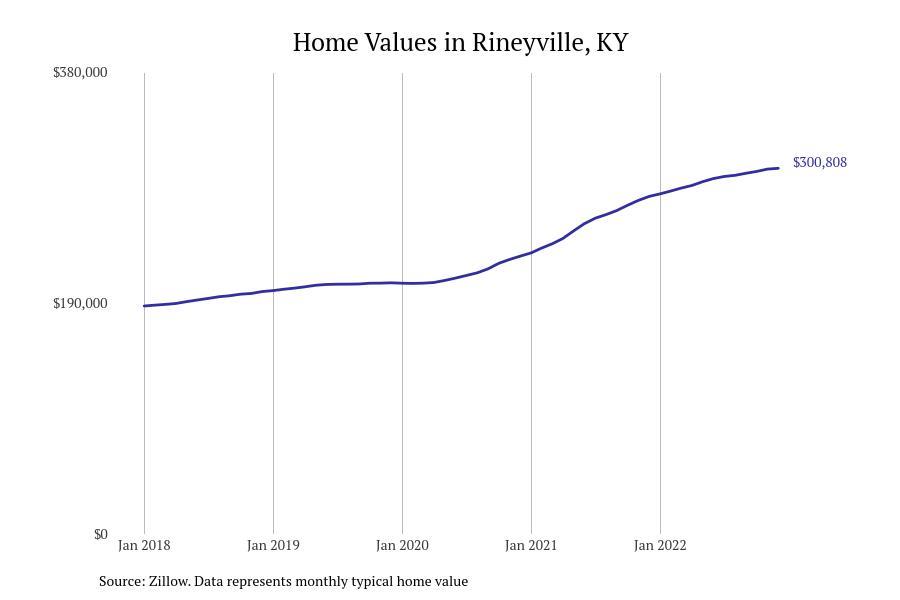 Stacker
#6. Rineyville, KY
– 1-year price change: +$23,098 (+8.3%)
– 5-year price change: +$114,194 (+61.2%)
– Typical home value: $300,808 (#1 most expensive city in metro)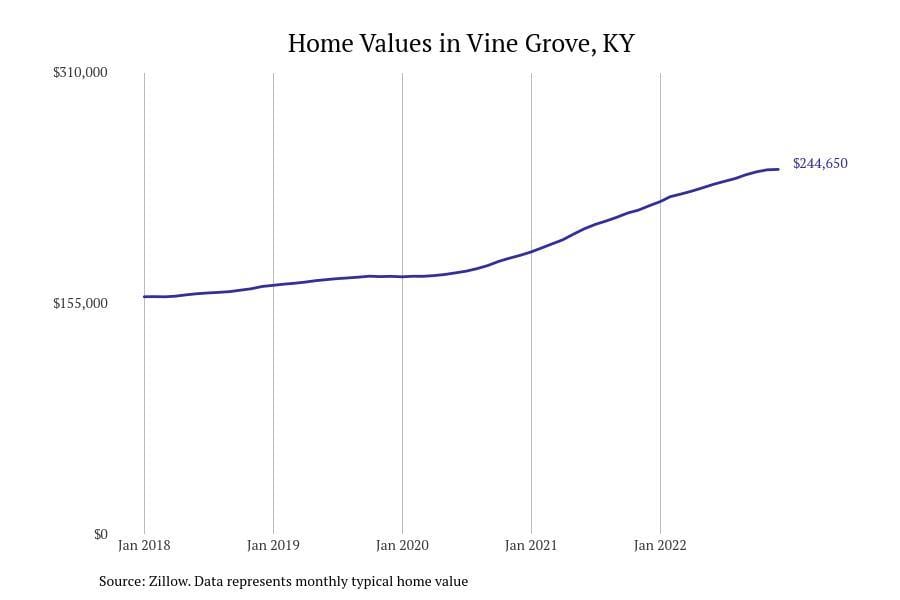 Stacker
#5. Vine Grove, KY
– 1-year price change: +$24,364 (+11.1%)
– 5-year price change: +$85,568 (+53.8%)
– Typical home value: $244,650 (#5 most expensive city in metro)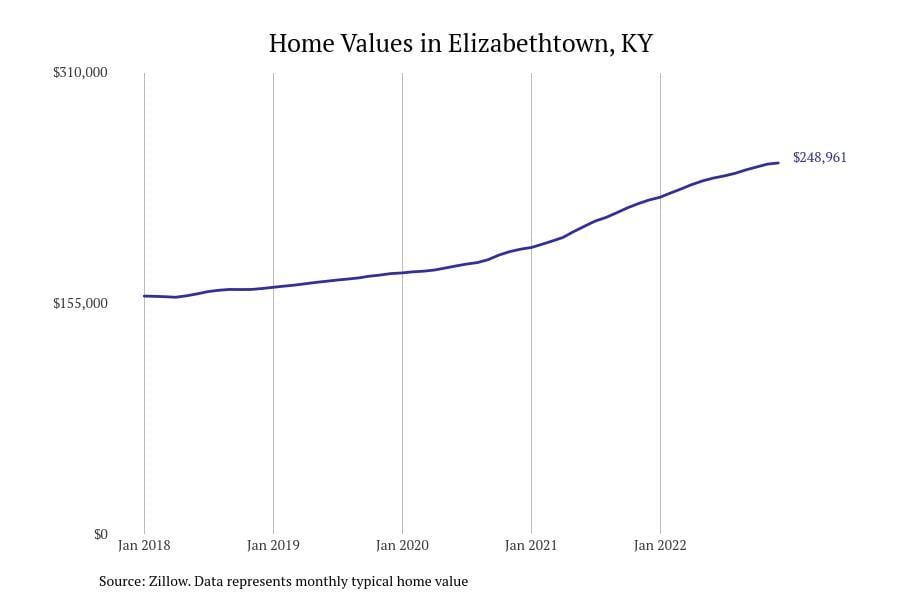 Stacker
#4. Elizabethtown, KY
– 1-year price change: +$24,804 (+11.1%)
– 5-year price change: +$90,045 (+56.7%)
– Typical home value: $248,961 (#4 most expensive city in metro)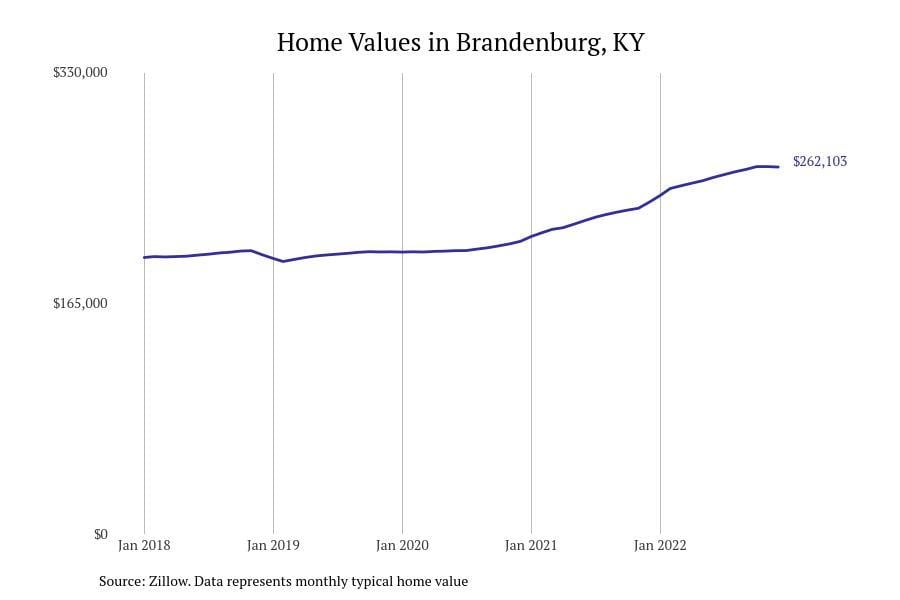 Stacker
#3. Brandenburg, KY
– 1-year price change: +$25,039 (+10.6%)
– 5-year price change: +$65,164 (+33.1%)
– Typical home value: $262,103 (#3 most expensive city in metro)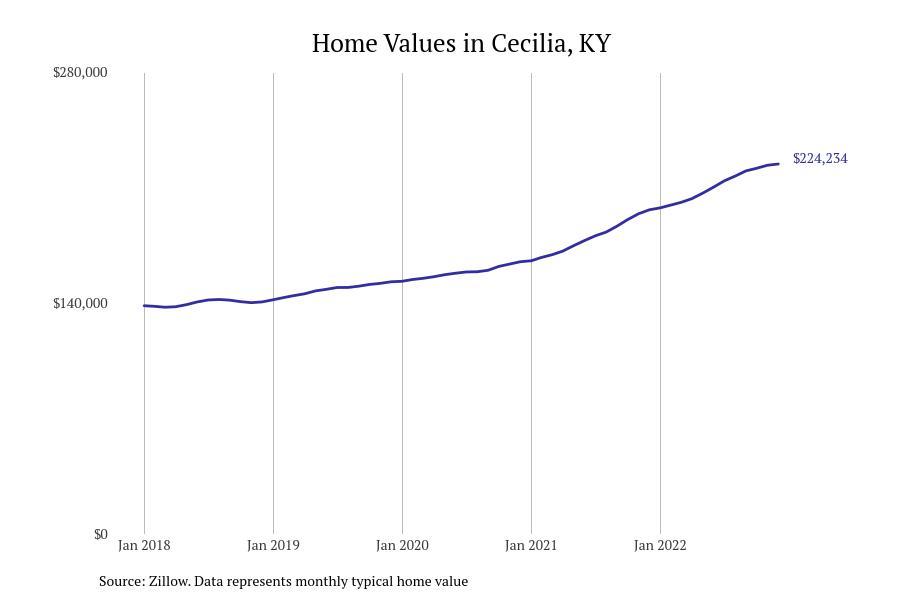 Stacker
#2. Cecilia, KY
– 1-year price change: +$27,760 (+14.1%)
– 5-year price change: +$85,976 (+62.2%)
– Typical home value: $224,234 (#7 most expensive city in metro)
You may also like: Cities with the fastest growing home prices in Elizabethtown metro area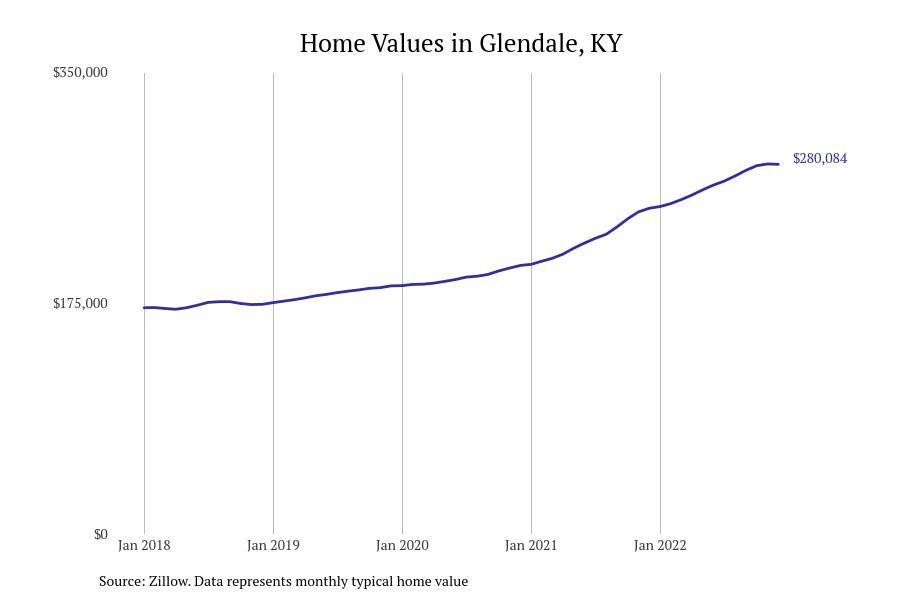 Stacker
#1. Glendale, KY
– 1-year price change: +$33,296 (+13.5%)
– 5-year price change: +$109,289 (+64.0%)
– Typical home value: $280,084 (#2 most expensive city in metro)