Cities with the fastest-growing home prices in Kentucky
Published 9:24 pm Thursday, November 10, 2022

FOTOGRIN // Shutterstock
Cities with the fastest-growing home prices in Kentucky
Stacker compiled a list of cities with the fastest growing home prices in Kentucky using data from Zillow. Cities are ranked by the dollar change in Zillow Home Values Index for all homes from the twelve months ending September 2022. The charts in this story were created automatically using Matplotlib. Data was available for 550 cities and towns in Kentucky. Home values in the top city on the list grew by $63,862 over the last 12 months.
Metros with the most cities in the top 50
#1. Louisville/Jefferson County, KY-IN: 17
#2. Cincinnati, OH-KY-IN: 10
#3. Clarksville, TN-KY: 6
#3. Lexington-Fayette, KY: 6
#5. Bowling Green, KY: 5
#6. Bardstown, KY: 2
#6. Elizabethtown-Fort Knox, KY: 2
#8. Richmond-Berea, KY: 1
Read on to see which cities made the list.
You may also like: Counties with the lowest home prices in Kentucky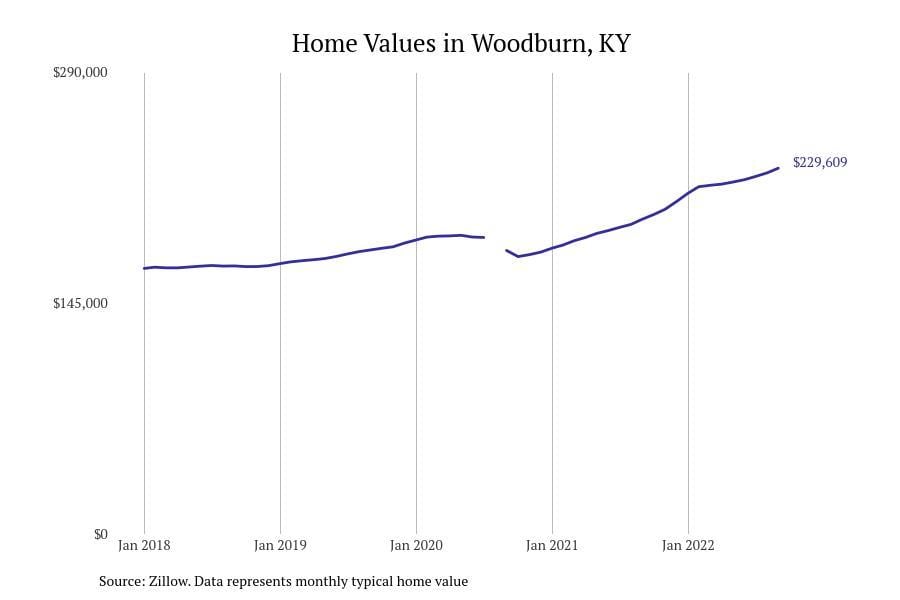 Stacker
#50. Woodburn
– Typical home value: $229,609
– 1-year price change: +$31,989 (+16.2%)
– 5-year price change: +$66,378 (+40.7%)
– Metro area: Bowling Green, KY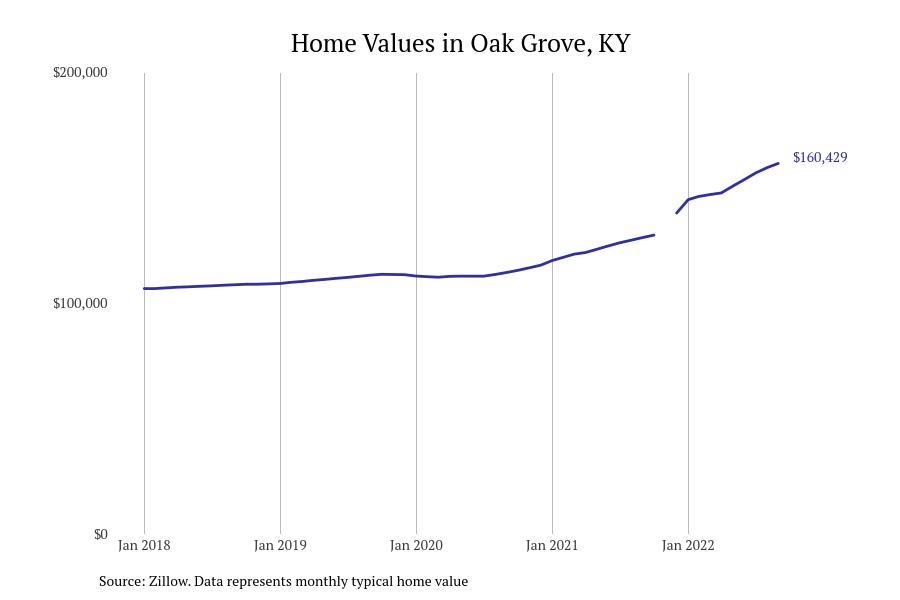 Stacker
#49. Oak Grove
– Typical home value: $160,429
– 1-year price change: +$32,122 (+25.0%)
– 5-year price change: +$55,087 (+52.3%)
– Metro area: Clarksville, TN-KY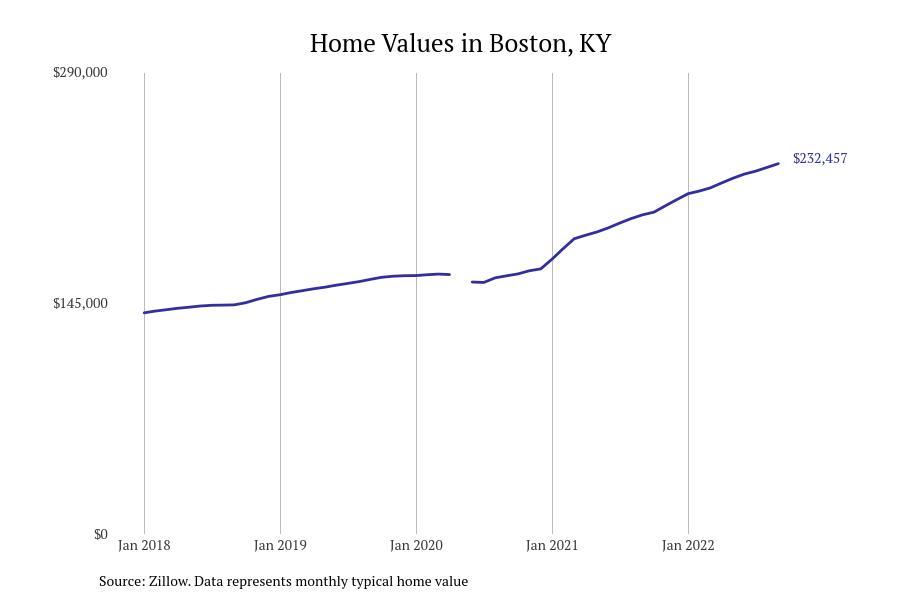 Stacker
#48. Boston
– Typical home value: $232,457
– 1-year price change: +$32,132 (+16.0%)
– 5-year price change: +$98,665 (+73.7%)
– Metro area: Bardstown, KY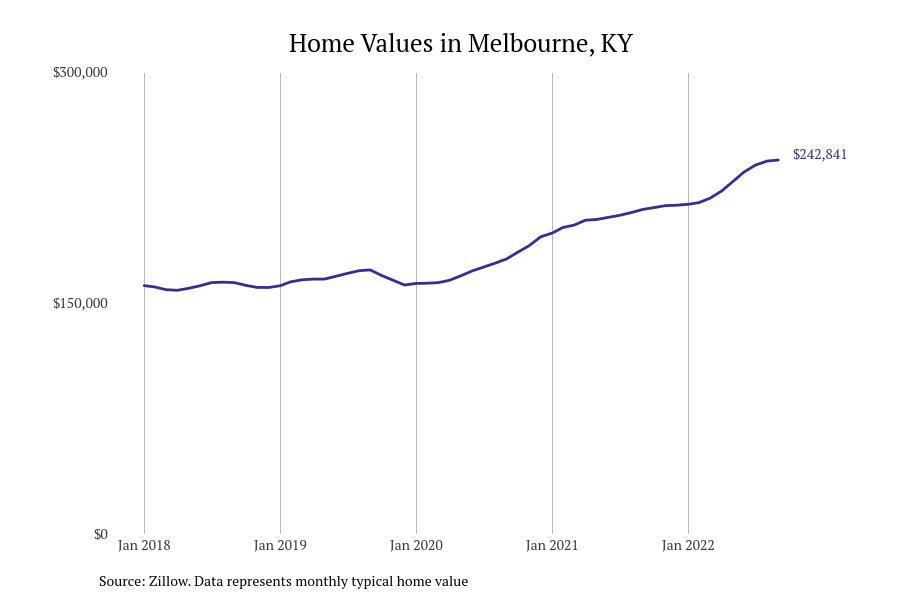 Stacker
#47. Melbourne
– Typical home value: $242,841
– 1-year price change: +$32,135 (+15.3%)
– 5-year price change: +$85,917 (+54.8%)
– Metro area: Cincinnati, OH-KY-IN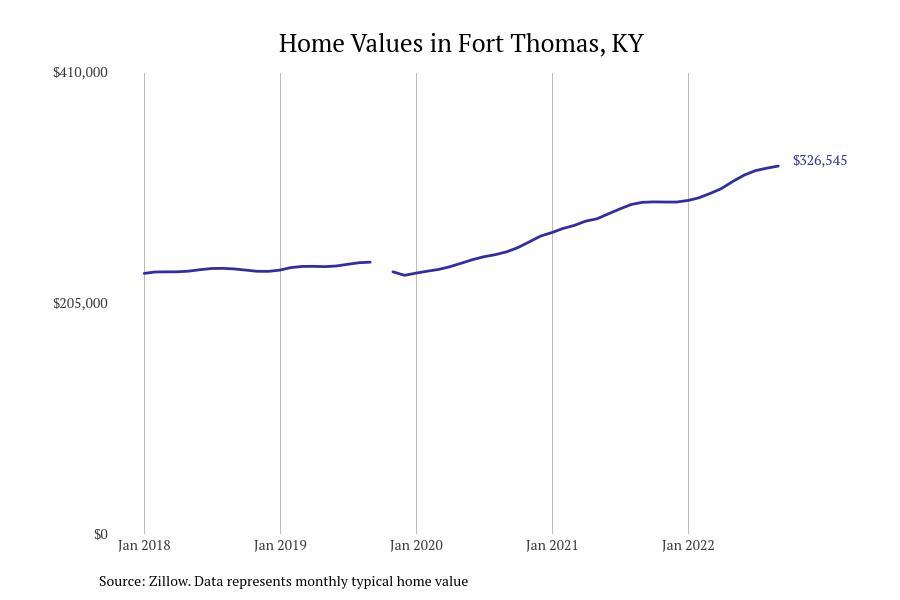 Stacker
#46. Fort Thomas
– Typical home value: $326,545
– 1-year price change: +$32,203 (+10.9%)
– 5-year price change: +$101,580 (+45.2%)
– Metro area: Cincinnati, OH-KY-IN
You may also like: Most popular baby names for boys of the last decade in Kentucky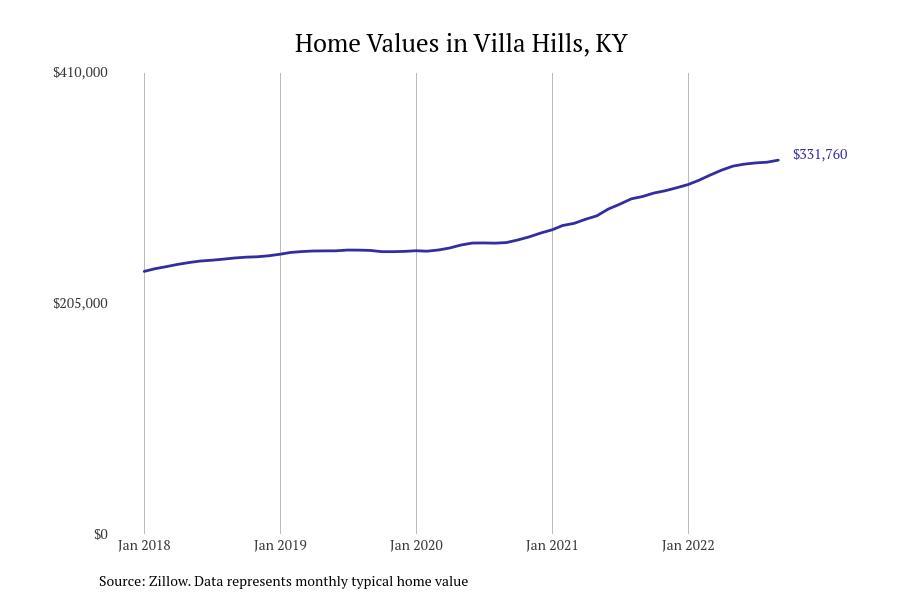 Stacker
#45. Villa Hills
– Typical home value: $331,760
– 1-year price change: +$32,282 (+10.8%)
– 5-year price change: +$103,759 (+45.5%)
– Metro area: Cincinnati, OH-KY-IN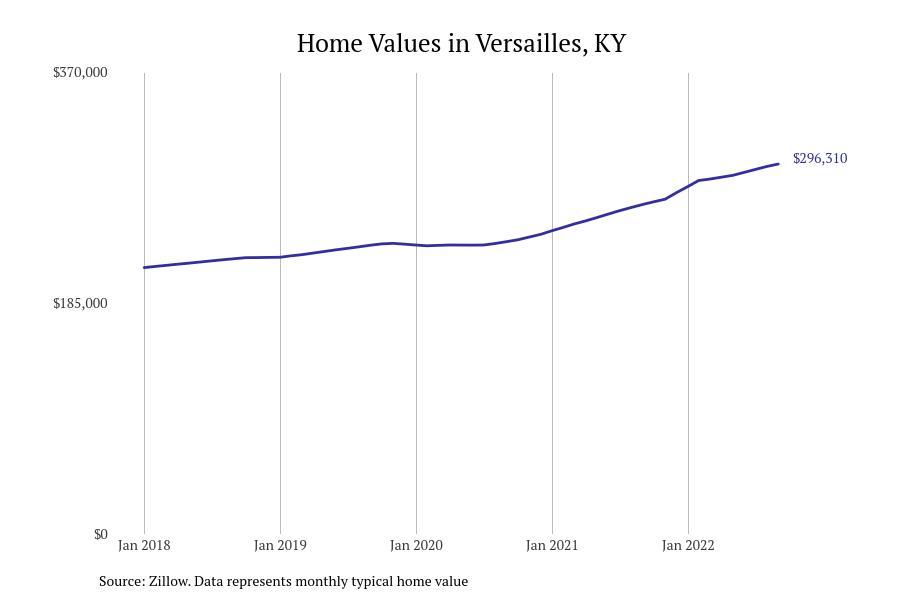 Stacker
#44. Versailles
– Typical home value: $296,310
– 1-year price change: +$32,469 (+12.3%)
– 5-year price change: +$85,436 (+40.5%)
– Metro area: Lexington-Fayette, KY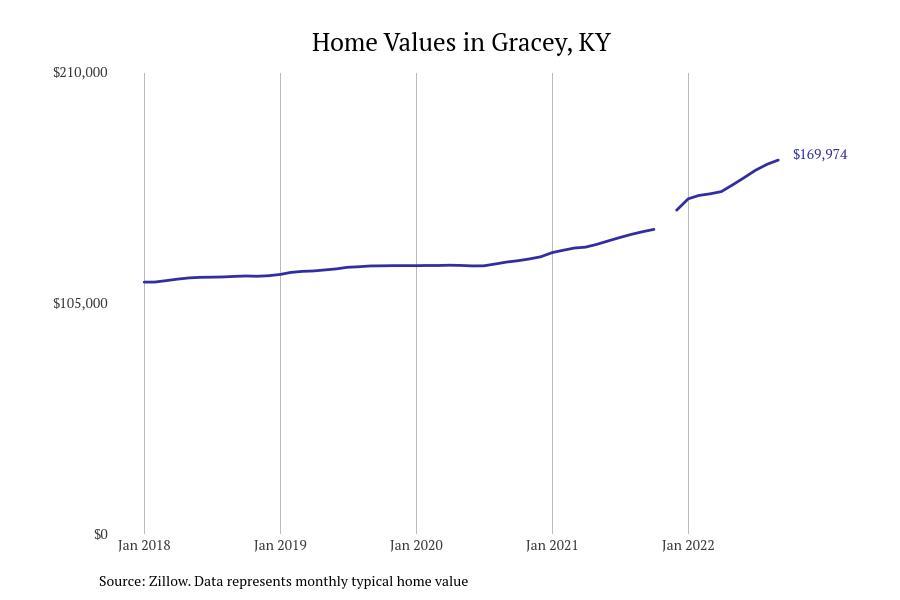 Stacker
#43. Gracey
– Typical home value: $169,974
– 1-year price change: +$32,590 (+23.7%)
– 5-year price change: +$56,946 (+50.4%)
– Metro area: Clarksville, TN-KY
Stacker
#42. Crofton
– Typical home value: $171,544
– 1-year price change: +$32,645 (+23.5%)
– 5-year price change: +$58,208 (+51.4%)
– Metro area: Clarksville, TN-KY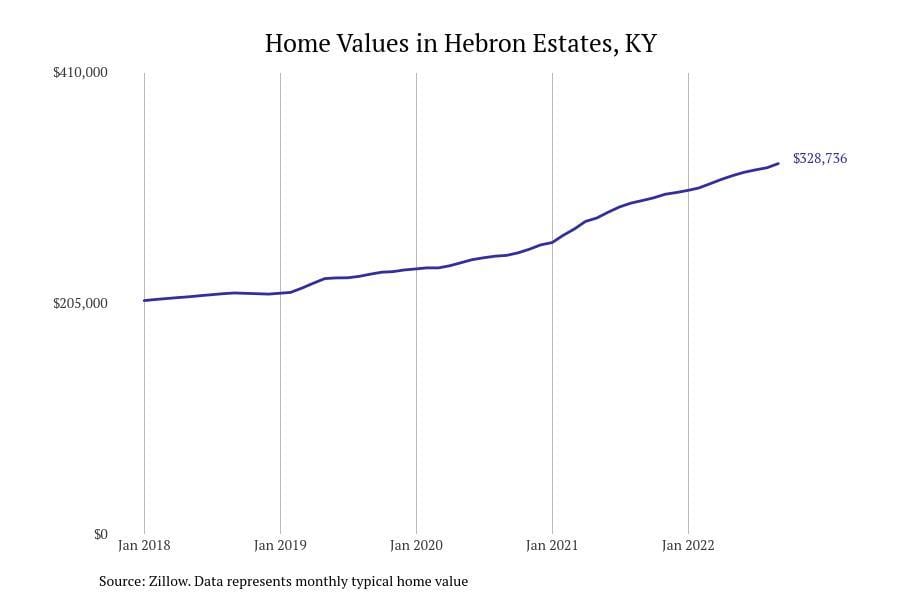 Stacker
#41. Hebron Estates
– Typical home value: $328,736
– 1-year price change: +$32,798 (+11.1%)
– 5-year price change: +$122,658 (+59.5%)
– Metro area: Louisville/Jefferson County, KY-IN
You may also like: See how low property taxes in Kentucky are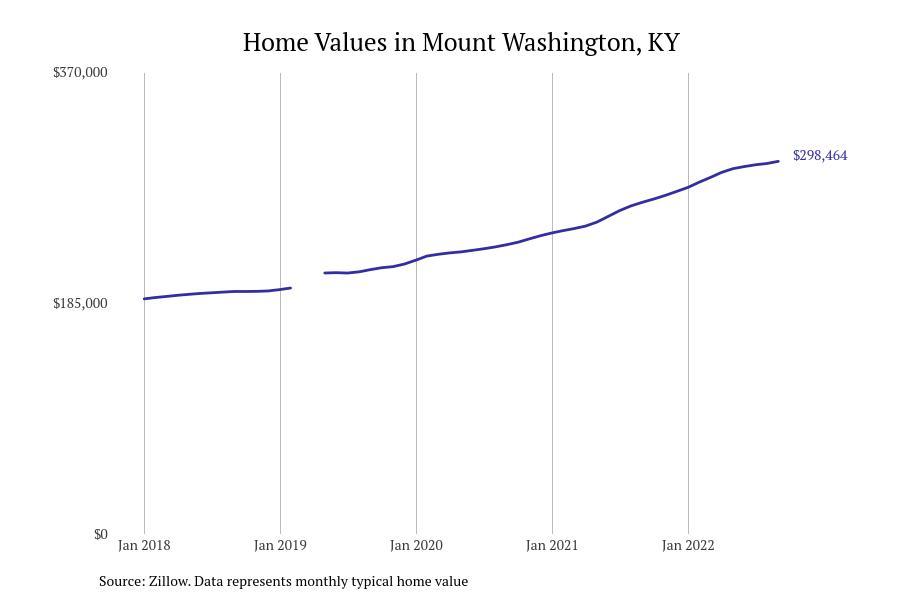 Stacker
#40. Mount Washington
– Typical home value: $298,464
– 1-year price change: +$32,799 (+12.3%)
– 5-year price change: +$110,989 (+59.2%)
– Metro area: Louisville/Jefferson County, KY-IN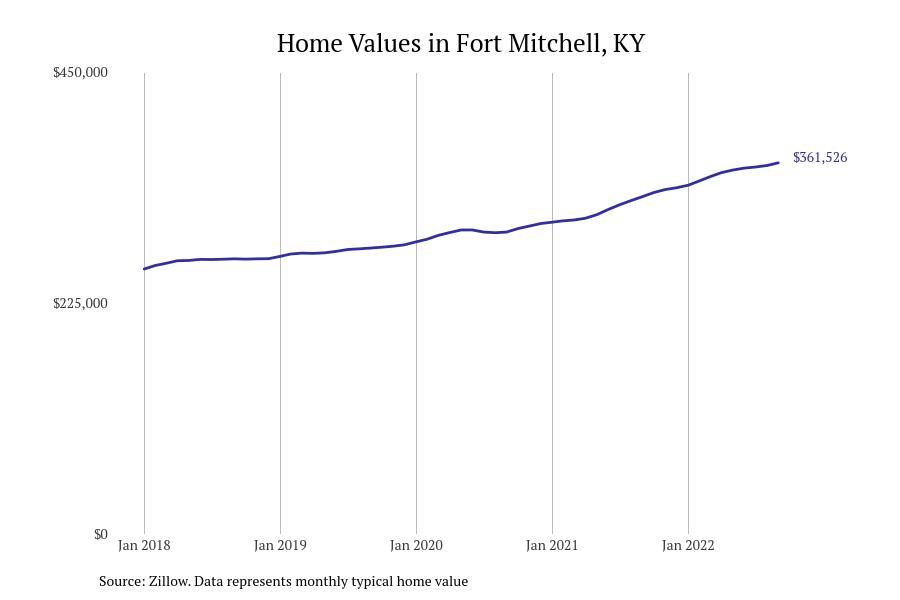 Stacker
#39. Fort Mitchell
– Typical home value: $361,526
– 1-year price change: +$32,954 (+10.0%)
– 5-year price change: +$103,379 (+40.0%)
– Metro area: Cincinnati, OH-KY-IN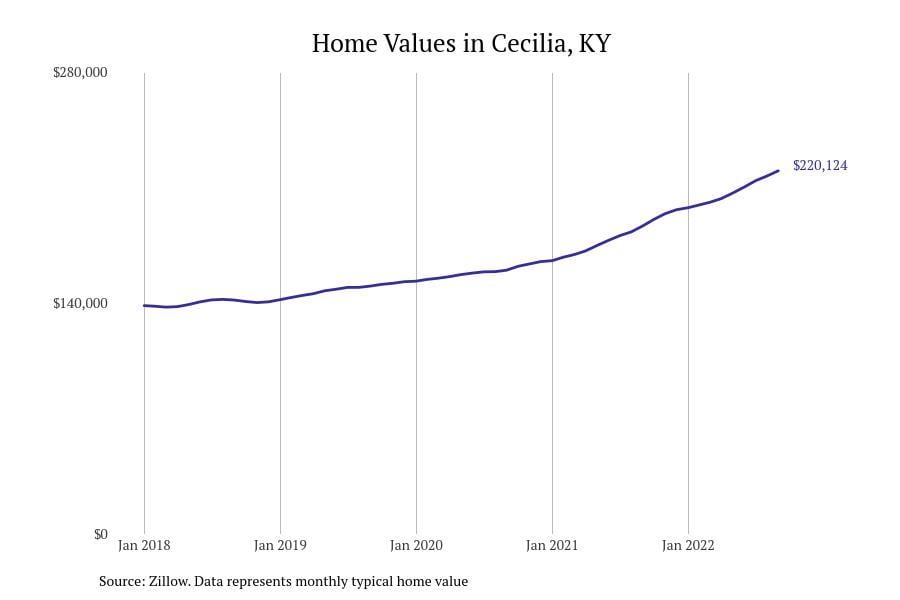 Stacker
#38. Cecilia
– Typical home value: $220,124
– 1-year price change: +$33,533 (+18.0%)
– 5-year price change: +$84,372 (+62.2%)
– Metro area: Elizabethtown-Fort Knox, KY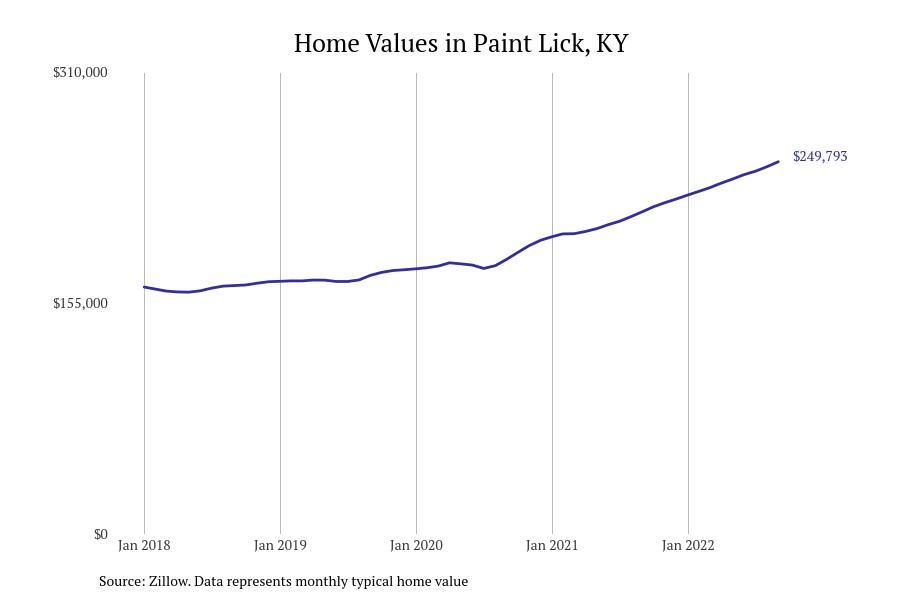 Stacker
#37. Paint Lick
– Typical home value: $249,793
– 1-year price change: +$33,535 (+15.5%)
– 5-year price change: +$83,540 (+50.2%)
– Metro area: Richmond-Berea, KY
Stacker
#36. Burlington
– Typical home value: $291,599
– 1-year price change: +$33,689 (+13.1%)
– 5-year price change: +$106,217 (+57.3%)
– Metro area: Cincinnati, OH-KY-IN
You may also like: Best places to live in Kentucky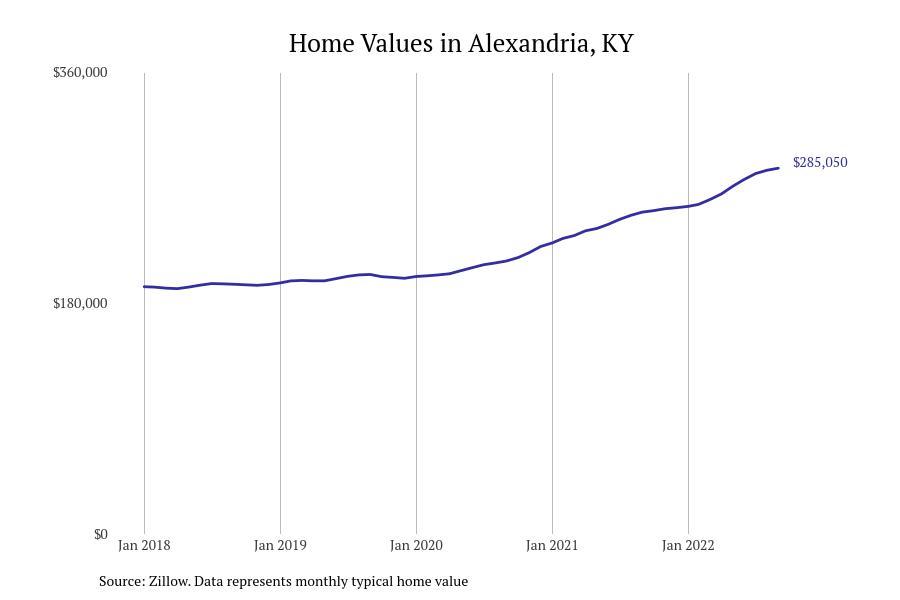 Stacker
#35. Alexandria
– Typical home value: $285,050
– 1-year price change: +$34,231 (+13.6%)
– 5-year price change: +$95,347 (+50.3%)
– Metro area: Cincinnati, OH-KY-IN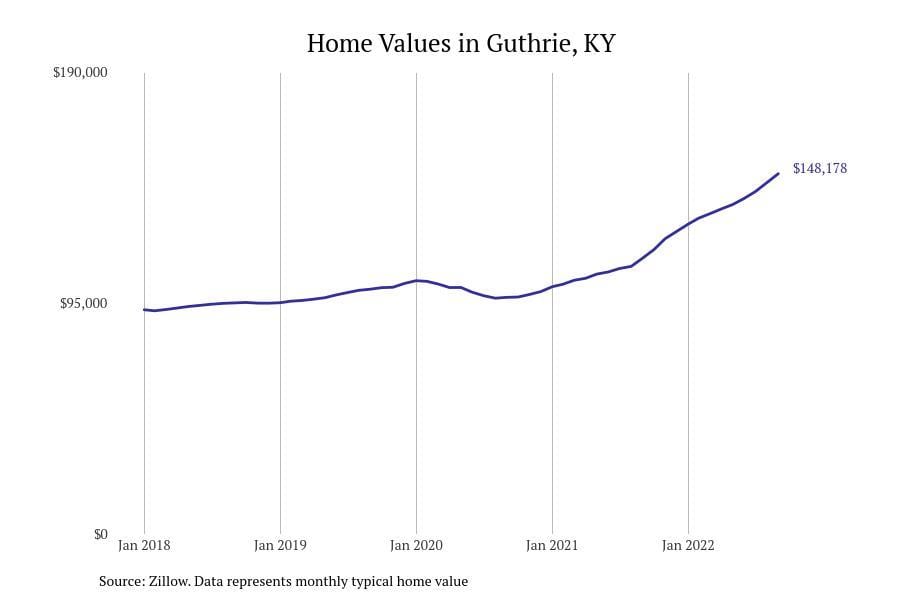 Stacker
#34. Guthrie
– Typical home value: $148,178
– 1-year price change: +$34,803 (+30.7%)
– 5-year price change: +$55,961 (+60.7%)
– Metro area: not in a metro area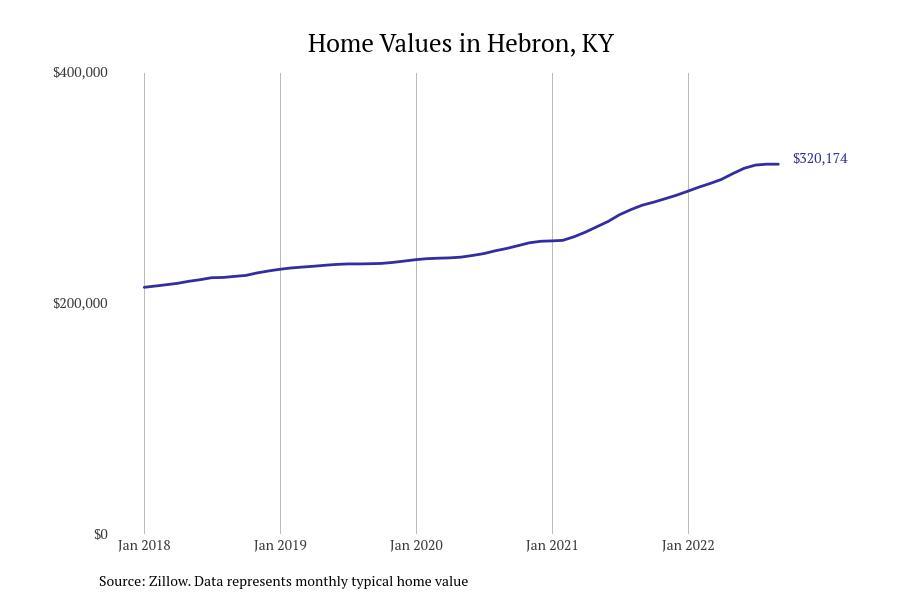 Stacker
#33. Hebron
– Typical home value: $320,174
– 1-year price change: +$35,456 (+12.5%)
– 5-year price change: +$109,190 (+51.8%)
– Metro area: Cincinnati, OH-KY-IN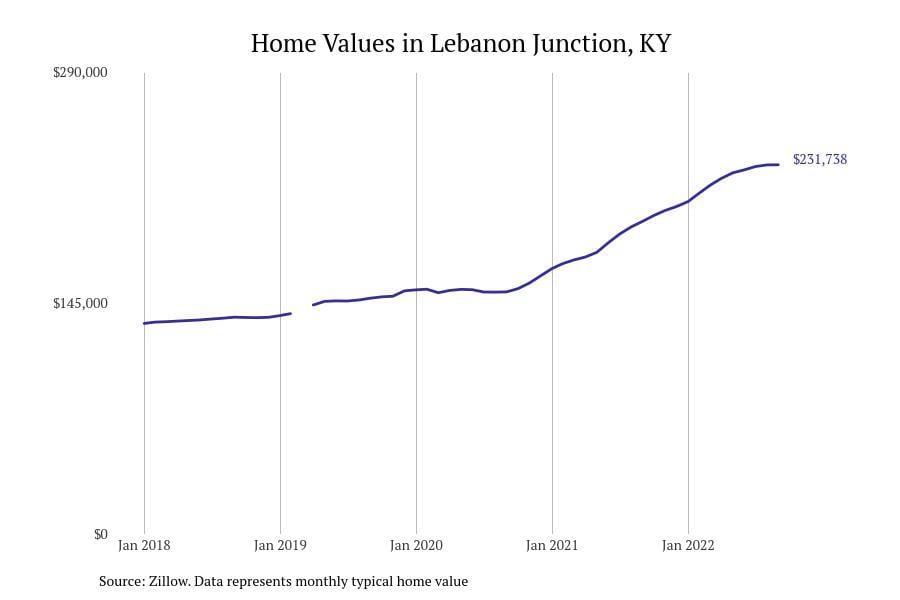 Stacker
#32. Lebanon Junction
– Typical home value: $231,738
– 1-year price change: +$35,555 (+18.1%)
– 5-year price change: +$100,014 (+75.9%)
– Metro area: Louisville/Jefferson County, KY-IN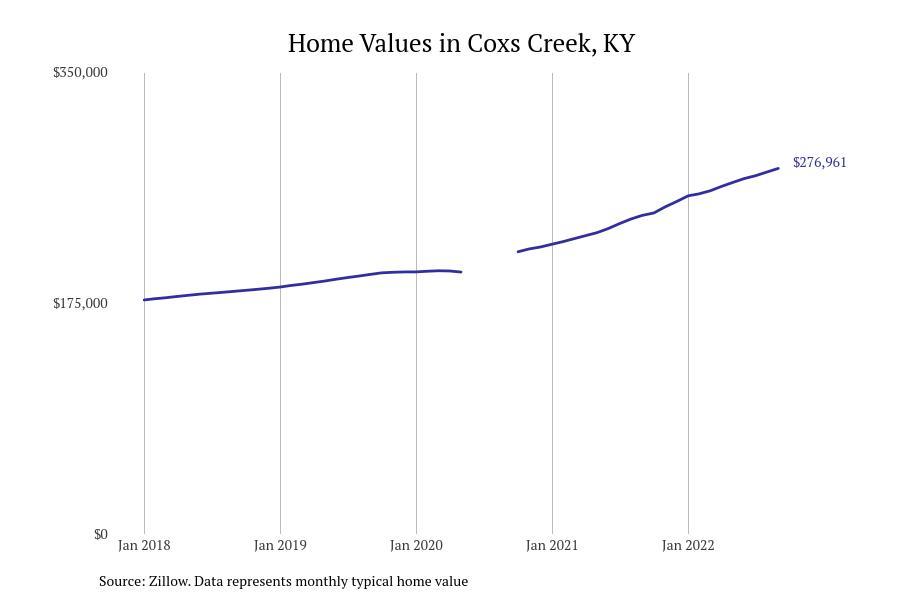 Stacker
#31. Coxs Creek
– Typical home value: $276,961
– 1-year price change: +$35,557 (+14.7%)
– 5-year price change: +$103,742 (+59.9%)
– Metro area: Bardstown, KY
You may also like: States sending the most people to Kentucky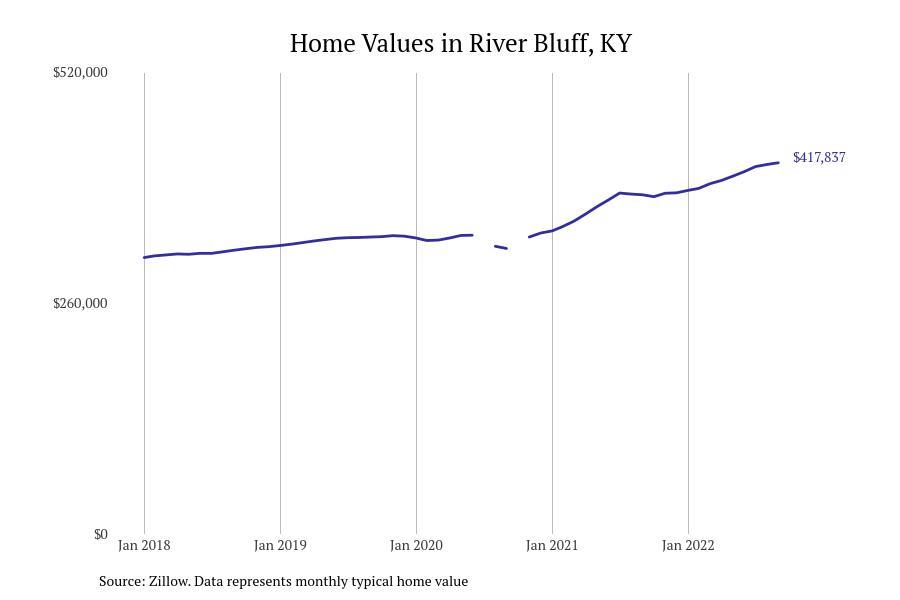 Stacker
#30. River Bluff
– Typical home value: $417,837
– 1-year price change: +$36,010 (+9.4%)
– 5-year price change: +$114,286 (+37.6%)
– Metro area: Louisville/Jefferson County, KY-IN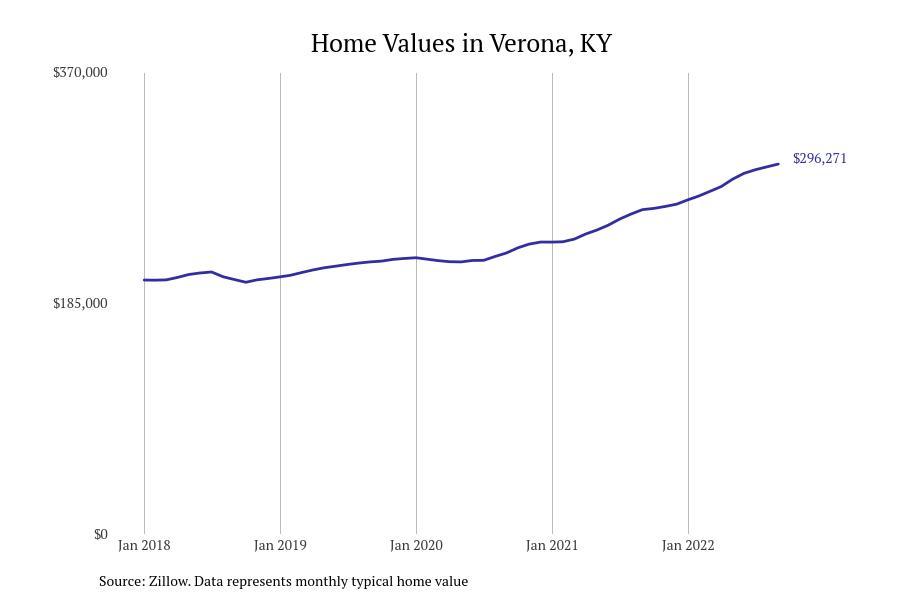 Stacker
#29. Verona
– Typical home value: $296,271
– 1-year price change: +$36,511 (+14.1%)
– 5-year price change: +$89,402 (+43.2%)
– Metro area: Cincinnati, OH-KY-IN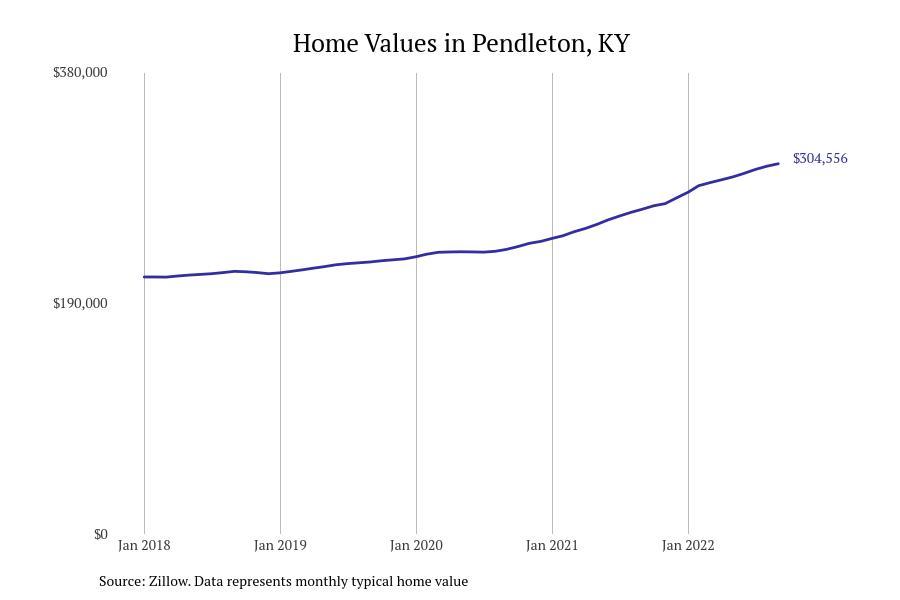 Stacker
#28. Pendleton
– Typical home value: $304,556
– 1-year price change: +$37,389 (+14.0%)
– 5-year price change: +$97,434 (+47.0%)
– Metro area: Louisville/Jefferson County, KY-IN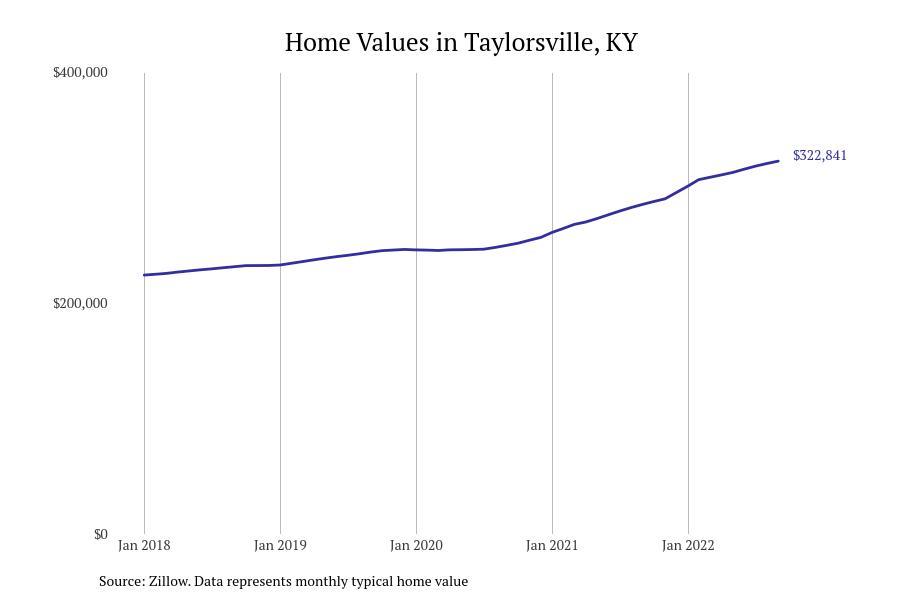 Stacker
#27. Taylorsville
– Typical home value: $322,841
– 1-year price change: +$37,507 (+13.1%)
– 5-year price change: +$103,431 (+47.1%)
– Metro area: Louisville/Jefferson County, KY-IN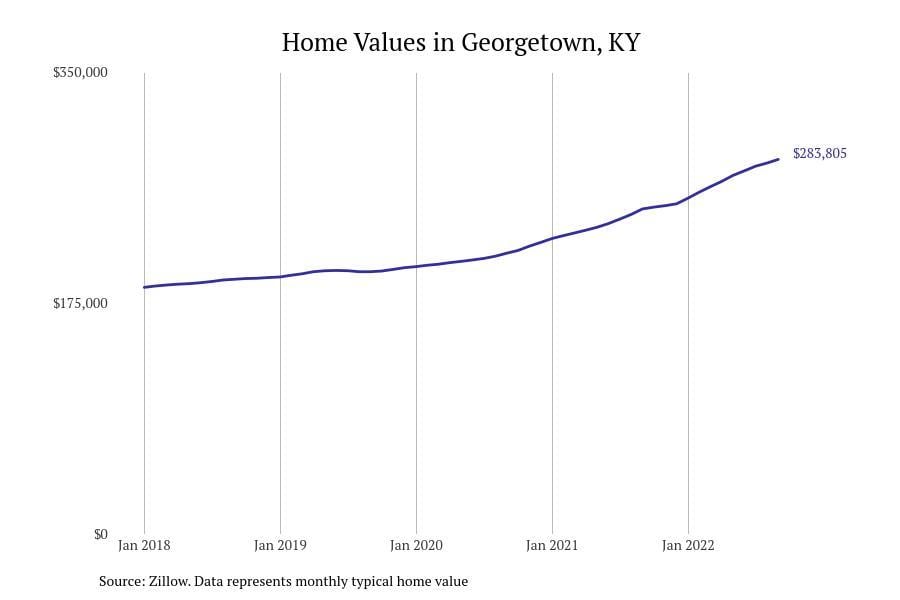 Stacker
#26. Georgetown
– Typical home value: $283,805
– 1-year price change: +$37,563 (+15.3%)
– 5-year price change: +$101,515 (+55.7%)
– Metro area: Lexington-Fayette, KY
You may also like: Counties in Kentucky where people spend most of their paycheck on housing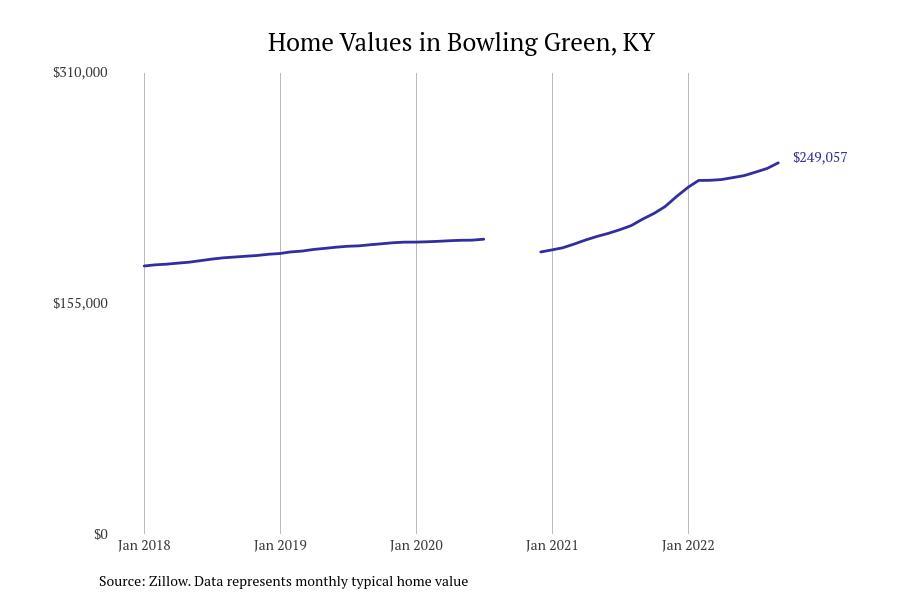 Stacker
#25. Bowling Green
– Typical home value: $249,057
– 1-year price change: +$37,873 (+17.9%)
– 5-year price change: +$73,578 (+41.9%)
– Metro area: Bowling Green, KY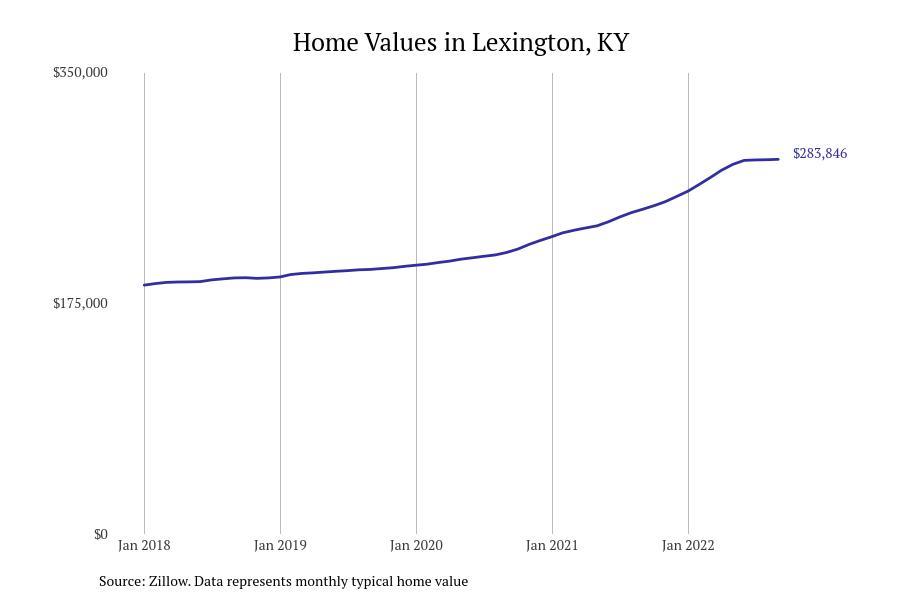 Stacker
#24. Lexington
– Typical home value: $283,846
– 1-year price change: +$37,891 (+15.4%)
– 5-year price change: +$97,365 (+52.2%)
– Metro area: Lexington-Fayette, KY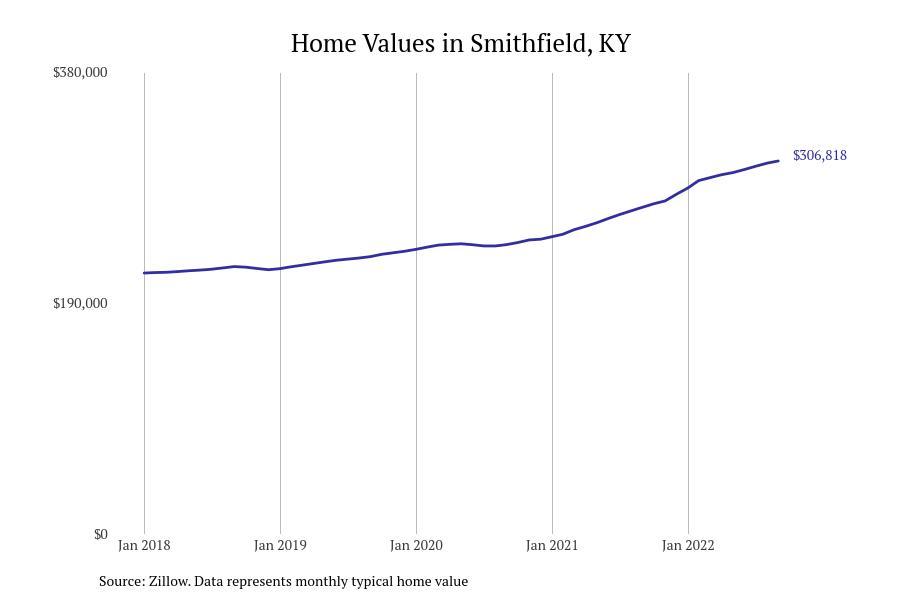 Stacker
#23. Smithfield
– Typical home value: $306,818
– 1-year price change: +$38,097 (+14.2%)
– 5-year price change: +$96,781 (+46.1%)
– Metro area: Louisville/Jefferson County, KY-IN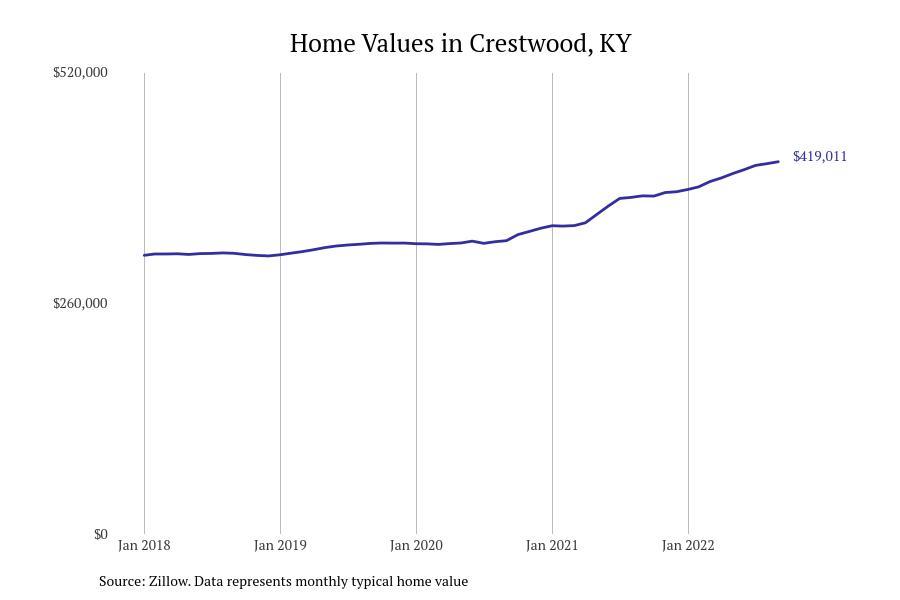 Stacker
#22. Crestwood
– Typical home value: $419,011
– 1-year price change: +$38,424 (+10.1%)
– 5-year price change: +$110,996 (+36.0%)
– Metro area: Louisville/Jefferson County, KY-IN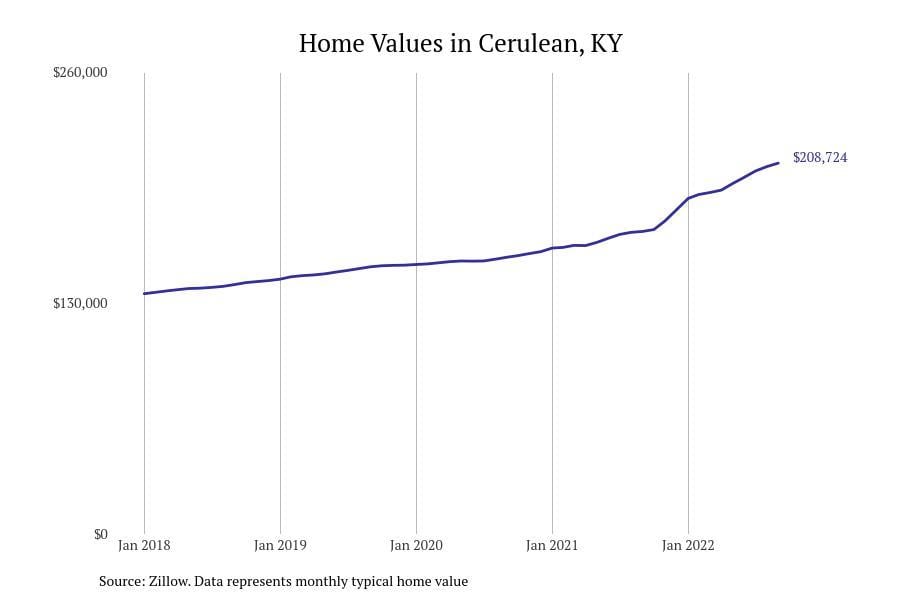 Stacker
#21. Cerulean
– Typical home value: $208,724
– 1-year price change: +$38,476 (+22.6%)
– 5-year price change: +$76,778 (+58.2%)
– Metro area: Clarksville, TN-KY
You may also like: States where people in Kentucky are getting new jobs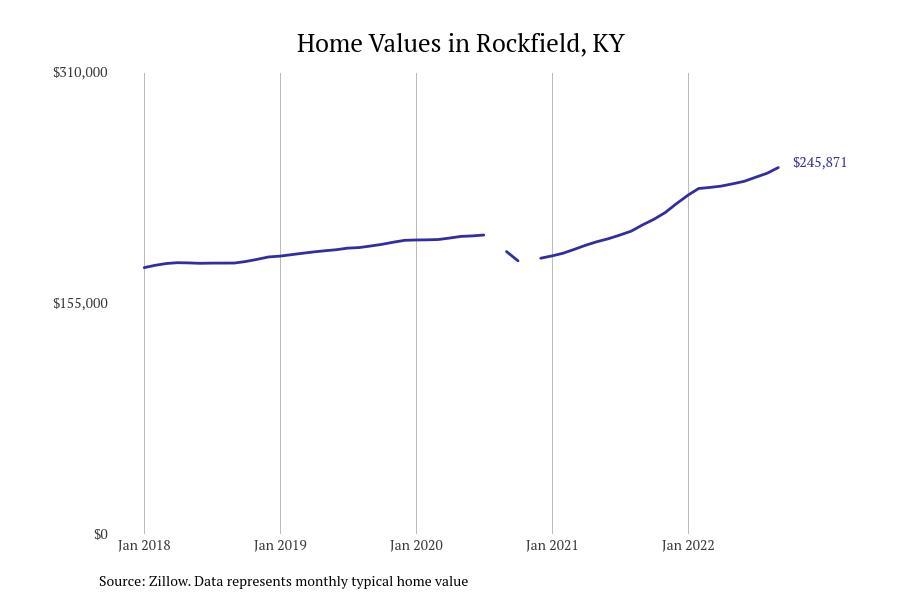 Stacker
#20. Rockfield
– Typical home value: $245,871
– 1-year price change: +$38,516 (+18.6%)
– 5-year price change: +$69,999 (+39.8%)
– Metro area: Bowling Green, KY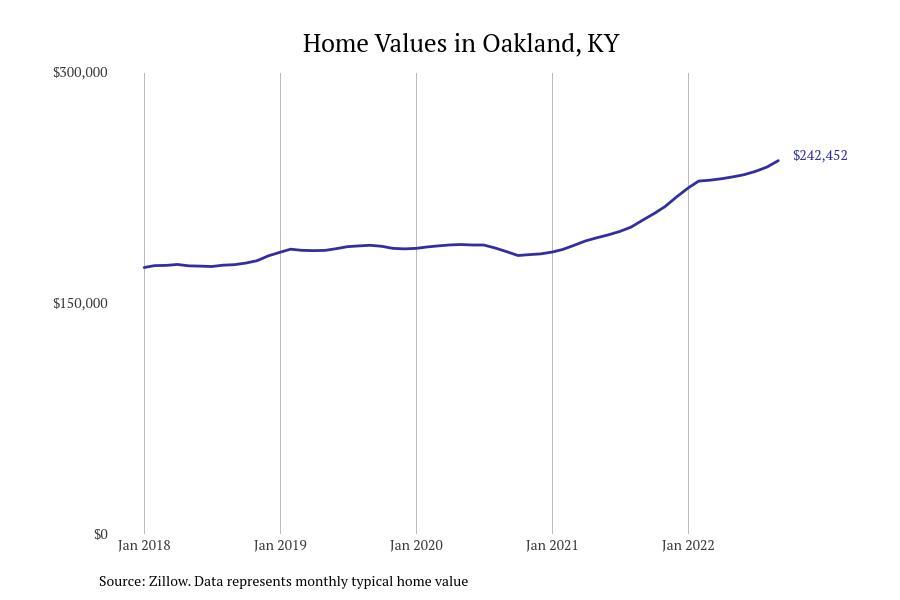 Stacker
#19. Oakland
– Typical home value: $242,452
– 1-year price change: +$38,761 (+19.0%)
– 5-year price change: +$71,878 (+42.1%)
– Metro area: Bowling Green, KY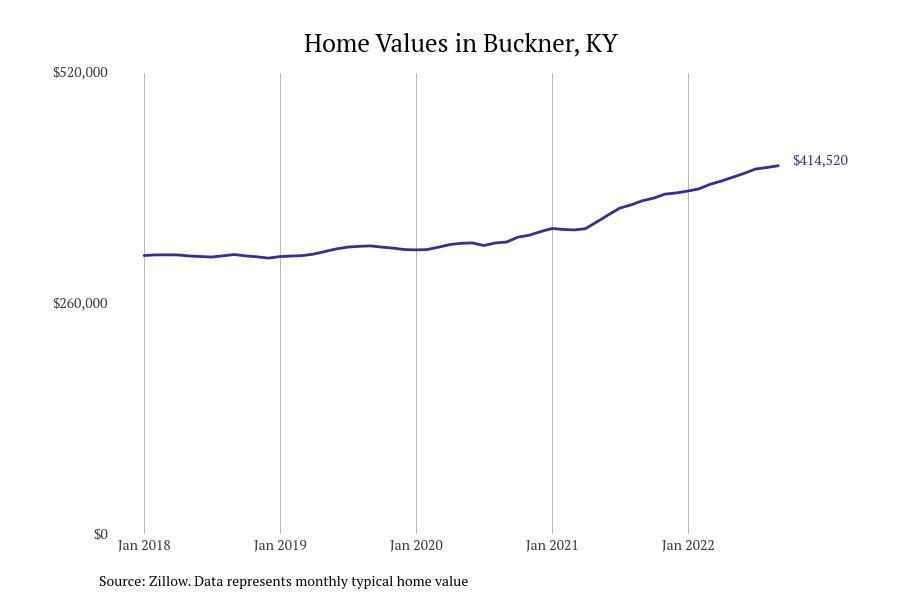 Stacker
#18. Buckner
– Typical home value: $414,520
– 1-year price change: +$39,436 (+10.5%)
– 5-year price change: +$111,048 (+36.6%)
– Metro area: Louisville/Jefferson County, KY-IN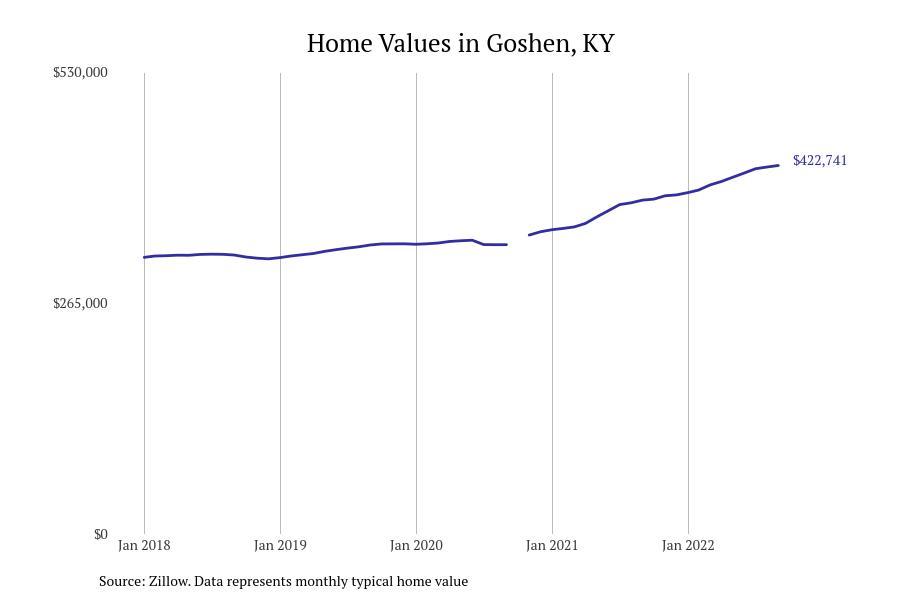 Stacker
#17. Goshen
– Typical home value: $422,741
– 1-year price change: +$39,738 (+10.4%)
– 5-year price change: +$106,661 (+33.7%)
– Metro area: Louisville/Jefferson County, KY-IN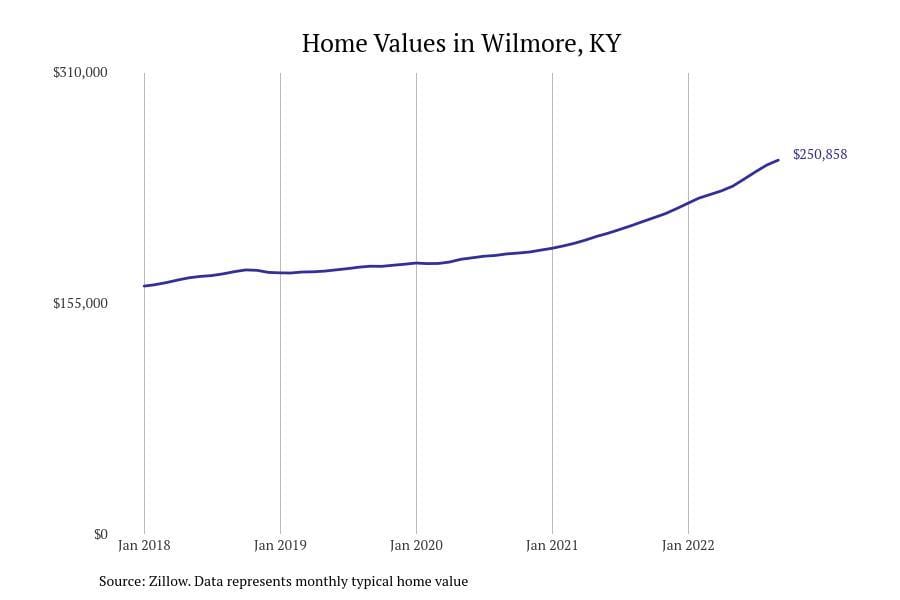 Stacker
#16. Wilmore
– Typical home value: $250,858
– 1-year price change: +$41,310 (+19.7%)
– 5-year price change: +$87,775 (+53.8%)
– Metro area: Lexington-Fayette, KY
You may also like: See how Kentucky will be affected if Roe v. Wade is overturned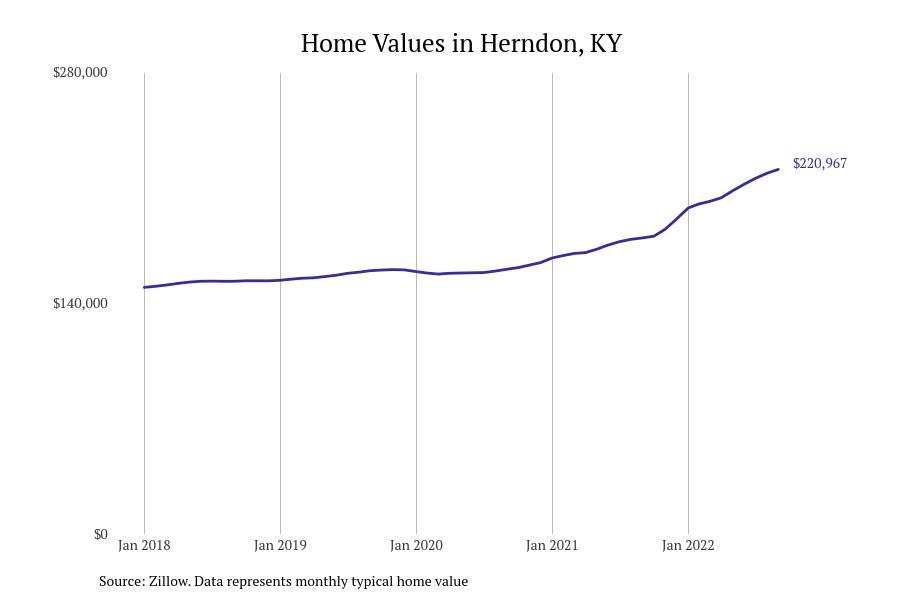 Stacker
#15. Herndon
– Typical home value: $220,967
– 1-year price change: +$41,530 (+23.1%)
– 5-year price change: +$74,350 (+50.7%)
– Metro area: Clarksville, TN-KY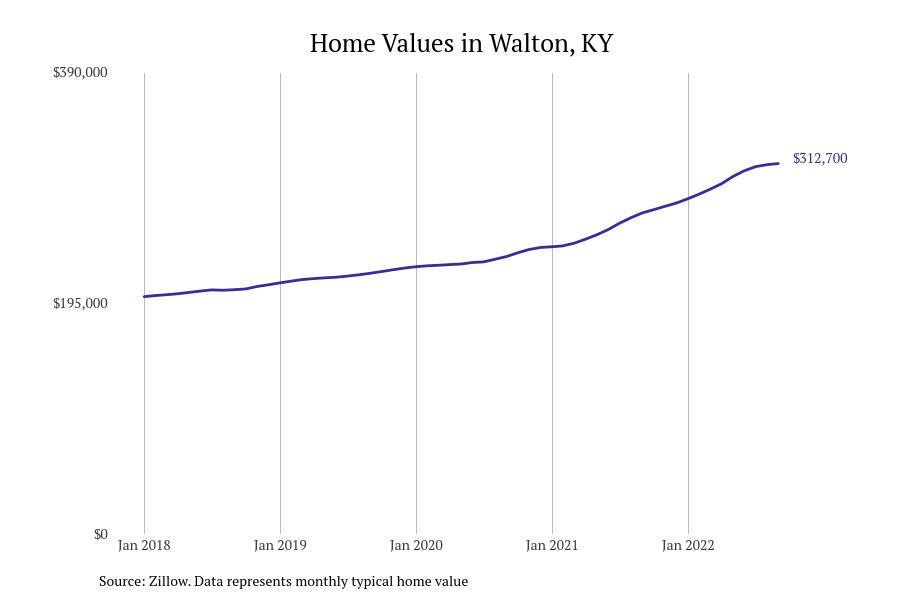 Stacker
#14. Walton
– Typical home value: $312,700
– 1-year price change: +$41,624 (+15.4%)
– 5-year price change: +$114,276 (+57.6%)
– Metro area: Cincinnati, OH-KY-IN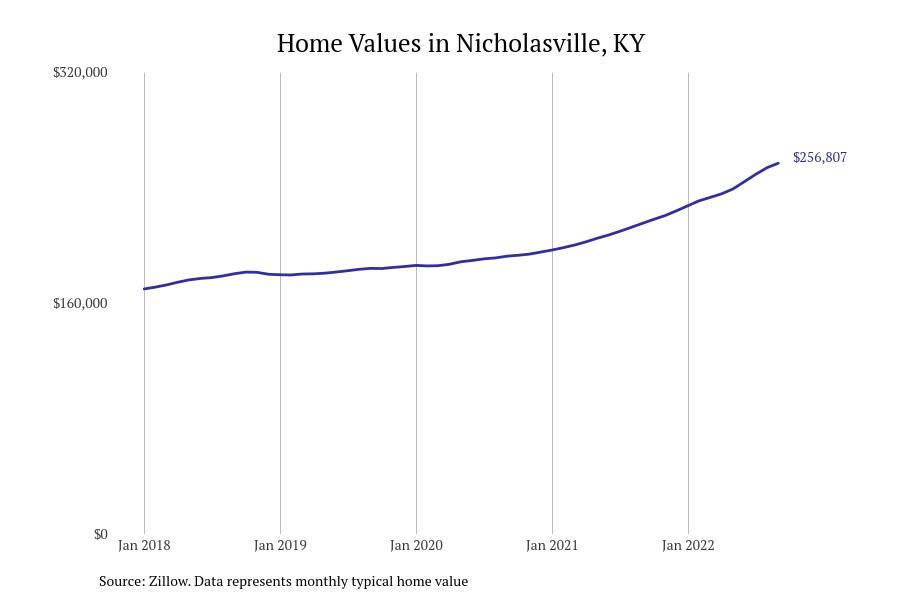 Stacker
#13. Nicholasville
– Typical home value: $256,807
– 1-year price change: +$41,628 (+19.3%)
– 5-year price change: +$90,694 (+54.6%)
– Metro area: Lexington-Fayette, KY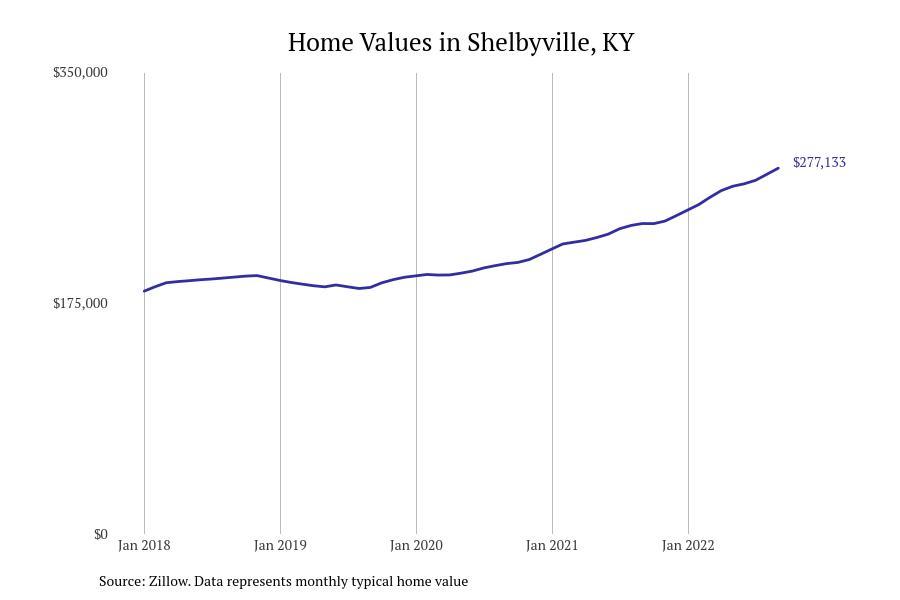 Stacker
#12. Shelbyville
– Typical home value: $277,133
– 1-year price change: +$41,937 (+17.8%)
– 5-year price change: +$98,878 (+55.5%)
– Metro area: Louisville/Jefferson County, KY-IN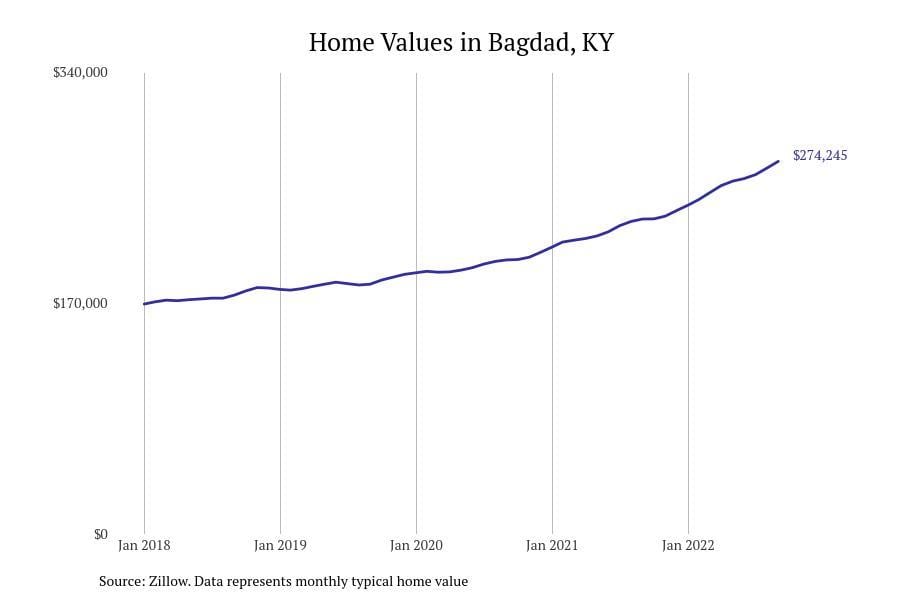 Stacker
#11. Bagdad
– Typical home value: $274,245
– 1-year price change: +$42,472 (+18.3%)
– 5-year price change: +$108,660 (+65.6%)
– Metro area: Louisville/Jefferson County, KY-IN
You may also like: 17% of people live near toxic release facilities—here's how it breaks down in Kentucky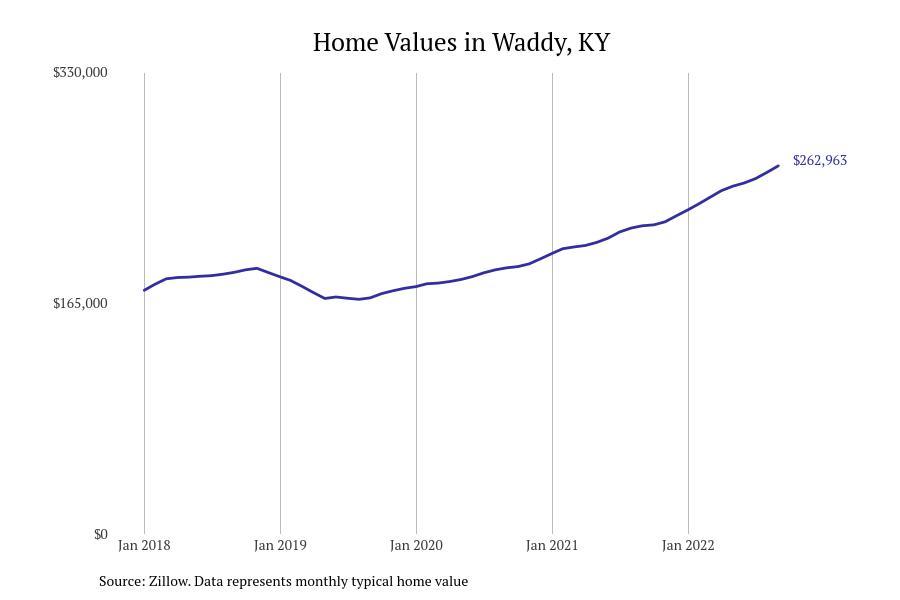 Stacker
#10. Waddy
– Typical home value: $262,963
– 1-year price change: +$42,796 (+19.4%)
– 5-year price change: +$94,816 (+56.4%)
– Metro area: Louisville/Jefferson County, KY-IN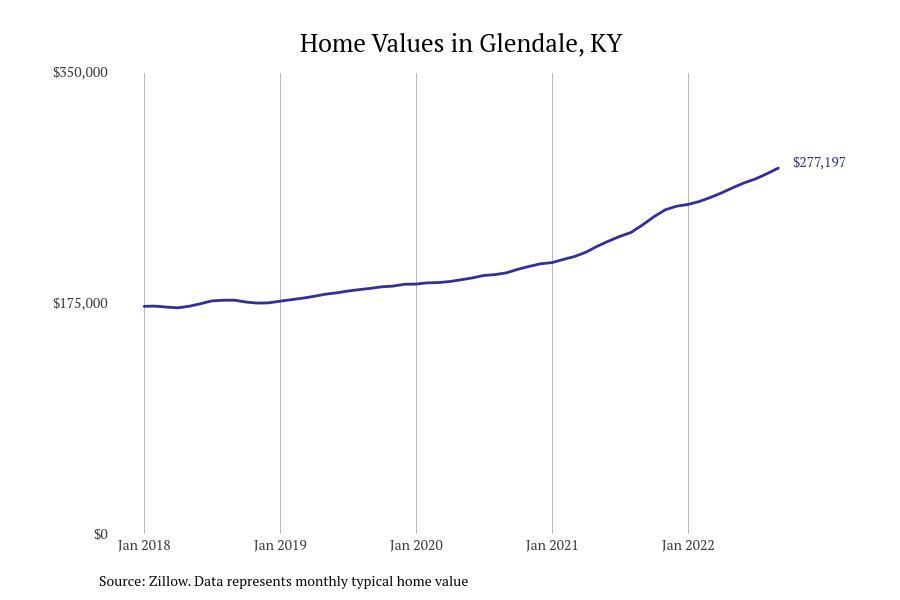 Stacker
#9. Glendale
– Typical home value: $277,197
– 1-year price change: +$43,146 (+18.4%)
– 5-year price change: +$107,636 (+63.5%)
– Metro area: Elizabethtown-Fort Knox, KY
Stacker
#8. Pembroke
– Typical home value: $221,407
– 1-year price change: +$43,480 (+24.4%)
– 5-year price change: +$73,782 (+50.0%)
– Metro area: Clarksville, TN-KY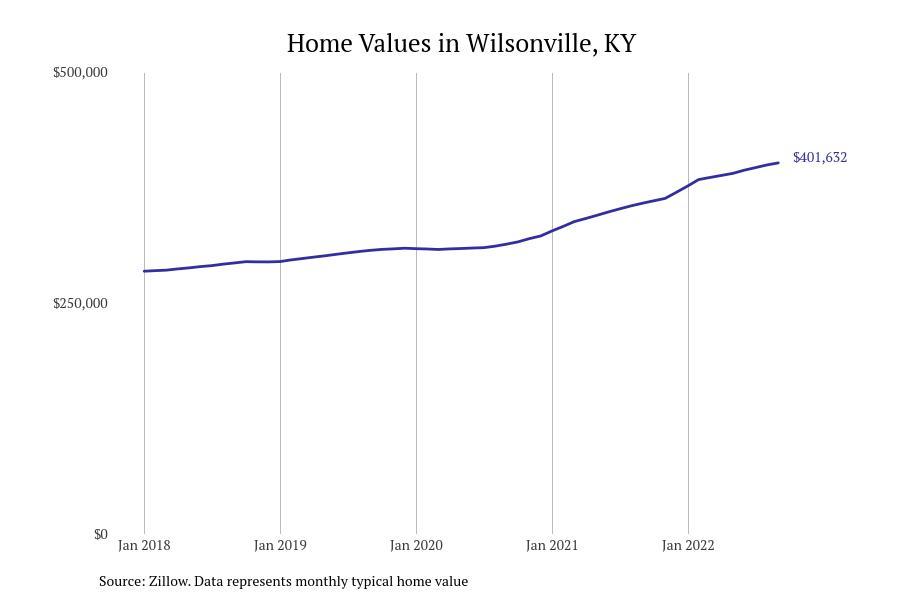 Stacker
#7. Wilsonville
– Typical home value: $401,632
– 1-year price change: +$43,663 (+12.2%)
– 5-year price change: +$122,730 (+44.0%)
– Metro area: Louisville/Jefferson County, KY-IN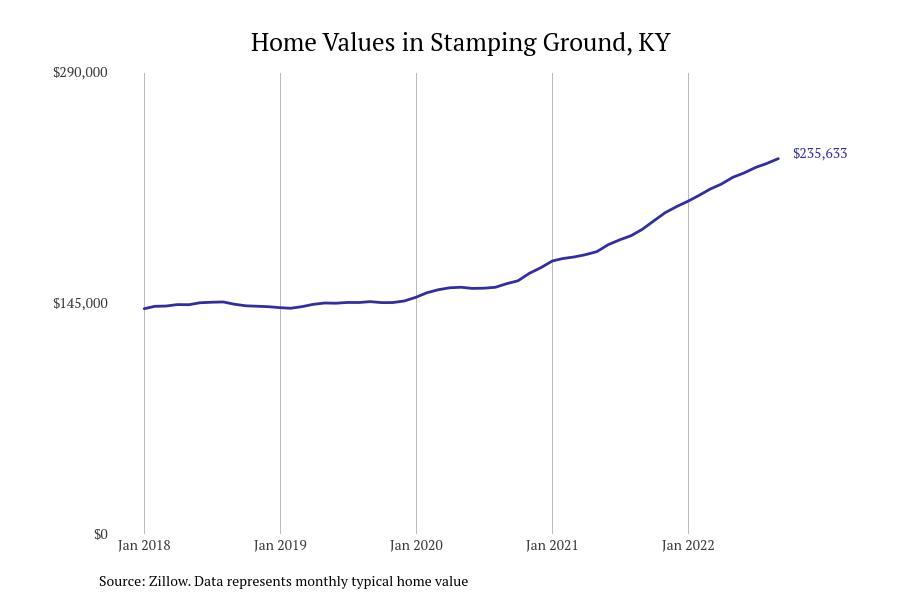 Stacker
#6. Stamping Ground
– Typical home value: $235,633
– 1-year price change: +$44,344 (+23.2%)
– 5-year price change: +$101,016 (+75.0%)
– Metro area: Lexington-Fayette, KY
You may also like: Most popular girl names in the 70s in Kentucky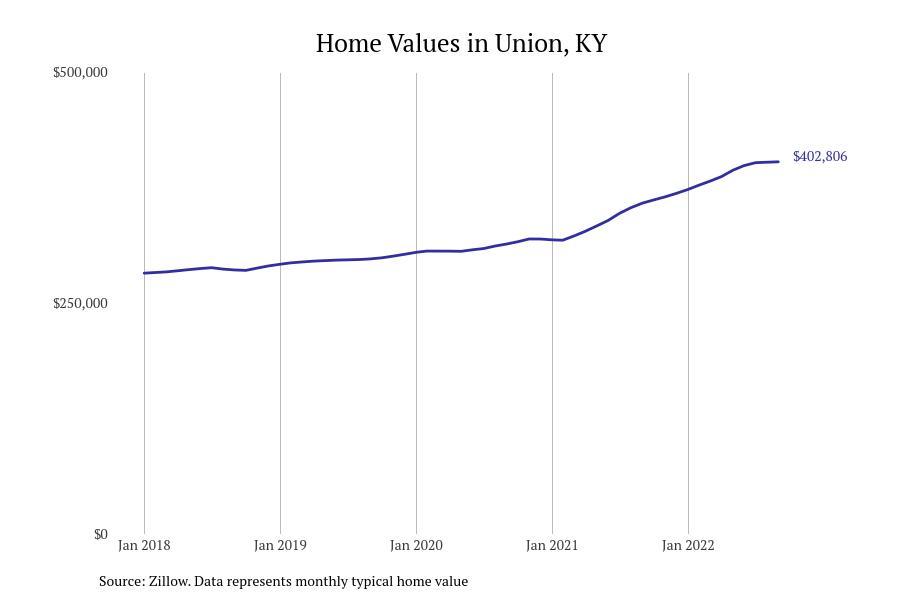 Stacker
#5. Union
– Typical home value: $402,806
– 1-year price change: +$44,716 (+12.5%)
– 5-year price change: +$119,872 (+42.4%)
– Metro area: Cincinnati, OH-KY-IN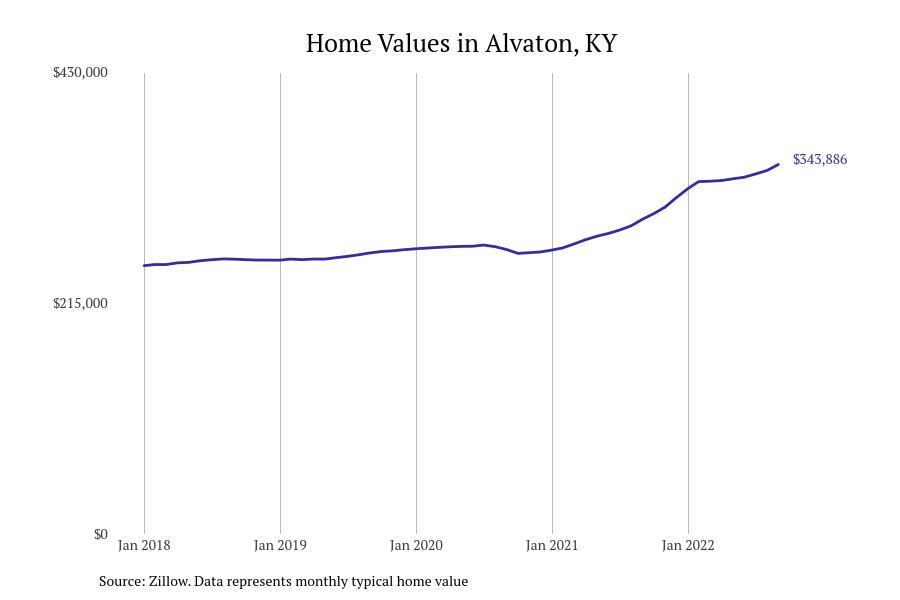 Stacker
#4. Alvaton
– Typical home value: $343,886
– 1-year price change: +$50,973 (+17.4%)
– 5-year price change: +$99,131 (+40.5%)
– Metro area: Bowling Green, KY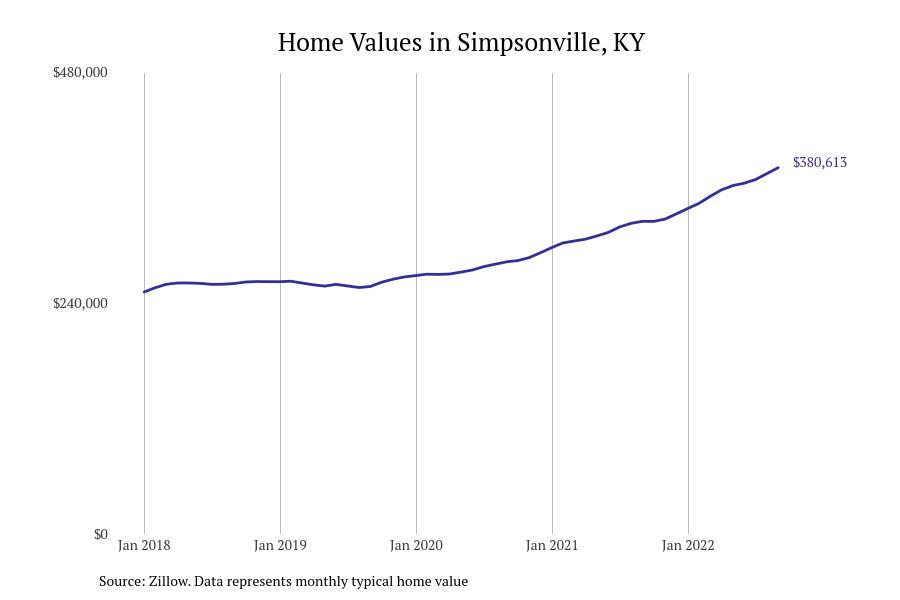 Stacker
#3. Simpsonville
– Typical home value: $380,613
– 1-year price change: +$55,767 (+17.2%)
– 5-year price change: +$135,688 (+55.4%)
– Metro area: Louisville/Jefferson County, KY-IN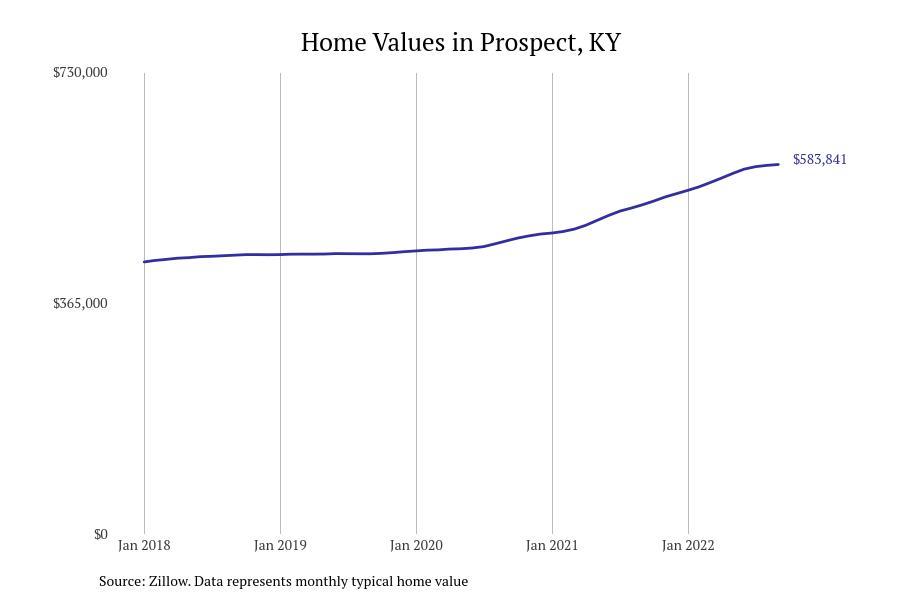 Stacker
#2. Prospect
– Typical home value: $583,841
– 1-year price change: +$63,652 (+12.2%)
– 5-year price change: +$154,495 (+36.0%)
– Metro area: Louisville/Jefferson County, KY-IN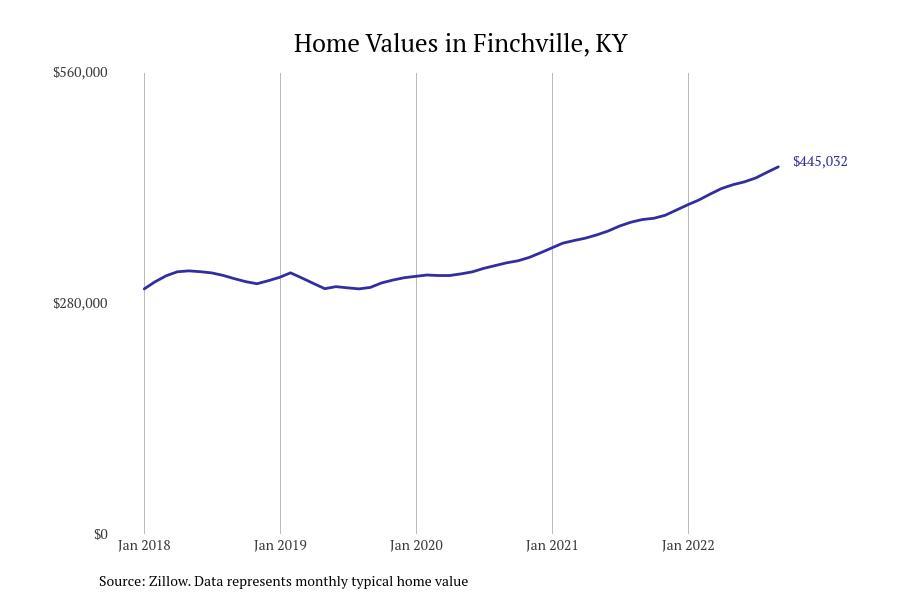 Stacker
#1. Finchville
– Typical home value: $445,032
– 1-year price change: +$63,862 (+16.8%)
– 5-year price change: +$156,174 (+54.1%)
– Metro area: Louisville/Jefferson County, KY-IN
You may also like: Counties most concerned about climate change in Kentucky