Counties with highest COVID-19 infection rates in Kentucky
Published 11:22 am Wednesday, August 4, 2021

Nyttend // Wikimedia Commons
Counties with highest COVID-19 infection rates in Kentucky
The United States by August 3 had reached 614,263 deaths due to COVID-19 and more than 35.2 million cases, according to Johns Hopkins University. Amid the grim numbers come two bright spots: As of Feb. 2, more Americans had been vaccinated for COVID-19 than had been infected; and since then, rolling averages for case counts and deaths have been on the decline.
Stacker compiled a list of the counties with highest COVID-19 infection rates in Kentucky using data from the U.S. Department of Health & Human Services. Counties are ranked by the highest cumulative infection rate per 100k residents as of August 2, 2021.
As has been true throughout America's COVID-19 history, every state—and even every county—has its own COVID-19 story, driven by local policies and behaviors. Keep reading to see where infection rates are highest in your home state.
You may also like: Counties with the oldest homes in Kentucky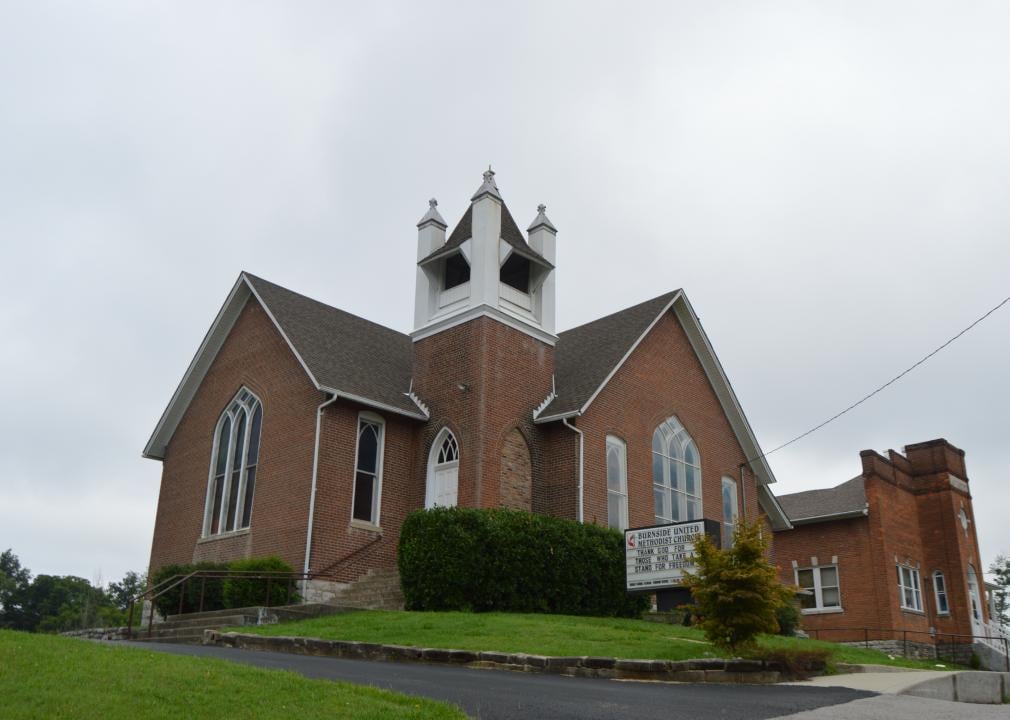 Nyttend // Wikimedia Commons
#50. Pulaski County
– Cumulative cases per 100k: 10,731 (6,973 total cases)
— 0.7% less cases per 100k residents than Kentucky
– New cases per 100k in the past week: 237 (154 new cases, +59% change from previous week)
– Cumulative deaths per 100k: 179 (116 total deaths)
— 9.1% more deaths per 100k residents than Kentucky
– Population that is fully vaccinated: 35.6% (23,145 fully vaccinated)
— 22.3% lower vaccination rate than Kentucky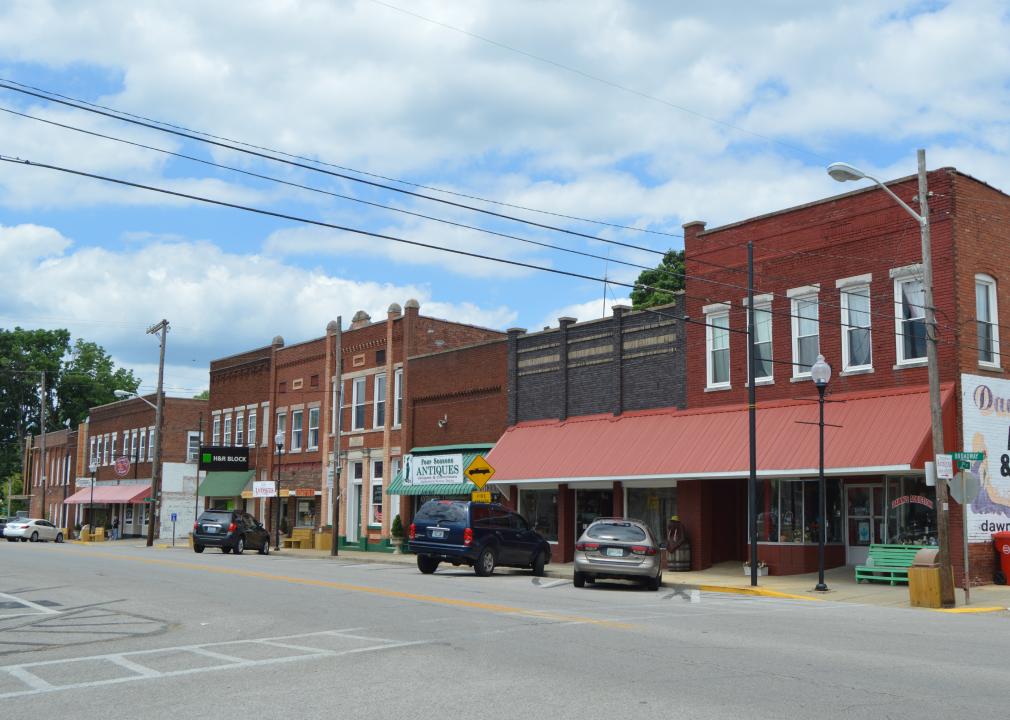 Nyttend // Wikimedia Commons
#49. Barren County
– Cumulative cases per 100k: 10,746 (4,755 total cases)
— 0.5% less cases per 100k residents than Kentucky
– New cases per 100k in the past week: 235 (104 new cases, +18% change from previous week)
– Cumulative deaths per 100k: 237 (105 total deaths)
— 44.5% more deaths per 100k residents than Kentucky
– Population that is fully vaccinated: 34.4% (15,232 fully vaccinated)
— 24.9% lower vaccination rate than Kentucky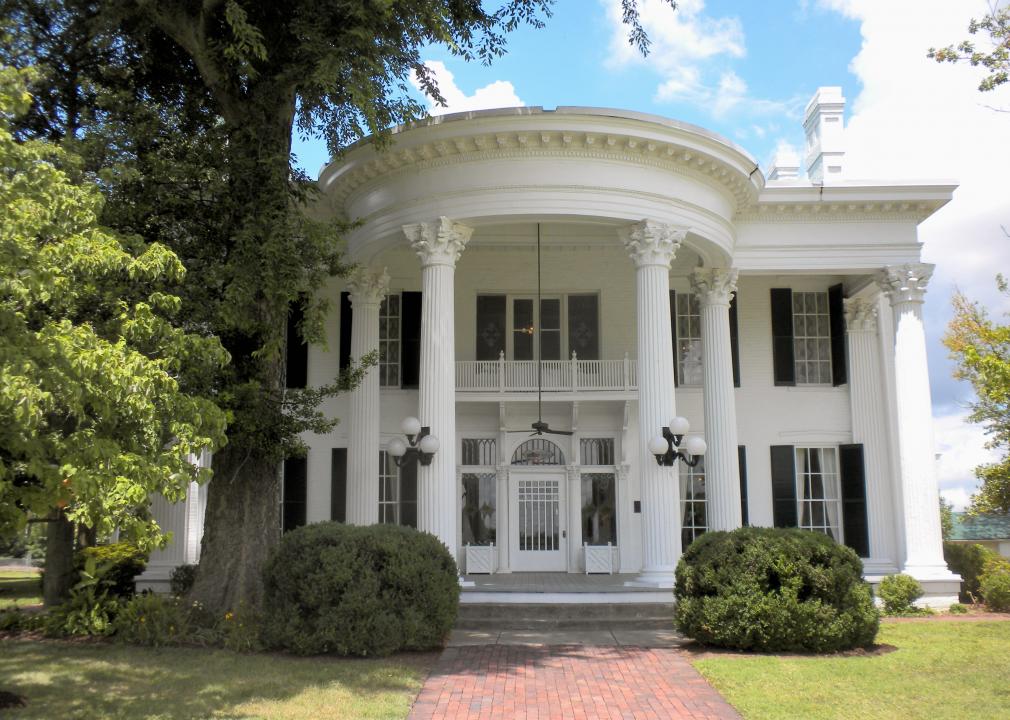 Smallbones // Wikimedia Commons
#48. McCracken County
– Cumulative cases per 100k: 10,936 (7,154 total cases)
— 1.2% more cases per 100k residents than Kentucky
– New cases per 100k in the past week: 131 (86 new cases, +56% change from previous week)
– Cumulative deaths per 100k: 206 (135 total deaths)
— 25.6% more deaths per 100k residents than Kentucky
– Population that is fully vaccinated: 41.8% (27,325 fully vaccinated)
— 8.7% lower vaccination rate than Kentucky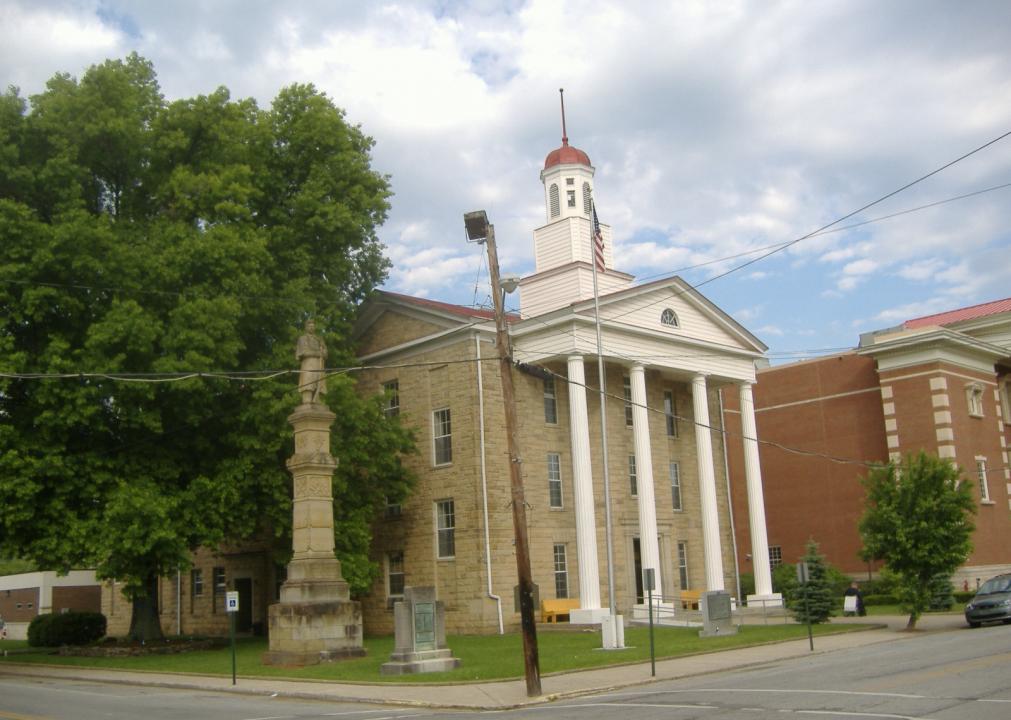 C. Bedford Crenshaw // Wikimedia Commons
#47. Lewis County
– Cumulative cases per 100k: 10,960 (1,455 total cases)
— 1.5% more cases per 100k residents than Kentucky
– New cases per 100k in the past week: 241 (32 new cases, +14% change from previous week)
– Cumulative deaths per 100k: 309 (41 total deaths)
— 88.4% more deaths per 100k residents than Kentucky
– Population that is fully vaccinated: 24.8% (3,297 fully vaccinated)
— 45.9% lower vaccination rate than Kentucky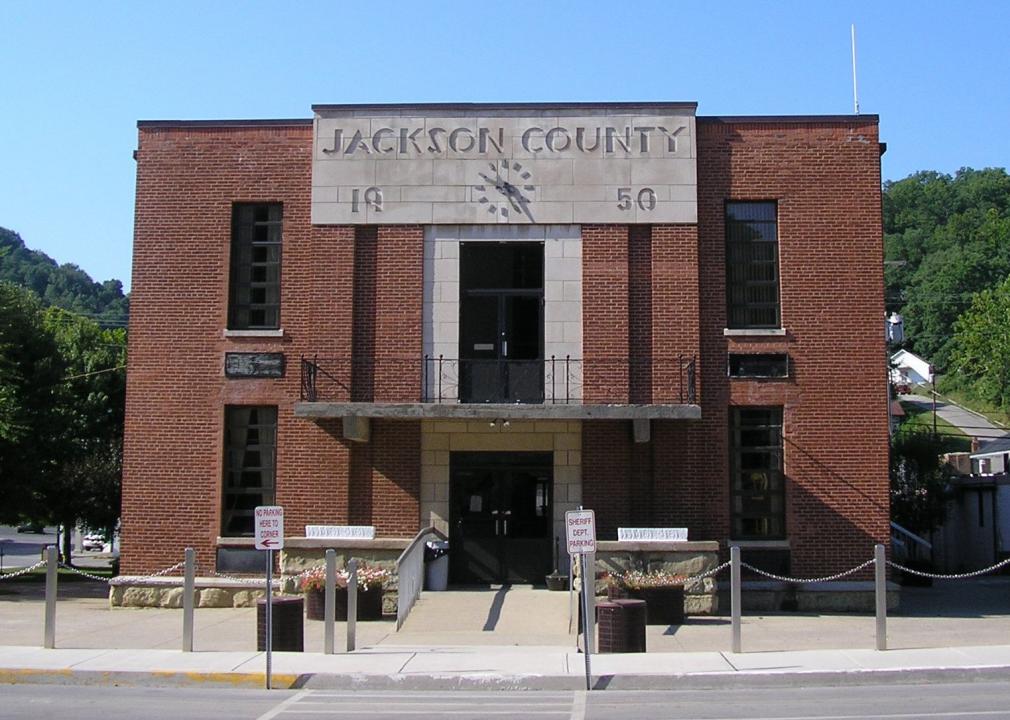 W.marsh // Wikimedia Commons
#46. Jackson County
– Cumulative cases per 100k: 10,984 (1,464 total cases)
— 1.7% more cases per 100k residents than Kentucky
– New cases per 100k in the past week: 630 (84 new cases, +147% change from previous week)
– Cumulative deaths per 100k: 240 (32 total deaths)
— 46.3% more deaths per 100k residents than Kentucky
– Population that is fully vaccinated: 24.1% (3,208 fully vaccinated)
— 47.4% lower vaccination rate than Kentucky
You may also like: Where people in Kentucky are moving to most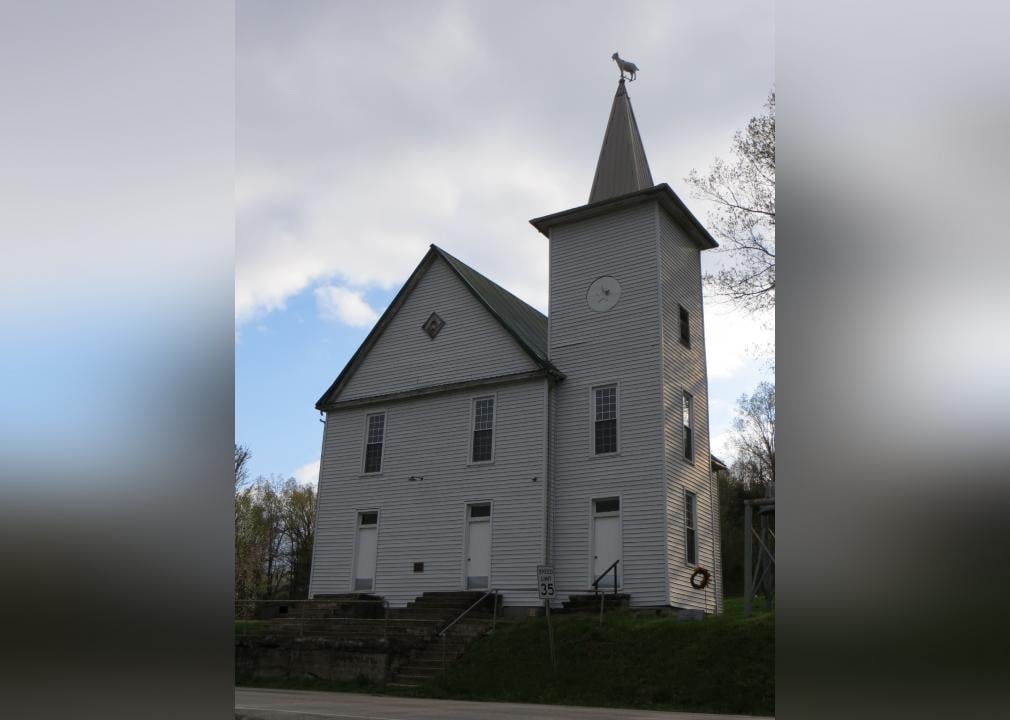 Joel Bradshaw // Wikimedia Commons
#45. Ohio County
– Cumulative cases per 100k: 11,044 (2,650 total cases)
— 2.2% more cases per 100k residents than Kentucky
– New cases per 100k in the past week: 313 (75 new cases, +103% change from previous week)
– Cumulative deaths per 100k: 229 (55 total deaths)
— 39.6% more deaths per 100k residents than Kentucky
– Population that is fully vaccinated: 29.1% (6,980 fully vaccinated)
— 36.5% lower vaccination rate than Kentucky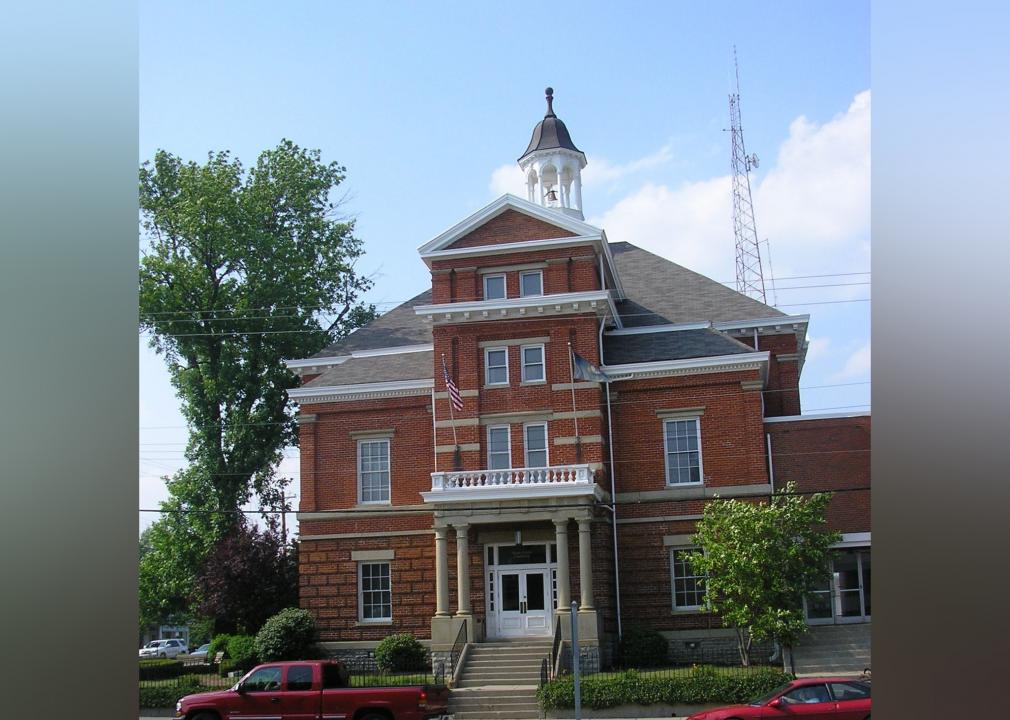 W.marsh // Wikimedia Commons
#44. Boone County
– Cumulative cases per 100k: 11,105 (14,834 total cases)
— 2.8% more cases per 100k residents than Kentucky
– New cases per 100k in the past week: 127 (170 new cases, +87% change from previous week)
– Cumulative deaths per 100k: 112 (149 total deaths)
— 31.7% less deaths per 100k residents than Kentucky
– Population that is fully vaccinated: 52.5% (70,130 fully vaccinated)
— 14.6% higher vaccination rate than Kentucky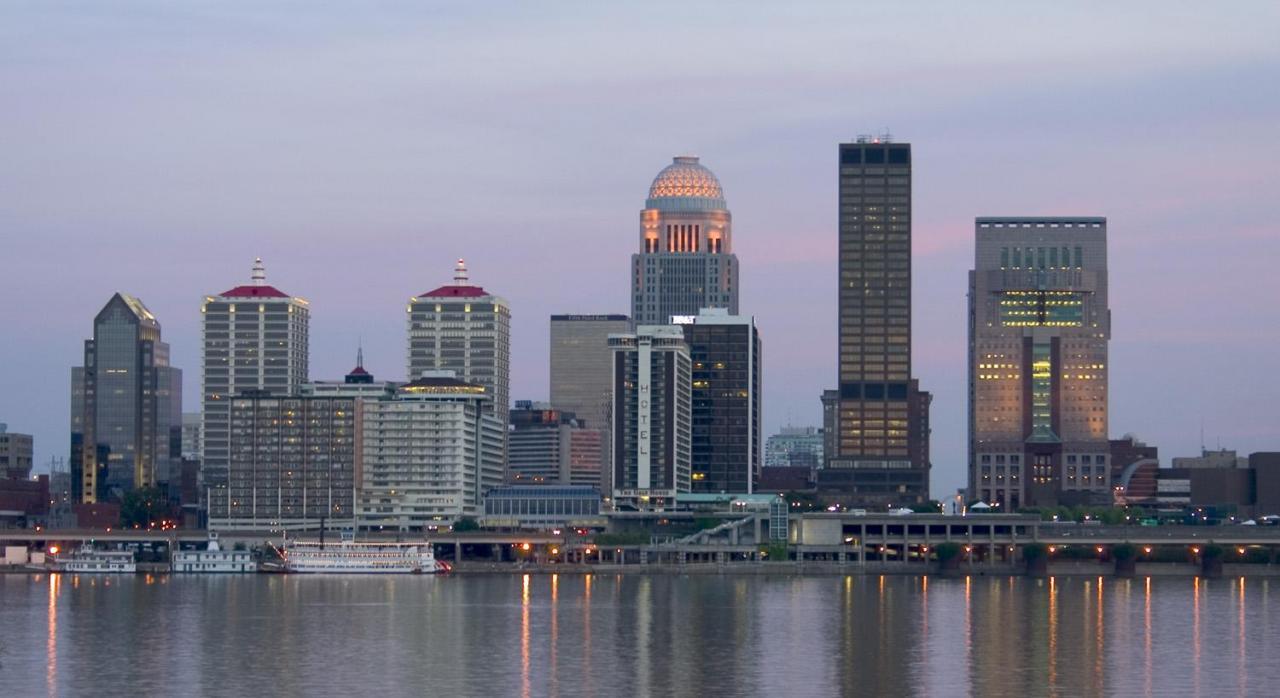 Chris Watson // Wikicommons
#43. Jefferson County
– Cumulative cases per 100k: 11,109 (85,181 total cases)
— 2.8% more cases per 100k residents than Kentucky
– New cases per 100k in the past week: 131 (1,008 new cases, +68% change from previous week)
– Cumulative deaths per 100k: 176 (1,347 total deaths)
— 7.3% more deaths per 100k residents than Kentucky
– Population that is fully vaccinated: 52.7% (404,236 fully vaccinated)
— 15.1% higher vaccination rate than Kentucky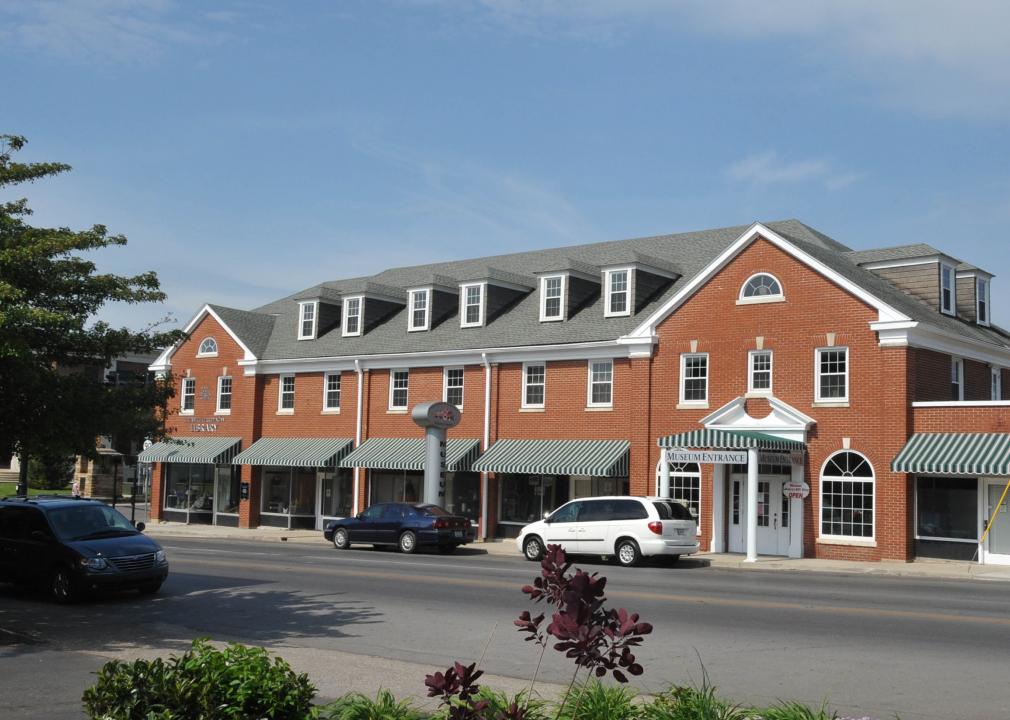 JERRYE & ROY KLOTZ MD // Wikimedia Commons
#42. Wayne County
– Cumulative cases per 100k: 11,110 (2,259 total cases)
— 2.9% more cases per 100k residents than Kentucky
– New cases per 100k in the past week: 59 (12 new cases, -14% change from previous week)
– Cumulative deaths per 100k: 236 (48 total deaths)
— 43.9% more deaths per 100k residents than Kentucky
– Population that is fully vaccinated: 28.4% (5,783 fully vaccinated)
— 38.0% lower vaccination rate than Kentucky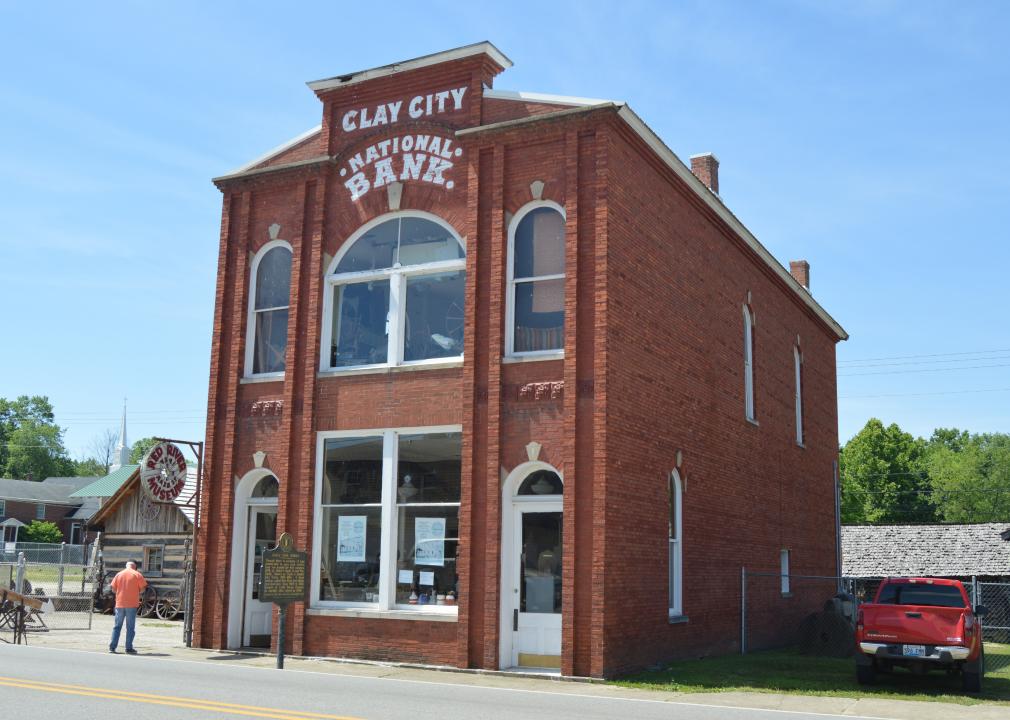 Nyttend // Wikimedia Commons
#41. Powell County
– Cumulative cases per 100k: 11,125 (1,375 total cases)
— 3.0% more cases per 100k residents than Kentucky
– New cases per 100k in the past week: 89 (11 new cases, +267% change from previous week)
– Cumulative deaths per 100k: 105 (13 total deaths)
— 36.0% less deaths per 100k residents than Kentucky
– Population that is fully vaccinated: 40.2% (4,972 fully vaccinated)
— 12.2% lower vaccination rate than Kentucky
You may also like: Recipes from Kentucky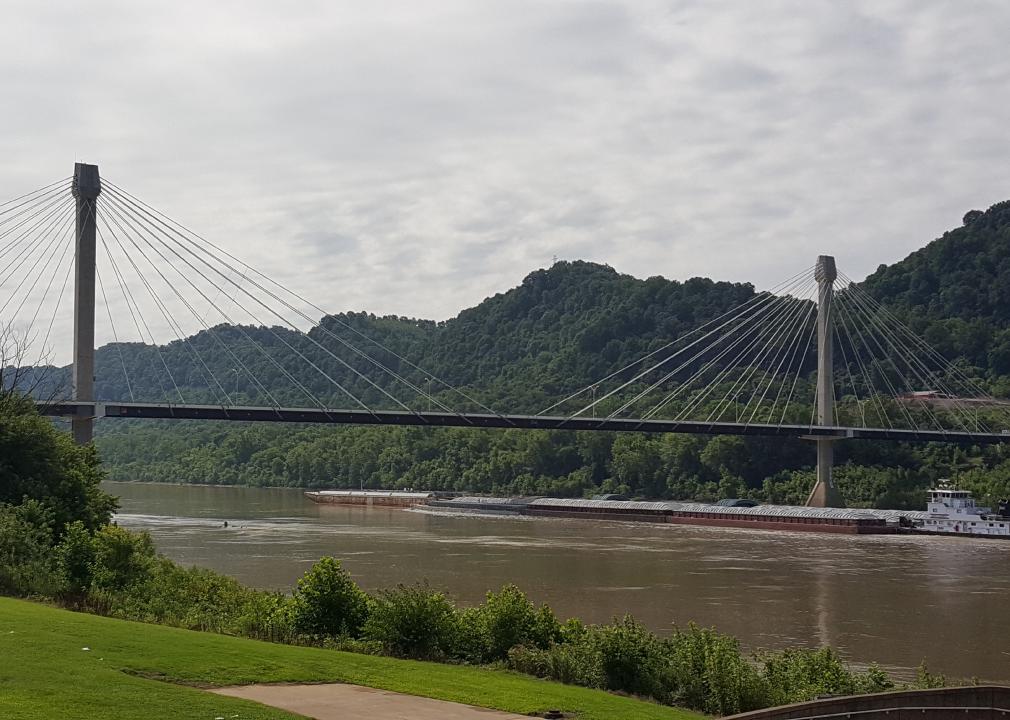 Turover // Wikimedia Commons
#40. Greenup County
– Cumulative cases per 100k: 11,135 (3,908 total cases)
— 3.1% more cases per 100k residents than Kentucky
– New cases per 100k in the past week: 182 (64 new cases, +7% change from previous week)
– Cumulative deaths per 100k: 179 (63 total deaths)
— 9.1% more deaths per 100k residents than Kentucky
– Population that is fully vaccinated: 33.2% (11,643 fully vaccinated)
— 27.5% lower vaccination rate than Kentucky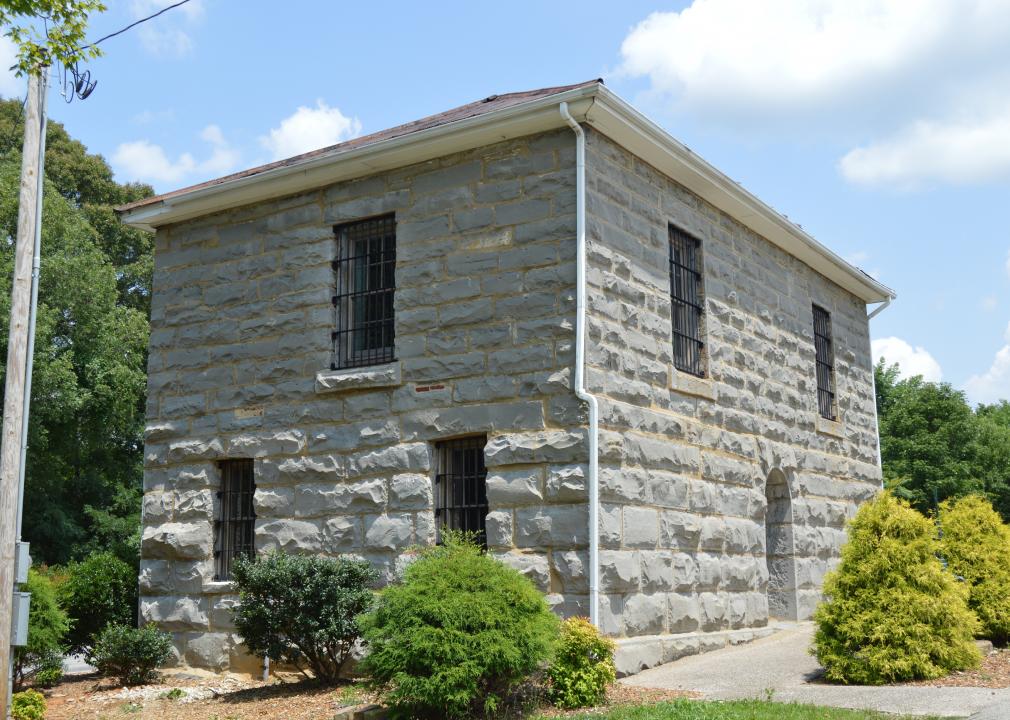 Nyttend // Wikimedia Commons
#39. Metcalfe County
– Cumulative cases per 100k: 11,151 (1,123 total cases)
— 3.2% more cases per 100k residents than Kentucky
– New cases per 100k in the past week: 328 (33 new cases, +175% change from previous week)
– Cumulative deaths per 100k: 308 (31 total deaths)
— 87.8% more deaths per 100k residents than Kentucky
– Population that is fully vaccinated: 28.7% (2,886 fully vaccinated)
— 37.3% lower vaccination rate than Kentucky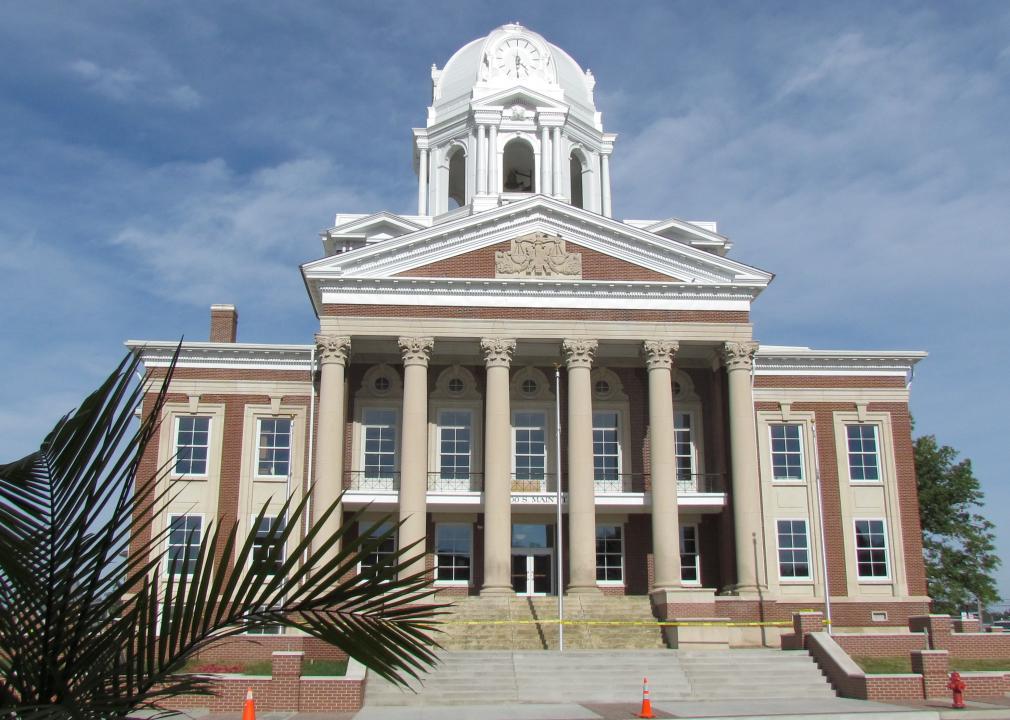 Megangen1990 // Wikimedia Commons
#38. Muhlenberg County
– Cumulative cases per 100k: 11,155 (3,416 total cases)
— 3.3% more cases per 100k residents than Kentucky
– New cases per 100k in the past week: 483 (148 new cases, +76% change from previous week)
– Cumulative deaths per 100k: 229 (70 total deaths)
— 39.6% more deaths per 100k residents than Kentucky
– Population that is fully vaccinated: 37.3% (11,430 fully vaccinated)
— 18.6% lower vaccination rate than Kentucky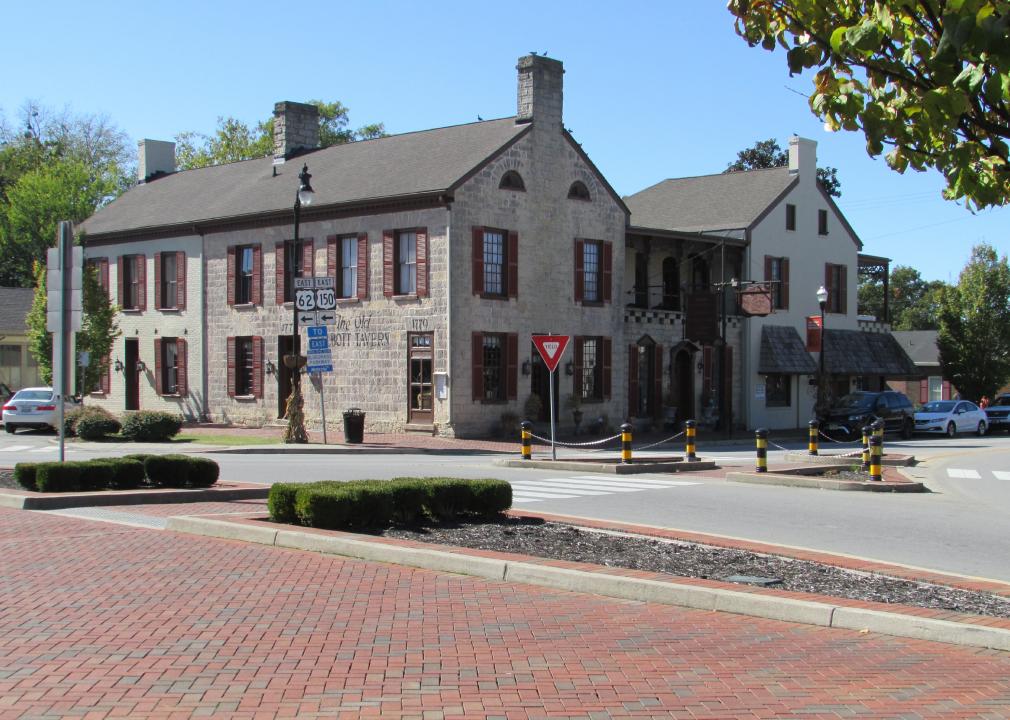 Chris Light // Wikimedia Commons
#37. Nelson County
– Cumulative cases per 100k: 11,256 (5,204 total cases)
— 4.2% more cases per 100k residents than Kentucky
– New cases per 100k in the past week: 225 (104 new cases, +131% change from previous week)
– Cumulative deaths per 100k: 136 (63 total deaths)
— 17.1% less deaths per 100k residents than Kentucky
– Population that is fully vaccinated: 44.4% (20,506 fully vaccinated)
— 3.1% lower vaccination rate than Kentucky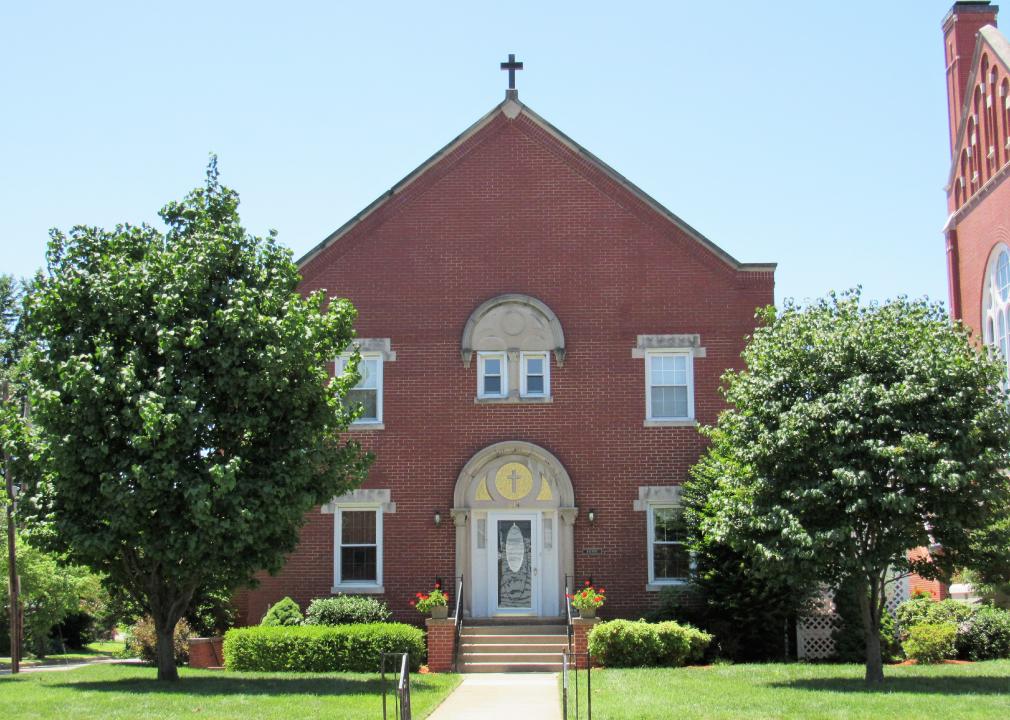 Farragutful // Wikimedia Commons
#36. Daviess County
– Cumulative cases per 100k: 11,378 (11,550 total cases)
— 5.3% more cases per 100k residents than Kentucky
– New cases per 100k in the past week: 268 (272 new cases, +52% change from previous week)
– Cumulative deaths per 100k: 193 (196 total deaths)
— 17.7% more deaths per 100k residents than Kentucky
– Population that is fully vaccinated: 41.4% (42,007 fully vaccinated)
— 9.6% lower vaccination rate than Kentucky
You may also like: Fastest-growing counties in Kentucky
w:User:Malepheasant // Wikimedia Commons
#35. Boyd County
– Cumulative cases per 100k: 11,409 (5,330 total cases)
— 5.6% more cases per 100k residents than Kentucky
– New cases per 100k in the past week: 195 (91 new cases, +225% change from previous week)
– Cumulative deaths per 100k: 165 (77 total deaths)
— 0.6% more deaths per 100k residents than Kentucky
– Population that is fully vaccinated: 33.3% (15,534 fully vaccinated)
— 27.3% lower vaccination rate than Kentucky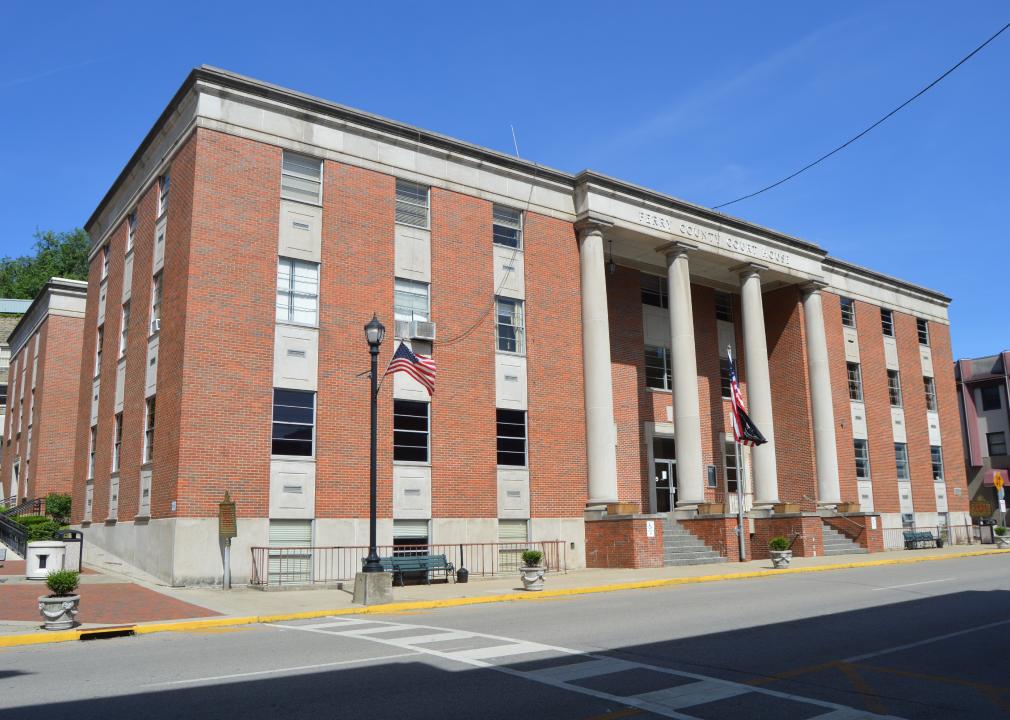 Nyttend // Wikimedia Commons
#34. Perry County
– Cumulative cases per 100k: 11,422 (2,942 total cases)
— 5.7% more cases per 100k residents than Kentucky
– New cases per 100k in the past week: 256 (66 new cases, +47% change from previous week)
– Cumulative deaths per 100k: 256 (66 total deaths)
— 56.1% more deaths per 100k residents than Kentucky
– Population that is fully vaccinated: 44.0% (11,341 fully vaccinated)
— 3.9% lower vaccination rate than Kentucky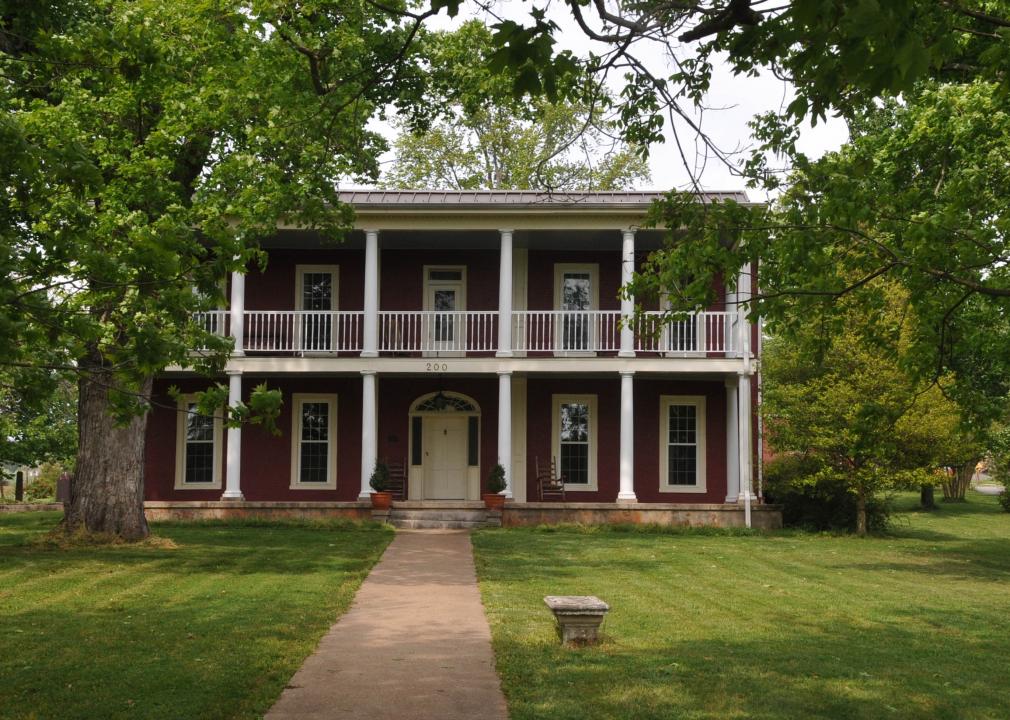 JERRYE & ROY KLOTZ MD // Wikimedia Commons
#33. Hart County
– Cumulative cases per 100k: 11,463 (2,182 total cases)
— 6.1% more cases per 100k residents than Kentucky
– New cases per 100k in the past week: 320 (61 new cases, +15% change from previous week)
– Cumulative deaths per 100k: 284 (54 total deaths)
— 73.2% more deaths per 100k residents than Kentucky
– Population that is fully vaccinated: 26.1% (4,968 fully vaccinated)
— 43.0% lower vaccination rate than Kentucky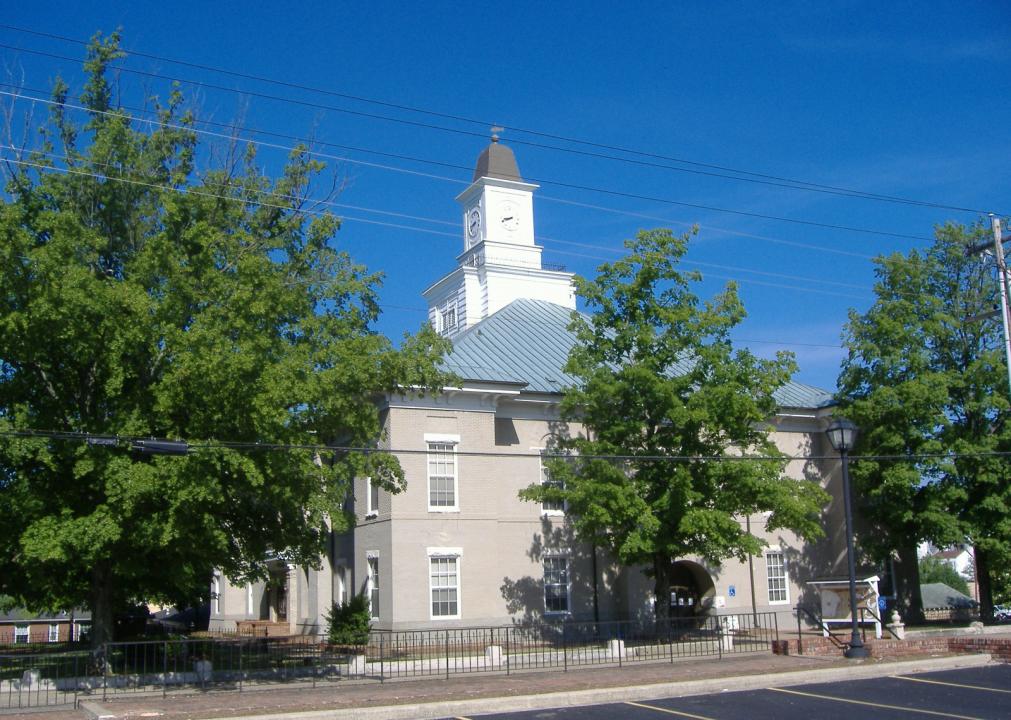 Bedford // Wikimedia Commons
#32. Logan County
– Cumulative cases per 100k: 11,479 (3,111 total cases)
— 6.3% more cases per 100k residents than Kentucky
– New cases per 100k in the past week: 288 (78 new cases, +123% change from previous week)
– Cumulative deaths per 100k: 273 (74 total deaths)
— 66.5% more deaths per 100k residents than Kentucky
– Population that is fully vaccinated: 38.3% (10,379 fully vaccinated)
— 16.4% lower vaccination rate than Kentucky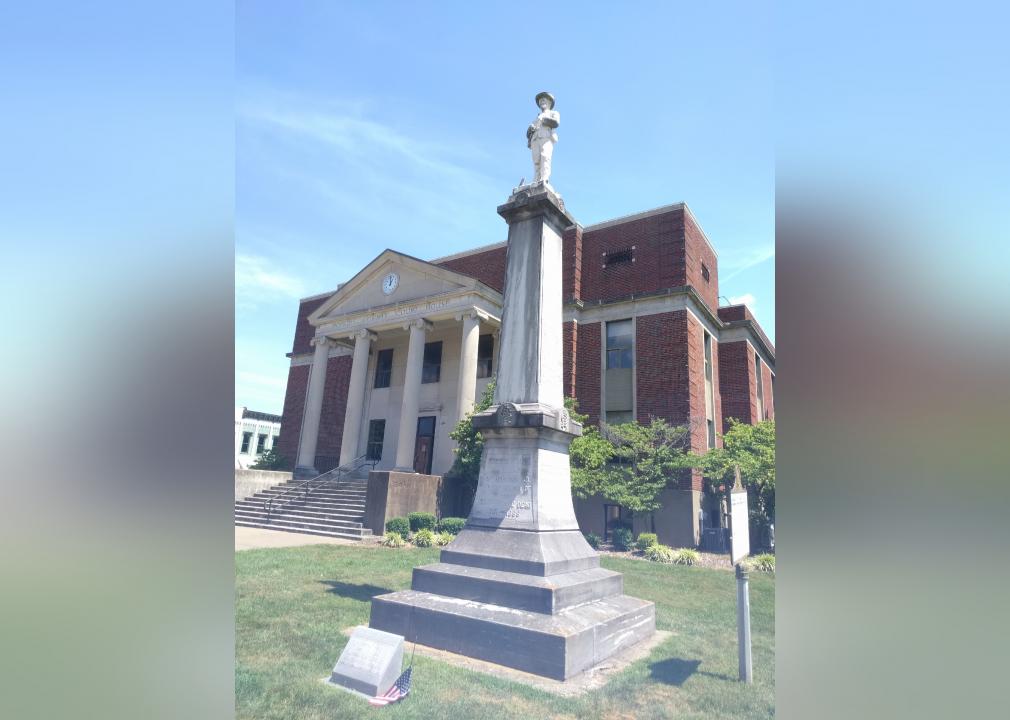 Jim.henderson // Wikimedia Commons
#31. Hopkins County
– Cumulative cases per 100k: 11,500 (5,139 total cases)
— 6.5% more cases per 100k residents than Kentucky
– New cases per 100k in the past week: 329 (147 new cases, +27% change from previous week)
– Cumulative deaths per 100k: 338 (151 total deaths)
— 106.1% more deaths per 100k residents than Kentucky
– Population that is fully vaccinated: 38.6% (17,260 fully vaccinated)
— 15.7% lower vaccination rate than Kentucky
You may also like: Biggest sources of immigrants to Kentucky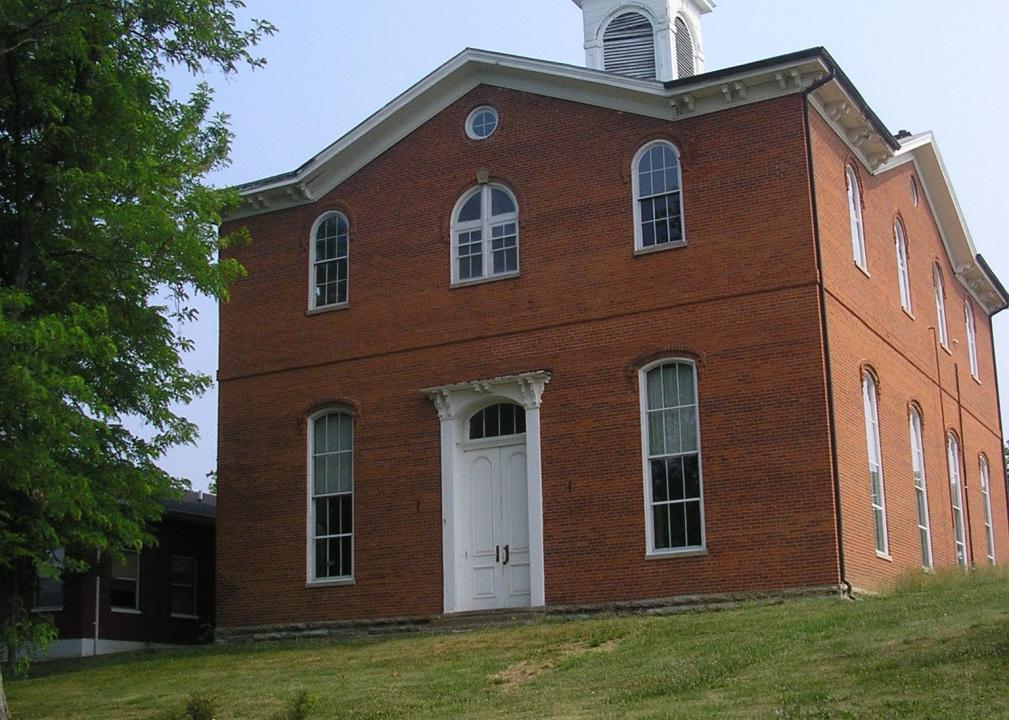 W.marsh // Wikimedia Commons
#30. Robertson County
– Cumulative cases per 100k: 11,528 (243 total cases)
— 6.7% more cases per 100k residents than Kentucky
– New cases per 100k in the past week: 190 (4 new cases, 0% change from previous week)
– Cumulative deaths per 100k: 664 (14 total deaths)
— 304.9% more deaths per 100k residents than Kentucky
– Population that is fully vaccinated: 30.5% (643 fully vaccinated)
— 33.4% lower vaccination rate than Kentucky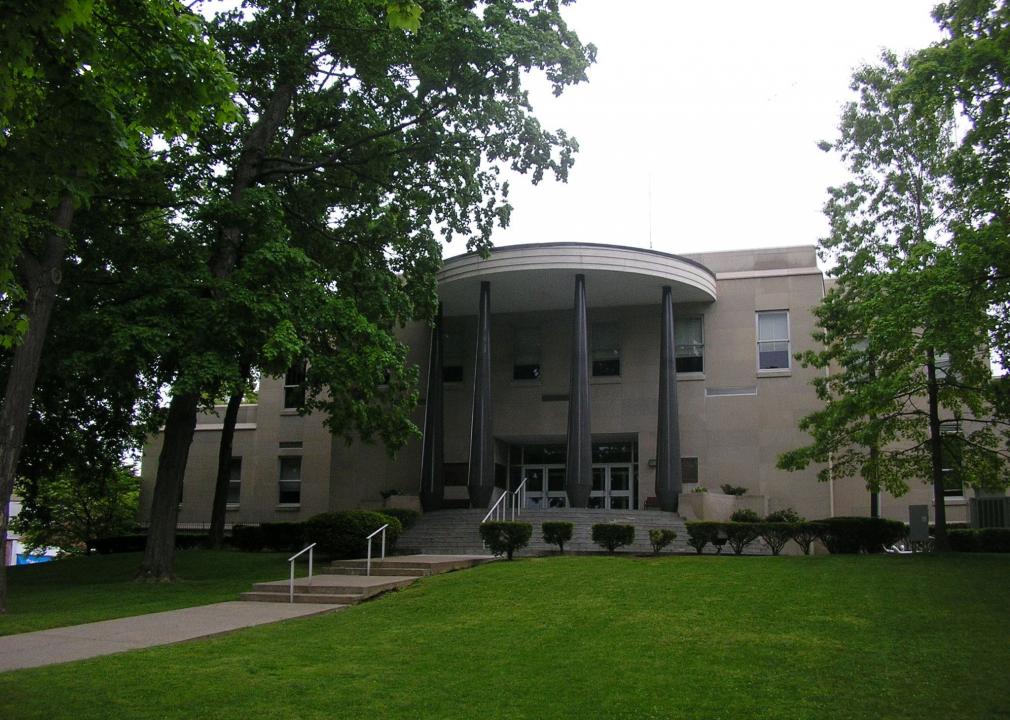 w.marsh // Wikimedia Commons
#29. Henderson County
– Cumulative cases per 100k: 11,655 (5,269 total cases)
— 7.9% more cases per 100k residents than Kentucky
– New cases per 100k in the past week: 301 (136 new cases, +56% change from previous week)
– Cumulative deaths per 100k: 175 (79 total deaths)
— 6.7% more deaths per 100k residents than Kentucky
– Population that is fully vaccinated: 37.2% (16,828 fully vaccinated)
— 18.8% lower vaccination rate than Kentucky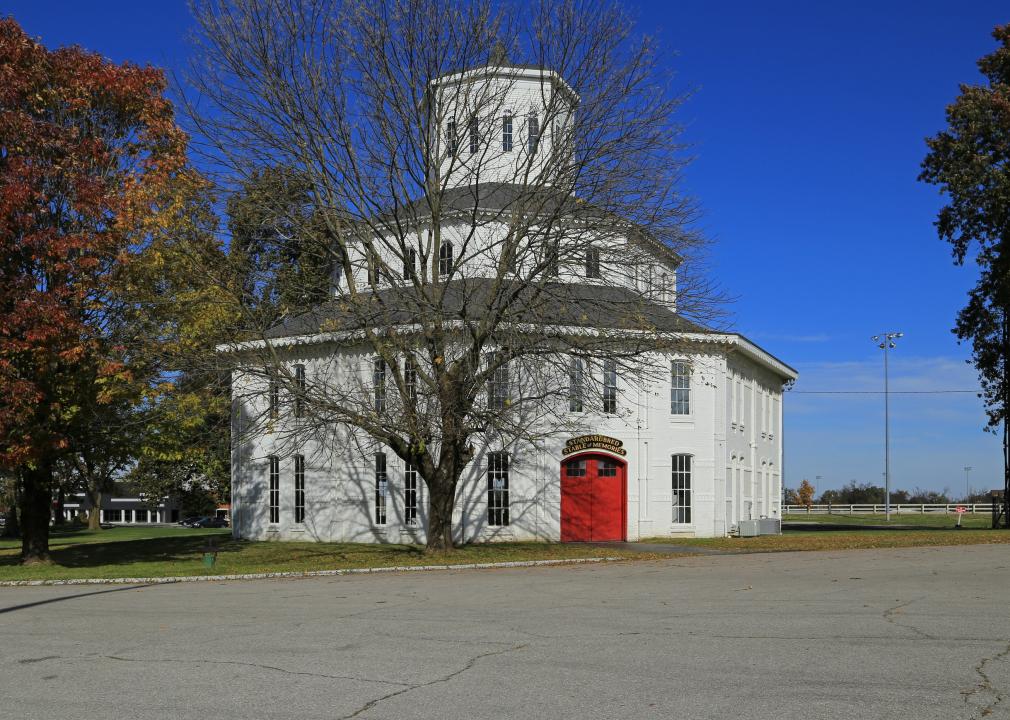 Christopher L. Riley // Wikimedia Commons
#28. Fayette County
– Cumulative cases per 100k: 11,665 (37,695 total cases)
— 8.0% more cases per 100k residents than Kentucky
– New cases per 100k in the past week: 173 (559 new cases, +55% change from previous week)
– Cumulative deaths per 100k: 98 (318 total deaths)
— 40.2% less deaths per 100k residents than Kentucky
– Population that is fully vaccinated: 57.0% (184,105 fully vaccinated)
— 24.5% higher vaccination rate than Kentucky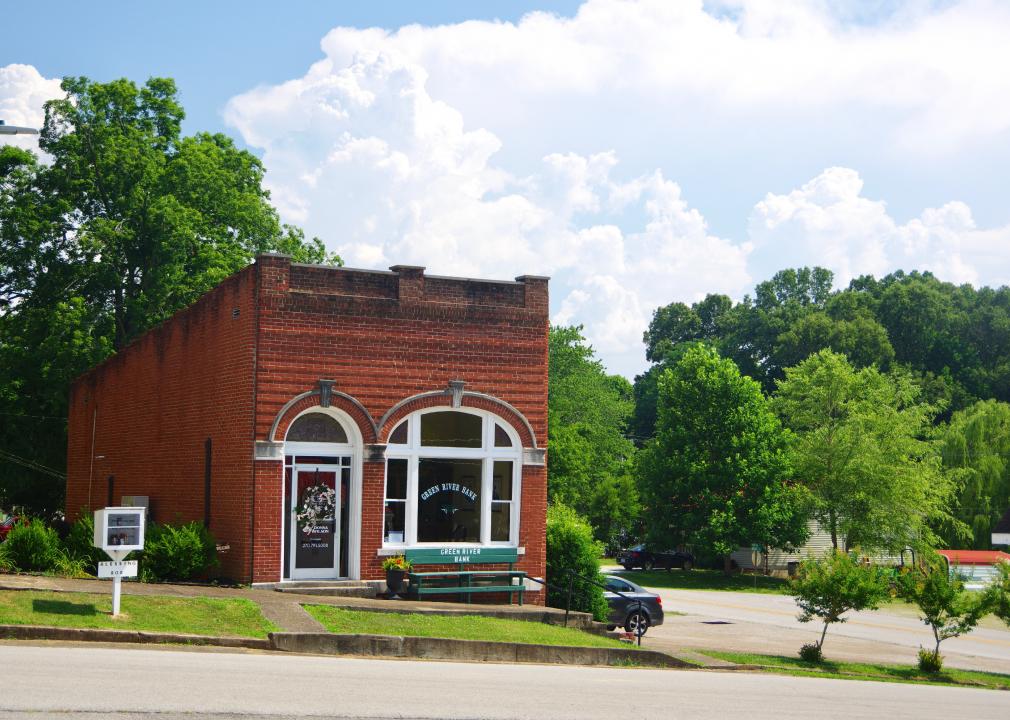 Brian Stansberry // Wikimedia Commons
#27. Butler County
– Cumulative cases per 100k: 11,701 (1,507 total cases)
— 8.3% more cases per 100k residents than Kentucky
– New cases per 100k in the past week: 124 (16 new cases, +167% change from previous week)
– Cumulative deaths per 100k: 217 (28 total deaths)
— 32.3% more deaths per 100k residents than Kentucky
– Population that is fully vaccinated: 34.9% (4,490 fully vaccinated)
— 23.8% lower vaccination rate than Kentucky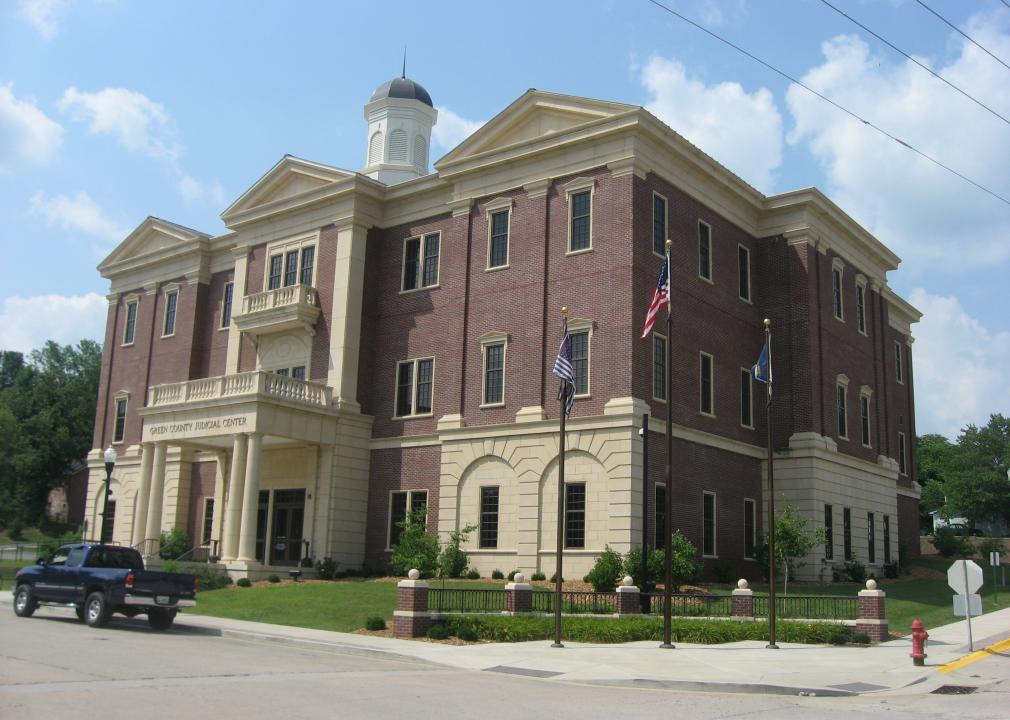 Nyttend // Wikimedia Commons
#26. Green County
– Cumulative cases per 100k: 11,708 (1,281 total cases)
— 8.4% more cases per 100k residents than Kentucky
– New cases per 100k in the past week: 210 (23 new cases, +64% change from previous week)
– Cumulative deaths per 100k: 155 (17 total deaths)
— 5.5% less deaths per 100k residents than Kentucky
– Population that is fully vaccinated: 32.3% (3,537 fully vaccinated)
— 29.5% lower vaccination rate than Kentucky
You may also like: Highest-rated Class of 2021 football recruits from Kentucky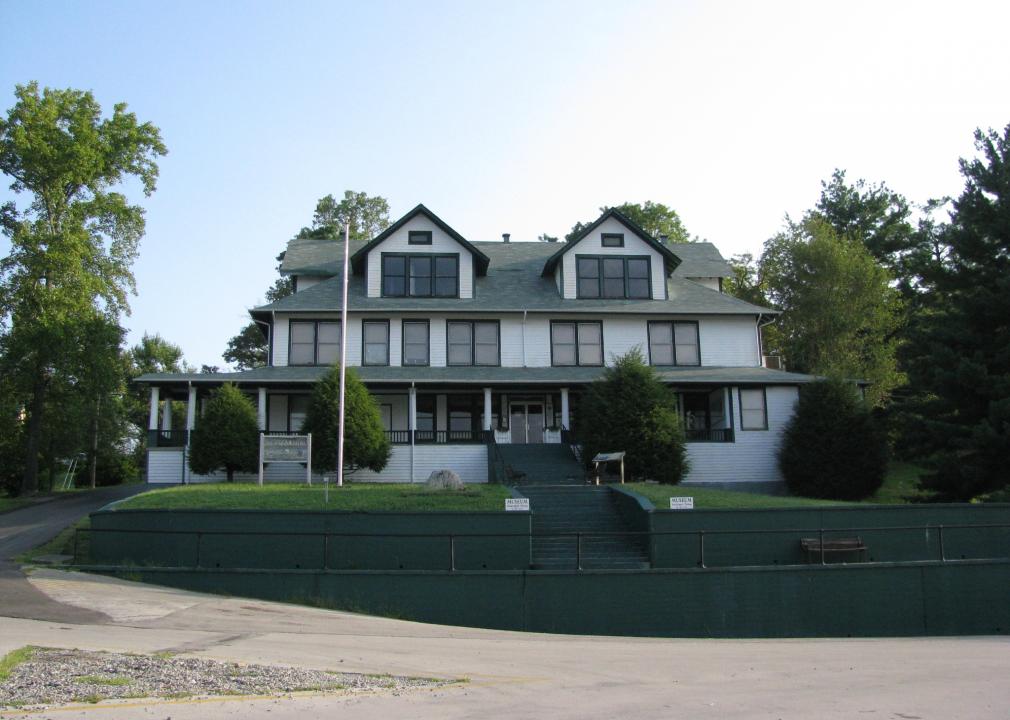 Kybluegrass // Wikimedia Commons
#25. McCreary County
– Cumulative cases per 100k: 11,729 (2,021 total cases)
— 8.6% more cases per 100k residents than Kentucky
– New cases per 100k in the past week: 64 (11 new cases, +175% change from previous week)
– Cumulative deaths per 100k: 197 (34 total deaths)
— 20.1% more deaths per 100k residents than Kentucky
– Population that is fully vaccinated: 31.0% (5,349 fully vaccinated)
— 32.3% lower vaccination rate than Kentucky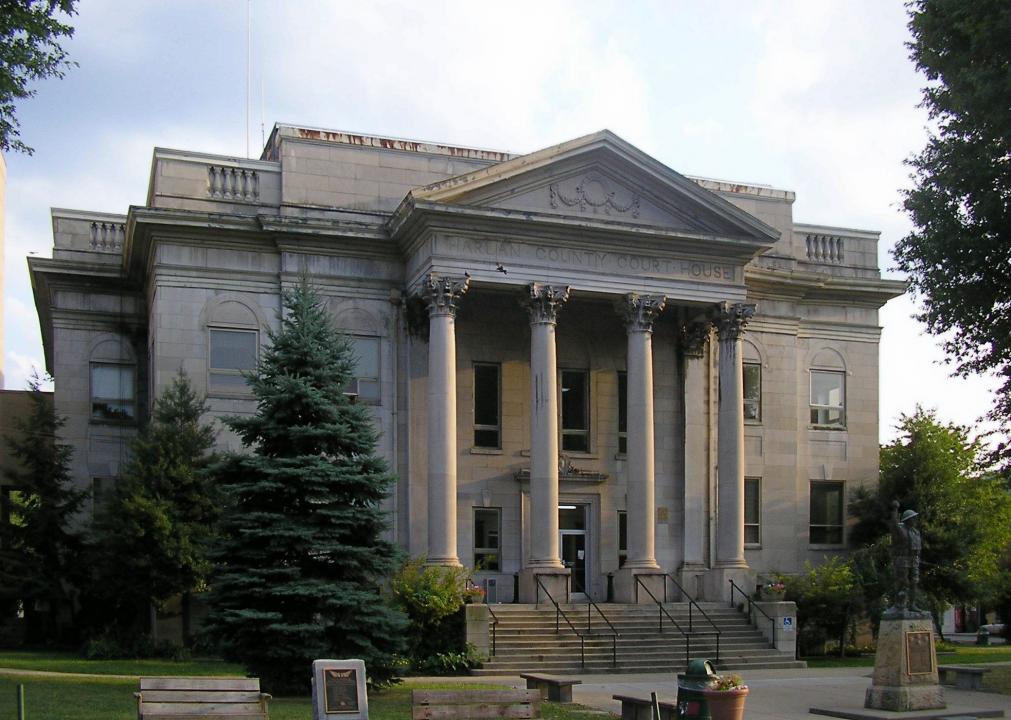 W.marsh // Wikimedia Commons
#24. Harlan County
– Cumulative cases per 100k: 11,738 (3,053 total cases)
— 8.7% more cases per 100k residents than Kentucky
– New cases per 100k in the past week: 196 (51 new cases, +82% change from previous week)
– Cumulative deaths per 100k: 358 (93 total deaths)
— 118.3% more deaths per 100k residents than Kentucky
– Population that is fully vaccinated: 32.7% (8,504 fully vaccinated)
— 28.6% lower vaccination rate than Kentucky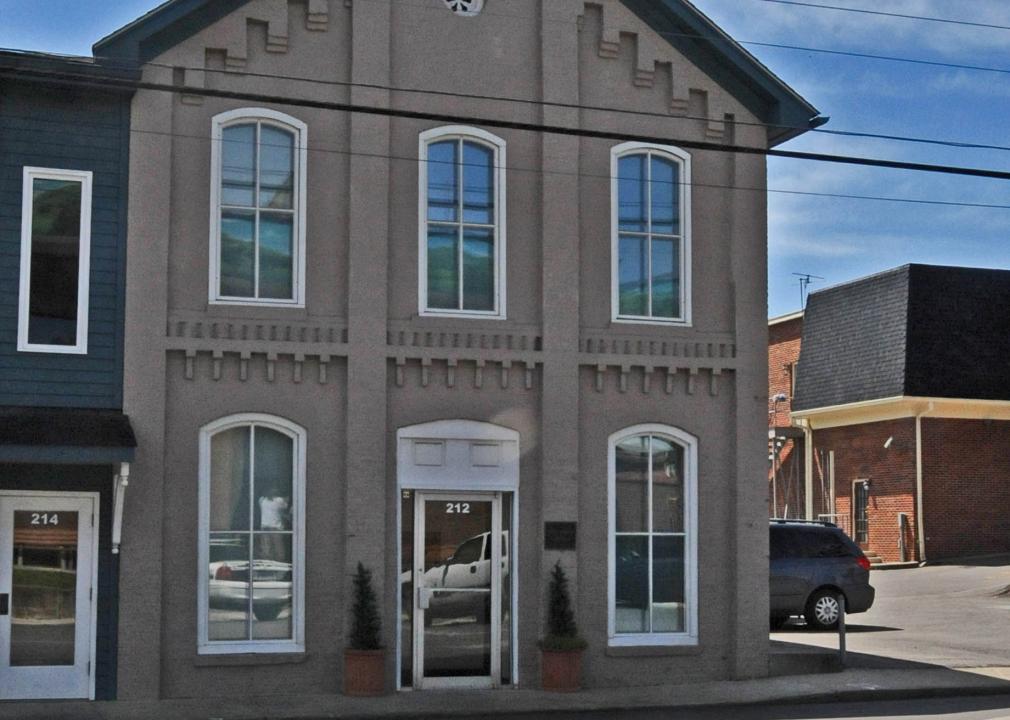 JERRYE & ROY KLOTZ MD // Wikimedia Commons
#23. Owsley County
– Cumulative cases per 100k: 11,755 (519 total cases)
— 8.8% more cases per 100k residents than Kentucky
– New cases per 100k in the past week: 204 (9 new cases, 0% change from previous week)
– Cumulative deaths per 100k: 362 (16 total deaths)
— 120.7% more deaths per 100k residents than Kentucky
– Population that is fully vaccinated: 32.5% (1,436 fully vaccinated)
— 29.0% lower vaccination rate than Kentucky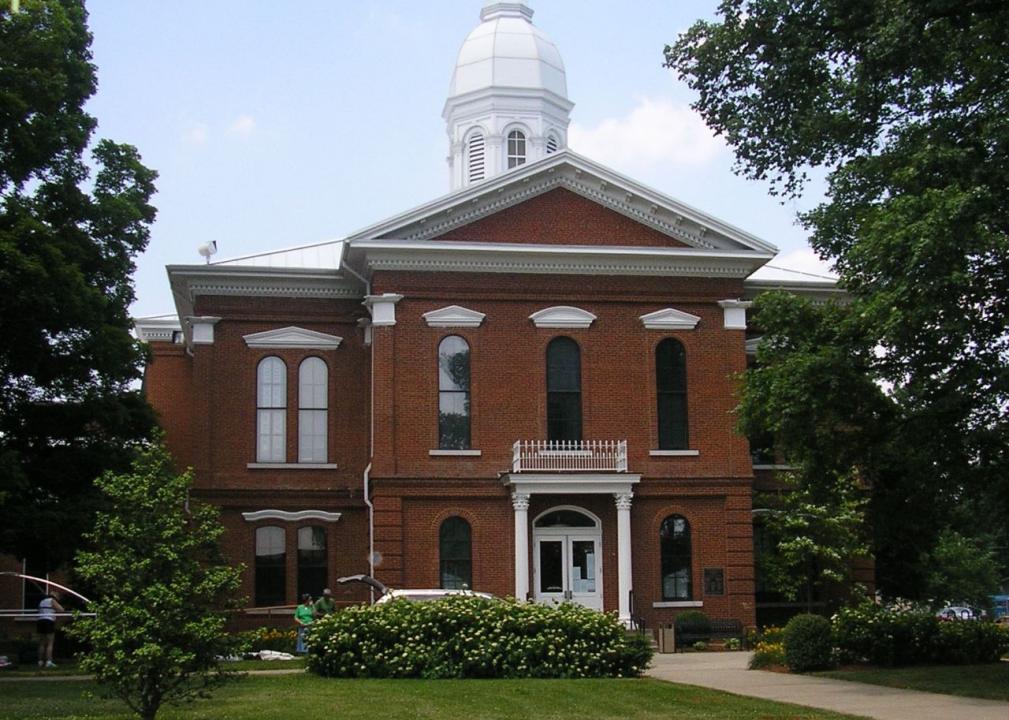 W.marsh // Wikimedia Commons
#22. Oldham County
– Cumulative cases per 100k: 11,822 (7,897 total cases)
— 9.4% more cases per 100k residents than Kentucky
– New cases per 100k in the past week: 145 (97 new cases, +98% change from previous week)
– Cumulative deaths per 100k: 127 (85 total deaths)
— 22.6% less deaths per 100k residents than Kentucky
– Population that is fully vaccinated: 47.8% (31,923 fully vaccinated)
— 4.4% higher vaccination rate than Kentucky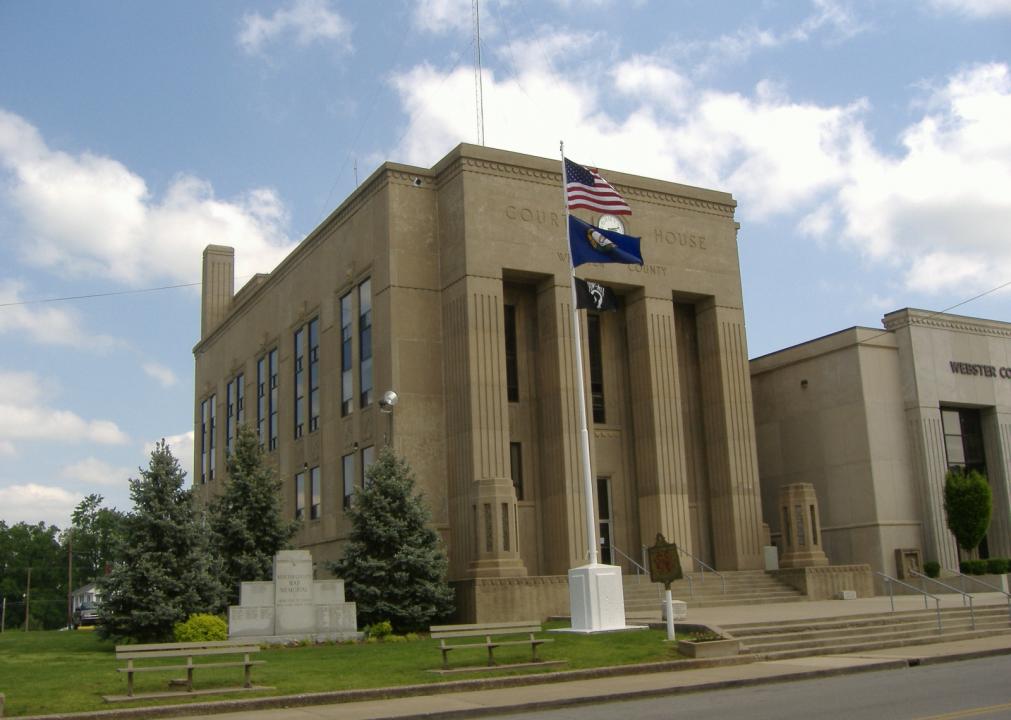 Bedford // Wikimedia Commons
#21. Webster County
– Cumulative cases per 100k: 11,837 (1,532 total cases)
— 9.6% more cases per 100k residents than Kentucky
– New cases per 100k in the past week: 325 (42 new cases, +11% change from previous week)
– Cumulative deaths per 100k: 178 (23 total deaths)
— 8.5% more deaths per 100k residents than Kentucky
– Population that is fully vaccinated: 32.7% (4,229 fully vaccinated)
— 28.6% lower vaccination rate than Kentucky
You may also like: Most valuable crops grown in Kentucky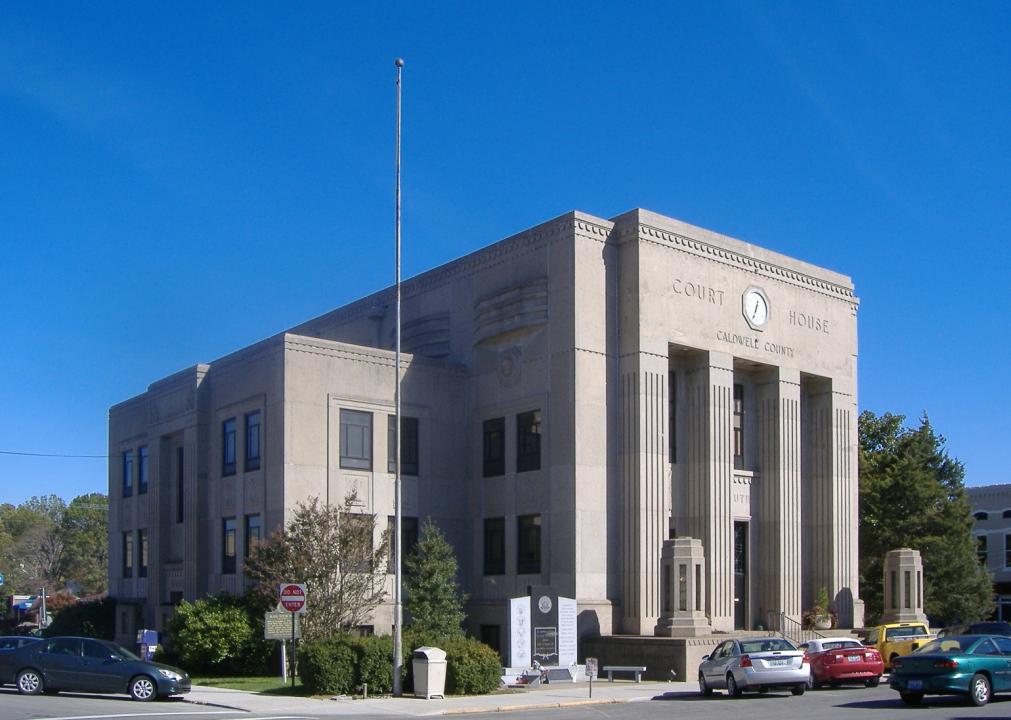 C. Bedford Crenshaw // Wikimedia Commons
#20. Caldwell County
– Cumulative cases per 100k: 11,940 (1,522 total cases)
— 10.5% more cases per 100k residents than Kentucky
– New cases per 100k in the past week: 133 (17 new cases, +55% change from previous week)
– Cumulative deaths per 100k: 251 (32 total deaths)
— 53.0% more deaths per 100k residents than Kentucky
– Population that is fully vaccinated: 37.8% (4,822 fully vaccinated)
— 17.5% lower vaccination rate than Kentucky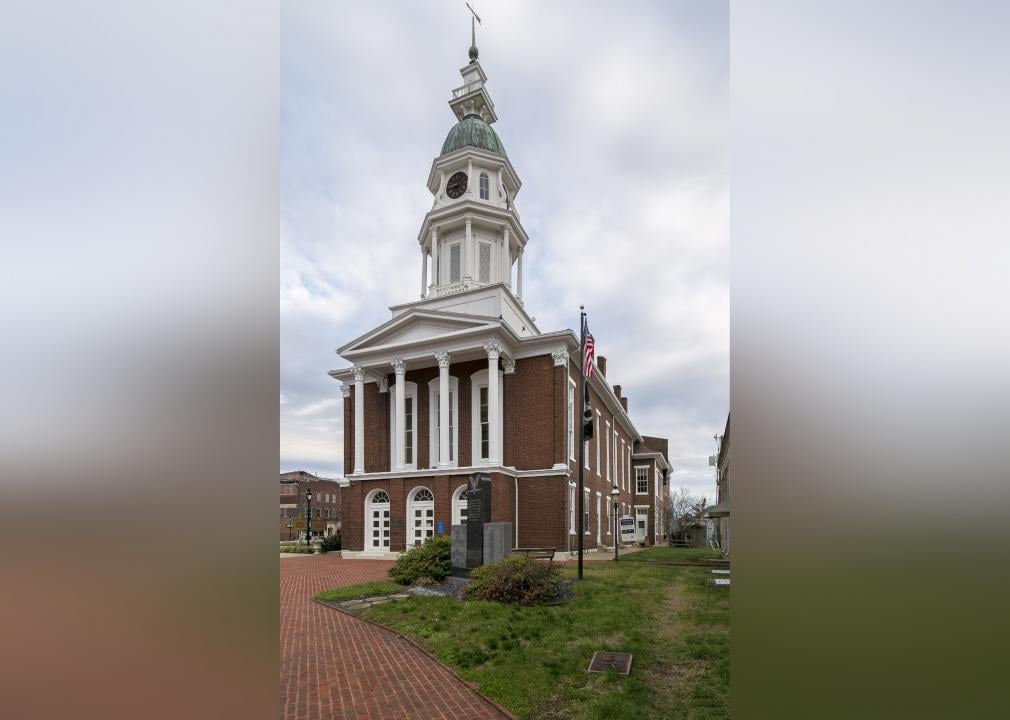 Christopher L. Riley // Wikimedia Commons
#19. Boyle County
– Cumulative cases per 100k: 11,989 (3,604 total cases)
— 11.0% more cases per 100k residents than Kentucky
– New cases per 100k in the past week: 123 (37 new cases, +23% change from previous week)
– Cumulative deaths per 100k: 259 (78 total deaths)
— 57.9% more deaths per 100k residents than Kentucky
– Population that is fully vaccinated: 47.1% (14,159 fully vaccinated)
— 2.8% higher vaccination rate than Kentucky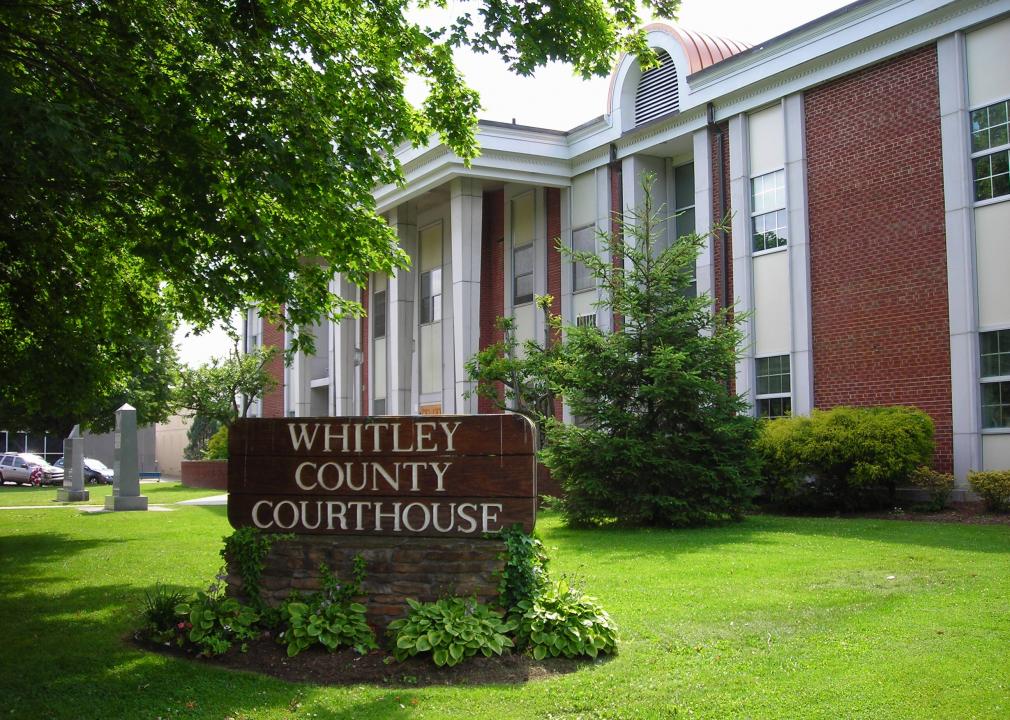 No machine-readable author provided. Blinutne assumed (based on copyright claims). // Wikimedia Commons
#18. Whitley County
– Cumulative cases per 100k: 11,990 (4,348 total cases)
— 11.0% more cases per 100k residents than Kentucky
– New cases per 100k in the past week: 353 (128 new cases, +60% change from previous week)
– Cumulative deaths per 100k: 171 (62 total deaths)
— 4.3% more deaths per 100k residents than Kentucky
– Population that is fully vaccinated: 32.9% (11,937 fully vaccinated)
— 28.2% lower vaccination rate than Kentucky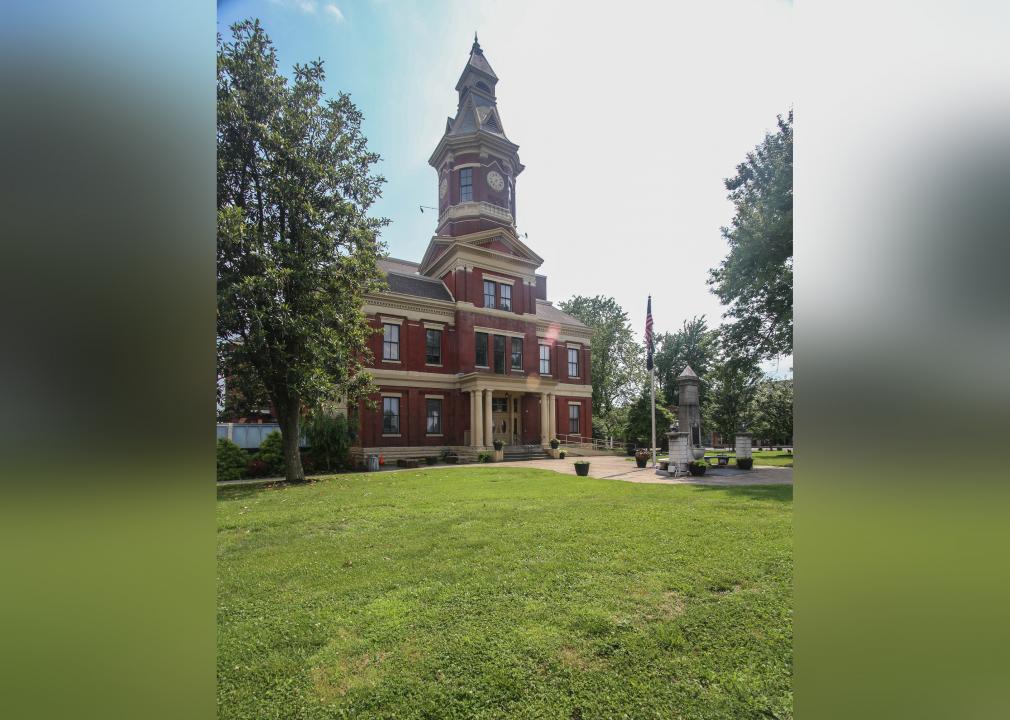 Paul Sableman // Wikimedia Commons
#17. Graves County
– Cumulative cases per 100k: 12,244 (4,563 total cases)
— 13.3% more cases per 100k residents than Kentucky
– New cases per 100k in the past week: 182 (68 new cases, +70% change from previous week)
– Cumulative deaths per 100k: 263 (98 total deaths)
— 60.4% more deaths per 100k residents than Kentucky
– Population that is fully vaccinated: 31.8% (11,844 fully vaccinated)
— 30.6% lower vaccination rate than Kentucky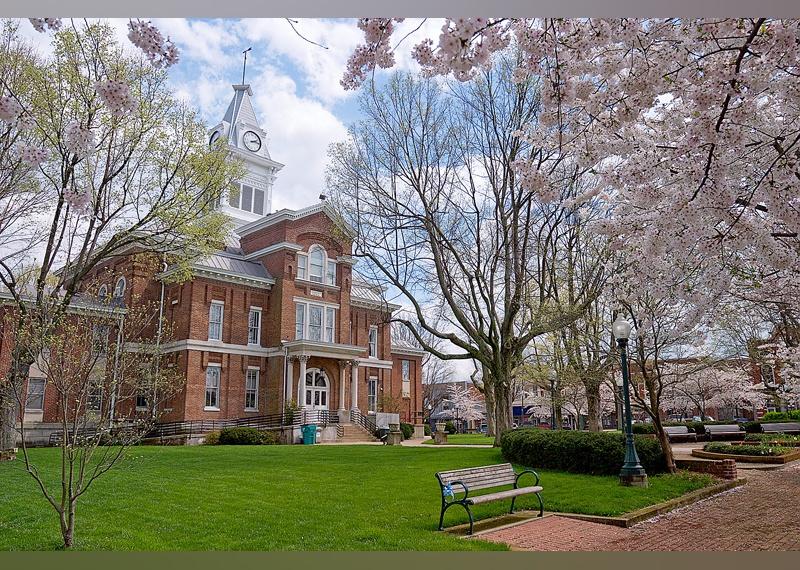 Bfreas // Wikimedia Commons
#16. Simpson County
– Cumulative cases per 100k: 12,244 (2,274 total cases)
— 13.3% more cases per 100k residents than Kentucky
– New cases per 100k in the past week: 291 (54 new cases, +69% change from previous week)
– Cumulative deaths per 100k: 237 (44 total deaths)
— 44.5% more deaths per 100k residents than Kentucky
– Population that is fully vaccinated: 39.7% (7,379 fully vaccinated)
— 13.3% lower vaccination rate than Kentucky
You may also like: Counties with the most super commuters in Kentucky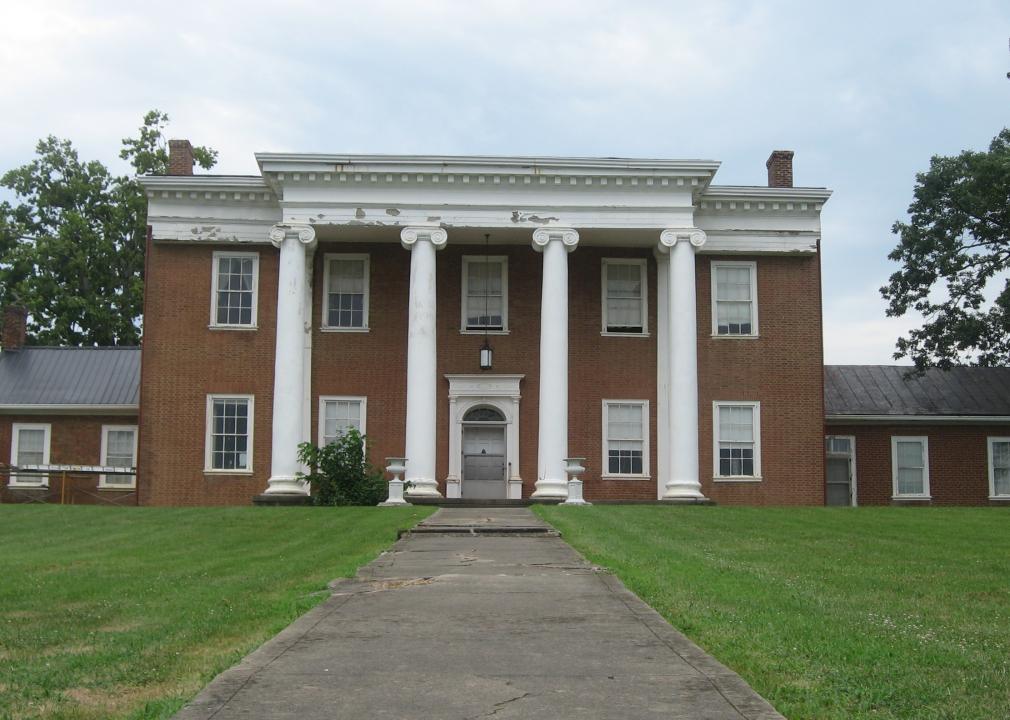 Nyttend // Wikimedia Commons
#15. Mercer County
– Cumulative cases per 100k: 12,388 (2,717 total cases)
— 14.7% more cases per 100k residents than Kentucky
– New cases per 100k in the past week: 137 (30 new cases, +11% change from previous week)
– Cumulative deaths per 100k: 246 (54 total deaths)
— 50.0% more deaths per 100k residents than Kentucky
– Population that is fully vaccinated: 43.2% (9,470 fully vaccinated)
— 5.7% lower vaccination rate than Kentucky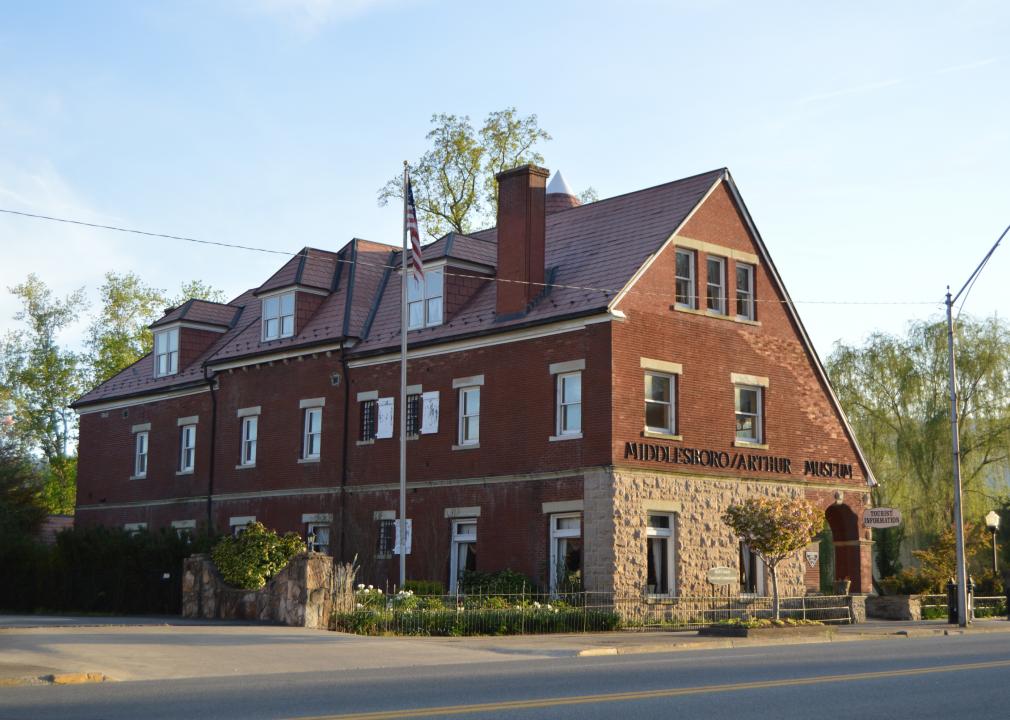 Nyttend // Wikimedia Commons
#14. Bell County
– Cumulative cases per 100k: 12,592 (3,278 total cases)
— 16.6% more cases per 100k residents than Kentucky
– New cases per 100k in the past week: 250 (65 new cases, +171% change from previous week)
– Cumulative deaths per 100k: 223 (58 total deaths)
— 36.0% more deaths per 100k residents than Kentucky
– Population that is fully vaccinated: 34.2% (8,902 fully vaccinated)
— 25.3% lower vaccination rate than Kentucky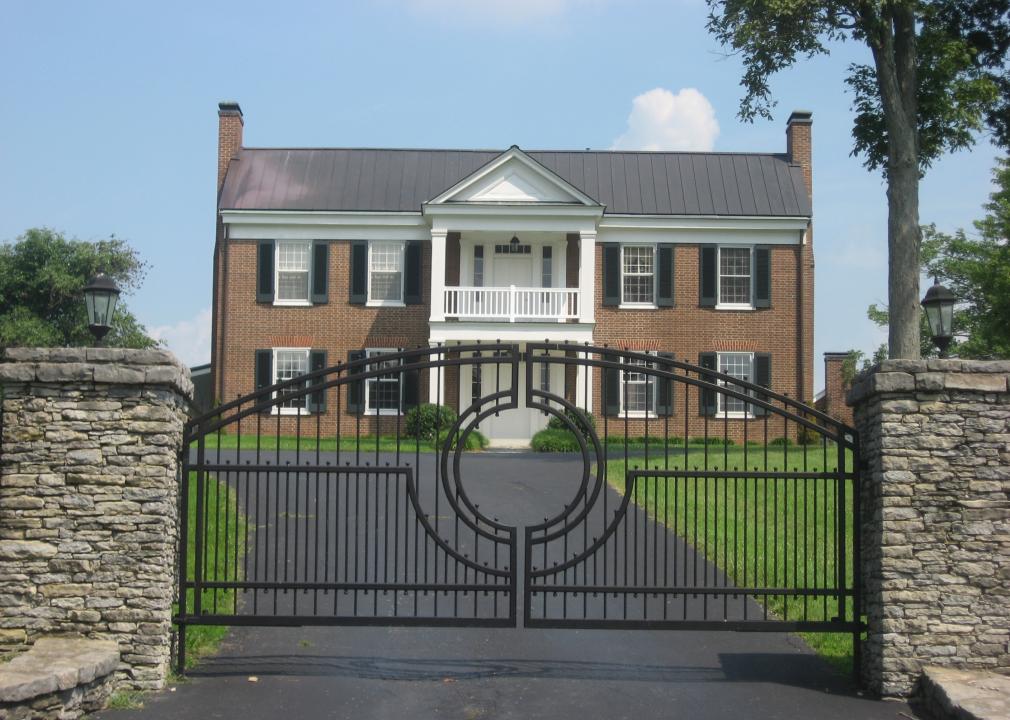 Nyttend // Wikimedia Commons
#13. Taylor County
– Cumulative cases per 100k: 12,748 (3,285 total cases)
— 18.0% more cases per 100k residents than Kentucky
– New cases per 100k in the past week: 190 (49 new cases, +81% change from previous week)
– Cumulative deaths per 100k: 206 (53 total deaths)
— 25.6% more deaths per 100k residents than Kentucky
– Population that is fully vaccinated: 38.7% (9,981 fully vaccinated)
— 15.5% lower vaccination rate than Kentucky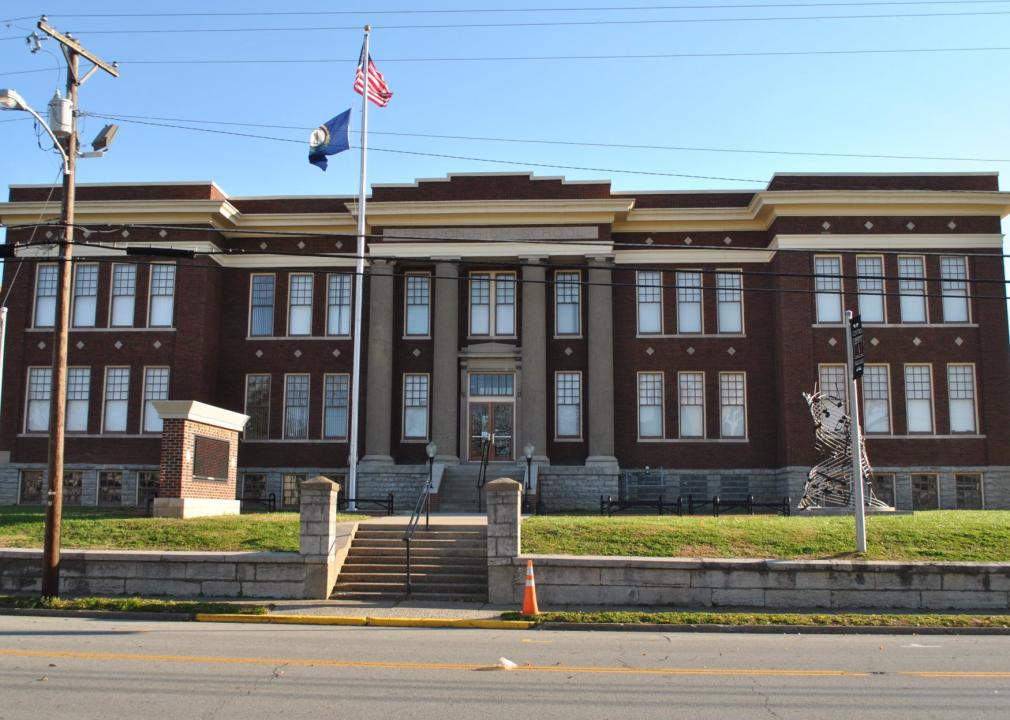 Wdzinc // Wikimedia Commons
#12. Marion County
– Cumulative cases per 100k: 12,769 (2,461 total cases)
— 18.2% more cases per 100k residents than Kentucky
– New cases per 100k in the past week: 145 (28 new cases, 0% change from previous week)
– Cumulative deaths per 100k: 197 (38 total deaths)
— 20.1% more deaths per 100k residents than Kentucky
– Population that is fully vaccinated: 40.8% (7,868 fully vaccinated)
— 10.9% lower vaccination rate than Kentucky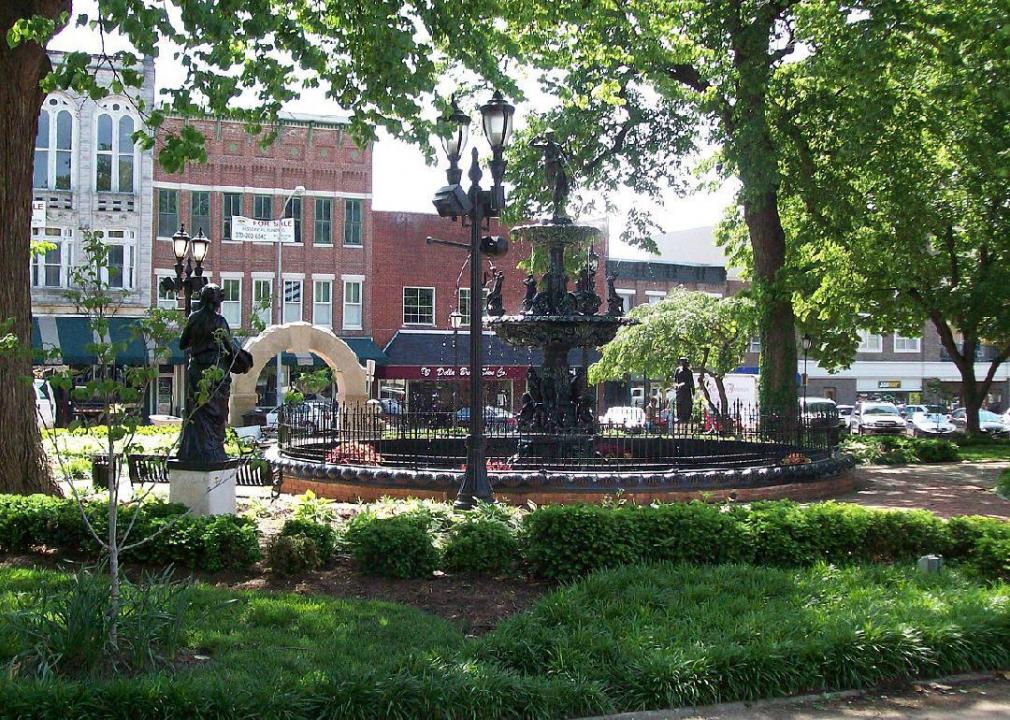 OPMaster // Wikimedia Commons
#11. Warren County
– Cumulative cases per 100k: 12,787 (16,993 total cases)
— 18.4% more cases per 100k residents than Kentucky
– New cases per 100k in the past week: 239 (318 new cases, +101% change from previous week)
– Cumulative deaths per 100k: 144 (192 total deaths)
— 12.2% less deaths per 100k residents than Kentucky
– Population that is fully vaccinated: 35.5% (47,204 fully vaccinated)
— 22.5% lower vaccination rate than Kentucky
You may also like: Counties with the most veterans in Kentucky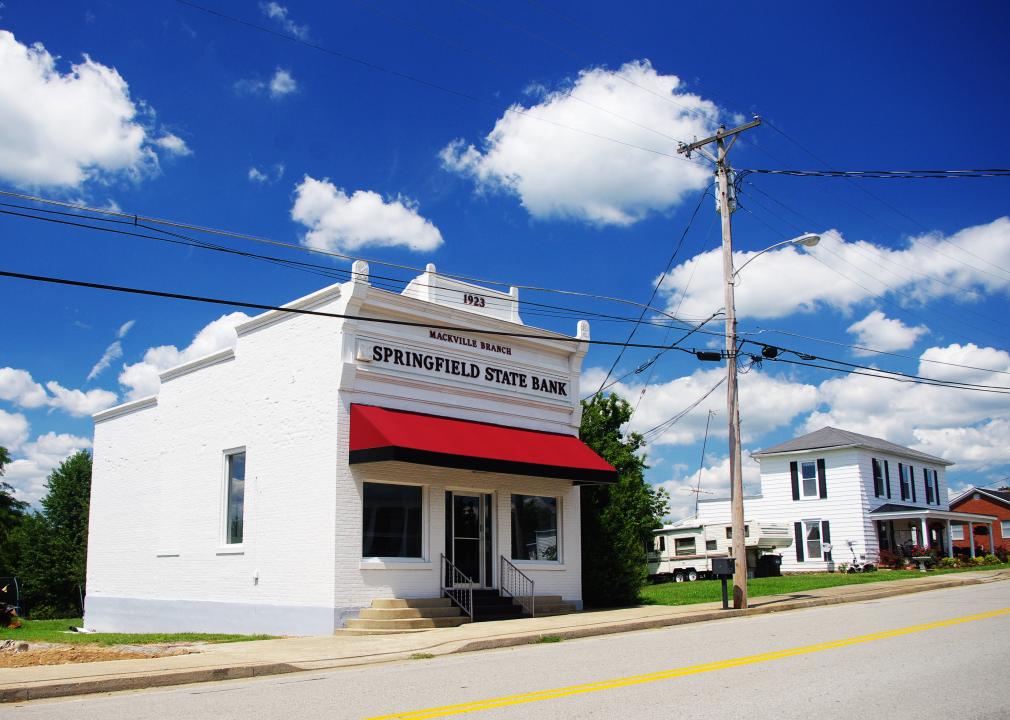 Brian Stansberry // Wikimedia Commons
#10. Washington County
– Cumulative cases per 100k: 12,799 (1,548 total cases)
— 18.5% more cases per 100k residents than Kentucky
– New cases per 100k in the past week: 273 (33 new cases, -15% change from previous week)
– Cumulative deaths per 100k: 339 (41 total deaths)
— 106.7% more deaths per 100k residents than Kentucky
– Population that is fully vaccinated: 40.4% (4,888 fully vaccinated)
— 11.8% lower vaccination rate than Kentucky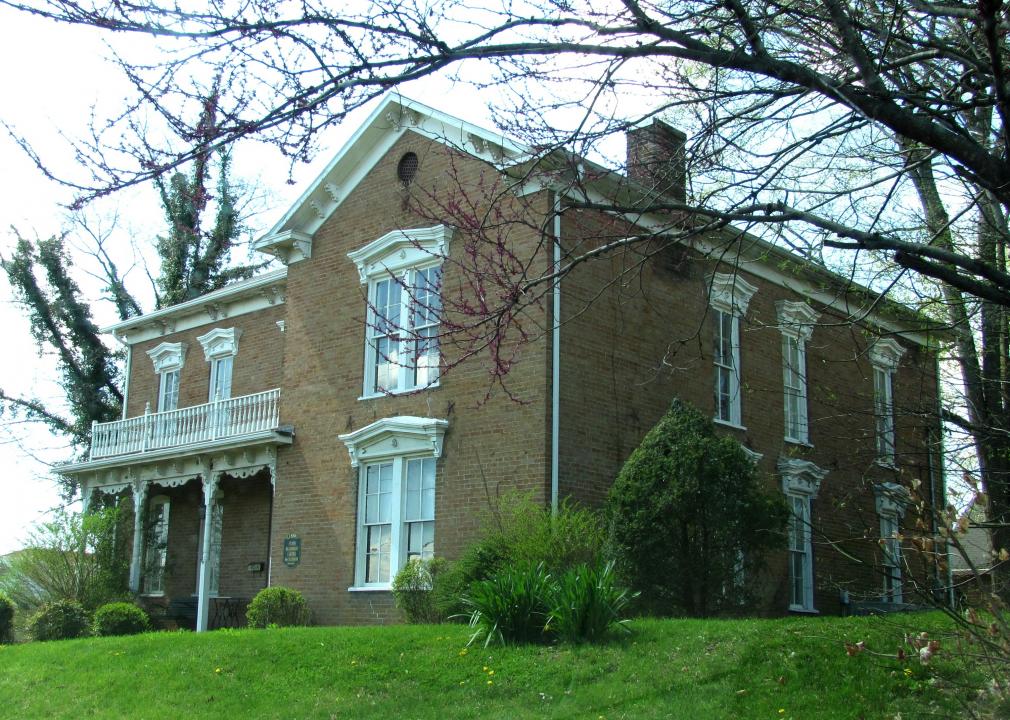 Brian Stansberry // Wikimedia Commons
#9. Monroe County
– Cumulative cases per 100k: 12,892 (1,373 total cases)
— 19.3% more cases per 100k residents than Kentucky
– New cases per 100k in the past week: 131 (14 new cases, +75% change from previous week)
– Cumulative deaths per 100k: 413 (44 total deaths)
— 151.8% more deaths per 100k residents than Kentucky
– Population that is fully vaccinated: 34.0% (3,616 fully vaccinated)
— 25.8% lower vaccination rate than Kentucky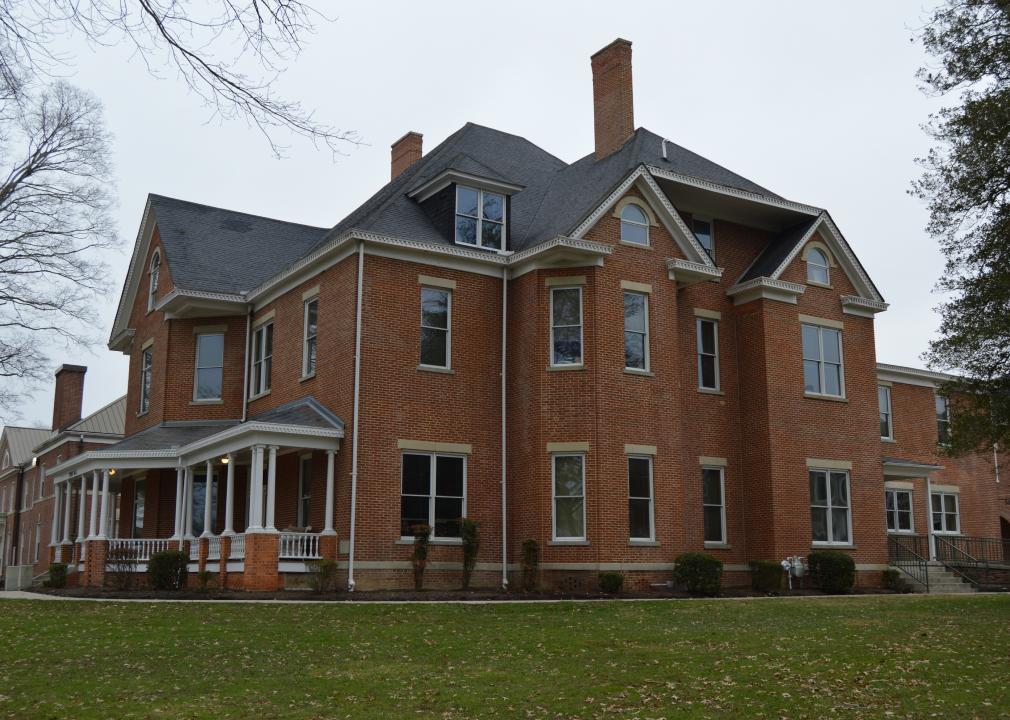 Nyttend // Wikimedia Commons
#8. Knox County
– Cumulative cases per 100k: 13,045 (4,063 total cases)
— 20.8% more cases per 100k residents than Kentucky
– New cases per 100k in the past week: 392 (122 new cases, +294% change from previous week)
– Cumulative deaths per 100k: 151 (47 total deaths)
— 7.9% less deaths per 100k residents than Kentucky
– Population that is fully vaccinated: 26.6% (8,281 fully vaccinated)
— 41.9% lower vaccination rate than Kentucky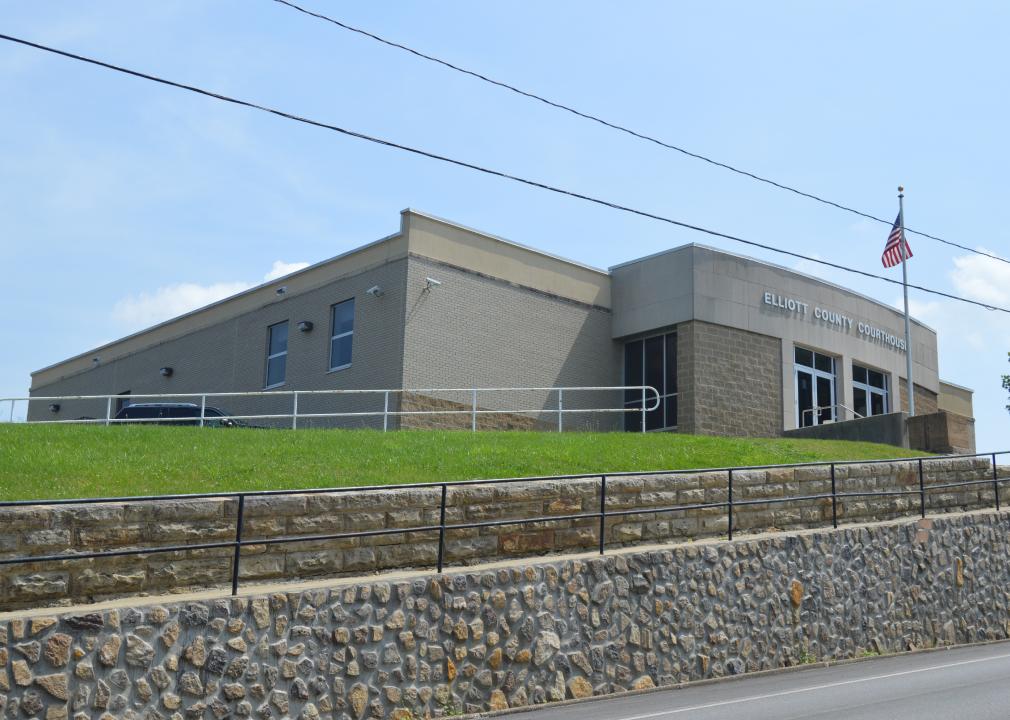 Nyttend // Wikimedia Commons
#7. Elliott County
– Cumulative cases per 100k: 13,263 (997 total cases)
— 22.8% more cases per 100k residents than Kentucky
– New cases per 100k in the past week: 67 (5 new cases, 0% change from previous week)
– Cumulative deaths per 100k: 27 (2 total deaths)
— 83.5% less deaths per 100k residents than Kentucky
– Population that is fully vaccinated: 25.1% (1,886 fully vaccinated)
— 45.2% lower vaccination rate than Kentucky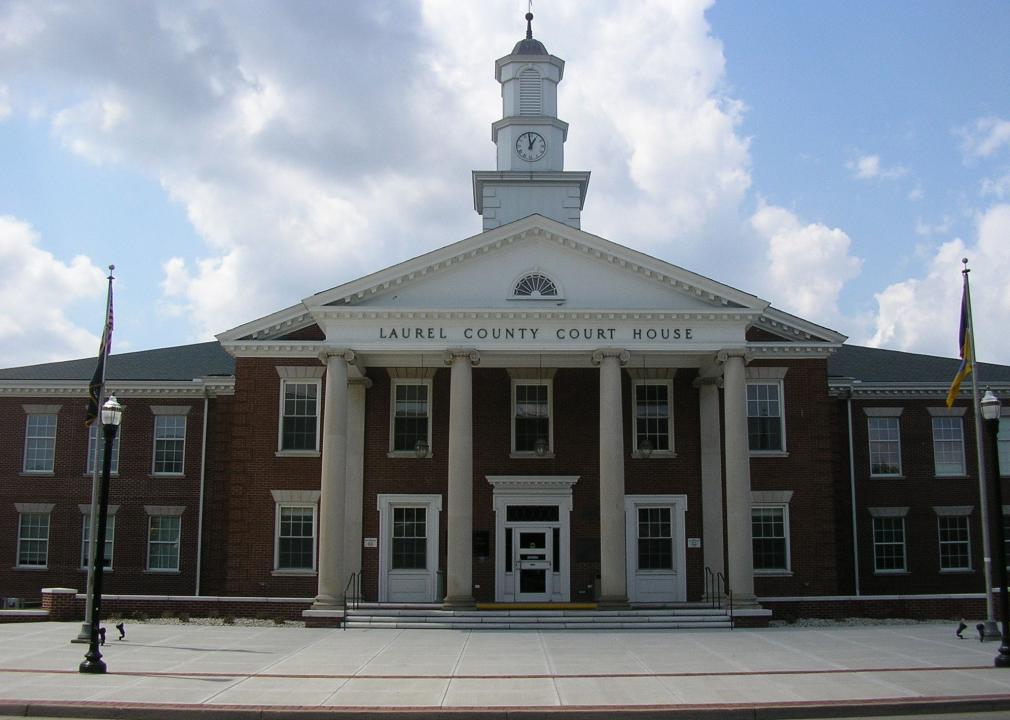 W.marsh // Wikimedia Commons
#6. Laurel County
– Cumulative cases per 100k: 13,320 (8,100 total cases)
— 23.3% more cases per 100k residents than Kentucky
– New cases per 100k in the past week: 380 (231 new cases, +38% change from previous week)
– Cumulative deaths per 100k: 135 (82 total deaths)
— 17.7% less deaths per 100k residents than Kentucky
– Population that is fully vaccinated: 29.6% (17,981 fully vaccinated)
— 35.4% lower vaccination rate than Kentucky
You may also like: Counties with the worst commutes in Kentucky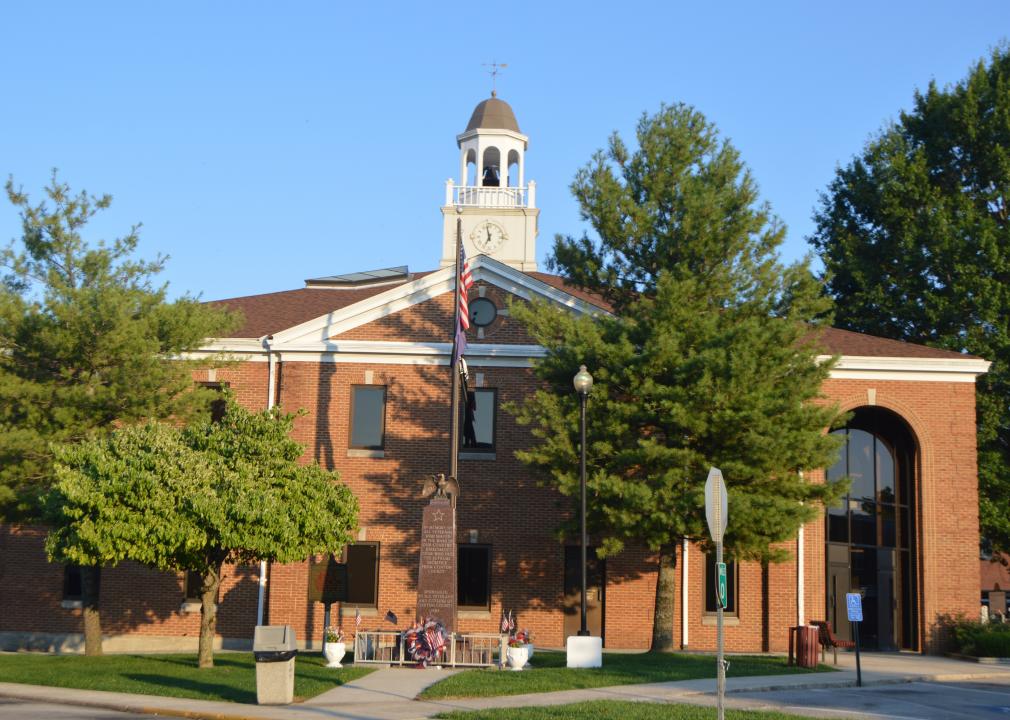 Nyttend // Wikimedia Commons
#5. Clinton County
– Cumulative cases per 100k: 14,357 (1,467 total cases)
— 32.9% more cases per 100k residents than Kentucky
– New cases per 100k in the past week: 108 (11 new cases, +1,000% change from previous week)
– Cumulative deaths per 100k: 303 (31 total deaths)
— 84.8% more deaths per 100k residents than Kentucky
– Population that is fully vaccinated: 26.8% (2,742 fully vaccinated)
— 41.5% lower vaccination rate than Kentucky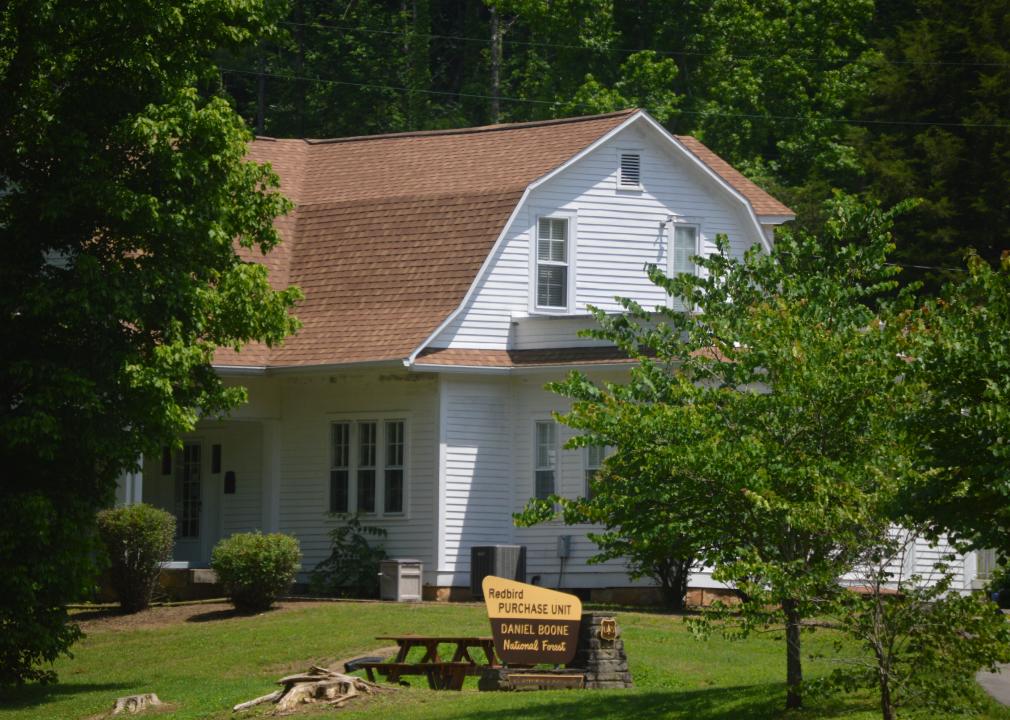 Nyttend // Wikimedia Commons
#4. Clay County
– Cumulative cases per 100k: 15,065 (2,998 total cases)
— 39.5% more cases per 100k residents than Kentucky
– New cases per 100k in the past week: 864 (172 new cases, +197% change from previous week)
– Cumulative deaths per 100k: 231 (46 total deaths)
— 40.9% more deaths per 100k residents than Kentucky
– Population that is fully vaccinated: 30.3% (6,035 fully vaccinated)
— 33.8% lower vaccination rate than Kentucky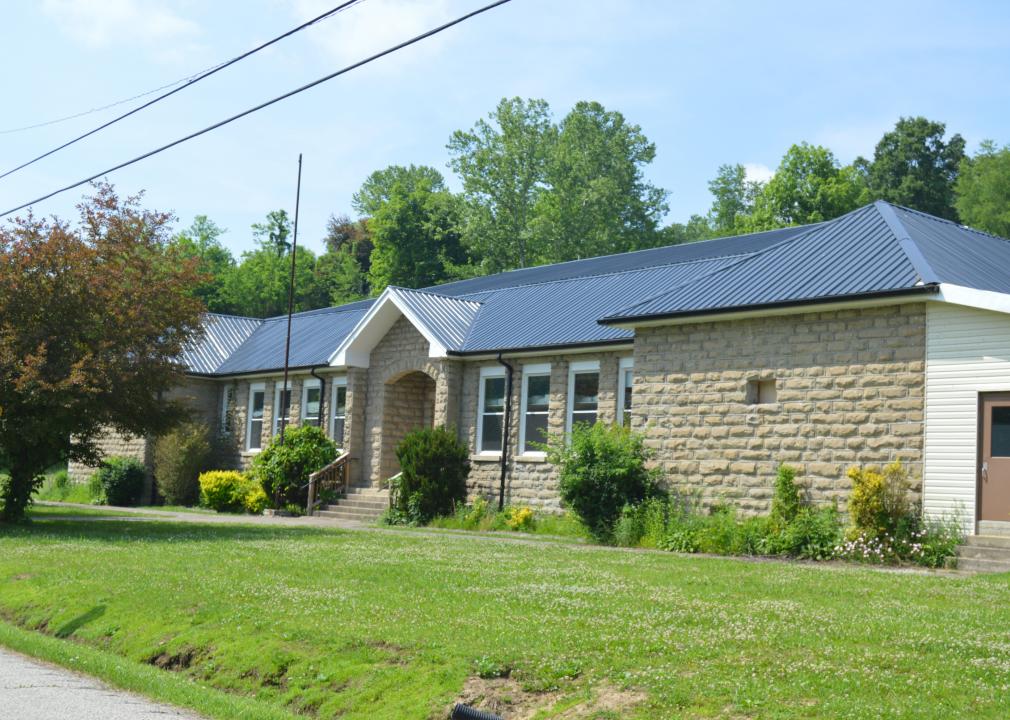 Nyttend // Wikimedia Commons
#3. Morgan County
– Cumulative cases per 100k: 17,605 (2,343 total cases)
— 63.0% more cases per 100k residents than Kentucky
– New cases per 100k in the past week: 53 (7 new cases, +17% change from previous week)
– Cumulative deaths per 100k: 38 (5 total deaths)
— 76.8% less deaths per 100k residents than Kentucky
– Population that is fully vaccinated: 37.0% (4,920 fully vaccinated)
— 19.2% lower vaccination rate than Kentucky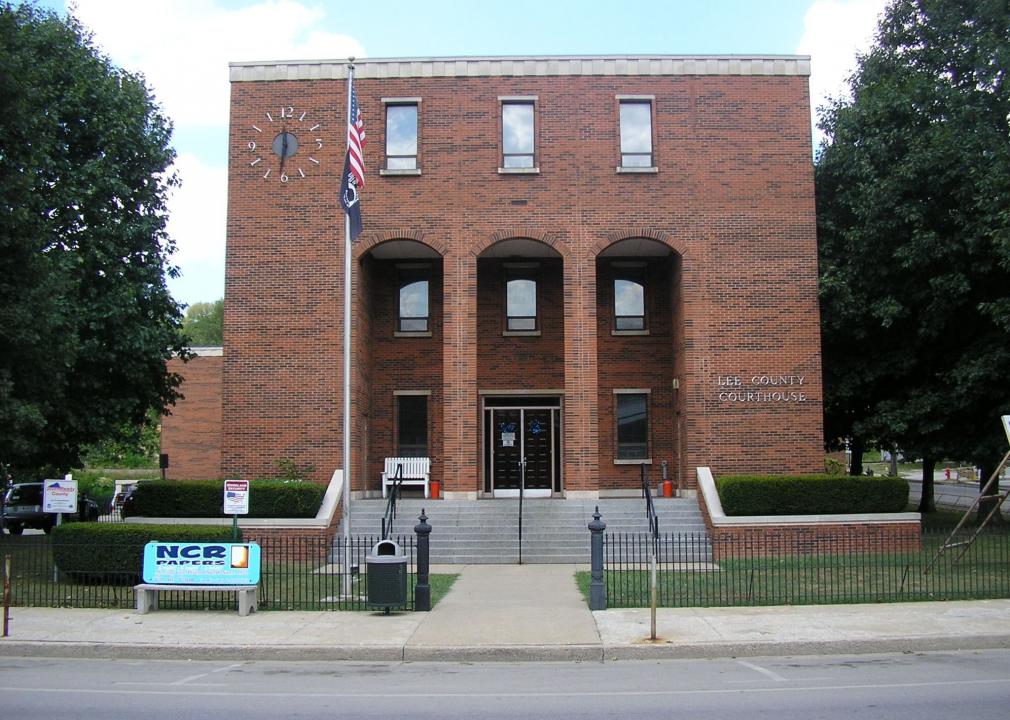 W.marsh // Wikimedia Commons
#2. Lee County
– Cumulative cases per 100k: 17,763 (1,315 total cases)
— 64.4% more cases per 100k residents than Kentucky
– New cases per 100k in the past week: 95 (7 new cases, +17% change from previous week)
– Cumulative deaths per 100k: 351 (26 total deaths)
— 114.0% more deaths per 100k residents than Kentucky
– Population that is fully vaccinated: 36.3% (2,685 fully vaccinated)
— 20.7% lower vaccination rate than Kentucky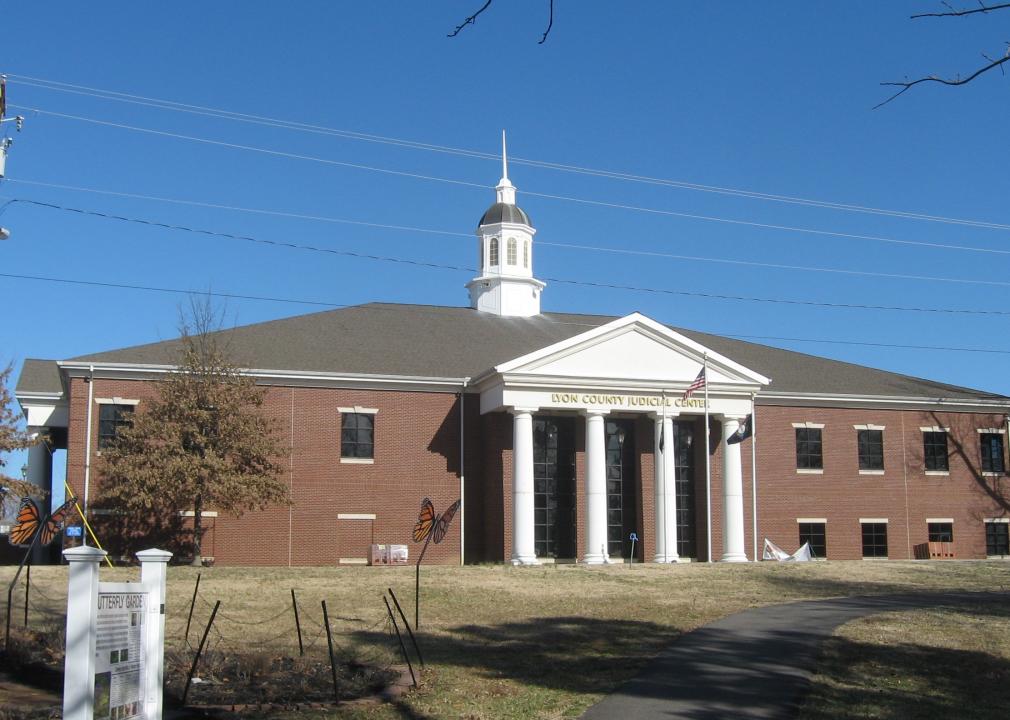 Nyttend // Wikimedia Commons
#1. Lyon County
– Cumulative cases per 100k: 19,147 (1,572 total cases)
— 77.3% more cases per 100k residents than Kentucky
– New cases per 100k in the past week: 85 (7 new cases, +40% change from previous week)
– Cumulative deaths per 100k: 268 (22 total deaths)
— 63.4% more deaths per 100k residents than Kentucky
– Population that is fully vaccinated: 47.1% (3,871 fully vaccinated)
— 2.8% higher vaccination rate than Kentucky
You may also like: Best counties to live in Kentucky
More News