Counties in Kentucky where people spend most of their paycheck on housing
Published 11:52 am Friday, July 16, 2021

Brian Stansberry // Wikimedia Commons
Counties in Kentucky where people spend most of their paycheck on housing
It's no secret that many Americans are forgoing homeownership in favor of renting. In 2020, renters in the U.S. occupied 43 million housing units.
The Stacker team looked at data from a United States Census survey that revealed an estimated 43,378,800 renter-occupied homes in the United States as of 2017, which makes up 36.1% of all households in the country. In 2019, renting was more affordable than buying a median-priced home in 59% of the counties; in 2021, the opposite was true: Owning was more affordable than renting in 63% of U.S. counties.
Stacker compiled a list of counties in Kentucky where people spend the highest percent of income on rent using data from the U.S. Census Bureau. Of course, saving money by owning a home is unattainable for many Americans who don't have savings that could cover a down payment, those who are denied a mortgage, or both. Keep reading to see where in your home state most of people's take-home pay goes to their monthly rent.
You may also like: Highest-rated Class of 2021 football recruits from Kentucky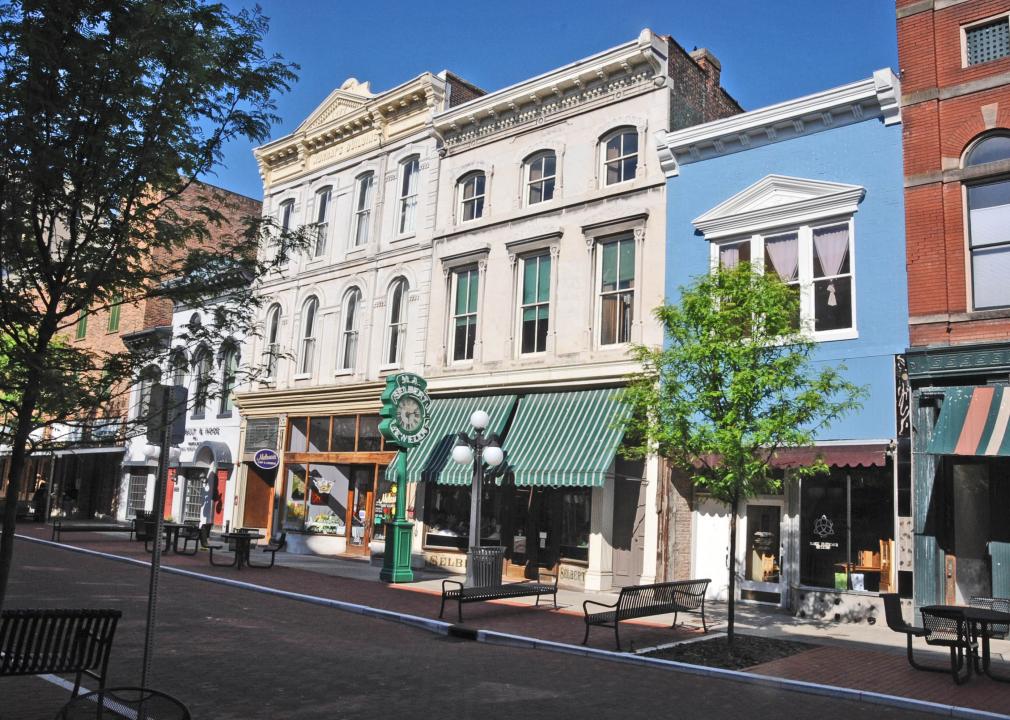 JERRYE & ROY KLOTZ MD // Wikimedia Commons
#50. Franklin County
– Median percent of income spent on housing: 17.8%
— Percent of households spending <20% of income on housing: 53.8%
— Percent of households spending >30% of income on housing: 22.8%
– Total occupied households: 21,076
– Median household income: $56,274
– Median monthly housing cost: $833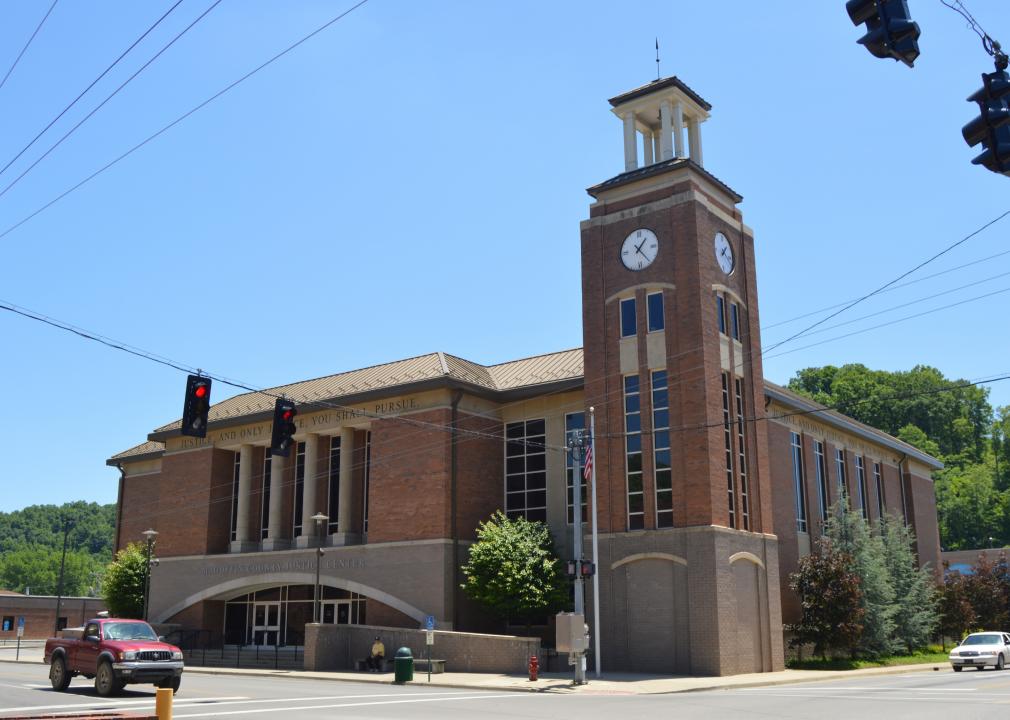 Nyttend // Wikimedia Commons
#49. Magoffin County
– Median percent of income spent on housing: 17.8%
— Percent of households spending <20% of income on housing: 48.7%
— Percent of households spending >30% of income on housing: 23.5%
– Total occupied households: 5,020
– Median household income: $28,147
– Median monthly housing cost: $417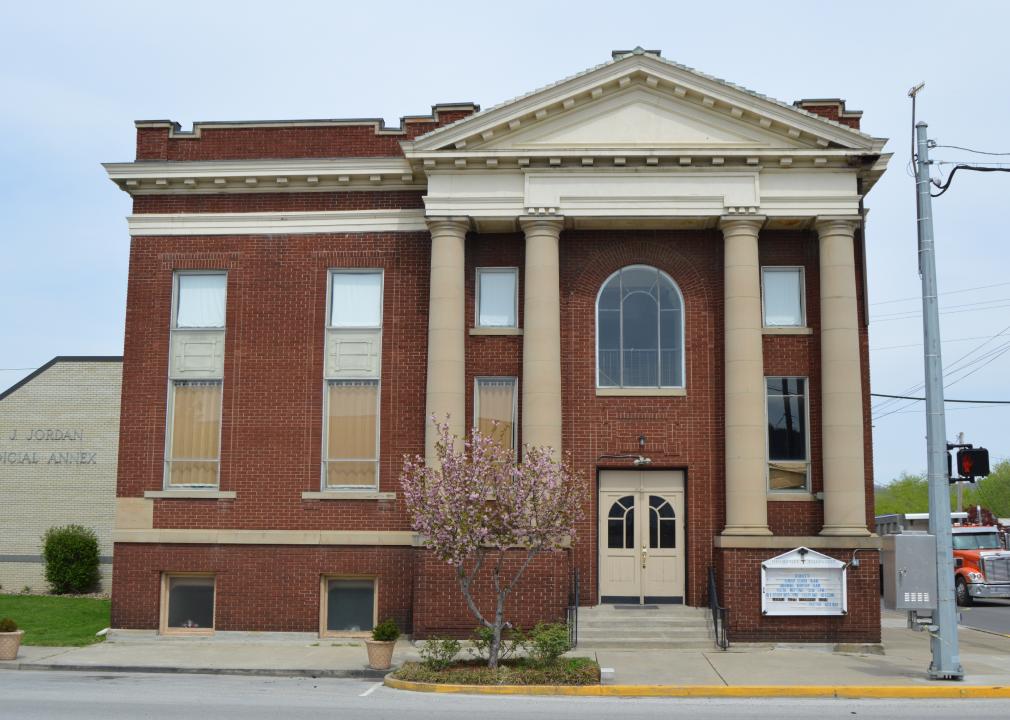 Nyttend // Wikimedia Commons
#48. Lawrence County
– Median percent of income spent on housing: 17.8%
— Percent of households spending <20% of income on housing: 48.0%
— Percent of households spending >30% of income on housing: 23.4%
– Total occupied households: 5,784
– Median household income: $32,798
– Median monthly housing cost: $486
HiB2Bornot2B // Wikimedia Commons
#47. Johnson County
– Median percent of income spent on housing: 17.8%
— Percent of households spending <20% of income on housing: 50.3%
— Percent of households spending >30% of income on housing: 25.0%
– Total occupied households: 8,488
– Median household income: $37,055
– Median monthly housing cost: $551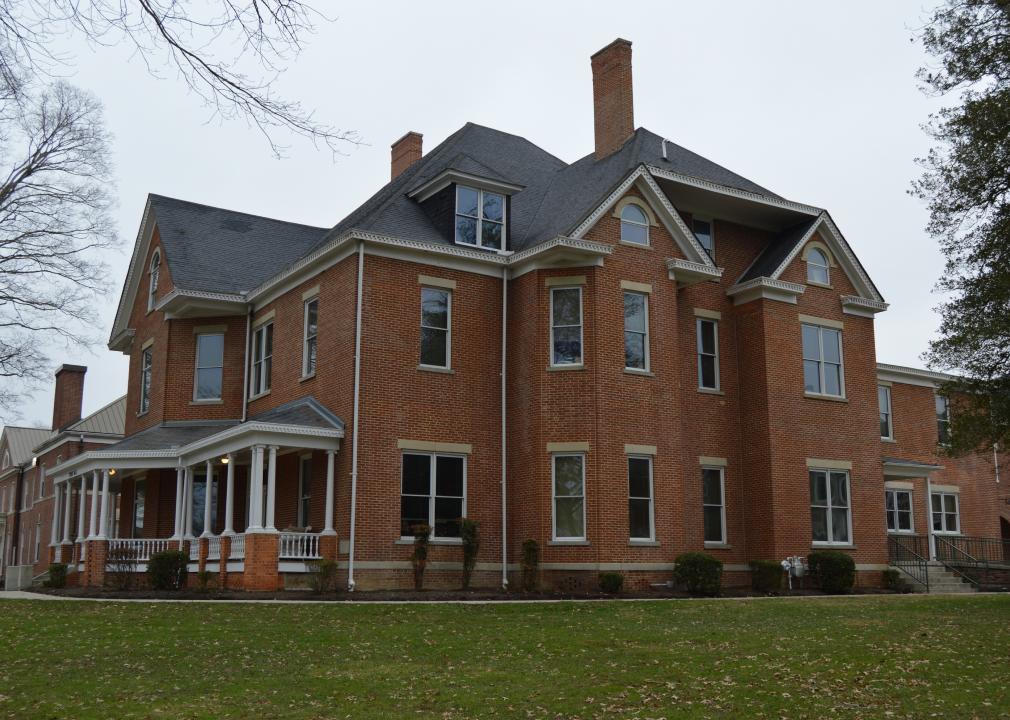 Nyttend // Wikimedia Commons
#46. Knox County
– Median percent of income spent on housing: 17.9%
— Percent of households spending <20% of income on housing: 48.4%
— Percent of households spending >30% of income on housing: 22.6%
– Total occupied households: 11,961
– Median household income: $30,181
– Median monthly housing cost: $449
You may also like: Where people in Kentucky are moving to most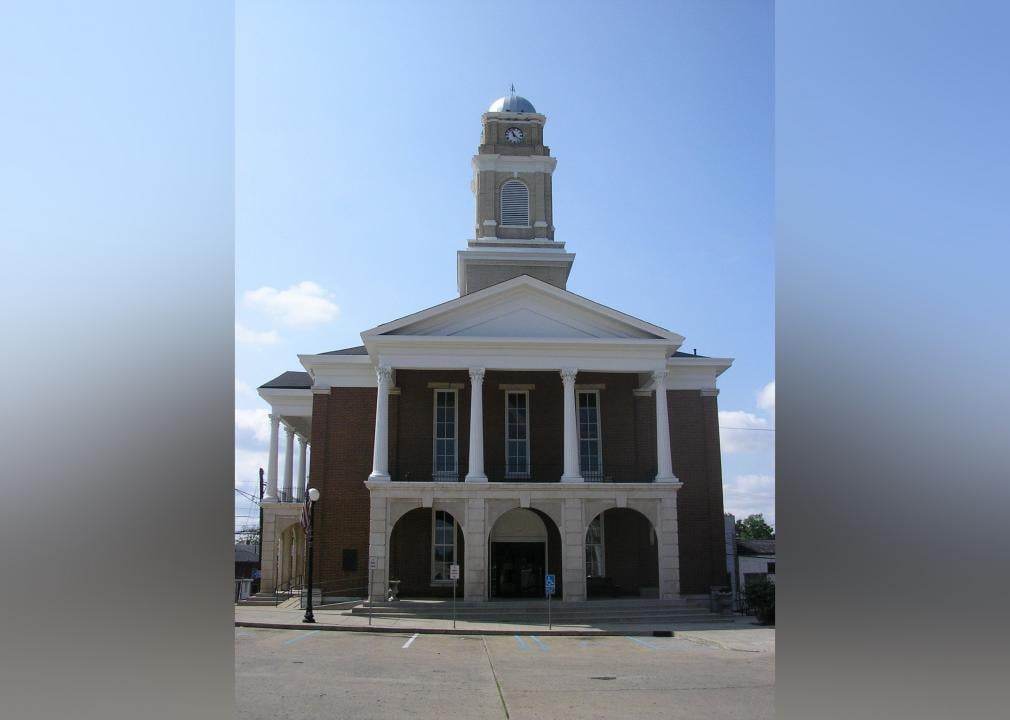 W.marsh // Wikimedia Commons
#45. Garrard County
– Median percent of income spent on housing: 17.9%
— Percent of households spending <20% of income on housing: 56.8%
— Percent of households spending >30% of income on housing: 21.9%
– Total occupied households: 6,706
– Median household income: $52,631
– Median monthly housing cost: $785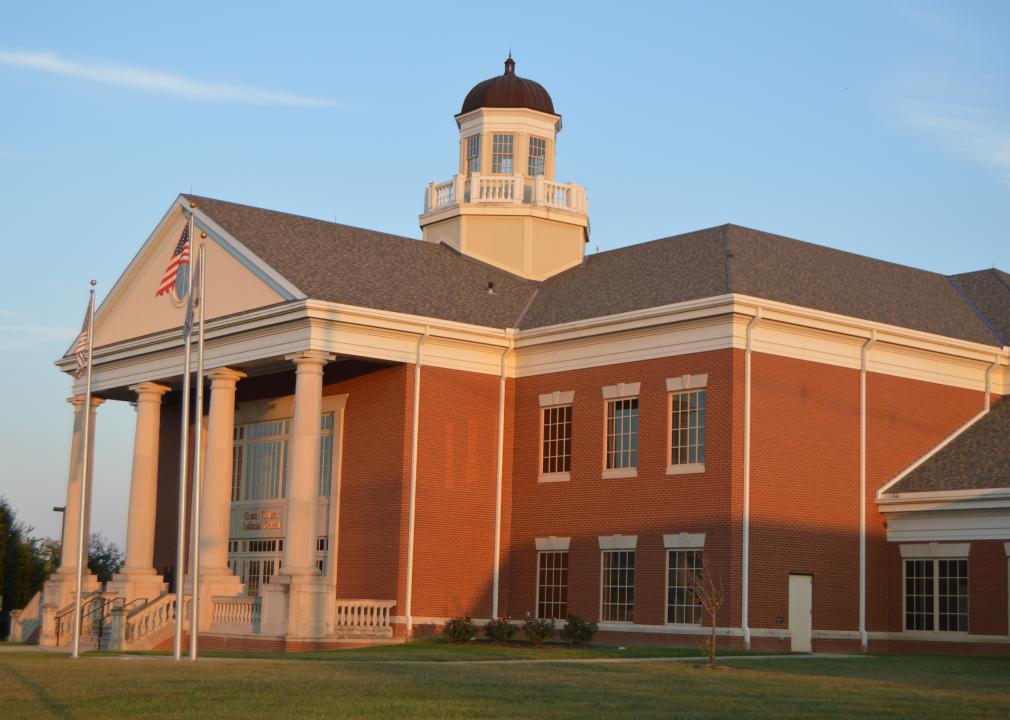 Nyttend // Wikimedia Commons
#44. Grant County
– Median percent of income spent on housing: 17.9%
— Percent of households spending <20% of income on housing: 51.7%
— Percent of households spending >30% of income on housing: 25.7%
– Total occupied households: 9,141
– Median household income: $48,714
– Median monthly housing cost: $728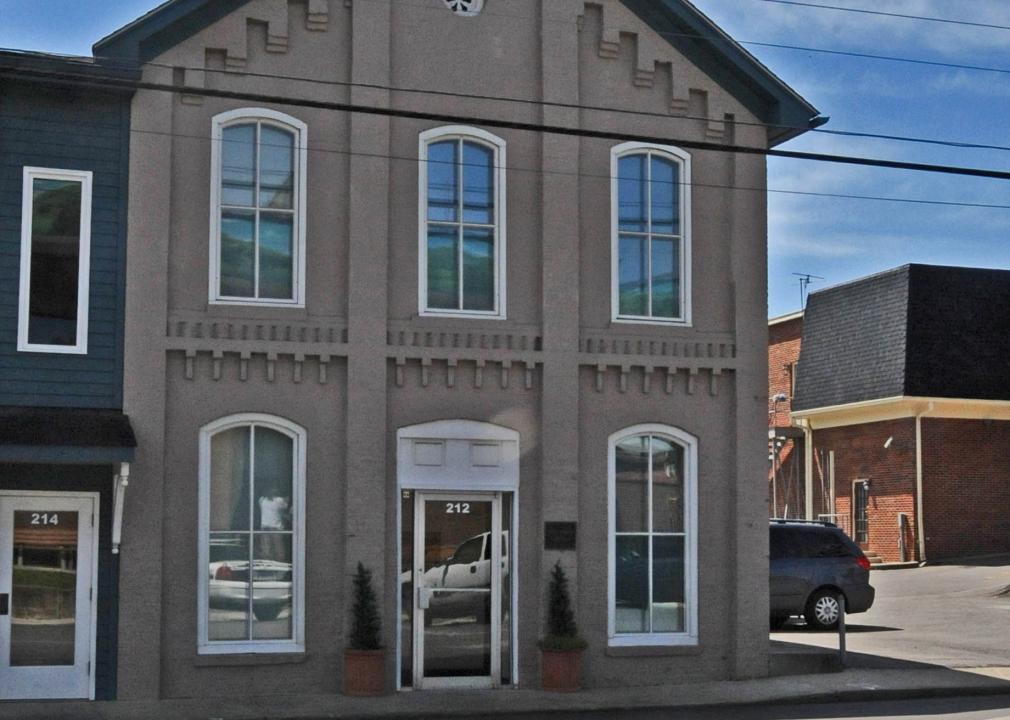 JERRYE & ROY KLOTZ MD // Wikimedia Commons
#43. Owsley County
– Median percent of income spent on housing: 18.0%
— Percent of households spending <20% of income on housing: 45.2%
— Percent of households spending >30% of income on housing: 25.0%
– Total occupied households: 1,704
– Median household income: $30,284
– Median monthly housing cost: $453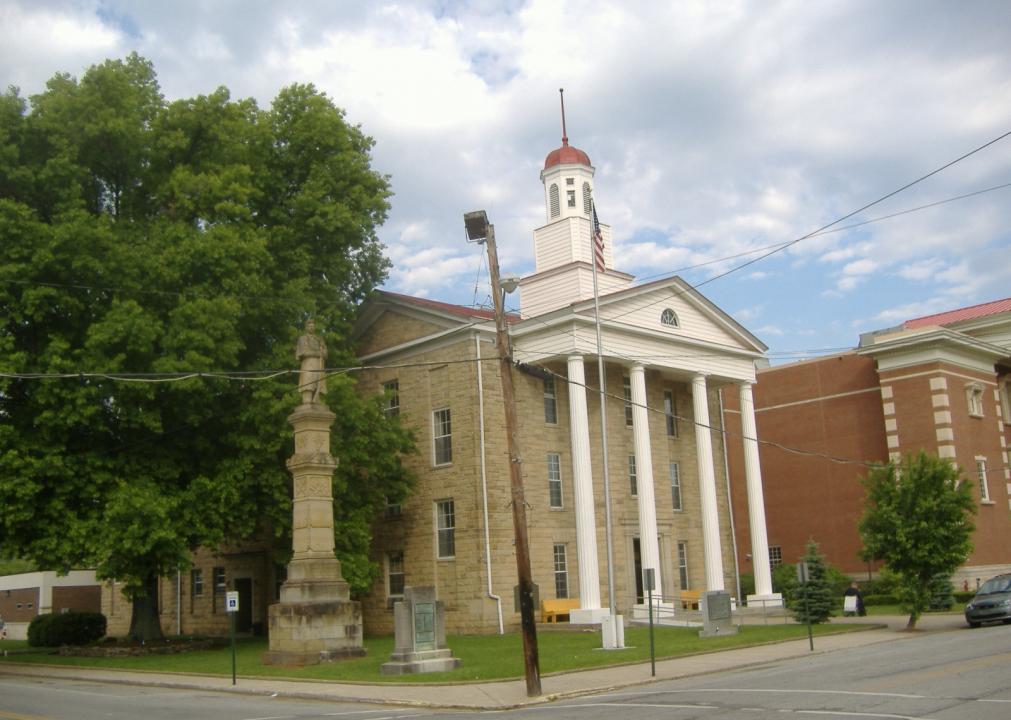 C. Bedford Crenshaw // Wikimedia Commons
#42. Lewis County
– Median percent of income spent on housing: 18.0%
— Percent of households spending <20% of income on housing: 51.2%
— Percent of households spending >30% of income on housing: 23.1%
– Total occupied households: 5,268
– Median household income: $31,147
– Median monthly housing cost: $466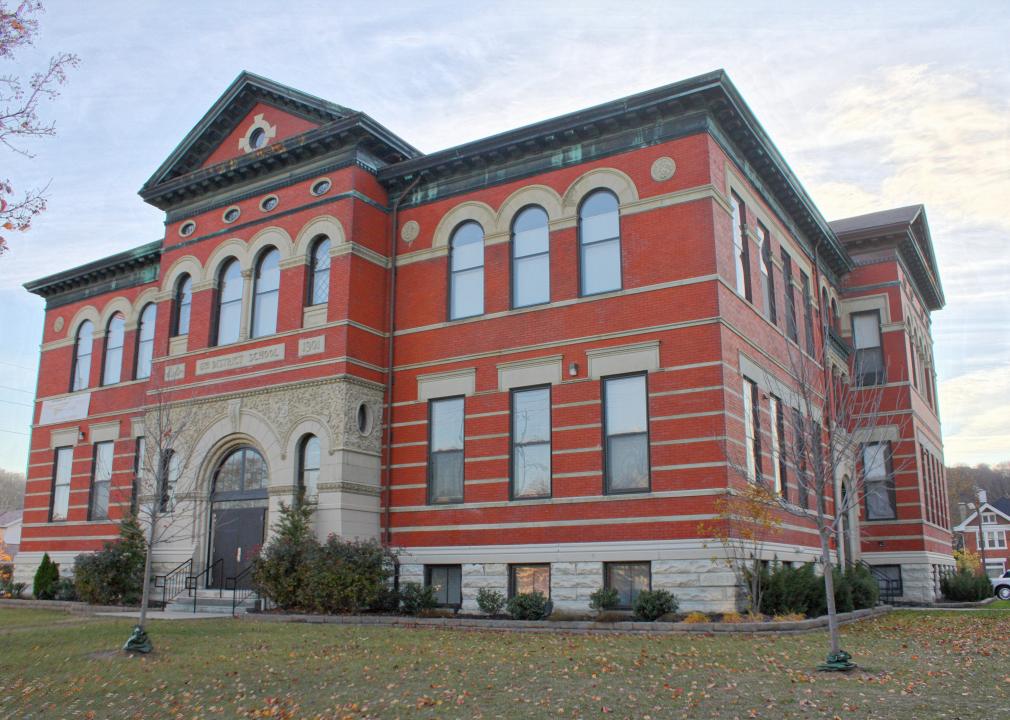 Greg5030 // Wikimedia Commons
#41. Kenton County
– Median percent of income spent on housing: 18.0%
— Percent of households spending <20% of income on housing: 55.0%
— Percent of households spending >30% of income on housing: 22.4%
– Total occupied households: 63,966
– Median household income: $64,339
– Median monthly housing cost: $963
You may also like: Best counties to raise a family in Kentucky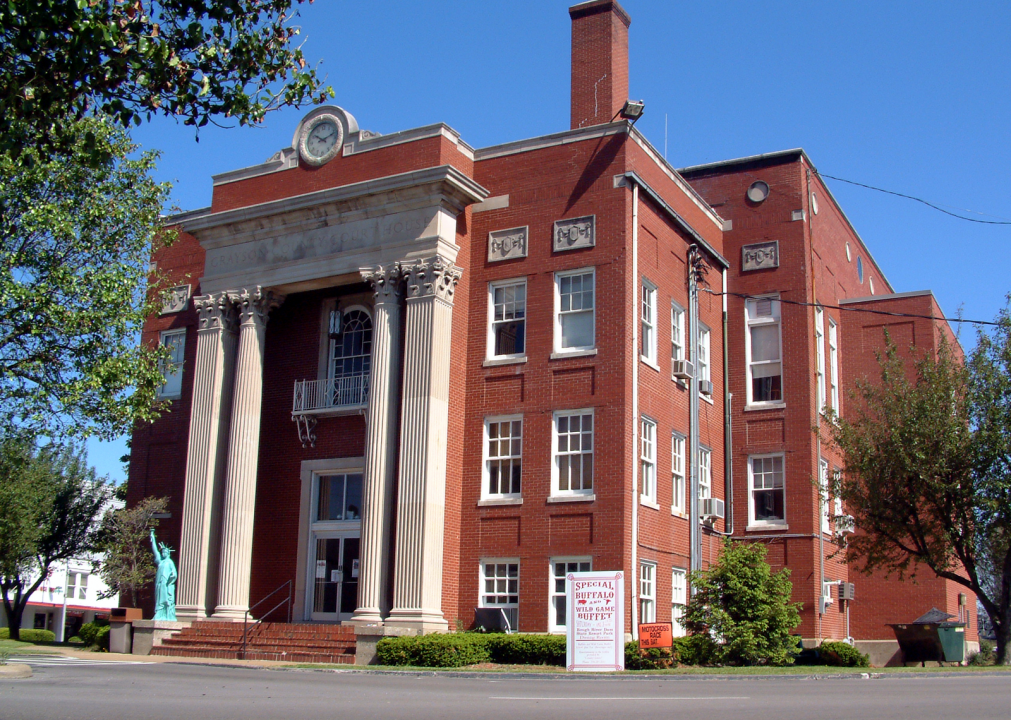 Huw Williams (Huwmanbeing) // Wikimedia Commons
#40. Grayson County
– Median percent of income spent on housing: 18.0%
— Percent of households spending <20% of income on housing: 52.0%
— Percent of households spending >30% of income on housing: 25.3%
– Total occupied households: 9,758
– Median household income: $38,612
– Median monthly housing cost: $579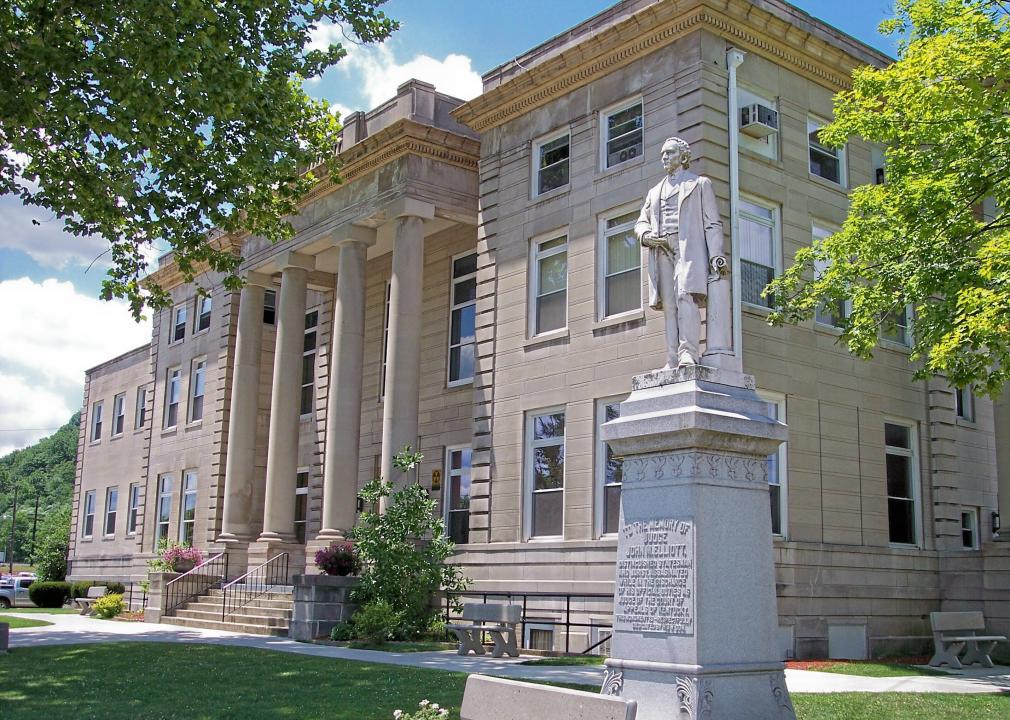 w:User:Malepheasant // Wikimedia Commons
#39. Boyd County
– Median percent of income spent on housing: 18.0%
— Percent of households spending <20% of income on housing: 53.1%
— Percent of households spending >30% of income on housing: 23.7%
– Total occupied households: 18,210
– Median household income: $48,308
– Median monthly housing cost: $725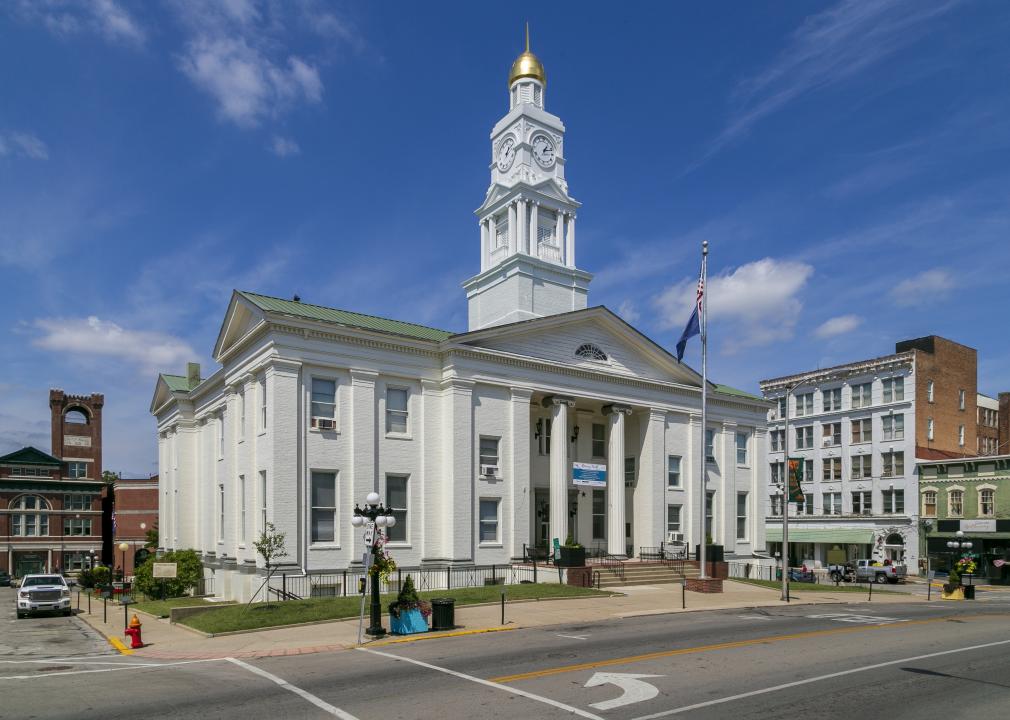 Christopher L. Riley // Wikimedia Commons
#38. Clark County
– Median percent of income spent on housing: 18.0%
— Percent of households spending <20% of income on housing: 52.1%
— Percent of households spending >30% of income on housing: 24.9%
– Total occupied households: 14,509
– Median household income: $54,953
– Median monthly housing cost: $825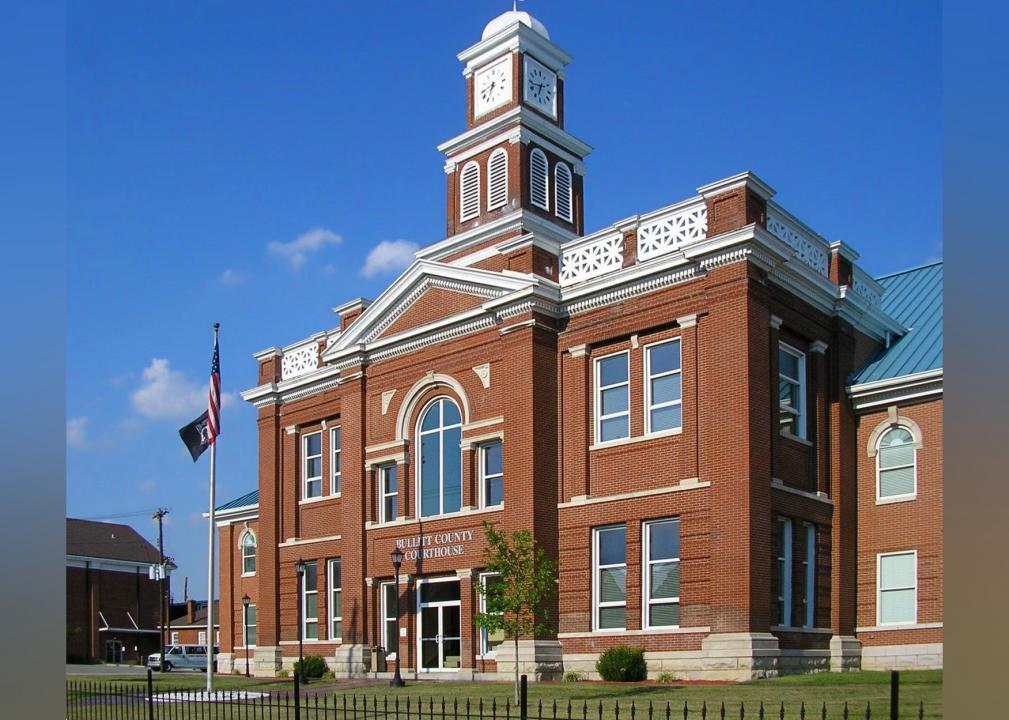 W.marsh // Wikimedia Commons
#37. Bullitt County
– Median percent of income spent on housing: 18.1%
— Percent of households spending <20% of income on housing: 54.5%
— Percent of households spending >30% of income on housing: 20.2%
– Total occupied households: 29,690
– Median household income: $63,348
– Median monthly housing cost: $954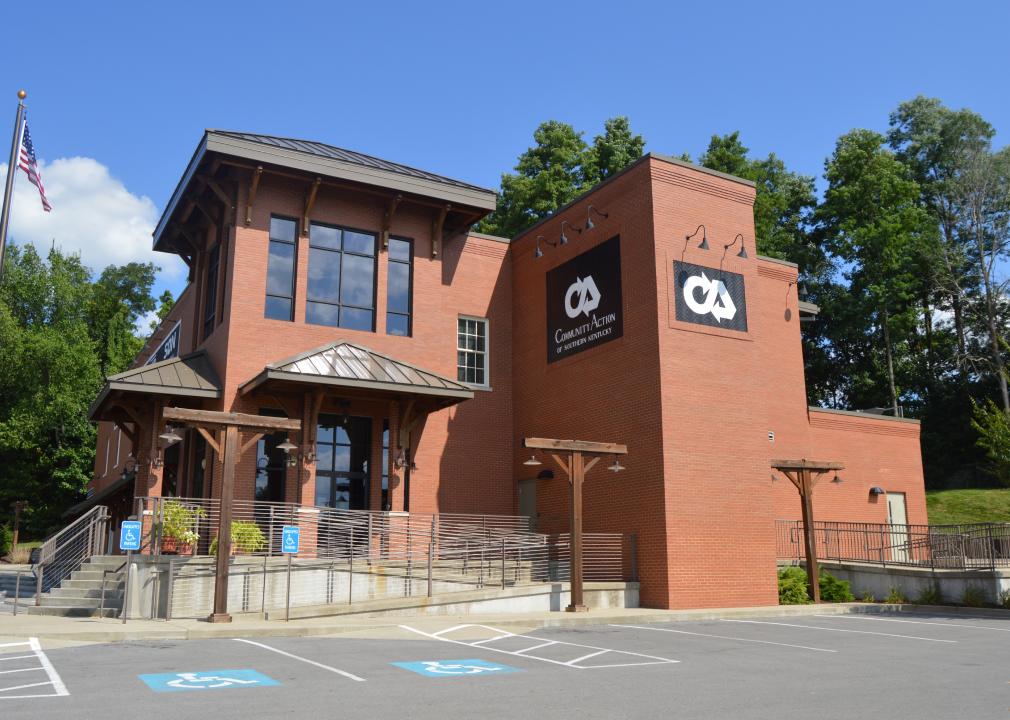 Nyttend // Wikimedia Commons
#36. Allen County
– Median percent of income spent on housing: 18.1%
— Percent of households spending <20% of income on housing: 54.9%
— Percent of households spending >30% of income on housing: 20.6%
– Total occupied households: 7,605
– Median household income: $44,036
– Median monthly housing cost: $664
You may also like: Most popular boy names in the 60s in Kentucky
Nyttend // Wikimedia Commons
#35. Anderson County
– Median percent of income spent on housing: 18.2%
— Percent of households spending <20% of income on housing: 56.1%
— Percent of households spending >30% of income on housing: 24.0%
– Total occupied households: 8,694
– Median household income: $55,334
– Median monthly housing cost: $838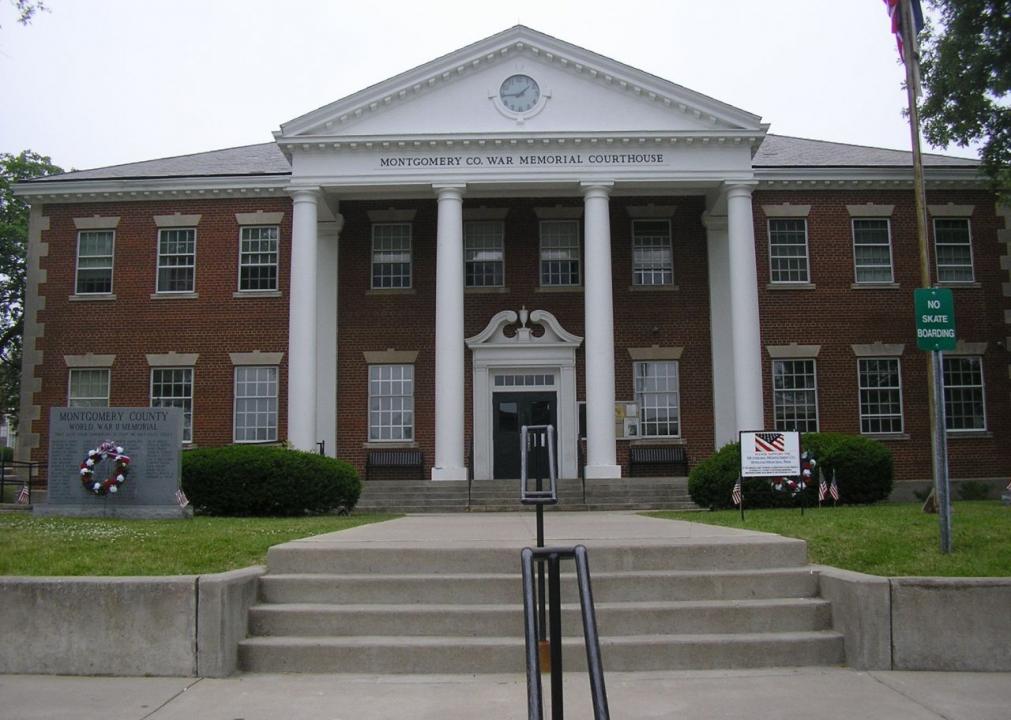 W.marsh // Wikimedia Commons
#34. Montgomery County
– Median percent of income spent on housing: 18.2%
— Percent of households spending <20% of income on housing: 54.0%
— Percent of households spending >30% of income on housing: 24.2%
– Total occupied households: 10,481
– Median household income: $45,516
– Median monthly housing cost: $692
Wdzinc // Wikimedia Commons
#33. Marion County
– Median percent of income spent on housing: 18.3%
— Percent of households spending <20% of income on housing: 56.2%
— Percent of households spending >30% of income on housing: 24.8%
– Total occupied households: 7,405
– Median household income: $40,107
– Median monthly housing cost: $611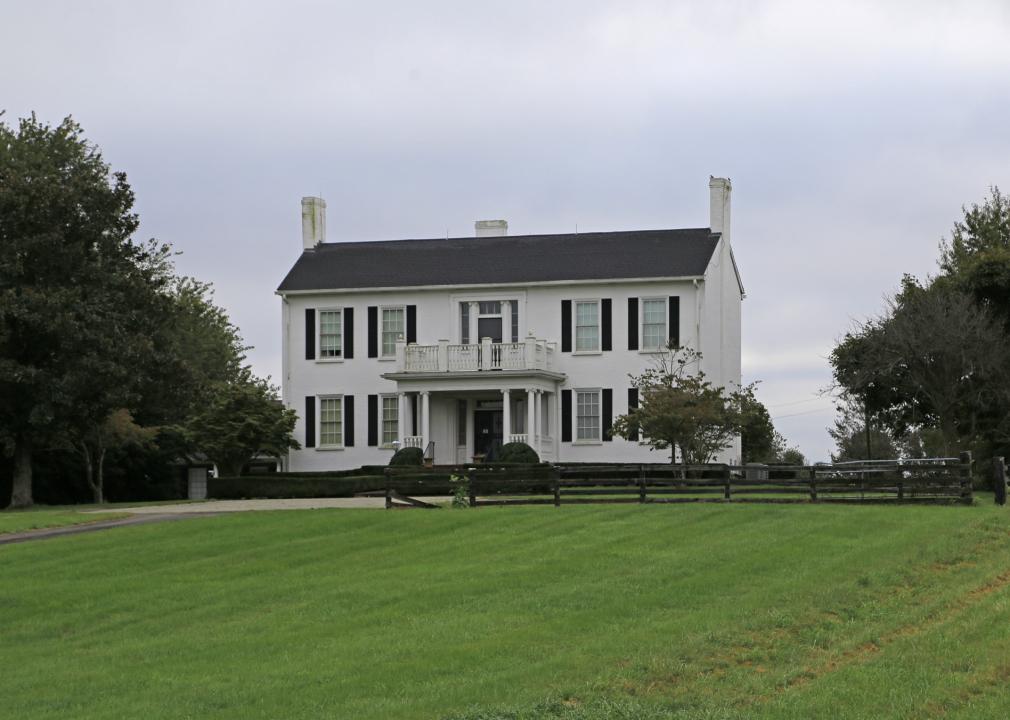 Christopher L. Riley // Wikimedia Commons
#32. Jessamine County
– Median percent of income spent on housing: 18.3%
— Percent of households spending <20% of income on housing: 50.9%
— Percent of households spending >30% of income on housing: 26.2%
– Total occupied households: 18,821
– Median household income: $58,245
– Median monthly housing cost: $888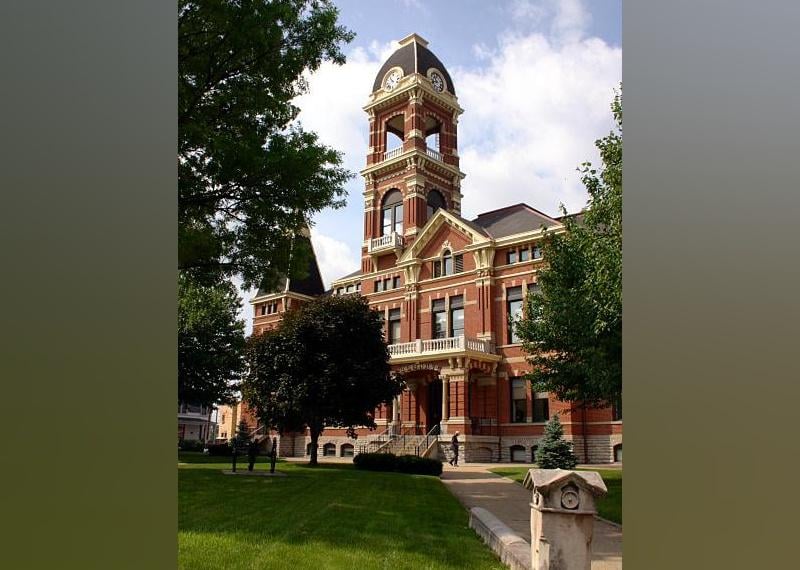 Rdikeman // Wikimedia Commons
#31. Campbell County
– Median percent of income spent on housing: 18.3%
— Percent of households spending <20% of income on housing: 51.4%
— Percent of households spending >30% of income on housing: 26.5%
– Total occupied households: 36,746
– Median household income: $63,050
– Median monthly housing cost: $963
You may also like: Highest-rated things to do in Kentucky, according to Tripadvisor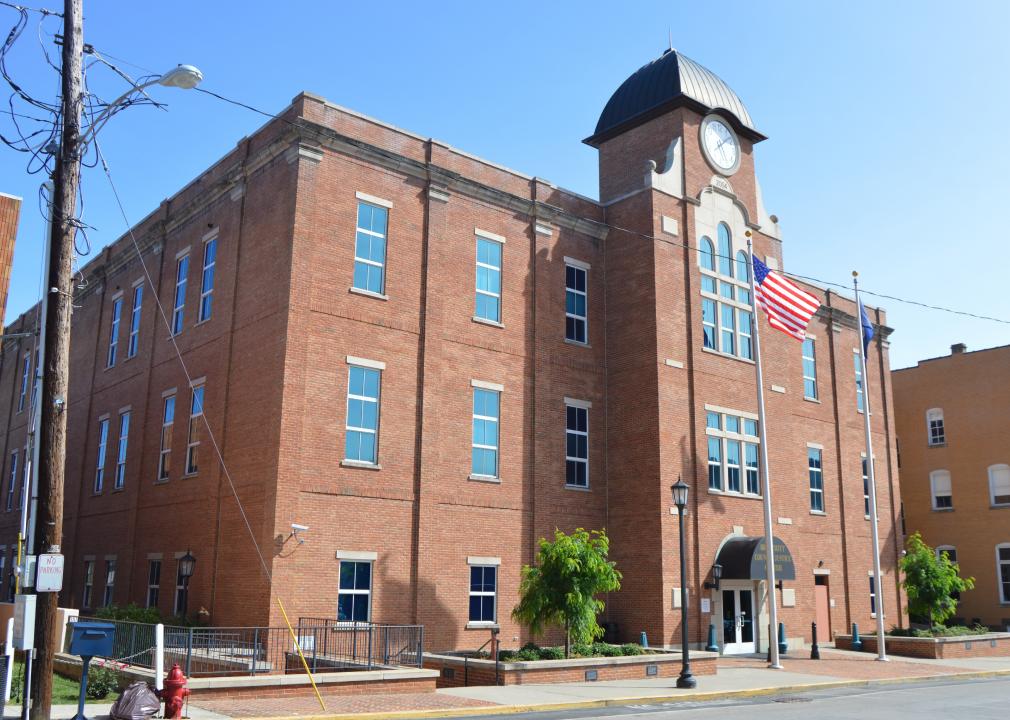 Nyttend // Wikimedia Commons
#30. Breathitt County
– Median percent of income spent on housing: 18.4%
— Percent of households spending <20% of income on housing: 50.6%
— Percent of households spending >30% of income on housing: 20.8%
– Total occupied households: 5,358
– Median household income: $27,344
– Median monthly housing cost: $419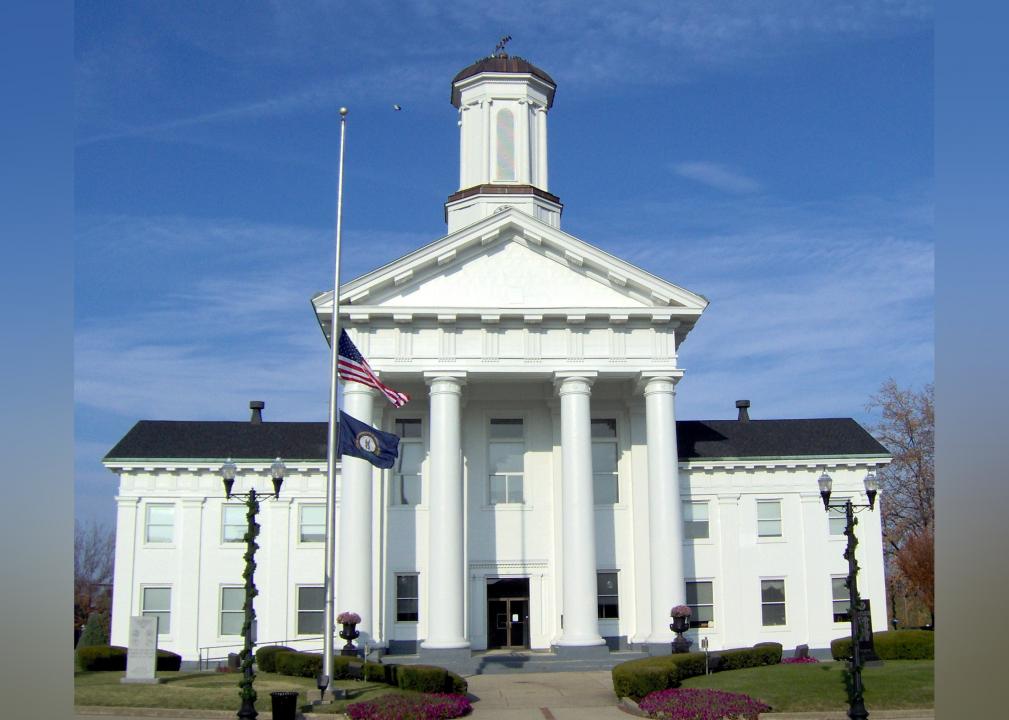 FloNight (Sydney Poore) and Russell Poore // Wikimedia Commons
#29. Madison County
– Median percent of income spent on housing: 18.4%
— Percent of households spending <20% of income on housing: 50.4%
— Percent of households spending >30% of income on housing: 26.6%
– Total occupied households: 33,359
– Median household income: $50,060
– Median monthly housing cost: $768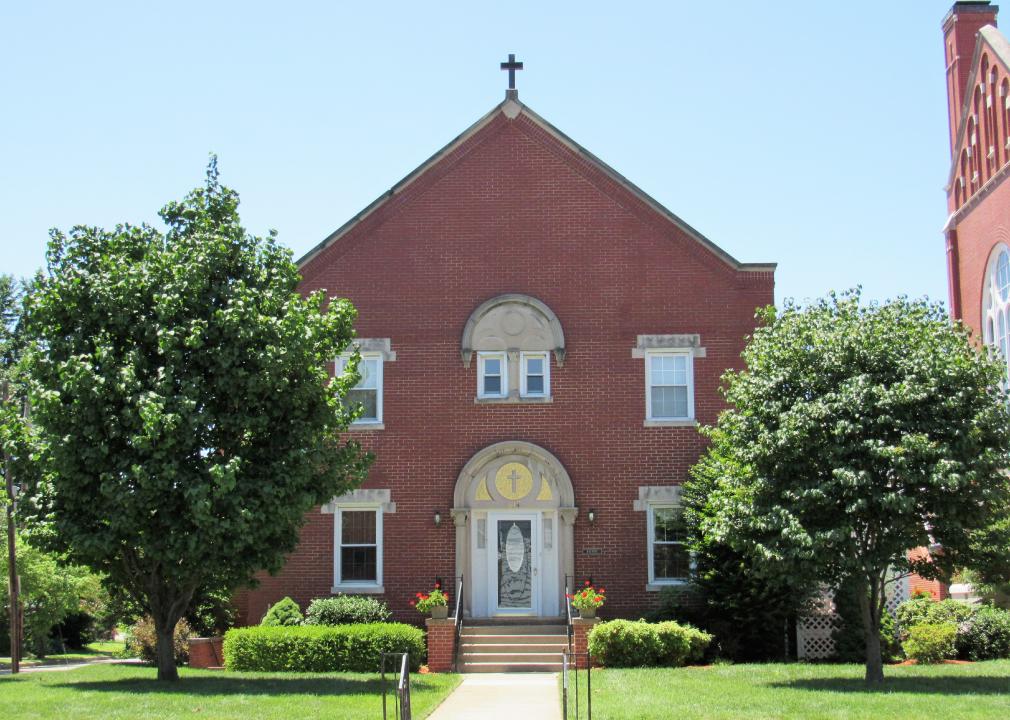 Farragutful // Wikimedia Commons
#28. Daviess County
– Median percent of income spent on housing: 18.4%
— Percent of households spending <20% of income on housing: 52.5%
— Percent of households spending >30% of income on housing: 25.4%
– Total occupied households: 40,179
– Median household income: $51,673
– Median monthly housing cost: $794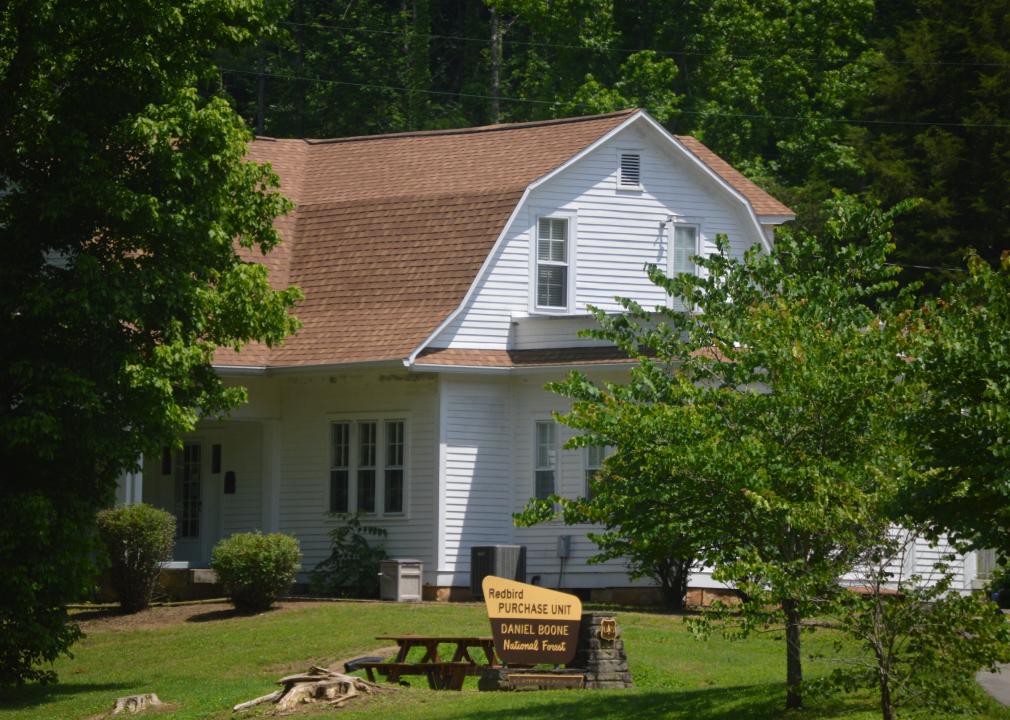 Nyttend // Wikimedia Commons
#27. Clay County
– Median percent of income spent on housing: 18.5%
— Percent of households spending <20% of income on housing: 45.1%
— Percent of households spending >30% of income on housing: 22.1%
– Total occupied households: 7,622
– Median household income: $26,840
– Median monthly housing cost: $413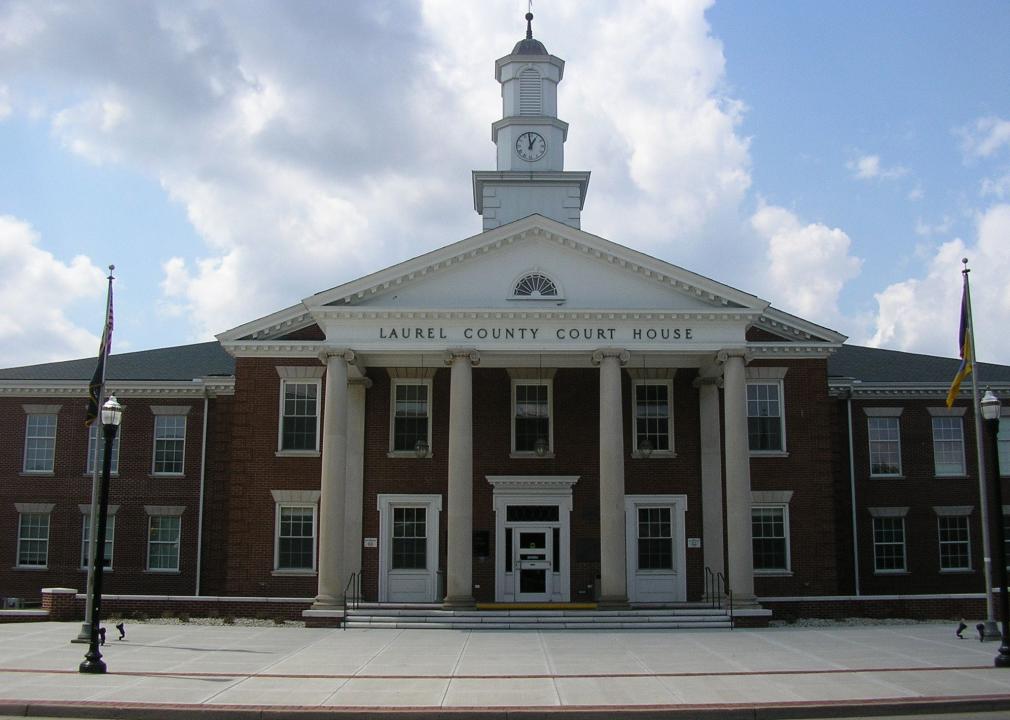 W.marsh // Wikimedia Commons
#26. Laurel County
– Median percent of income spent on housing: 18.5%
— Percent of households spending <20% of income on housing: 51.7%
— Percent of households spending >30% of income on housing: 24.9%
– Total occupied households: 22,573
– Median household income: $41,526
– Median monthly housing cost: $640
You may also like: Best places to retire in Kentucky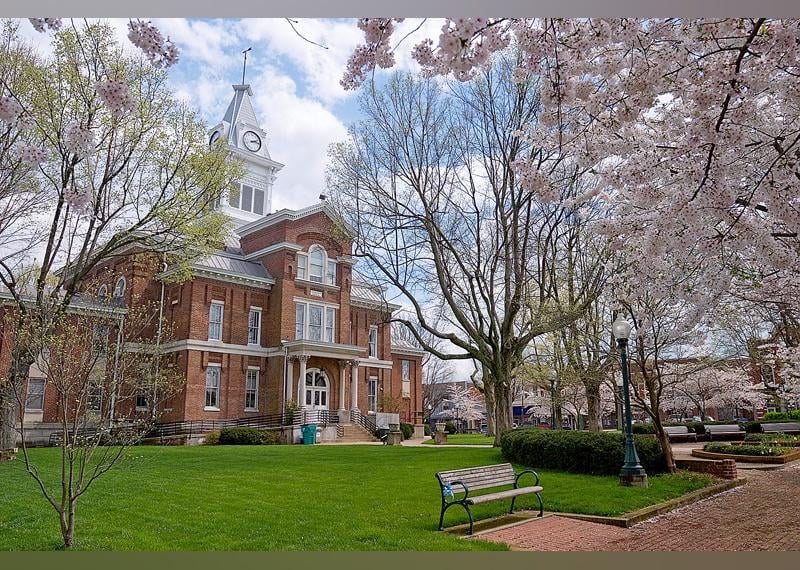 Bfreas // Wikimedia Commons
#25. Simpson County
– Median percent of income spent on housing: 18.7%
— Percent of households spending <20% of income on housing: 51.8%
— Percent of households spending >30% of income on housing: 22.7%
– Total occupied households: 7,028
– Median household income: $48,623
– Median monthly housing cost: $756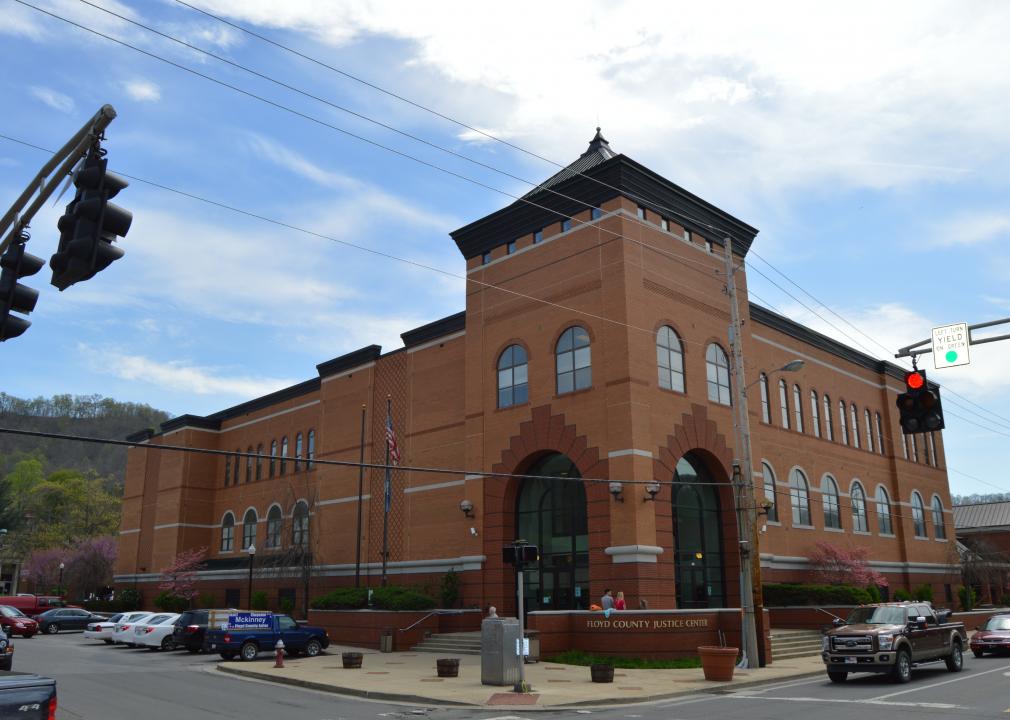 Nyttend // Wikimedia Commons
#24. Floyd County
– Median percent of income spent on housing: 18.7%
— Percent of households spending <20% of income on housing: 51.3%
— Percent of households spending >30% of income on housing: 26.3%
– Total occupied households: 15,000
– Median household income: $32,730
– Median monthly housing cost: $510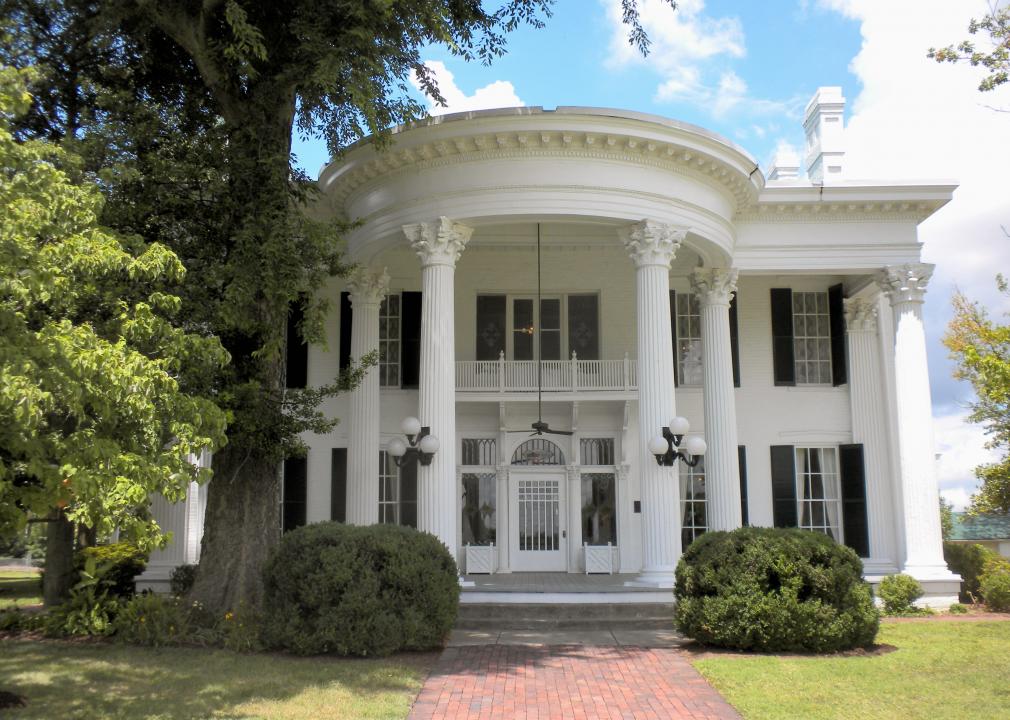 Smallbones // Wikimedia Commons
#23. McCracken County
– Median percent of income spent on housing: 18.8%
— Percent of households spending <20% of income on housing: 53.1%
— Percent of households spending >30% of income on housing: 25.4%
– Total occupied households: 27,854
– Median household income: $46,080
– Median monthly housing cost: $722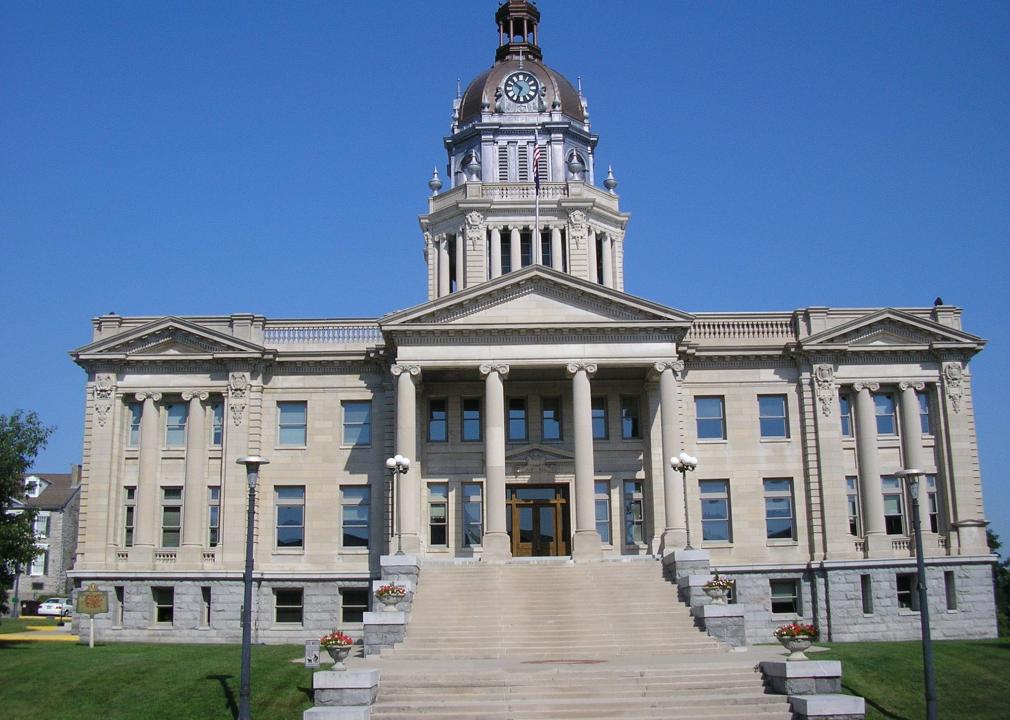 W.marsh // Wikimedia Commons
#22. Bourbon County
– Median percent of income spent on housing: 18.8%
— Percent of households spending <20% of income on housing: 51.9%
— Percent of households spending >30% of income on housing: 23.6%
– Total occupied households: 8,106
– Median household income: $49,637
– Median monthly housing cost: $779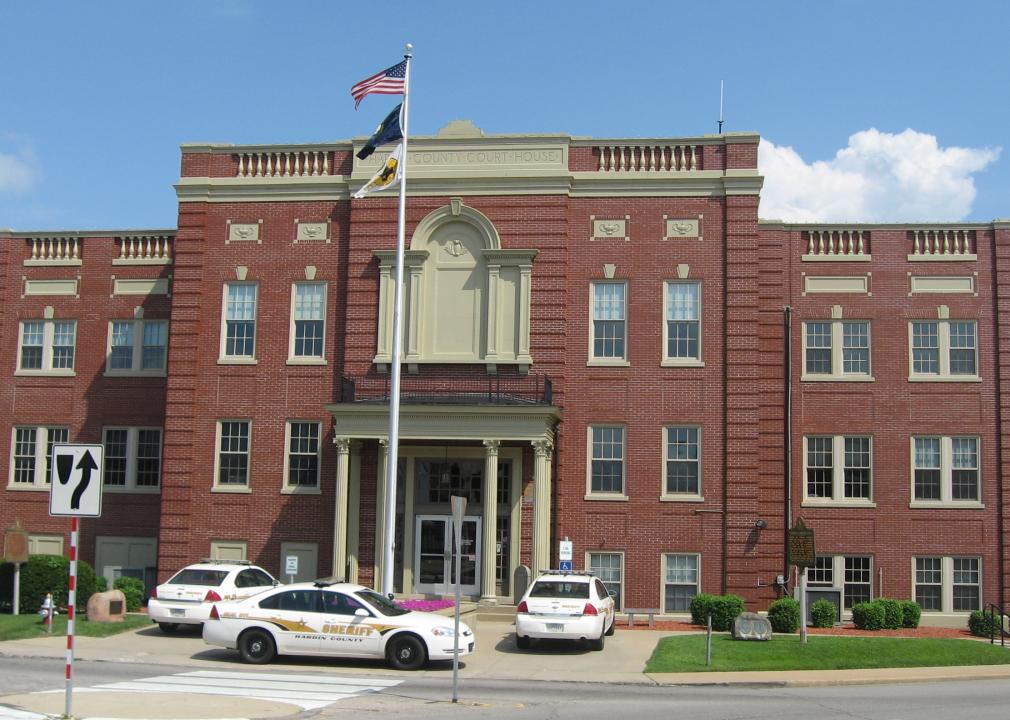 Nyttend // Wikimedia Commons
#21. Hardin County
– Median percent of income spent on housing: 18.9%
— Percent of households spending <20% of income on housing: 51.5%
— Percent of households spending >30% of income on housing: 23.8%
– Total occupied households: 41,646
– Median household income: $54,367
– Median monthly housing cost: $855
You may also like: Counties with the most college graduates in Kentucky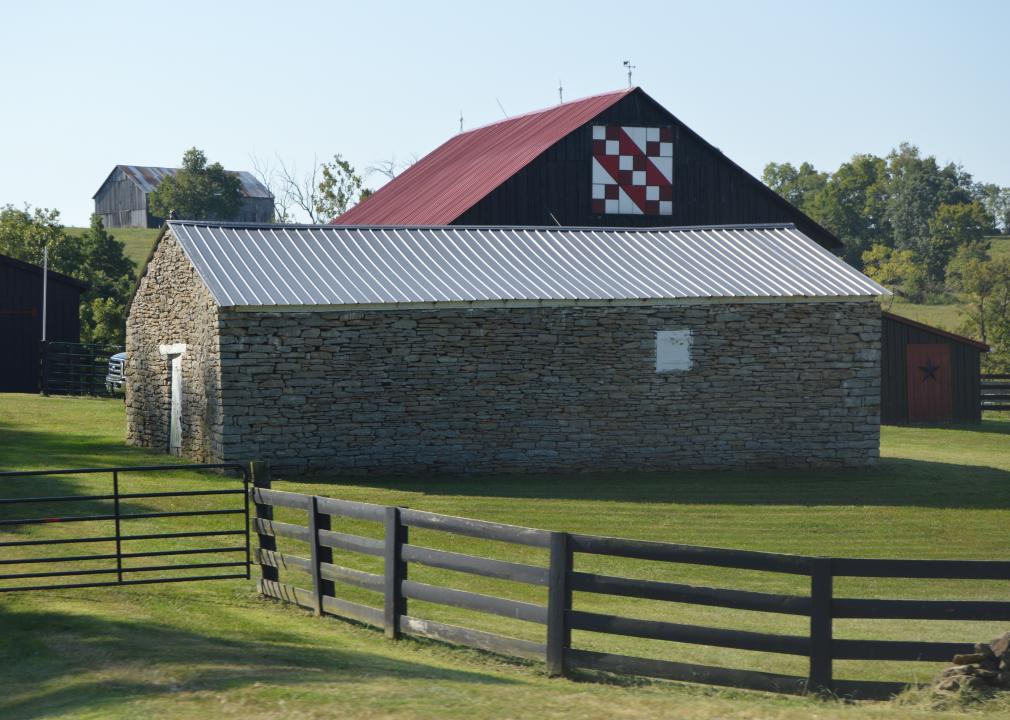 Nyttend // Wikimedia Commons
#20. Nicholas County
– Median percent of income spent on housing: 18.9%
— Percent of households spending <20% of income on housing: 57.8%
— Percent of households spending >30% of income on housing: 21.4%
– Total occupied households: 2,804
– Median household income: $38,149
– Median monthly housing cost: $600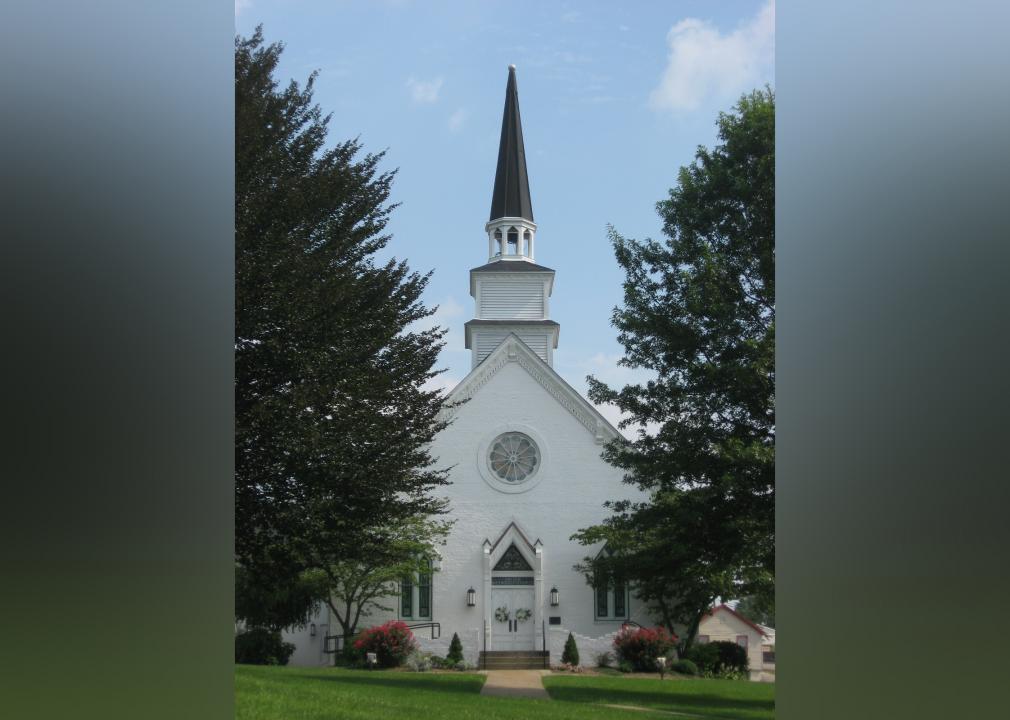 Nyttend // Wikimedia Commons
#19. Meade County
– Median percent of income spent on housing: 18.9%
— Percent of households spending <20% of income on housing: 56.8%
— Percent of households spending >30% of income on housing: 20.3%
– Total occupied households: 10,685
– Median household income: $56,603
– Median monthly housing cost: $891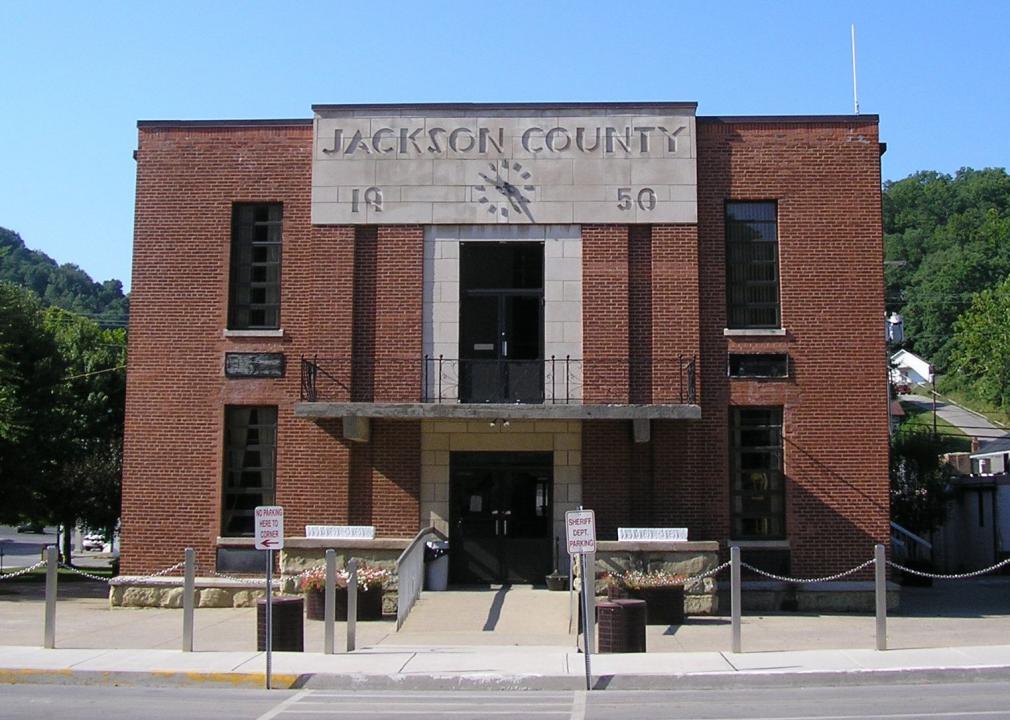 W.marsh // Wikimedia Commons
#18. Jackson County
– Median percent of income spent on housing: 19.0%
— Percent of households spending <20% of income on housing: 45.1%
— Percent of households spending >30% of income on housing: 24.9%
– Total occupied households: 5,484
– Median household income: $32,138
– Median monthly housing cost: $509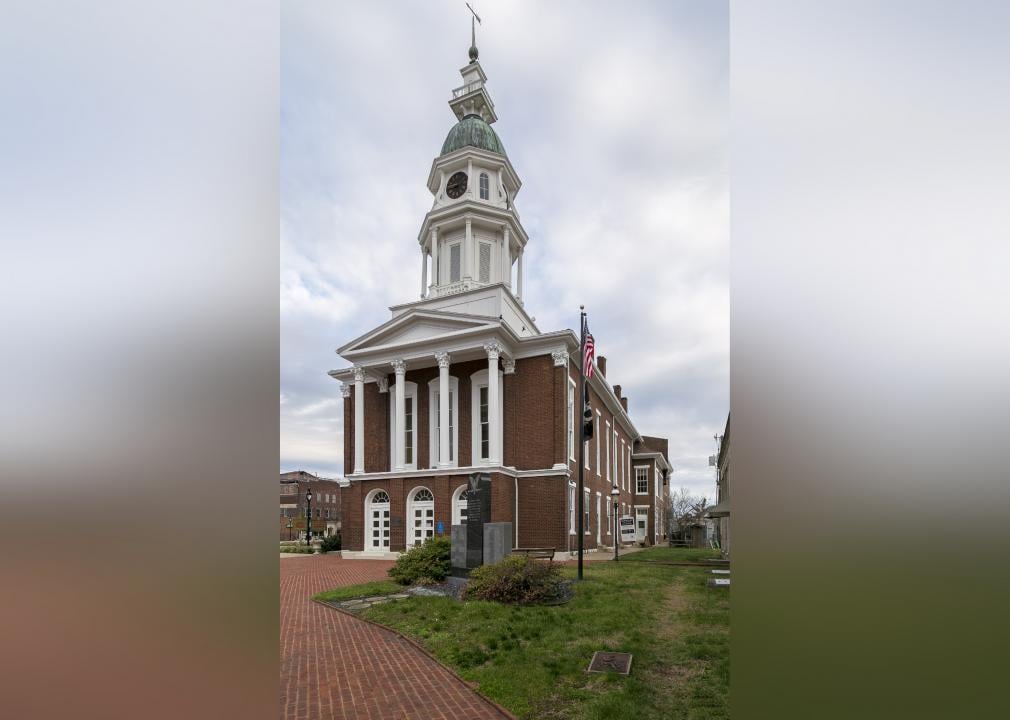 Christopher L. Riley // Wikimedia Commons
#17. Boyle County
– Median percent of income spent on housing: 19.2%
— Percent of households spending <20% of income on housing: 50.7%
— Percent of households spending >30% of income on housing: 27.5%
– Total occupied households: 11,023
– Median household income: $46,382
– Median monthly housing cost: $741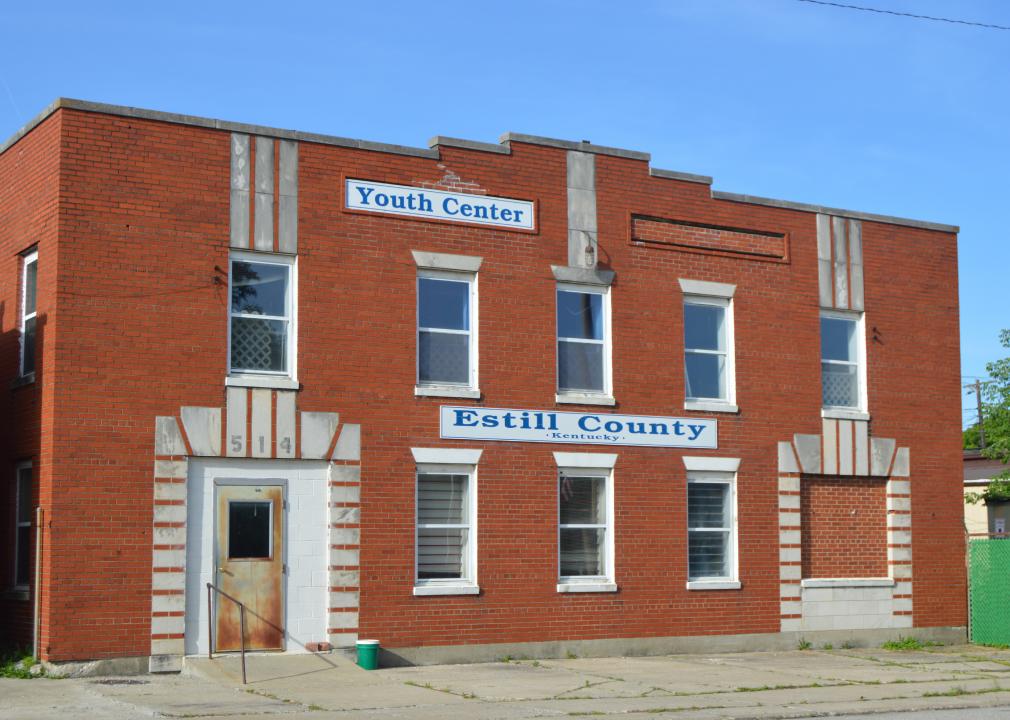 Nyttend // Wikimedia Commons
#16. Estill County
– Median percent of income spent on housing: 19.2%
— Percent of households spending <20% of income on housing: 49.7%
— Percent of households spending >30% of income on housing: 25.5%
– Total occupied households: 5,499
– Median household income: $31,688
– Median monthly housing cost: $507
You may also like: Most popular girl names in the 60s in Kentucky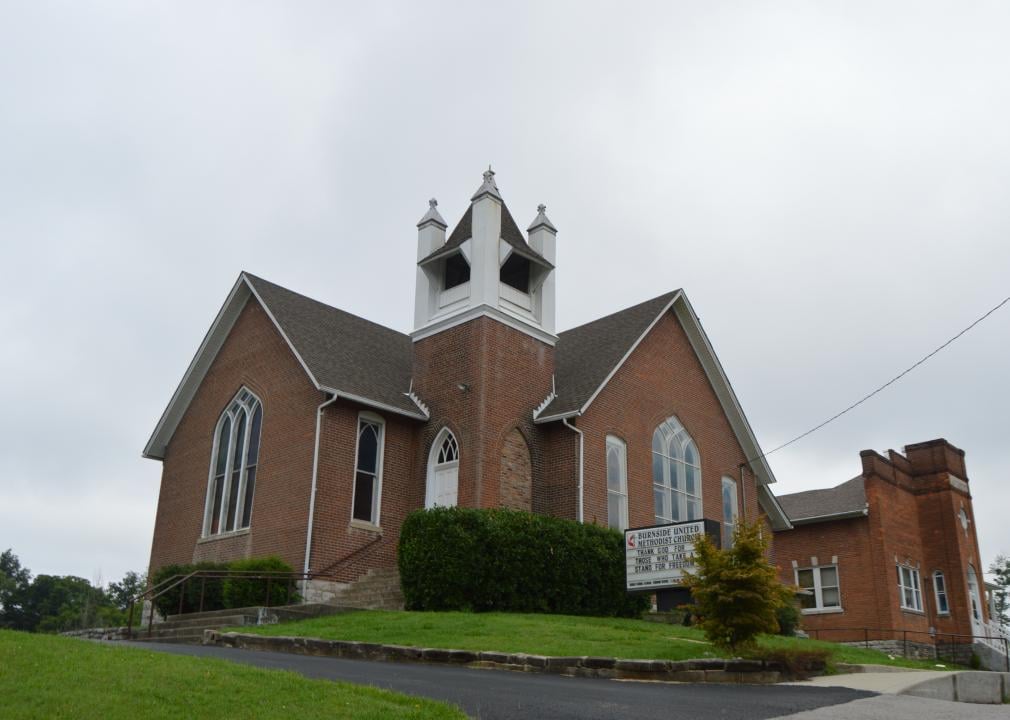 Nyttend // Wikimedia Commons
#15. Pulaski County
– Median percent of income spent on housing: 19.2%
— Percent of households spending <20% of income on housing: 51.0%
— Percent of households spending >30% of income on housing: 26.9%
– Total occupied households: 25,301
– Median household income: $39,998
– Median monthly housing cost: $641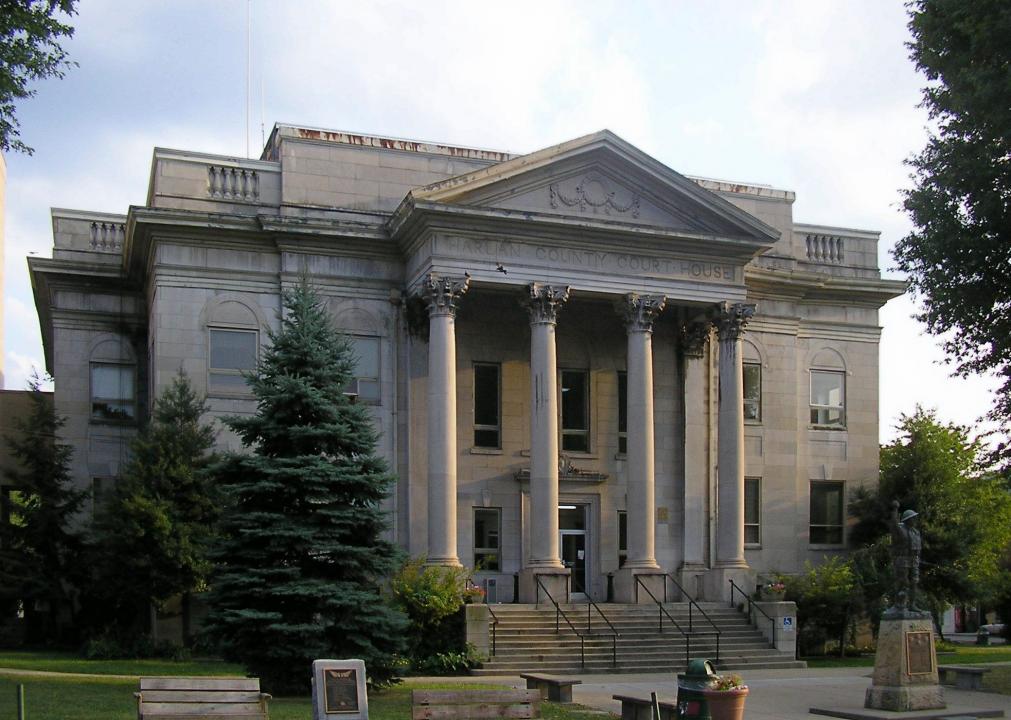 W.marsh // Wikimedia Commons
#14. Harlan County
– Median percent of income spent on housing: 19.3%
— Percent of households spending <20% of income on housing: 49.2%
— Percent of households spending >30% of income on housing: 25.2%
– Total occupied households: 11,134
– Median household income: $26,478
– Median monthly housing cost: $425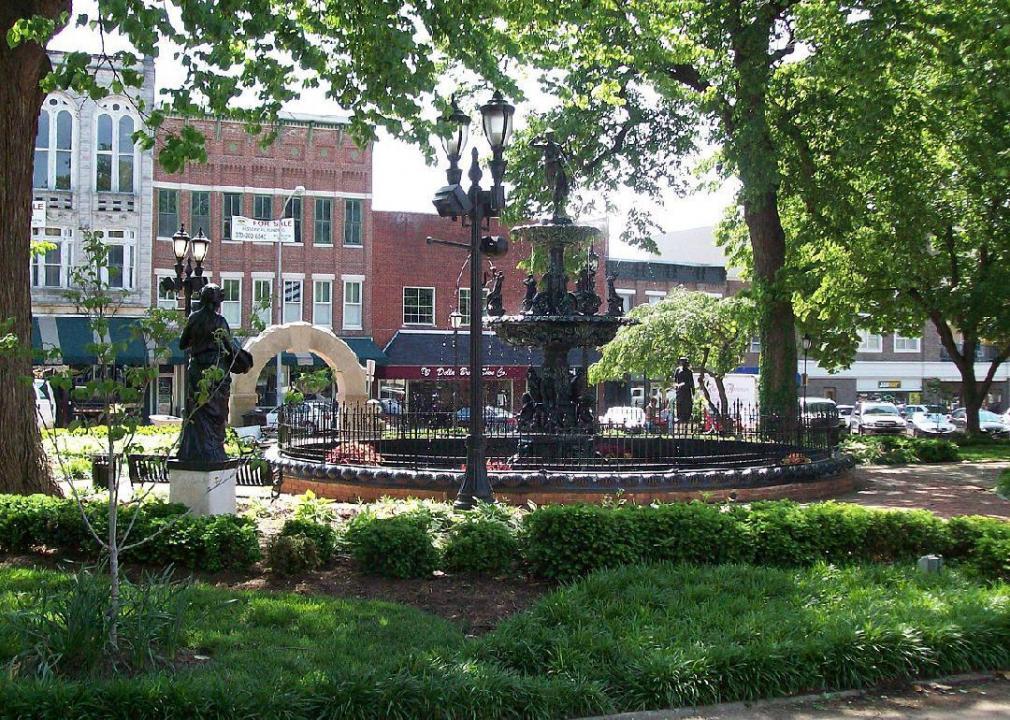 OPMaster // Wikimedia Commons
#13. Warren County
– Median percent of income spent on housing: 19.3%
— Percent of households spending <20% of income on housing: 47.8%
— Percent of households spending >30% of income on housing: 26.5%
– Total occupied households: 48,224
– Median household income: $52,270
– Median monthly housing cost: $839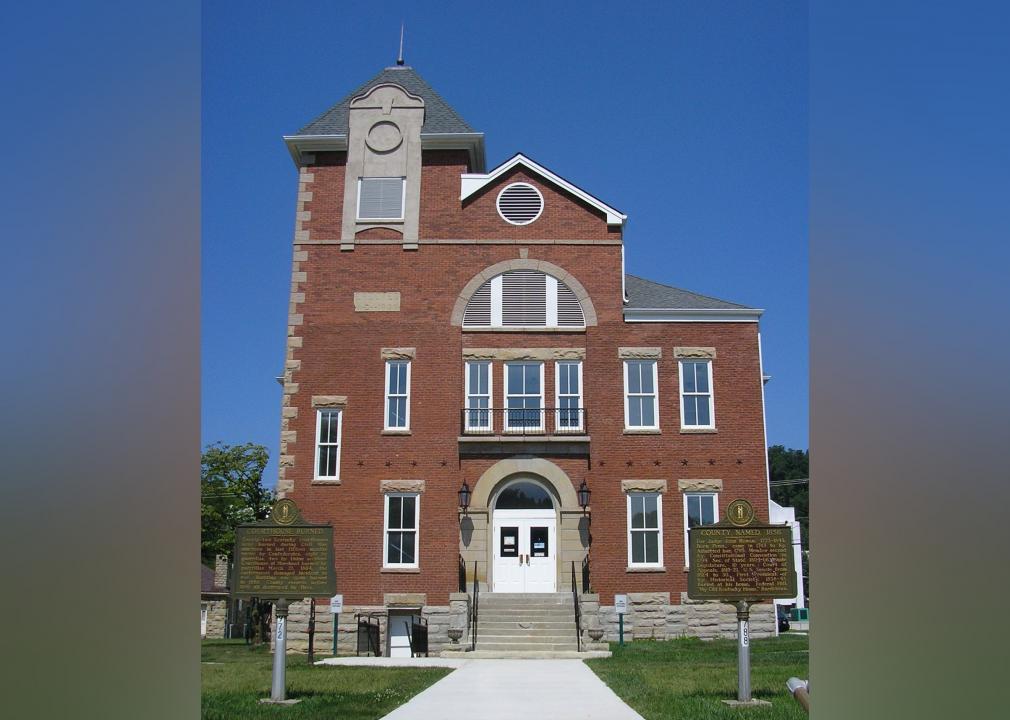 W.marsh // Wikimedia Commons
#12. Rowan County
– Median percent of income spent on housing: 19.3%
— Percent of households spending <20% of income on housing: 48.5%
— Percent of households spending >30% of income on housing: 26.8%
– Total occupied households: 8,623
– Median household income: $38,230
– Median monthly housing cost: $614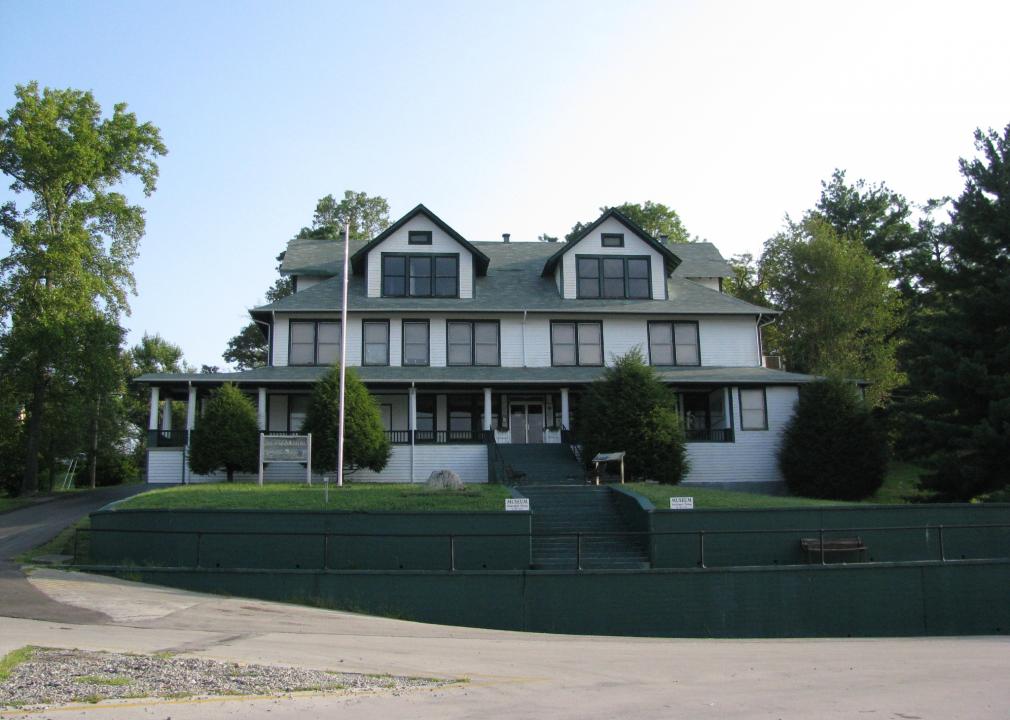 Kybluegrass // Wikimedia Commons
#11. McCreary County
– Median percent of income spent on housing: 19.6%
— Percent of households spending <20% of income on housing: 49.0%
— Percent of households spending >30% of income on housing: 24.7%
– Total occupied households: 6,052
– Median household income: $28,105
– Median monthly housing cost: $460
You may also like: Most popular girl names in the 80s in Kentucky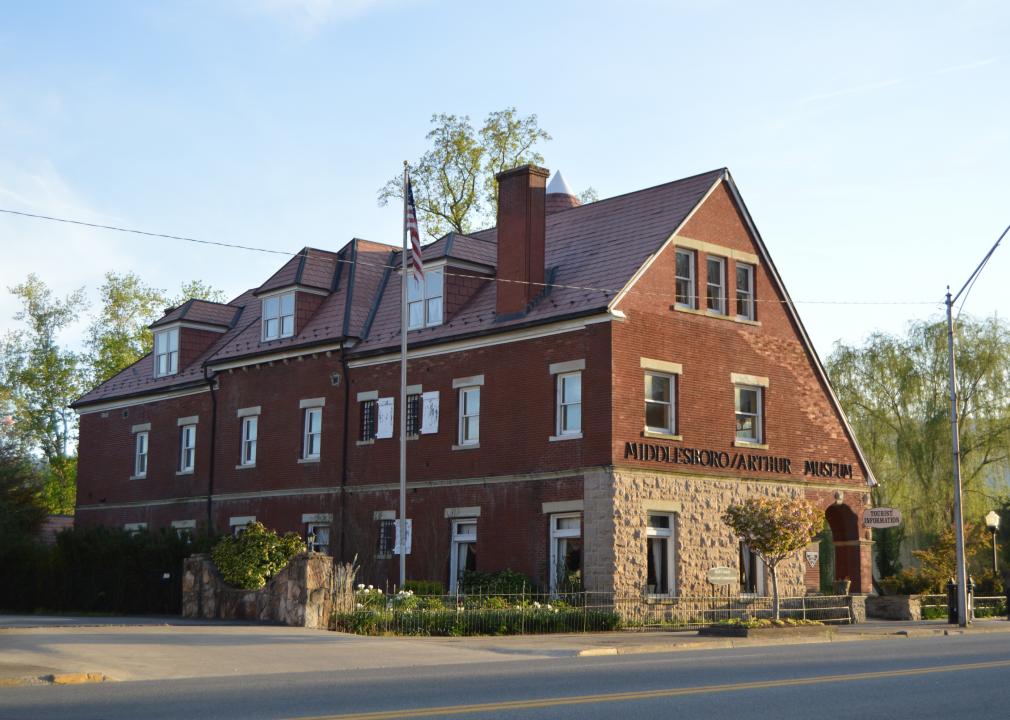 Nyttend // Wikimedia Commons
#10. Bell County
– Median percent of income spent on housing: 19.7%
— Percent of households spending <20% of income on housing: 49.4%
— Percent of households spending >30% of income on housing: 29.4%
– Total occupied households: 10,624
– Median household income: $26,272
– Median monthly housing cost: $431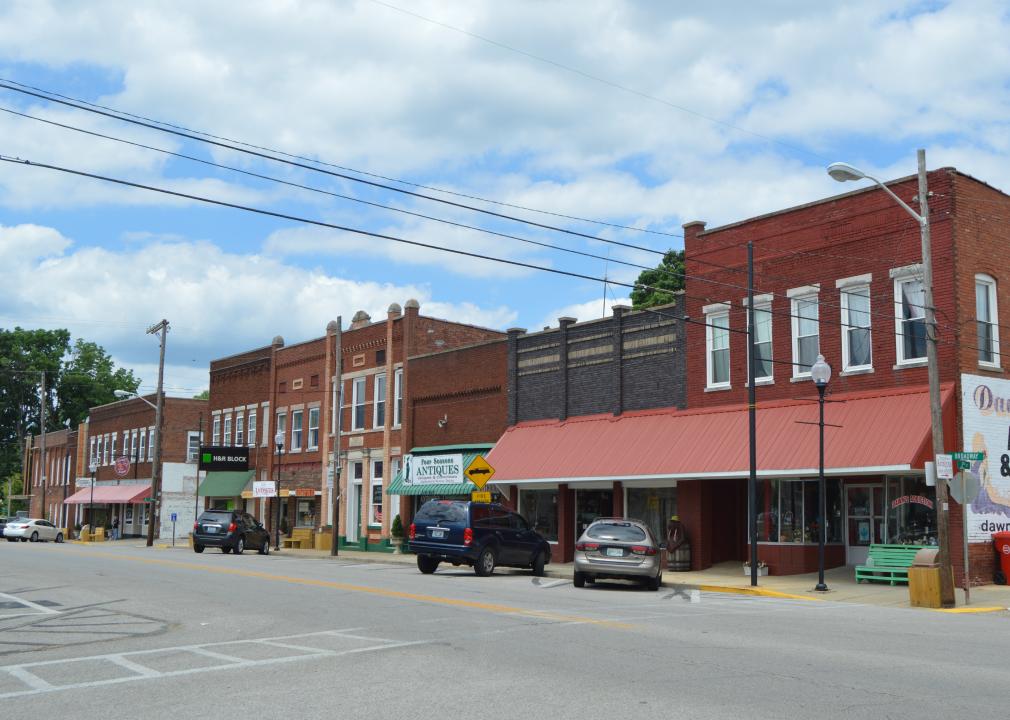 Nyttend // Wikimedia Commons
#9. Barren County
– Median percent of income spent on housing: 19.8%
— Percent of households spending <20% of income on housing: 49.0%
— Percent of households spending >30% of income on housing: 27.4%
– Total occupied households: 16,931
– Median household income: $41,459
– Median monthly housing cost: $685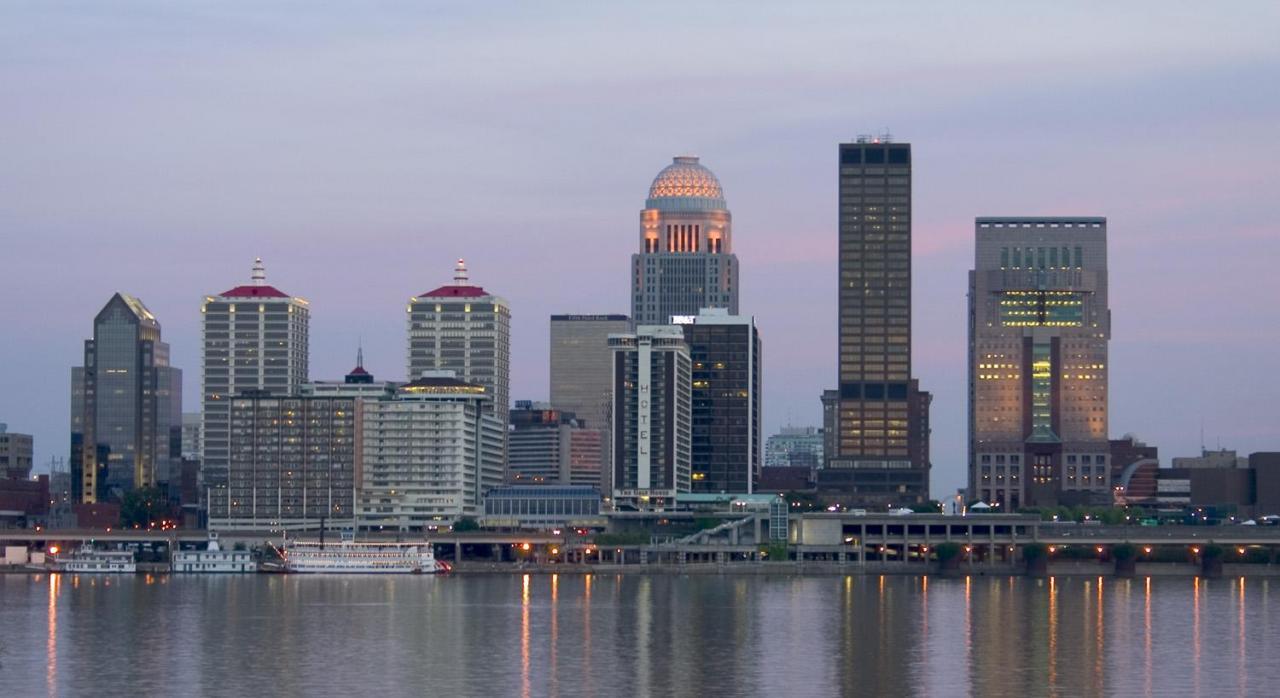 Chris Watson // Wikicommons
#8. Jefferson County
– Median percent of income spent on housing: 20.0%
— Percent of households spending <20% of income on housing: 48.5%
— Percent of households spending >30% of income on housing: 27.6%
– Total occupied households: 312,679
– Median household income: $56,586
– Median monthly housing cost: $941
Calvin Beale // Wikimedia Commons
#7. Fulton County
– Median percent of income spent on housing: 20.0%
— Percent of households spending <20% of income on housing: 48.5%
— Percent of households spending >30% of income on housing: 29.3%
– Total occupied households: 2,441
– Median household income: $30,114
– Median monthly housing cost: $501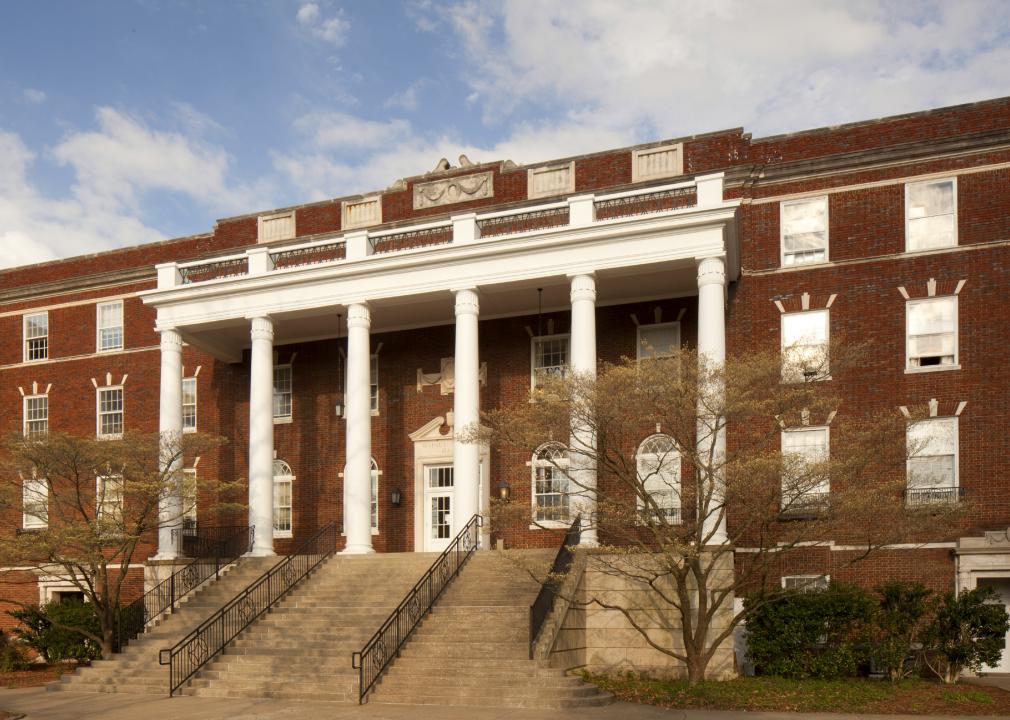 Murray State // Wikimedia Commons
#6. Calloway County
– Median percent of income spent on housing: 20.1%
— Percent of households spending <20% of income on housing: 47.5%
— Percent of households spending >30% of income on housing: 28.2%
– Total occupied households: 14,996
– Median household income: $42,273
– Median monthly housing cost: $708
You may also like: Recipes from Kentucky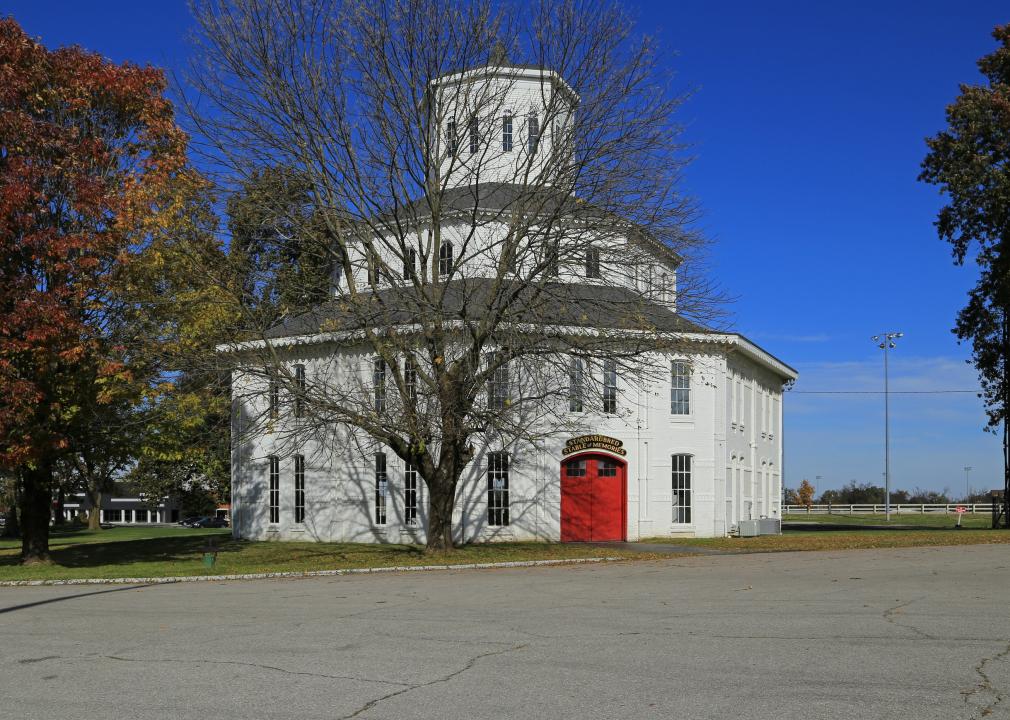 Christopher L. Riley // Wikimedia Commons
#5. Fayette County
– Median percent of income spent on housing: 20.4%
— Percent of households spending <20% of income on housing: 46.7%
— Percent of households spending >30% of income on housing: 29.8%
– Total occupied households: 129,784
– Median household income: $57,291
– Median monthly housing cost: $976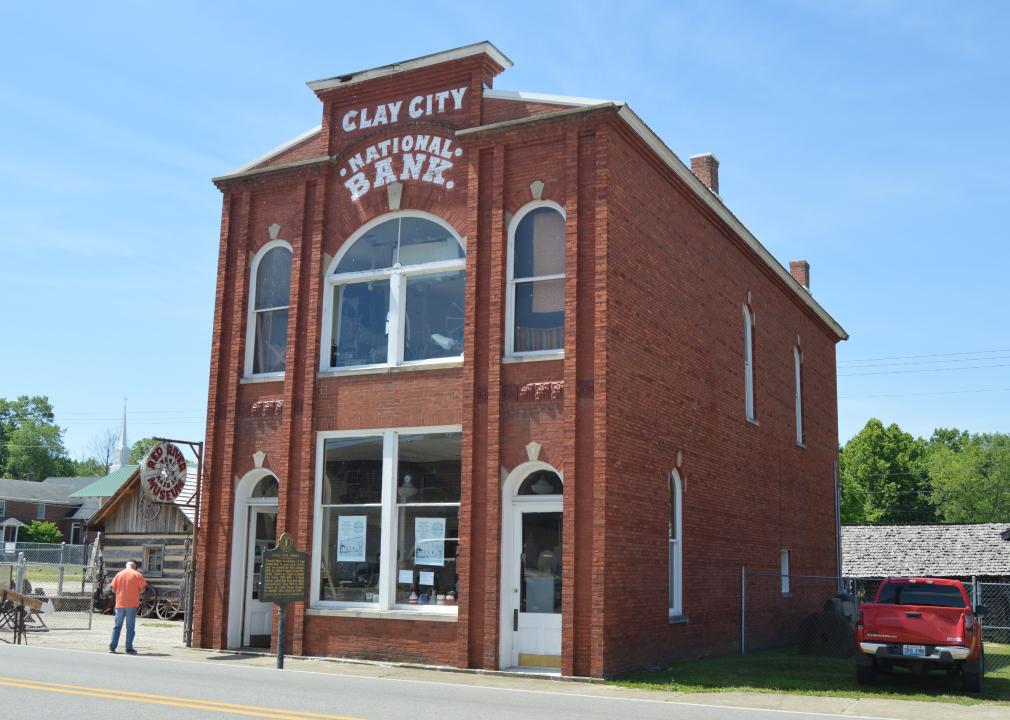 Nyttend // Wikimedia Commons
#4. Powell County
– Median percent of income spent on housing: 21.2%
— Percent of households spending <20% of income on housing: 53.5%
— Percent of households spending >30% of income on housing: 25.6%
– Total occupied households: 4,770
– Median household income: $37,469
– Median monthly housing cost: $663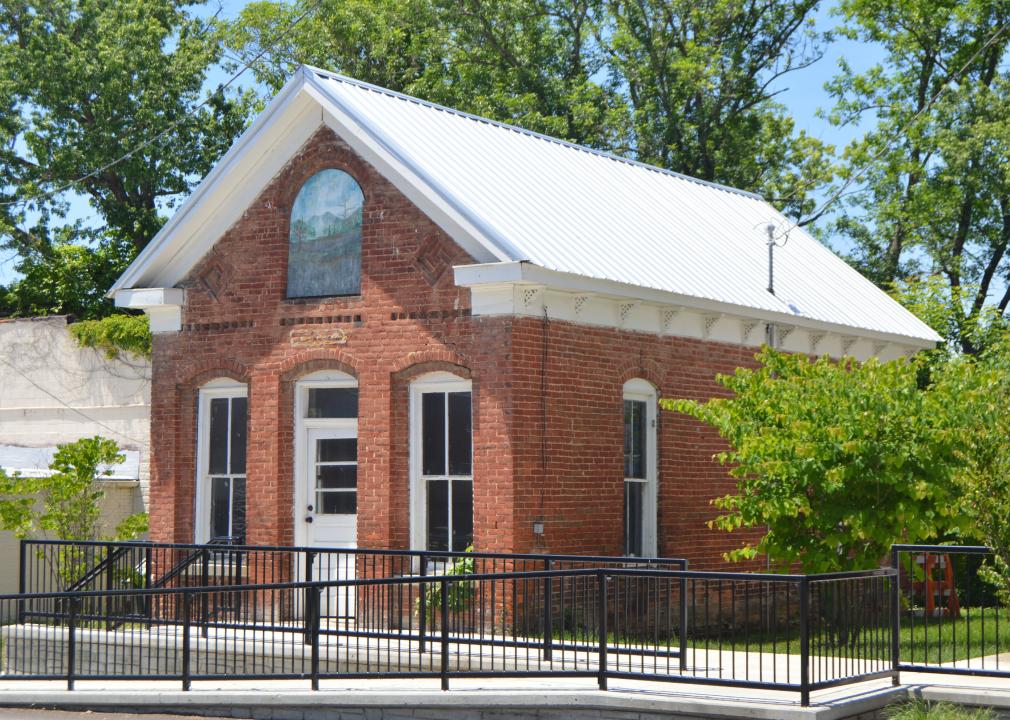 Nyttend // Wikimedia Commons
#3. Wolfe County
– Median percent of income spent on housing: 21.2%
— Percent of households spending <20% of income on housing: 47.0%
— Percent of households spending >30% of income on housing: 31.4%
– Total occupied households: 2,898
– Median household income: $24,623
– Median monthly housing cost: $436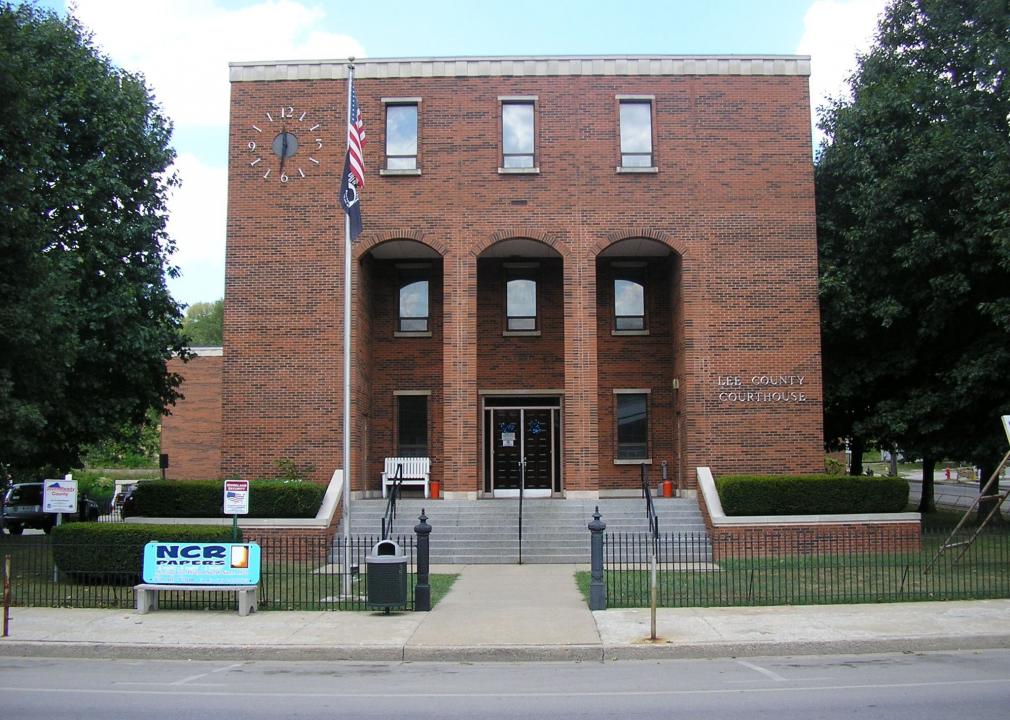 W.marsh // Wikimedia Commons
#2. Lee County
– Median percent of income spent on housing: 21.4%
— Percent of households spending <20% of income on housing: 44.4%
— Percent of households spending >30% of income on housing: 24.9%
– Total occupied households: 2,839
– Median household income: $25,275
– Median monthly housing cost: $450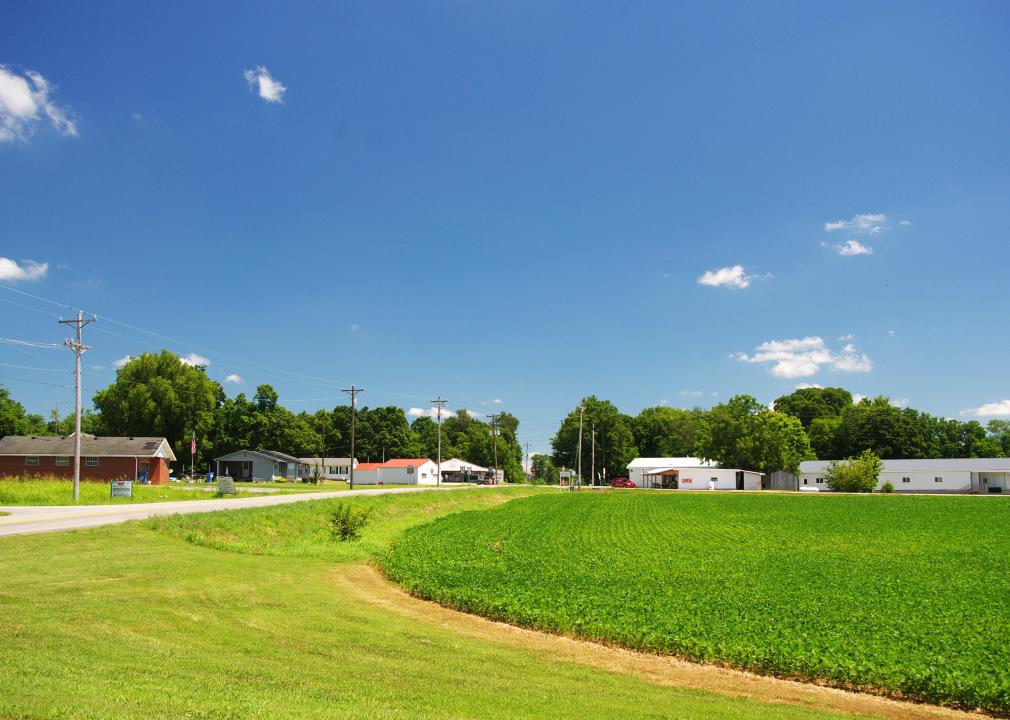 Brian Stansberry // Wikimedia Commons
#1. Christian County
– Median percent of income spent on housing: 22.4%
— Percent of households spending <20% of income on housing: 41.1%
— Percent of households spending >30% of income on housing: 33.2%
– Total occupied households: 25,721
– Median household income: $43,919
– Median monthly housing cost: $819
You may also like: States sending the most people to Kentucky