As we celebrate Independence Day, let's look at the counties with the most veterans in Kentucky
Published 1:46 pm Thursday, July 1, 2021

Nyttend // Wikimedia Commons
Counties with the most veterans in Kentucky
There are roughly 19 million veterans living in the U.S., according to data from the Department of Veterans Affairs. California, Texas, and Florida are home to the most veterans, and Wyoming, Vermont, and Washington D.C. home to the least.
American veterans live in virtually all of the country's 3,142 counties. Even Hawaii's tiny Kalawao County, which had no veterans living in it as of 2016, reported two veterans there according to 2019 Census Bureau estimates.
Stacker compiled a list of the counties with the most veterans in Kentucky using data from the U.S. Census Bureau. Counties are ranked by the highest percent of residents that are veterans based on the Census' 2019 5-year estimate. Keep reading to see where the most veterans live in your home state.
You may also like: Best counties to raise a family in Kentucky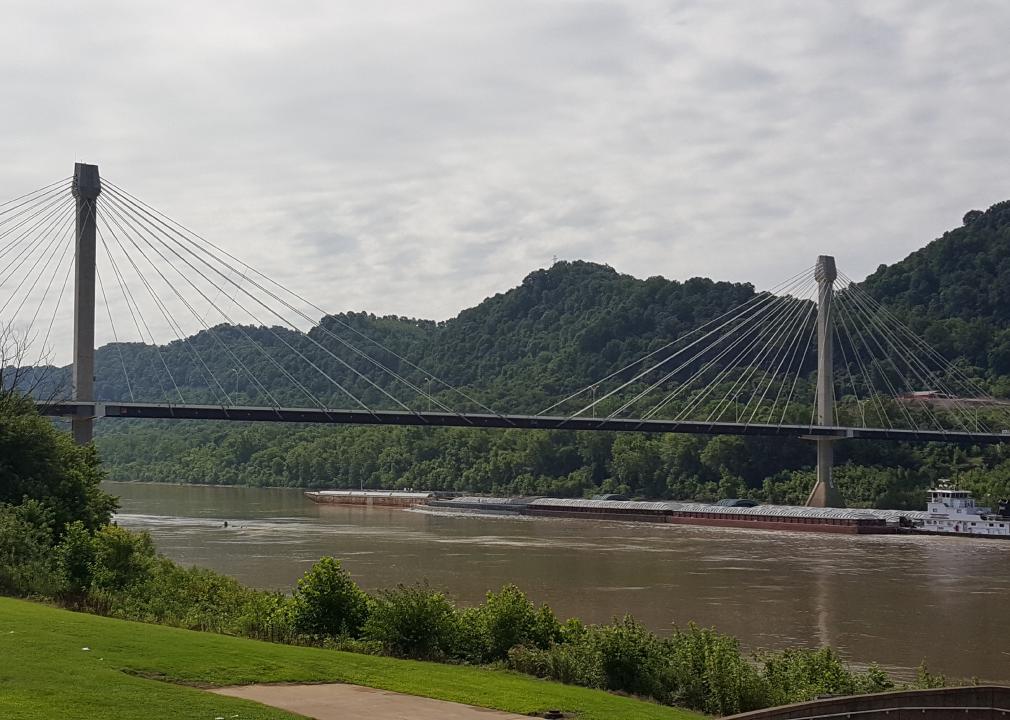 Turover // Wikimedia Commons
#50. Greenup County
– Percent of residents that are veterans: 6.5% (1,804 veterans)
– Veterans by war:
— World War II: 47
— Korean War: 250
— Vietnam era: 960
— Gulf War (8/1990 to 8/2001): 318
— Gulf War (9/2001 or later): 229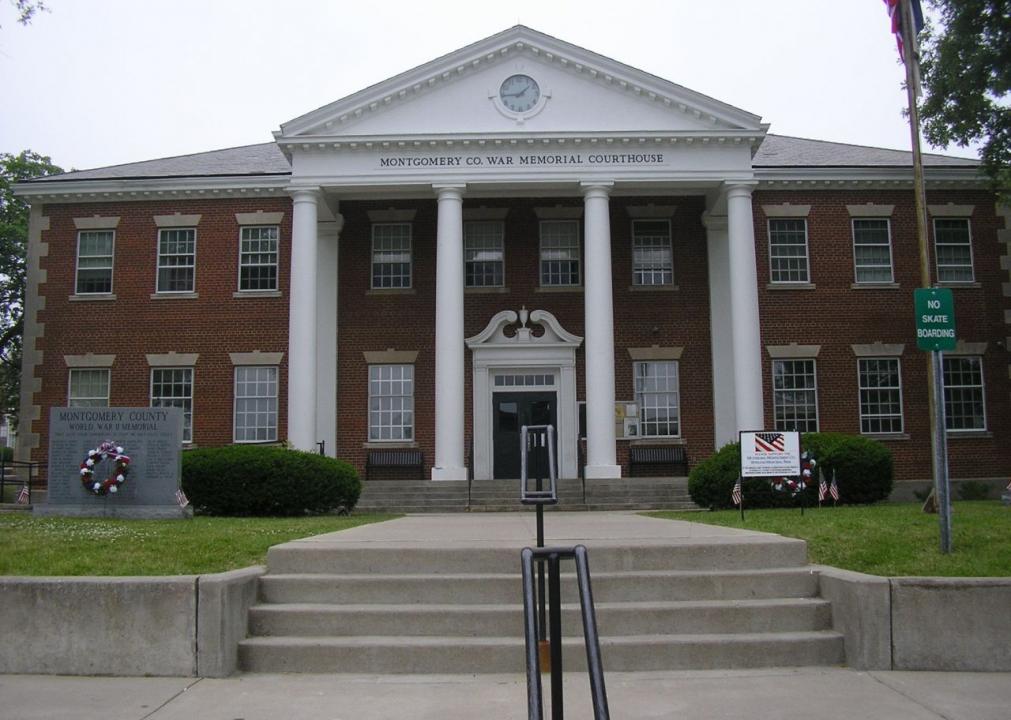 W.marsh // Wikimedia Commons
#49. Montgomery County
– Percent of residents that are veterans: 6.5% (1,377 veterans)
– Veterans by war:
— World War II: 68
— Korean War: 68
— Vietnam era: 525
— Gulf War (8/1990 to 8/2001): 364
— Gulf War (9/2001 or later): 352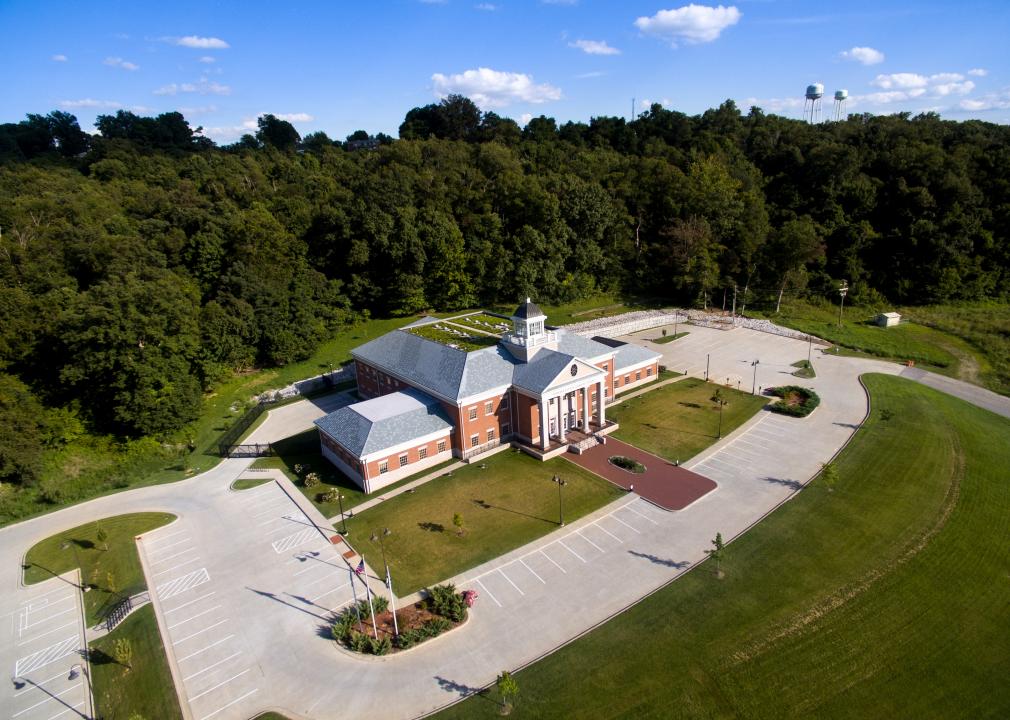 Ryan Emmick // Wikimedia Commons
#48. Hancock County
– Percent of residents that are veterans: 6.6% (427 veterans)
– Veterans by war:
— World War II: 0
— Korean War: 49
— Vietnam era: 189
— Gulf War (8/1990 to 8/2001): 93
— Gulf War (9/2001 or later): 96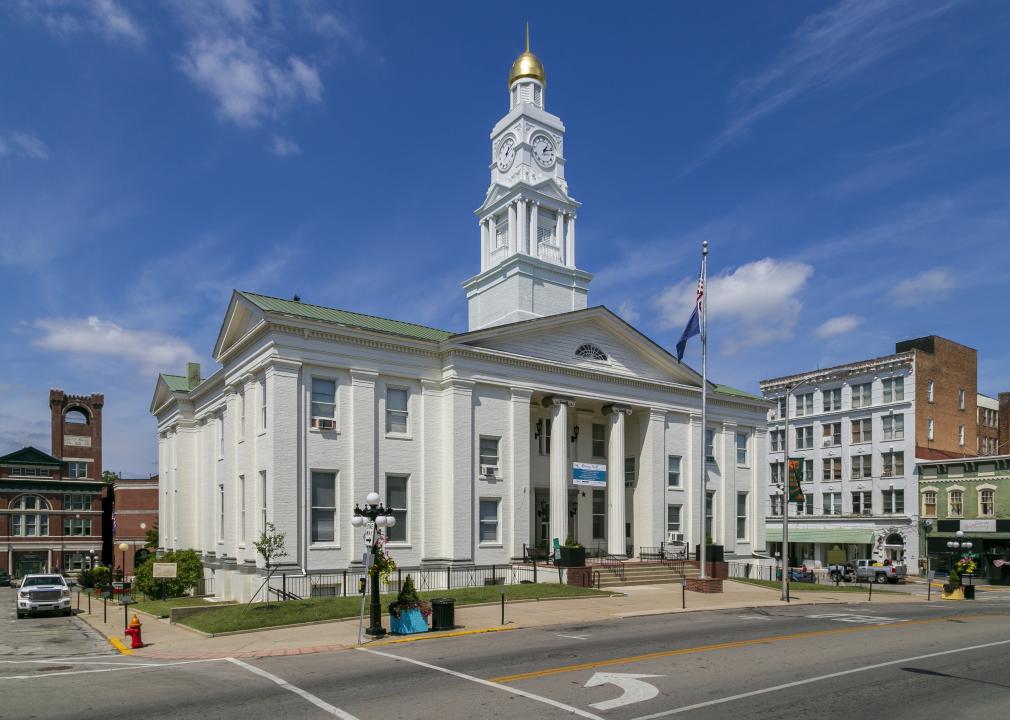 Christopher L. Riley // Wikimedia Commons
#47. Clark County
– Percent of residents that are veterans: 6.6% (1,831 veterans)
– Veterans by war:
— World War II: 56
— Korean War: 233
— Vietnam era: 813
— Gulf War (8/1990 to 8/2001): 403
— Gulf War (9/2001 or later): 326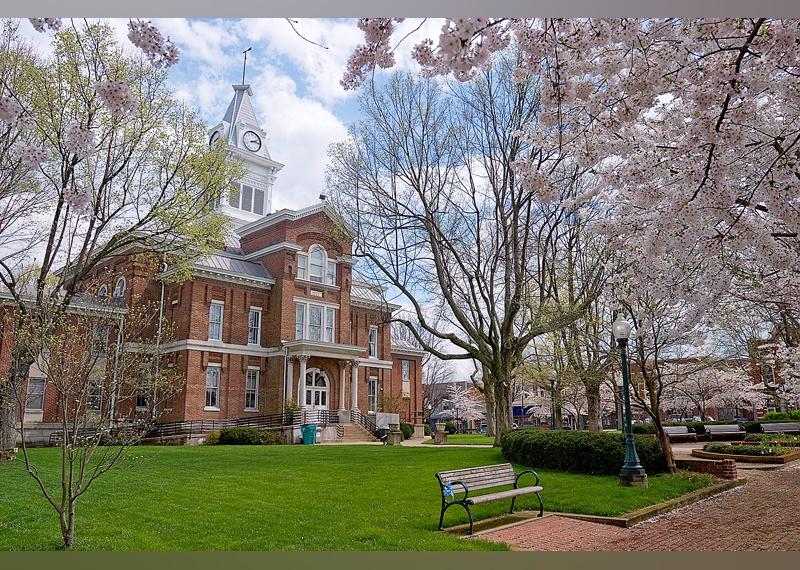 Bfreas // Wikimedia Commons
#46. Simpson County
– Percent of residents that are veterans: 6.6% (906 veterans)
– Veterans by war:
— World War II: 8
— Korean War: 87
— Vietnam era: 437
— Gulf War (8/1990 to 8/2001): 181
— Gulf War (9/2001 or later): 193
You may also like: Biggest sources of immigrants to Kentucky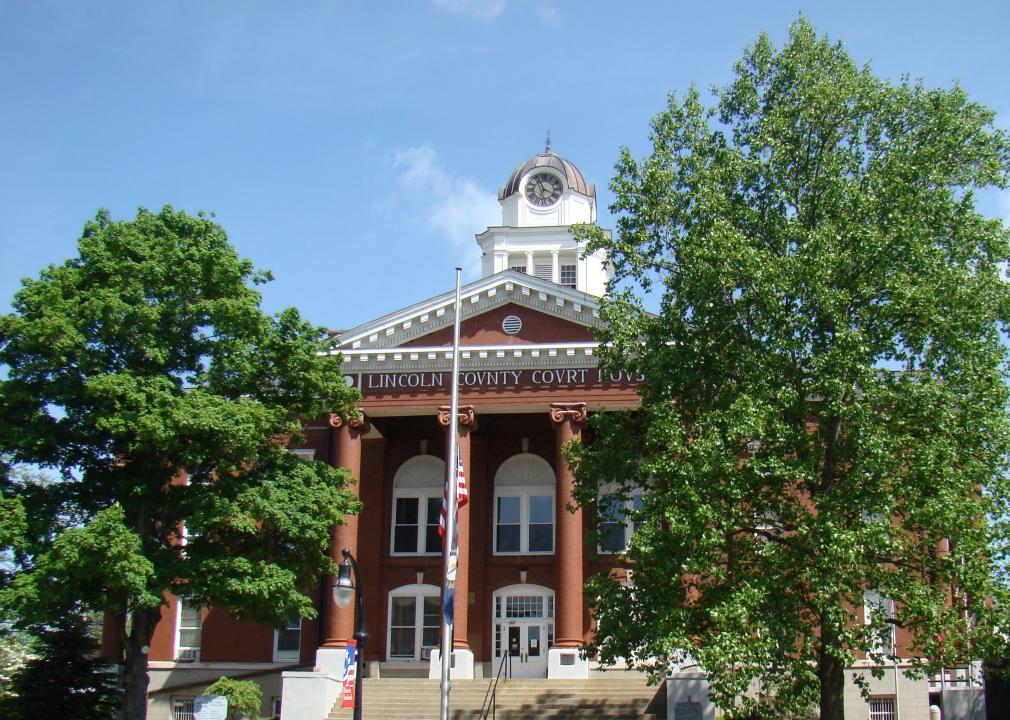 FloNight (Sydney Poore) and Russell Poore // Wikimedia Commons
#45. Lincoln County
– Percent of residents that are veterans: 6.6% (1,233 veterans)
– Veterans by war:
— World War II: 38
— Korean War: 105
— Vietnam era: 614
— Gulf War (8/1990 to 8/2001): 314
— Gulf War (9/2001 or later): 162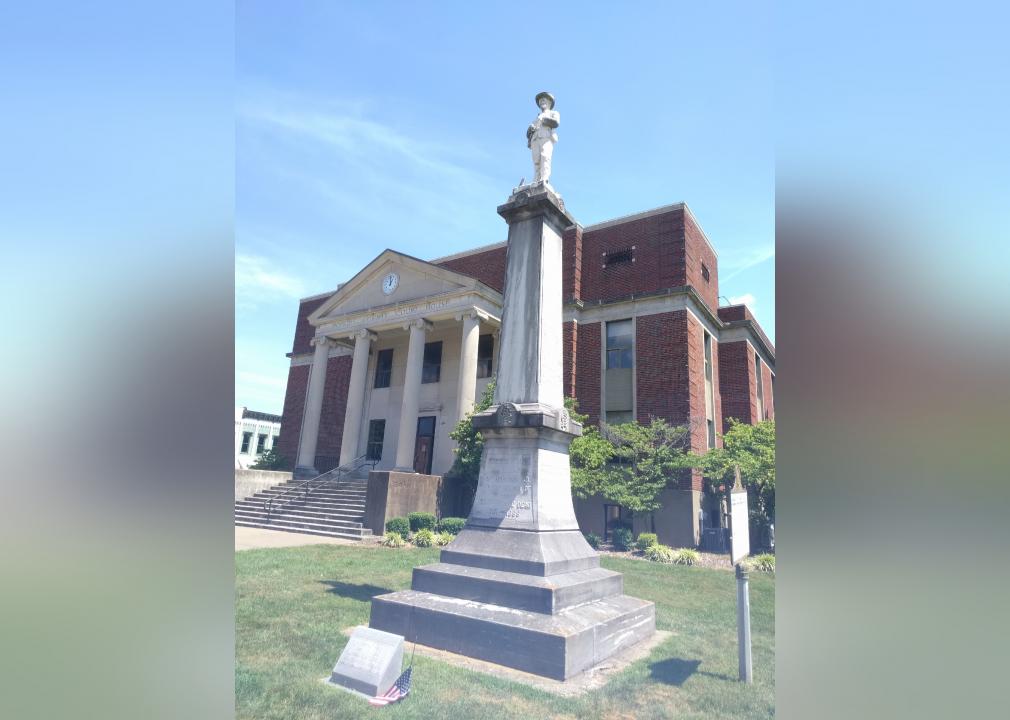 Jim.henderson // Wikimedia Commons
#44. Hopkins County
– Percent of residents that are veterans: 6.6% (2,305 veterans)
– Veterans by war:
— World War II: 40
— Korean War: 110
— Vietnam era: 1,099
— Gulf War (8/1990 to 8/2001): 678
— Gulf War (9/2001 or later): 378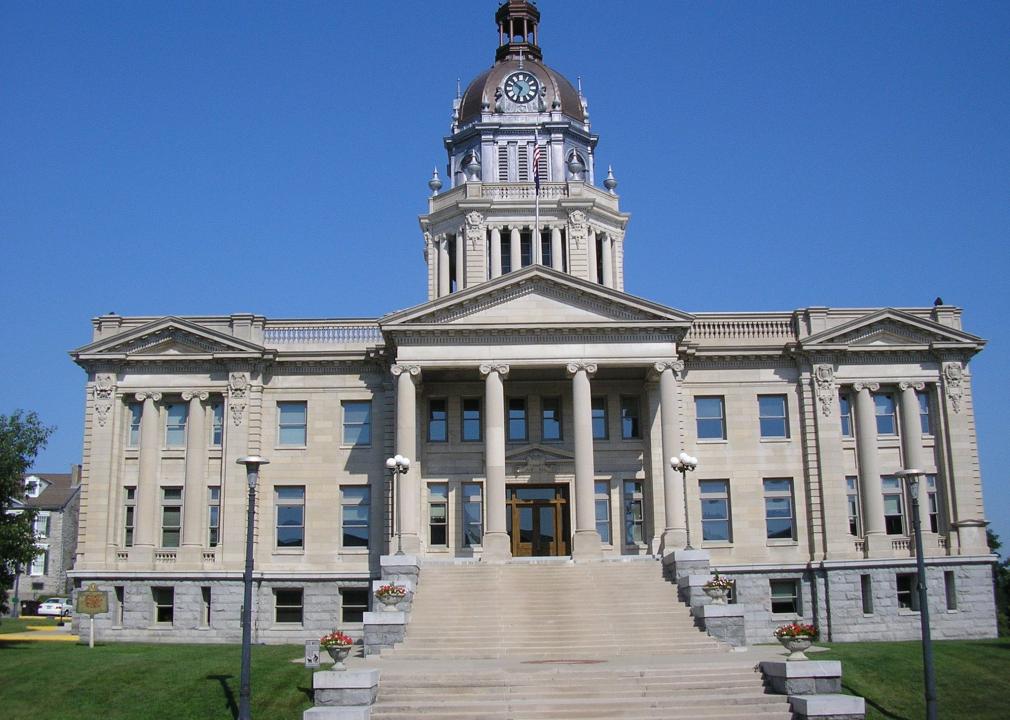 W.marsh // Wikimedia Commons
#43. Bourbon County
– Percent of residents that are veterans: 6.7% (1,038 veterans)
– Veterans by war:
— World War II: 14
— Korean War: 77
— Vietnam era: 486
— Gulf War (8/1990 to 8/2001): 314
— Gulf War (9/2001 or later): 147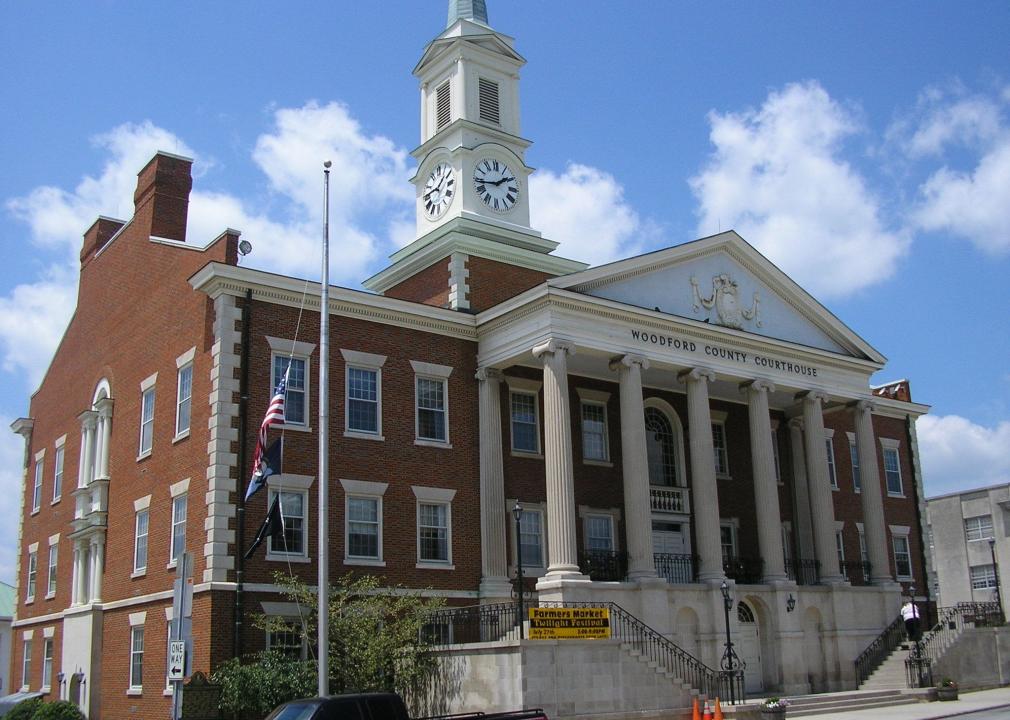 W.marsh // Wikimedia Commons
#42. Woodford County
– Percent of residents that are veterans: 6.7% (1,369 veterans)
– Veterans by war:
— World War II: 58
— Korean War: 140
— Vietnam era: 645
— Gulf War (8/1990 to 8/2001): 322
— Gulf War (9/2001 or later): 204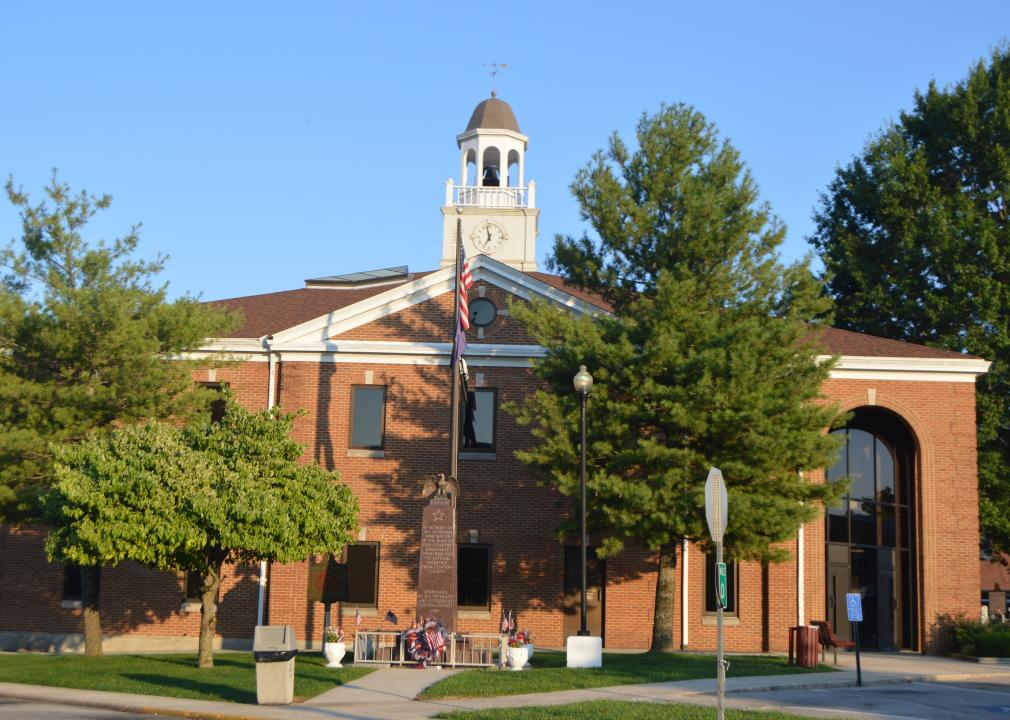 Nyttend // Wikimedia Commons
#41. Clinton County
– Percent of residents that are veterans: 6.7% (529 veterans)
– Veterans by war:
— World War II: 5
— Korean War: 64
— Vietnam era: 303
— Gulf War (8/1990 to 8/2001): 84
— Gulf War (9/2001 or later): 73
You may also like: Counties with the worst commutes in Kentucky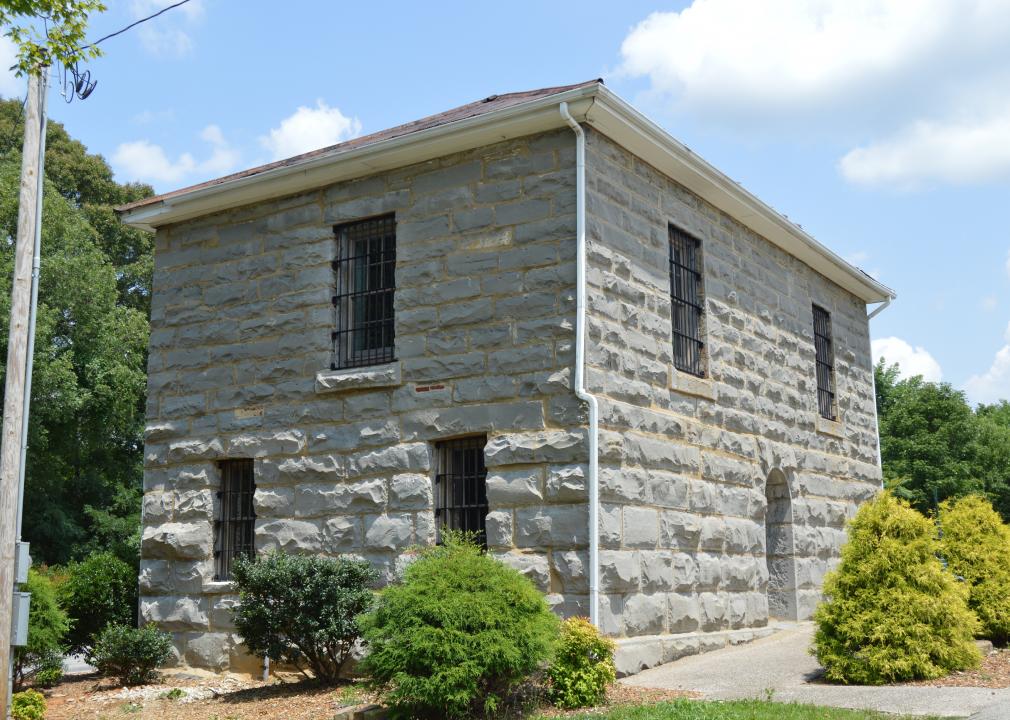 Nyttend // Wikimedia Commons
#40. Metcalfe County
– Percent of residents that are veterans: 6.7% (521 veterans)
– Veterans by war:
— World War II: 11
— Korean War: 84
— Vietnam era: 252
— Gulf War (8/1990 to 8/2001): 110
— Gulf War (9/2001 or later): 64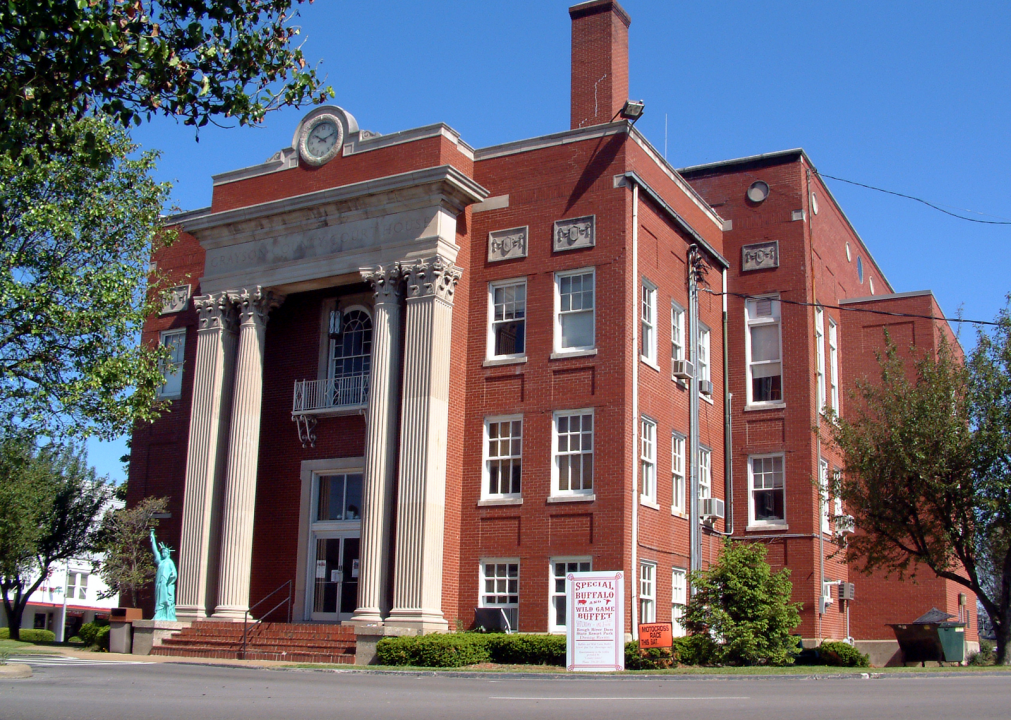 Huw Williams (Huwmanbeing) // Wikimedia Commons
#39. Grayson County
– Percent of residents that are veterans: 6.8% (1,357 veterans)
– Veterans by war:
— World War II: 62
— Korean War: 98
— Vietnam era: 802
— Gulf War (8/1990 to 8/2001): 185
— Gulf War (9/2001 or later): 210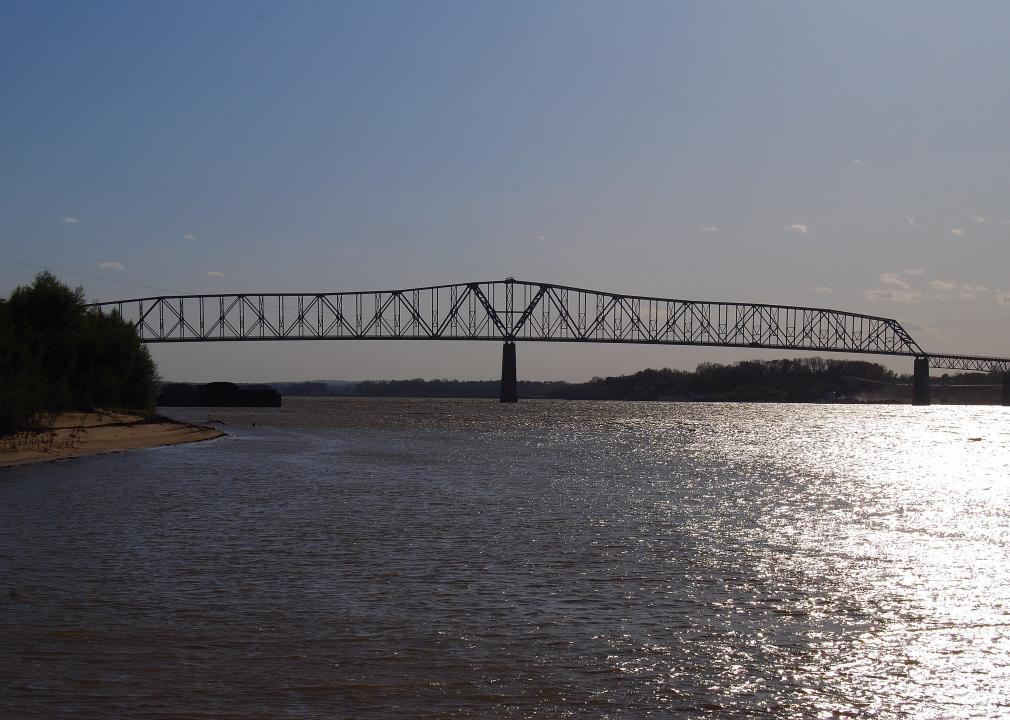 Patricia Drury // Wikimedia Commons
#38. Union County
– Percent of residents that are veterans: 6.8% (804 veterans)
– Veterans by war:
— World War II: 31
— Korean War: 26
— Vietnam era: 453
— Gulf War (8/1990 to 8/2001): 136
— Gulf War (9/2001 or later): 158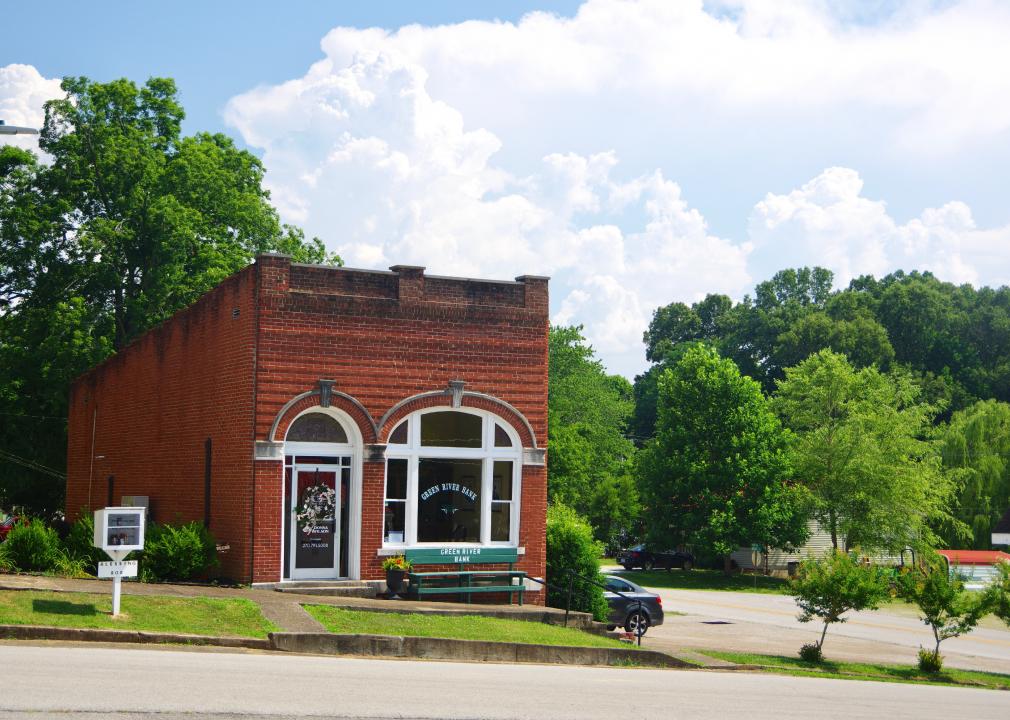 Brian Stansberry // Wikimedia Commons
#37. Butler County
– Percent of residents that are veterans: 6.8% (672 veterans)
– Veterans by war:
— World War II: 49
— Korean War: 54
— Vietnam era: 393
— Gulf War (8/1990 to 8/2001): 91
— Gulf War (9/2001 or later): 85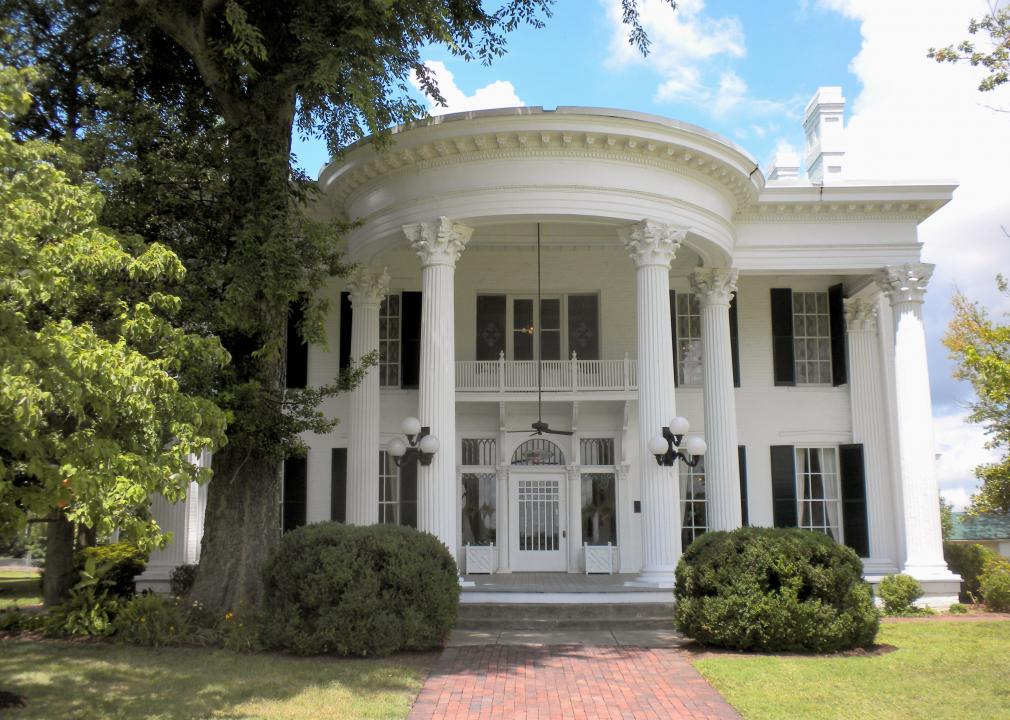 Smallbones // Wikimedia Commons
#36. McCracken County
– Percent of residents that are veterans: 6.8% (3,466 veterans)
– Veterans by war:
— World War II: 135
— Korean War: 347
— Vietnam era: 1,623
— Gulf War (8/1990 to 8/2001): 795
— Gulf War (9/2001 or later): 566
You may also like: Counties with the most college graduates in Kentucky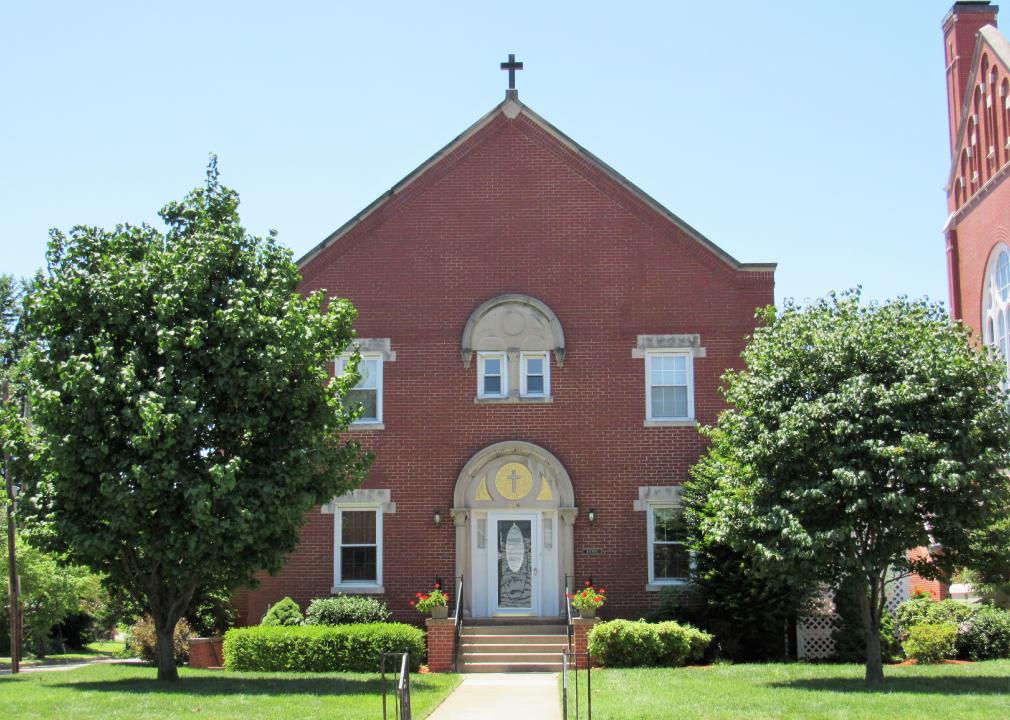 Farragutful // Wikimedia Commons
#35. Daviess County
– Percent of residents that are veterans: 6.9% (5,216 veterans)
– Veterans by war:
— World War II: 156
— Korean War: 549
— Vietnam era: 2,537
— Gulf War (8/1990 to 8/2001): 1,139
— Gulf War (9/2001 or later): 835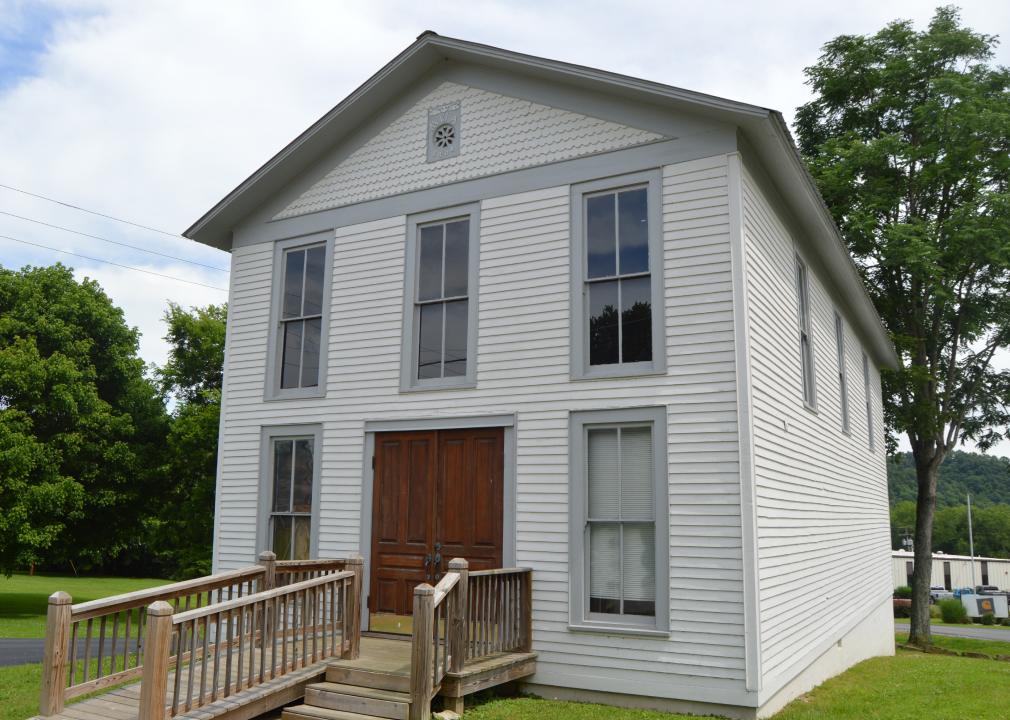 Nyttend // Wikimedia Commons
#34. Cumberland County
– Percent of residents that are veterans: 6.9% (360 veterans)
– Veterans by war:
— World War II: 7
— Korean War: 22
— Vietnam era: 201
— Gulf War (8/1990 to 8/2001): 77
— Gulf War (9/2001 or later): 53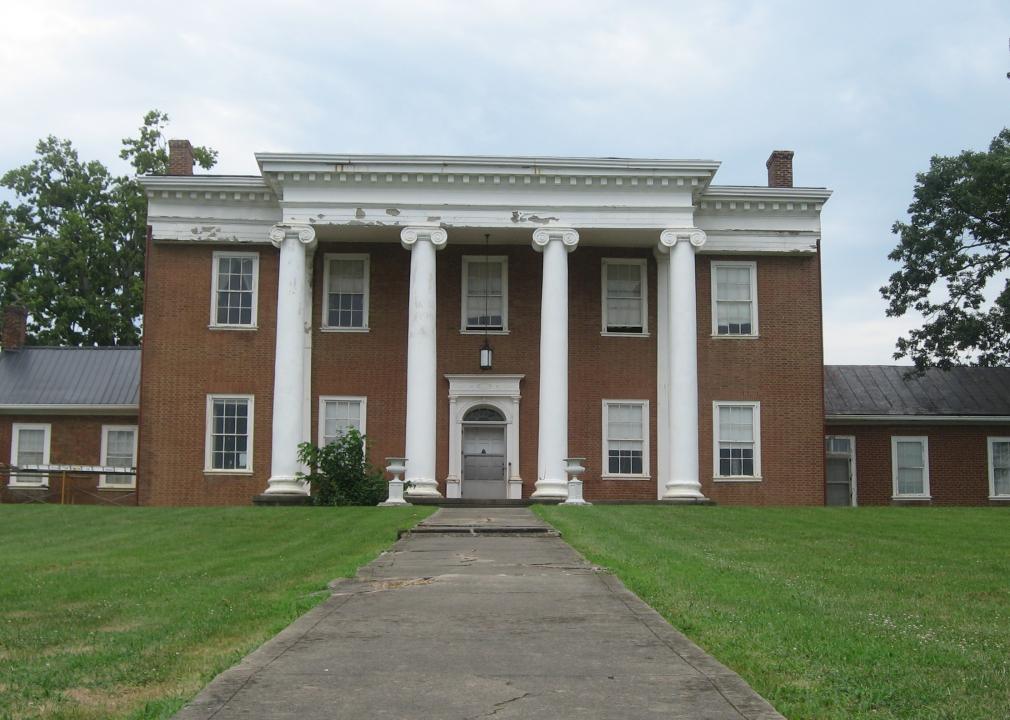 Nyttend // Wikimedia Commons
#33. Mercer County
– Percent of residents that are veterans: 6.9% (1,158 veterans)
– Veterans by war:
— World War II: 79
— Korean War: 127
— Vietnam era: 521
— Gulf War (8/1990 to 8/2001): 208
— Gulf War (9/2001 or later): 223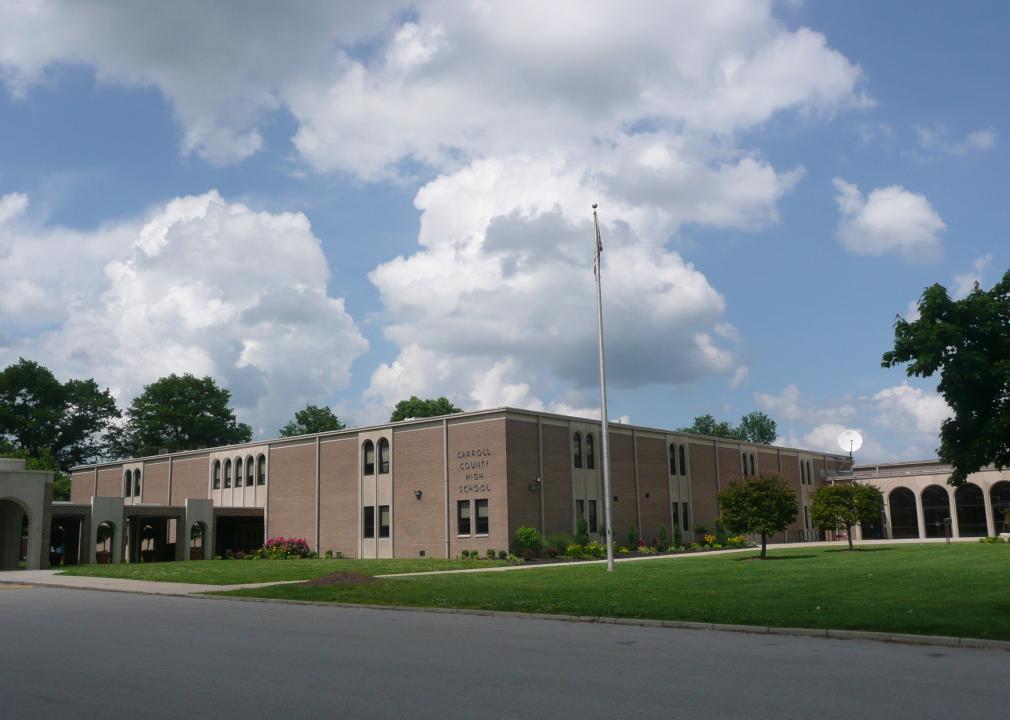 Smceuen // Wikimedia Commons
#32. Carroll County
– Percent of residents that are veterans: 7.0% (552 veterans)
– Veterans by war:
— World War II: 0
— Korean War: 9
— Vietnam era: 266
— Gulf War (8/1990 to 8/2001): 111
— Gulf War (9/2001 or later): 166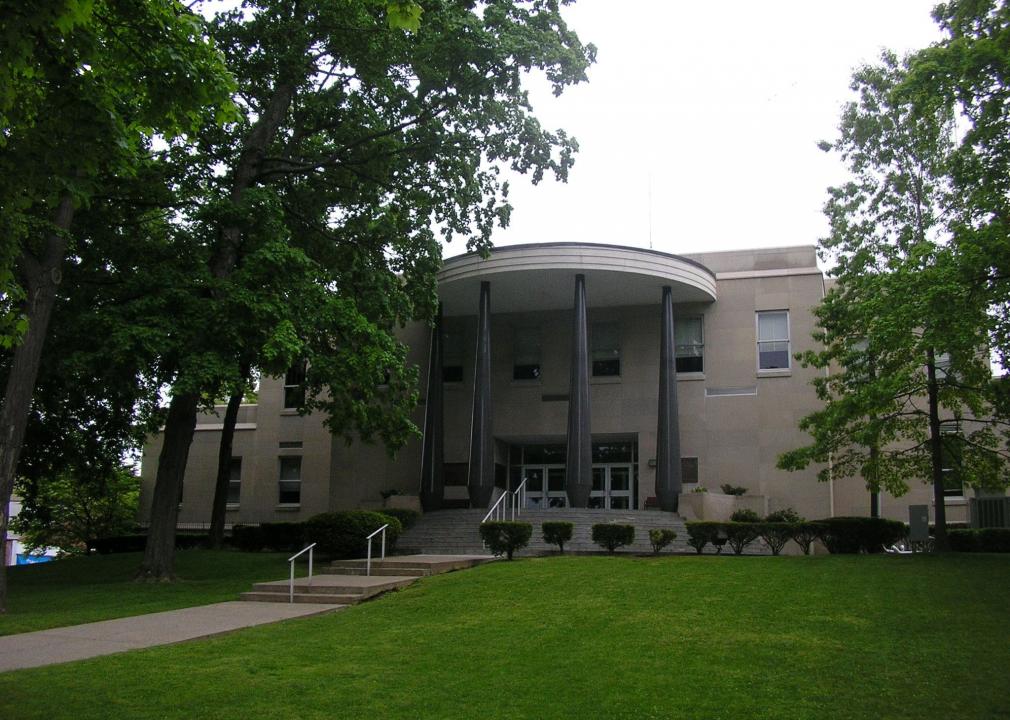 w.marsh // Wikimedia Commons
#31. Henderson County
– Percent of residents that are veterans: 7.0% (2,489 veterans)
– Veterans by war:
— World War II: 145
— Korean War: 241
— Vietnam era: 1,158
— Gulf War (8/1990 to 8/2001): 537
— Gulf War (9/2001 or later): 408
You may also like: Counties with the most super commuters in Kentucky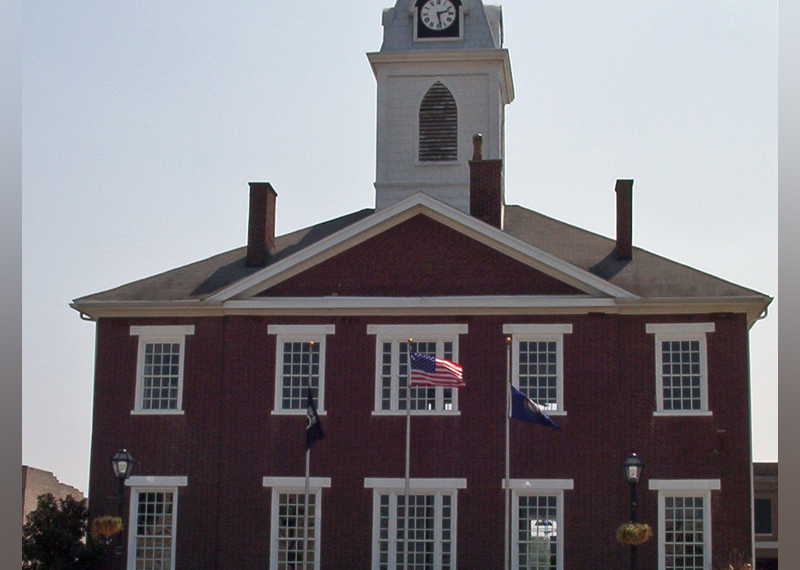 Acdixon // Wikimedia Commons
#30. Todd County
– Percent of residents that are veterans: 7.1% (641 veterans)
– Veterans by war:
— World War II: 12
— Korean War: 31
— Vietnam era: 354
— Gulf War (8/1990 to 8/2001): 145
— Gulf War (9/2001 or later): 99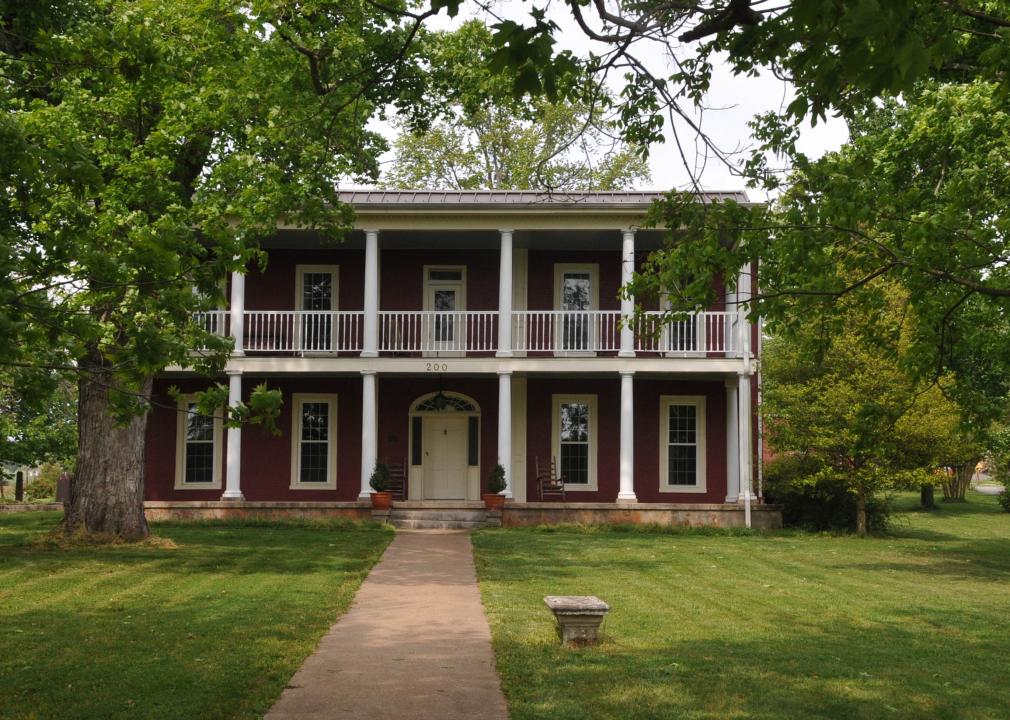 JERRYE & ROY KLOTZ MD // Wikimedia Commons
#29. Hart County
– Percent of residents that are veterans: 7.1% (1,004 veterans)
– Veterans by war:
— World War II: 13
— Korean War: 29
— Vietnam era: 478
— Gulf War (8/1990 to 8/2001): 272
— Gulf War (9/2001 or later): 212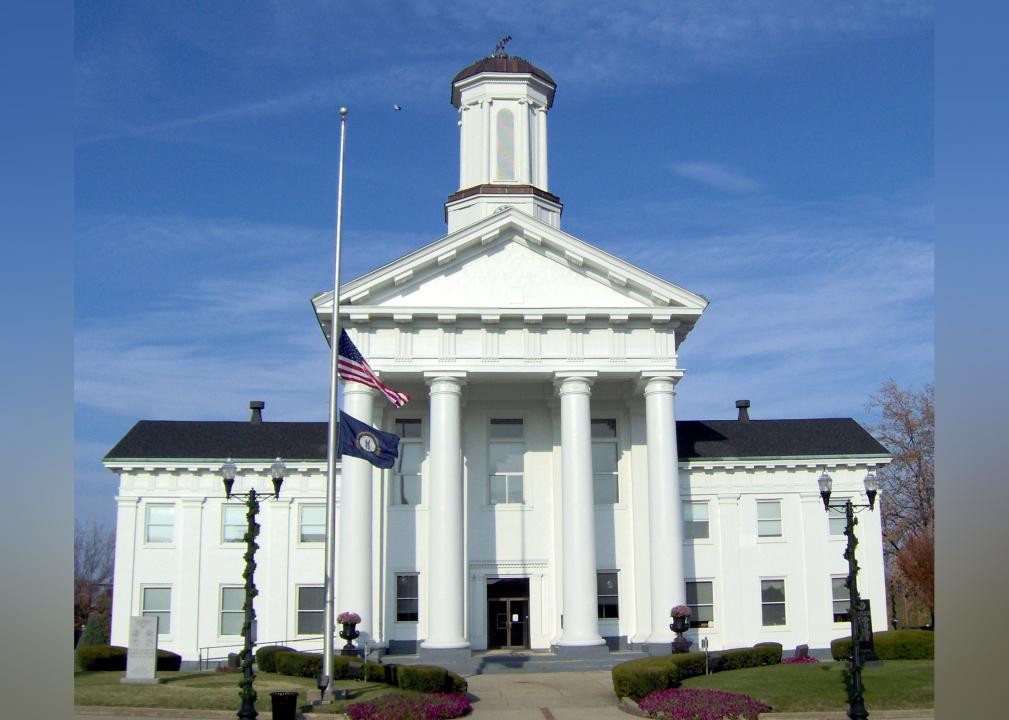 FloNight (Sydney Poore) and Russell Poore // Wikimedia Commons
#28. Madison County
– Percent of residents that are veterans: 7.2% (5,188 veterans)
– Veterans by war:
— World War II: 133
— Korean War: 369
— Vietnam era: 1,657
— Gulf War (8/1990 to 8/2001): 1,648
— Gulf War (9/2001 or later): 1,381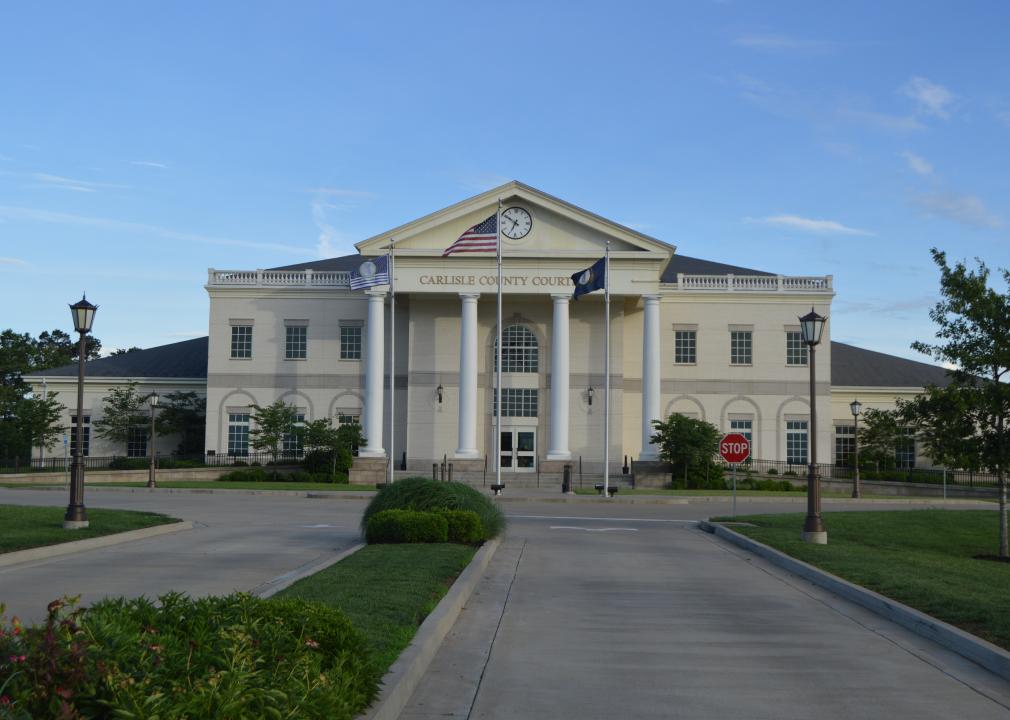 Nyttend // Wikimedia Commons
#27. Carlisle County
– Percent of residents that are veterans: 7.2% (267 veterans)
– Veterans by war:
— World War II: 8
— Korean War: 12
— Vietnam era: 130
— Gulf War (8/1990 to 8/2001): 67
— Gulf War (9/2001 or later): 50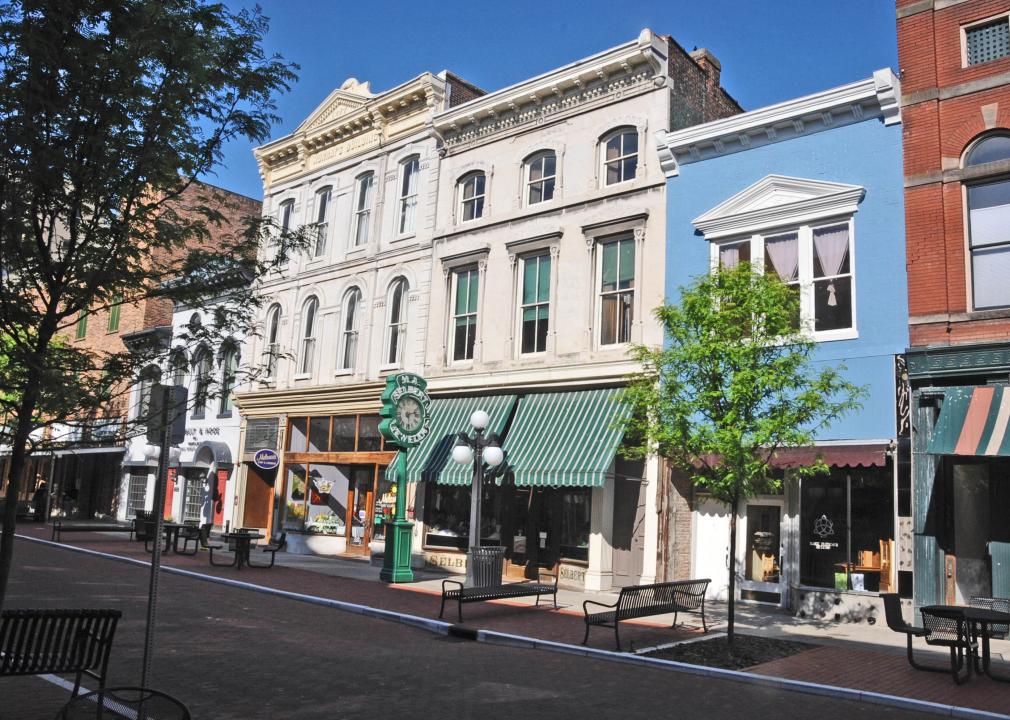 JERRYE & ROY KLOTZ MD // Wikimedia Commons
#26. Franklin County
– Percent of residents that are veterans: 7.2% (2,891 veterans)
– Veterans by war:
— World War II: 169
— Korean War: 275
— Vietnam era: 1,312
— Gulf War (8/1990 to 8/2001): 716
— Gulf War (9/2001 or later): 419
You may also like: Fastest-growing counties in Kentucky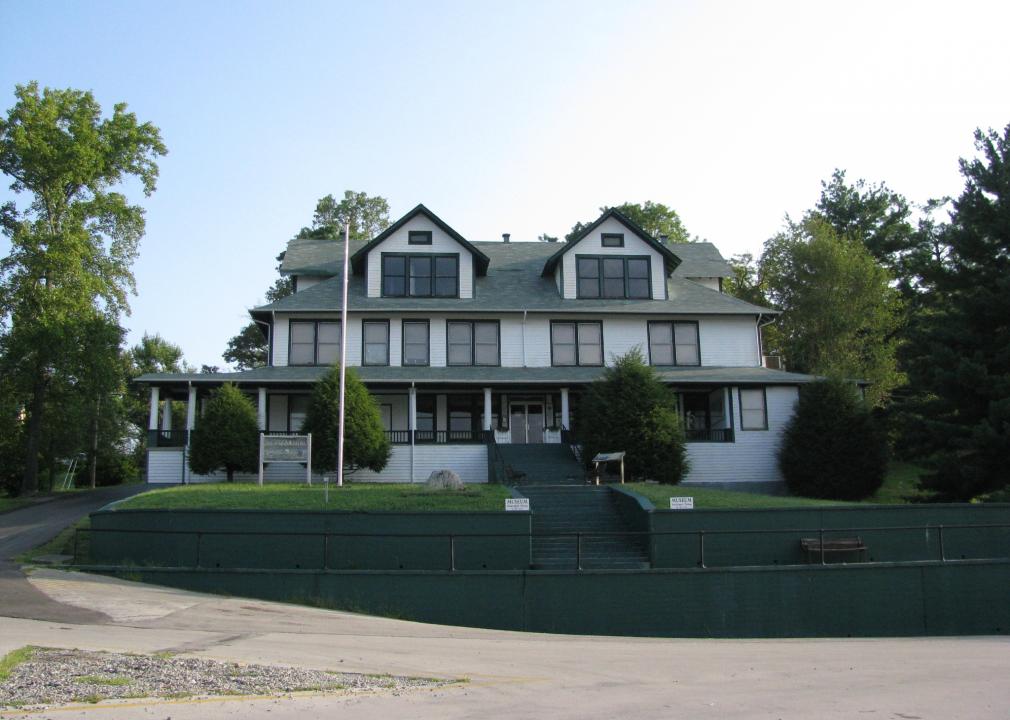 Kybluegrass // Wikimedia Commons
#25. McCreary County
– Percent of residents that are veterans: 7.3% (980 veterans)
– Veterans by war:
— World War II: 40
— Korean War: 22
— Vietnam era: 507
— Gulf War (8/1990 to 8/2001): 210
— Gulf War (9/2001 or later): 201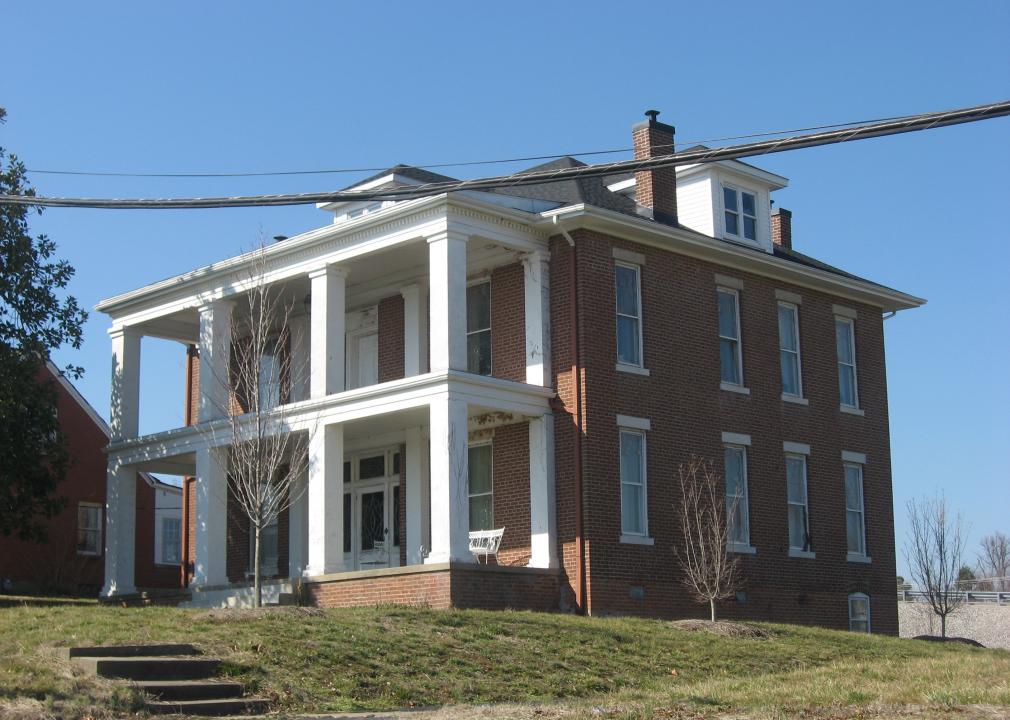 Nyttend // Wikimedia Commons
#24. McLean County
– Percent of residents that are veterans: 7.3% (515 veterans)
– Veterans by war:
— World War II: 29
— Korean War: 51
— Vietnam era: 279
— Gulf War (8/1990 to 8/2001): 123
— Gulf War (9/2001 or later): 33
W.marsh // Wikimedia Commons
#23. Oldham County
– Percent of residents that are veterans: 7.3% (3,593 veterans)
– Veterans by war:
— World War II: 101
— Korean War: 148
— Vietnam era: 1,242
— Gulf War (8/1990 to 8/2001): 1,111
— Gulf War (9/2001 or later): 991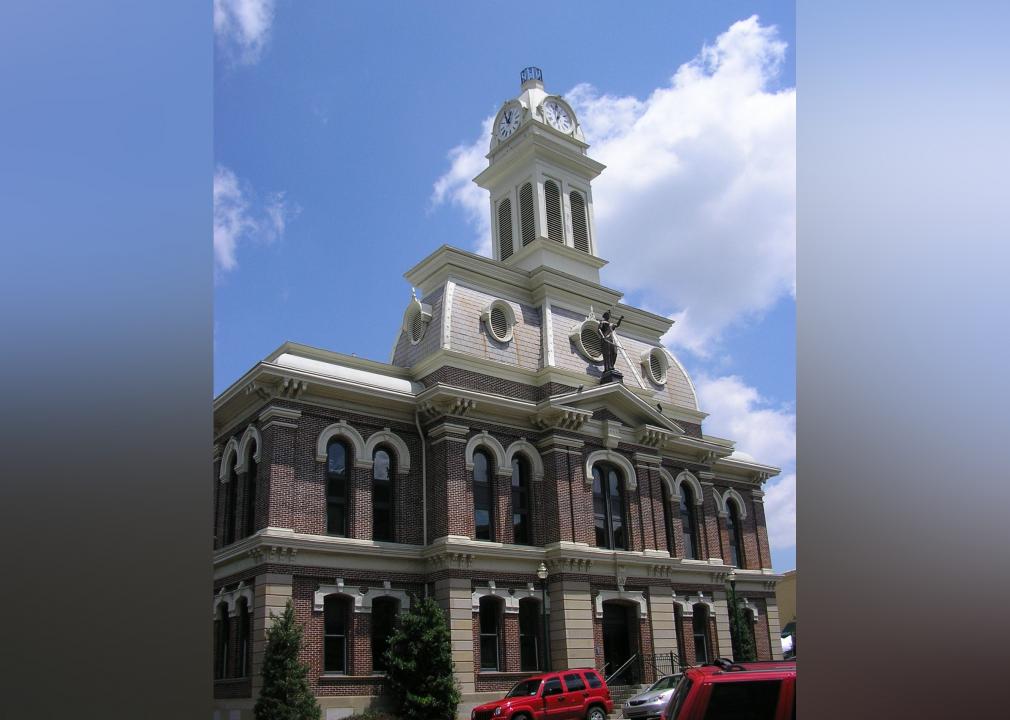 W.marsh // Wikimedia Commons
#22. Scott County
– Percent of residents that are veterans: 7.3% (2,993 veterans)
– Veterans by war:
— World War II: 64
— Korean War: 191
— Vietnam era: 1,173
— Gulf War (8/1990 to 8/2001): 757
— Gulf War (9/2001 or later): 808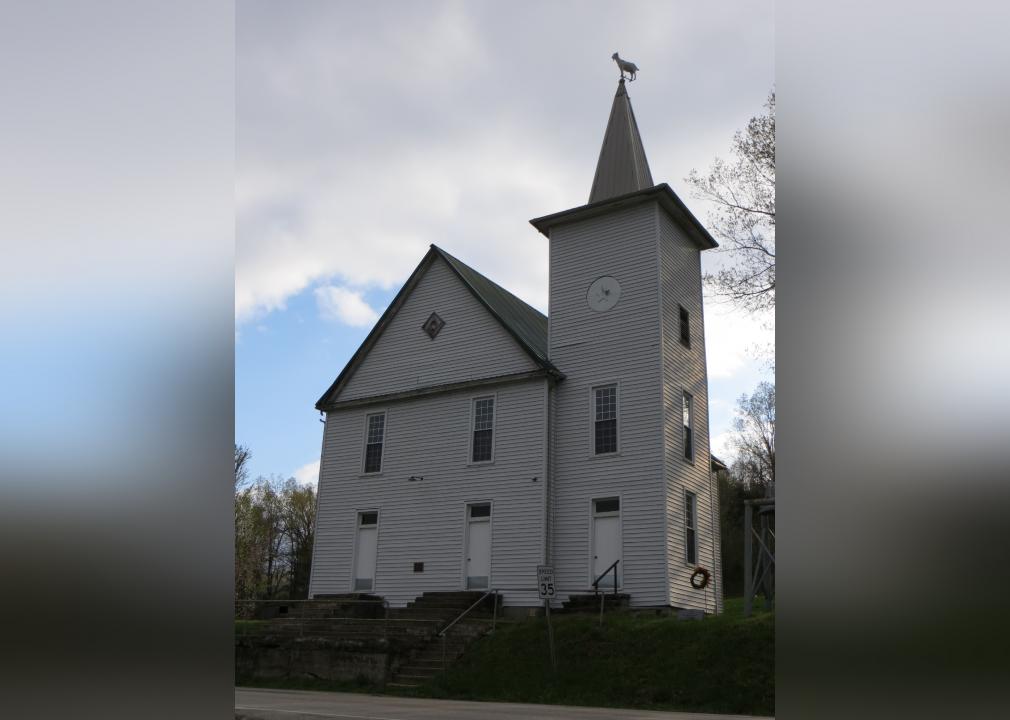 Joel Bradshaw // Wikimedia Commons
#21. Ohio County
– Percent of residents that are veterans: 7.4% (1,331 veterans)
– Veterans by war:
— World War II: 16
— Korean War: 114
— Vietnam era: 553
— Gulf War (8/1990 to 8/2001): 350
— Gulf War (9/2001 or later): 298
You may also like: Recipes from Kentucky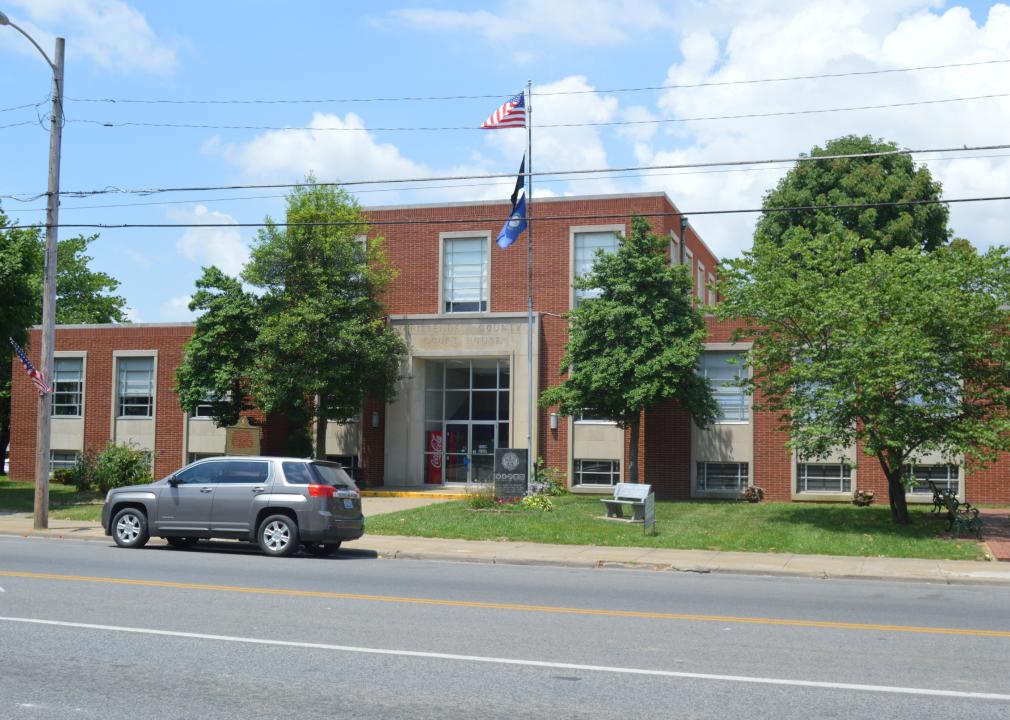 Nyttend // Wikimedia Commons
#20. Crittenden County
– Percent of residents that are veterans: 7.6% (527 veterans)
– Veterans by war:
— World War II: 8
— Korean War: 82
— Vietnam era: 283
— Gulf War (8/1990 to 8/2001): 63
— Gulf War (9/2001 or later): 91
W.marsh // Wikimedia Commons
#19. Boone County
– Percent of residents that are veterans: 7.6% (7,311 veterans)
– Veterans by war:
— World War II: 191
— Korean War: 512
— Vietnam era: 3,091
— Gulf War (8/1990 to 8/2001): 1,826
— Gulf War (9/2001 or later): 1,691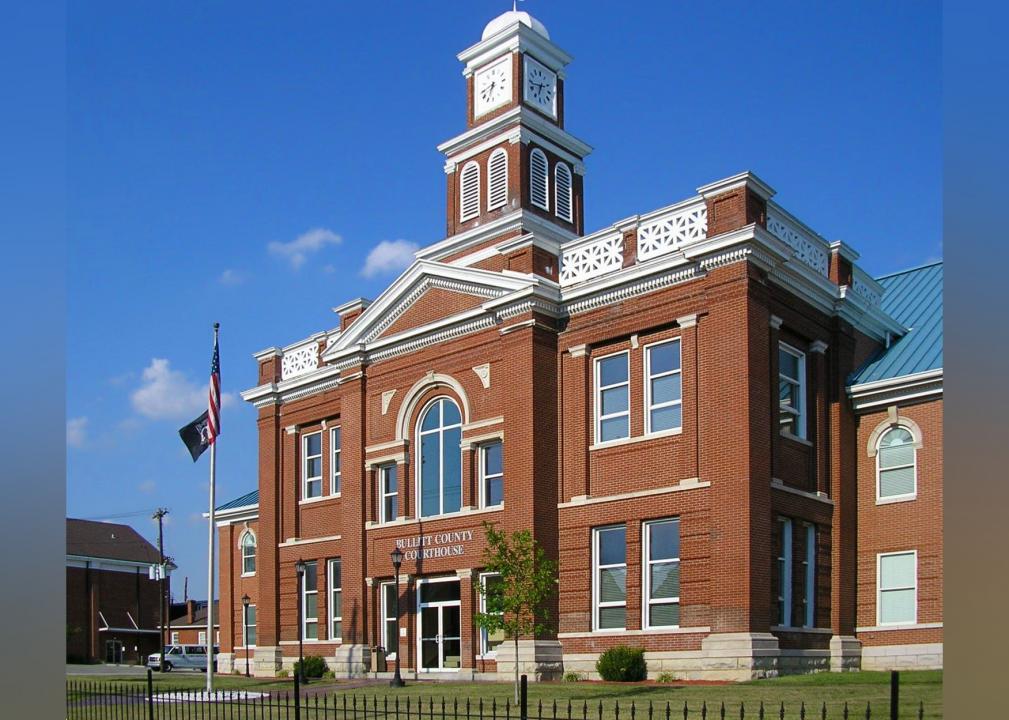 W.marsh // Wikimedia Commons
#18. Bullitt County
– Percent of residents that are veterans: 7.8% (4,839 veterans)
– Veterans by war:
— World War II: 177
— Korean War: 247
— Vietnam era: 1,975
— Gulf War (8/1990 to 8/2001): 1,260
— Gulf War (9/2001 or later): 1,180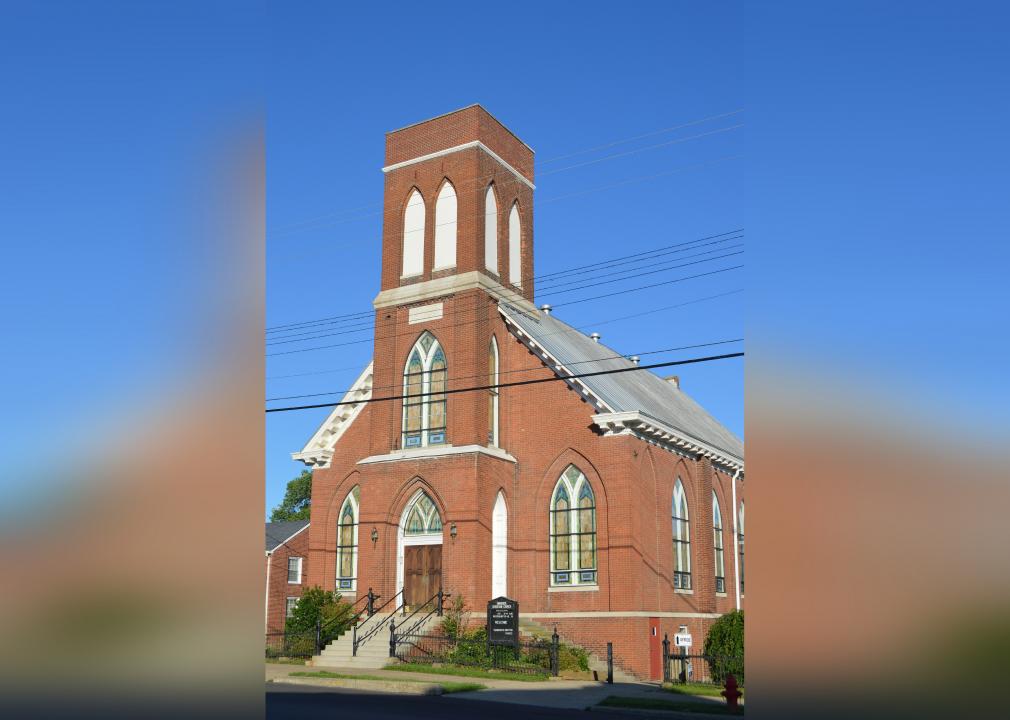 Nyttend // Wikimedia Commons
#17. Henry County
– Percent of residents that are veterans: 7.8% (944 veterans)
– Veterans by war:
— World War II: 40
— Korean War: 42
— Vietnam era: 533
— Gulf War (8/1990 to 8/2001): 208
— Gulf War (9/2001 or later): 121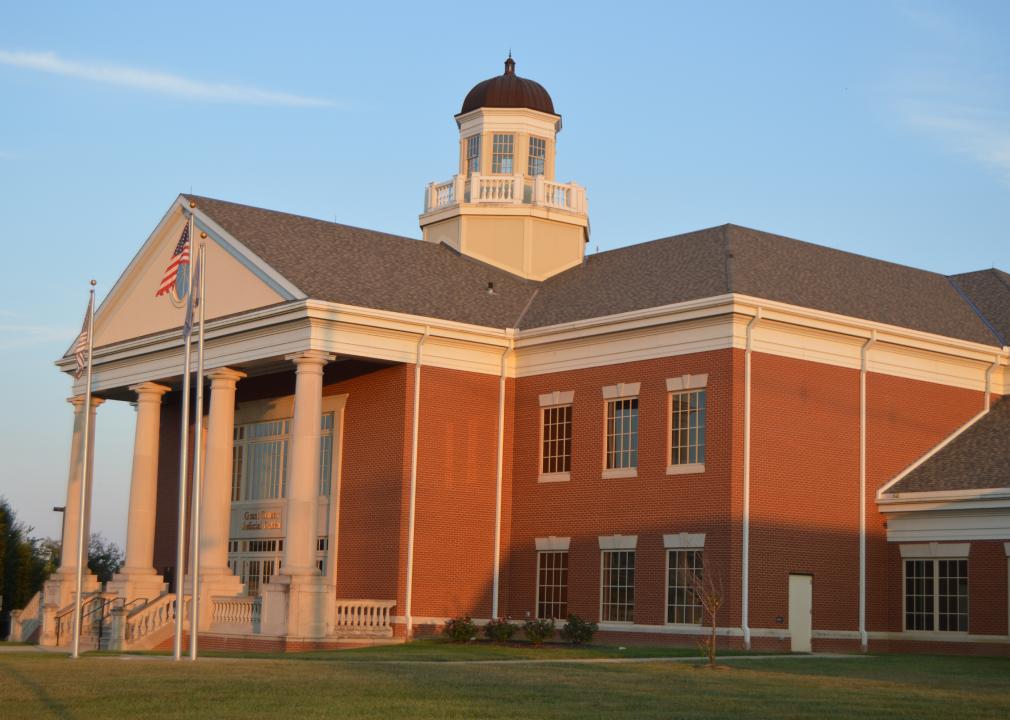 Nyttend // Wikimedia Commons
#16. Grant County
– Percent of residents that are veterans: 7.8% (1,433 veterans)
– Veterans by war:
— World War II: 42
— Korean War: 125
— Vietnam era: 543
— Gulf War (8/1990 to 8/2001): 322
— Gulf War (9/2001 or later): 401
You may also like: Highest-rated specialty museums in Kentucky, according to Tripadvisor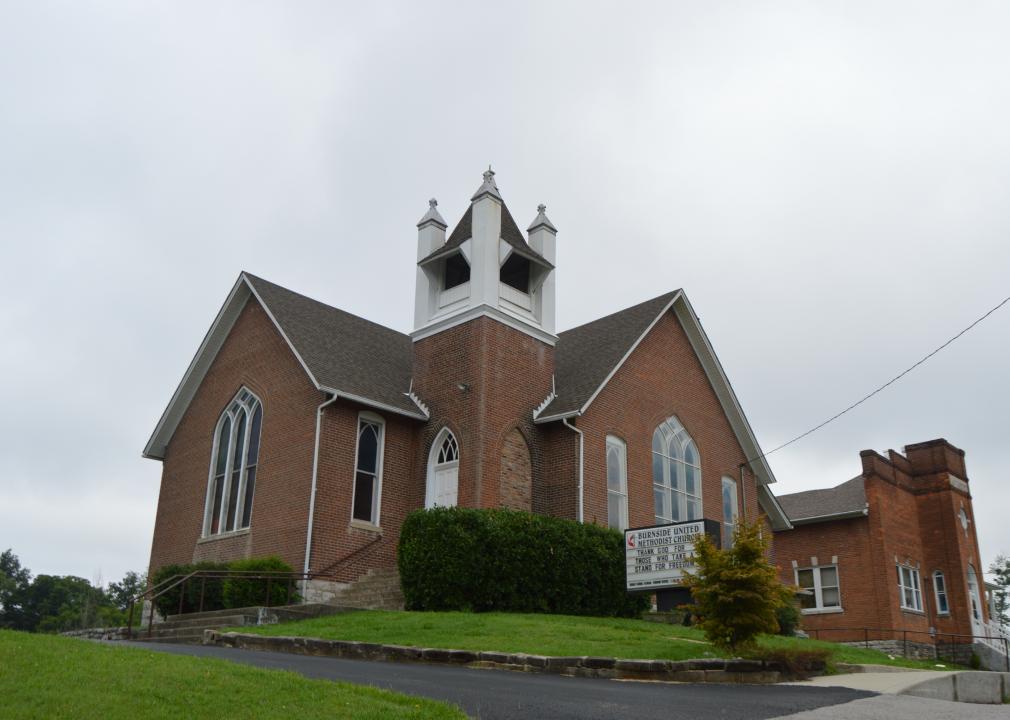 Nyttend // Wikimedia Commons
#15. Pulaski County
– Percent of residents that are veterans: 8.1% (4,037 veterans)
– Veterans by war:
— World War II: 112
— Korean War: 324
— Vietnam era: 2,004
— Gulf War (8/1990 to 8/2001): 952
— Gulf War (9/2001 or later): 645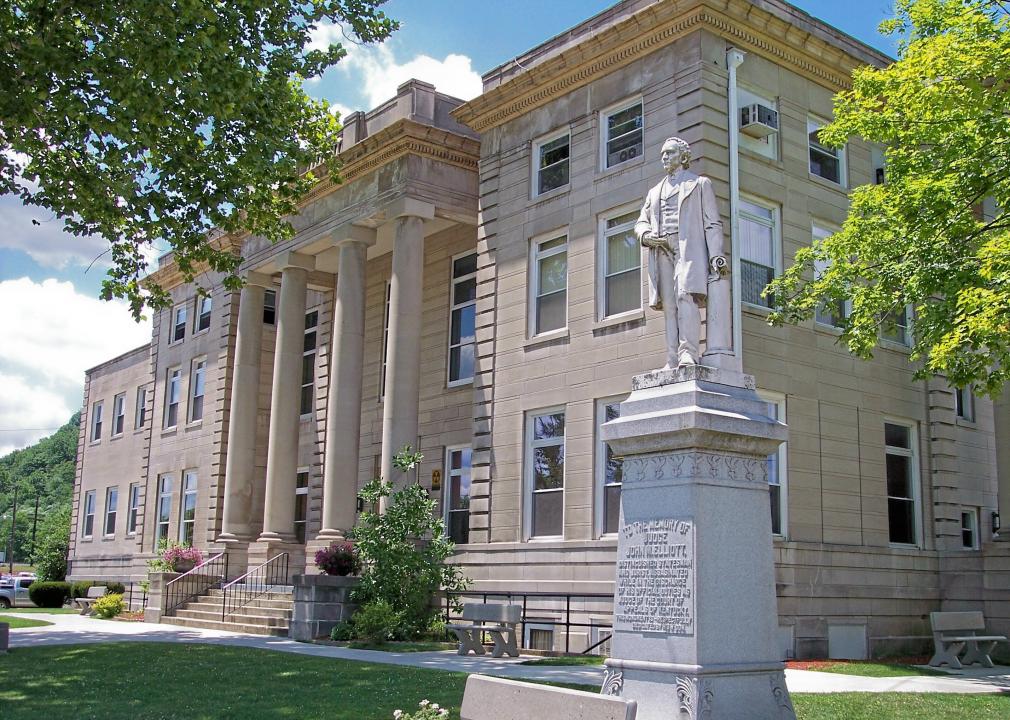 w:User:Malepheasant // Wikimedia Commons
#14. Boyd County
– Percent of residents that are veterans: 8.1% (3,043 veterans)
– Veterans by war:
— World War II: 140
— Korean War: 217
— Vietnam era: 1,271
— Gulf War (8/1990 to 8/2001): 869
— Gulf War (9/2001 or later): 546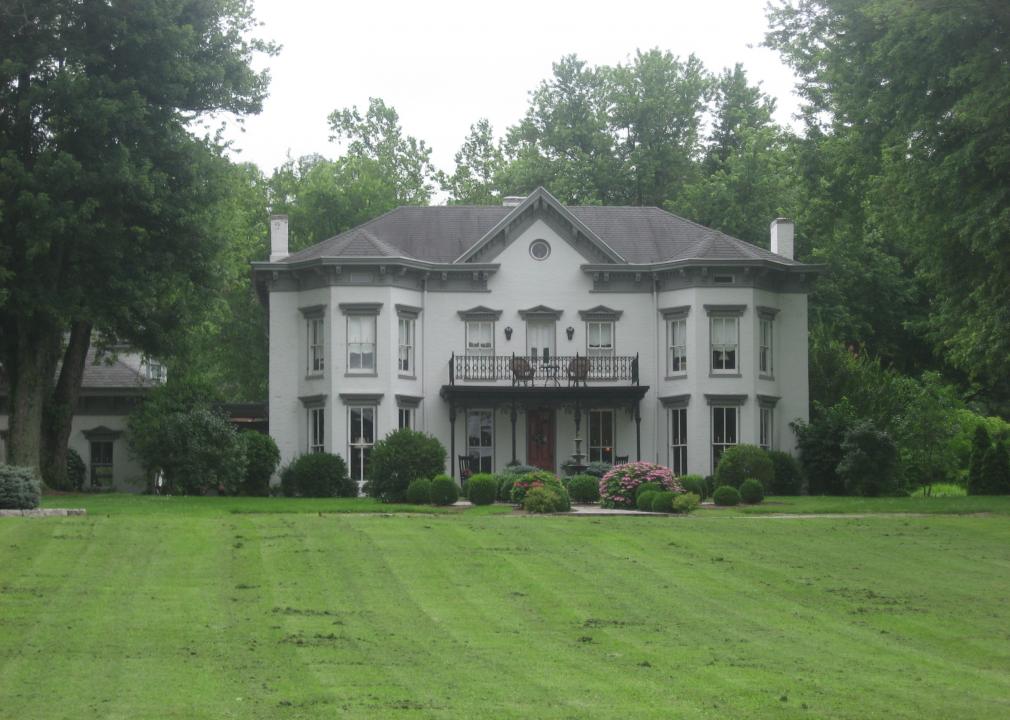 Nyttend // Wikimedia Commons
#13. Trimble County
– Percent of residents that are veterans: 8.2% (546 veterans)
– Veterans by war:
— World War II: 4
— Korean War: 27
— Vietnam era: 271
— Gulf War (8/1990 to 8/2001): 134
— Gulf War (9/2001 or later): 110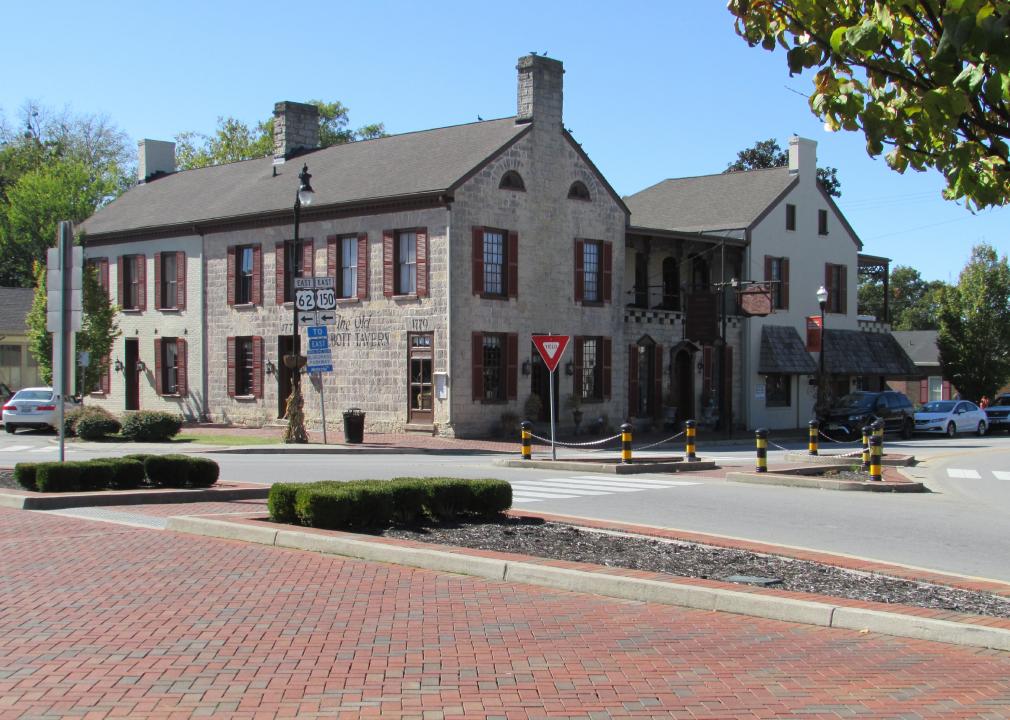 Chris Light // Wikimedia Commons
#12. Nelson County
– Percent of residents that are veterans: 8.3% (2,870 veterans)
– Veterans by war:
— World War II: 37
— Korean War: 177
— Vietnam era: 1,348
— Gulf War (8/1990 to 8/2001): 825
— Gulf War (9/2001 or later): 483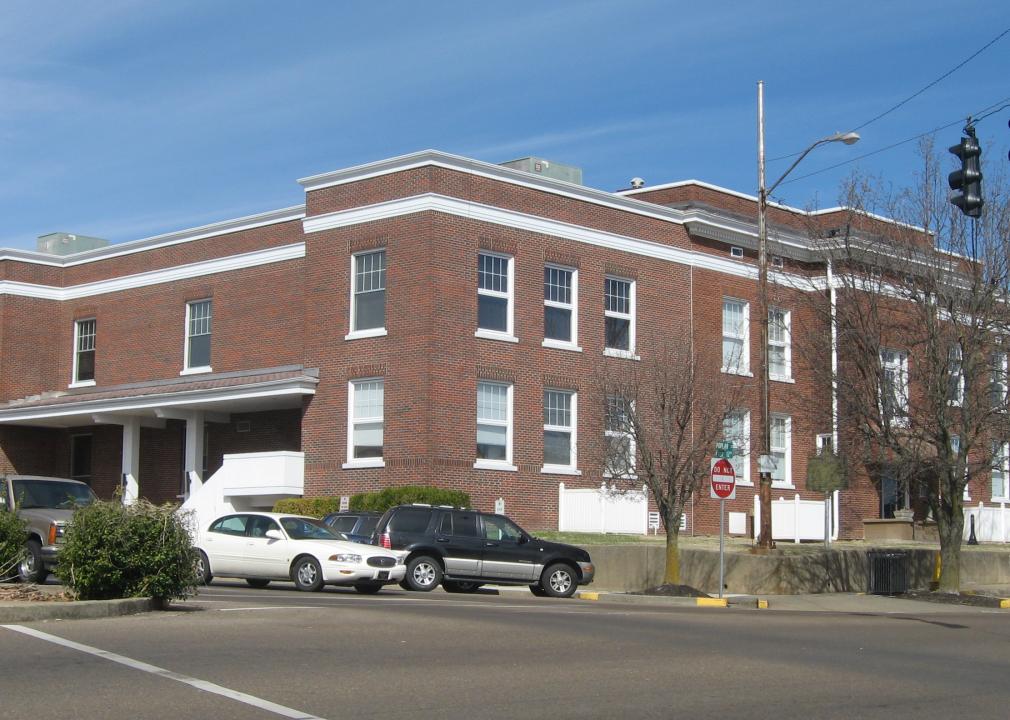 Nyttend // Wikimedia Commons
#11. Marshall County
– Percent of residents that are veterans: 8.4% (2,087 veterans)
– Veterans by war:
— World War II: 44
— Korean War: 215
— Vietnam era: 975
— Gulf War (8/1990 to 8/2001): 407
— Gulf War (9/2001 or later): 446
You may also like: Where people in Kentucky are moving to most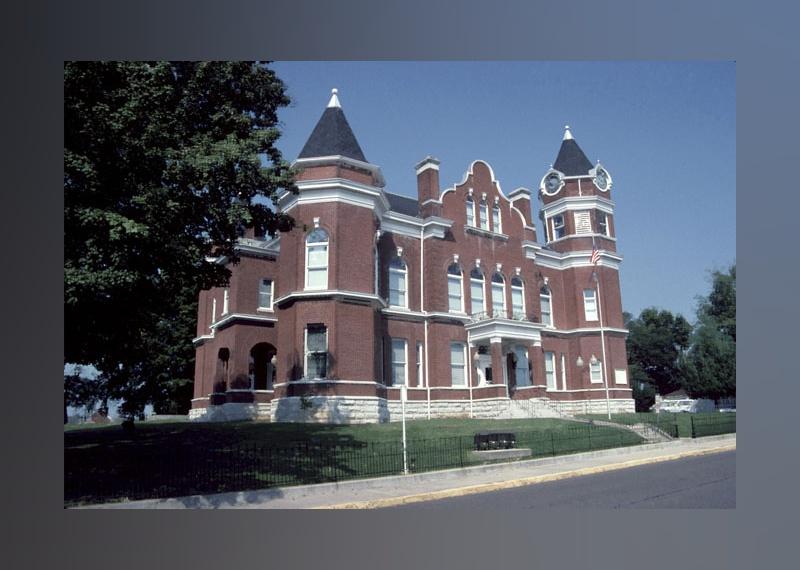 Calvin Beale // Wikimedia Commons
#10. Fulton County
– Percent of residents that are veterans: 8.5% (403 veterans)
– Veterans by war:
— World War II: 13
— Korean War: 23
— Vietnam era: 145
— Gulf War (8/1990 to 8/2001): 106
— Gulf War (9/2001 or later): 116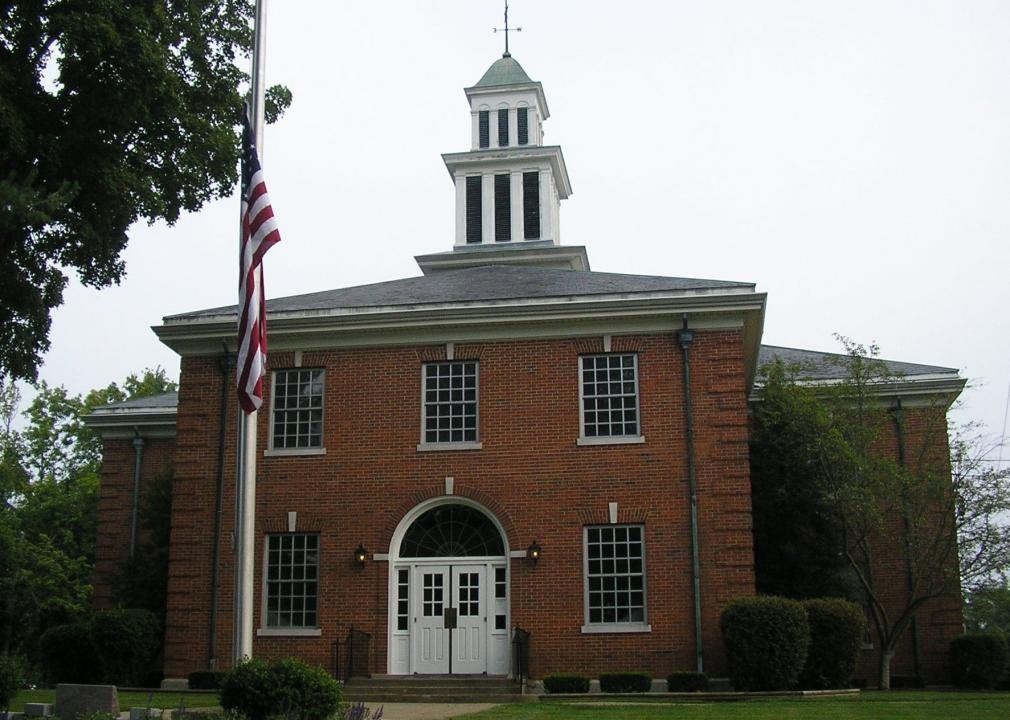 W.marsh // Wikimedia Commons
#9. Larue County
– Percent of residents that are veterans: 8.6% (946 veterans)
– Veterans by war:
— World War II: 32
— Korean War: 33
— Vietnam era: 450
— Gulf War (8/1990 to 8/2001): 342
— Gulf War (9/2001 or later): 89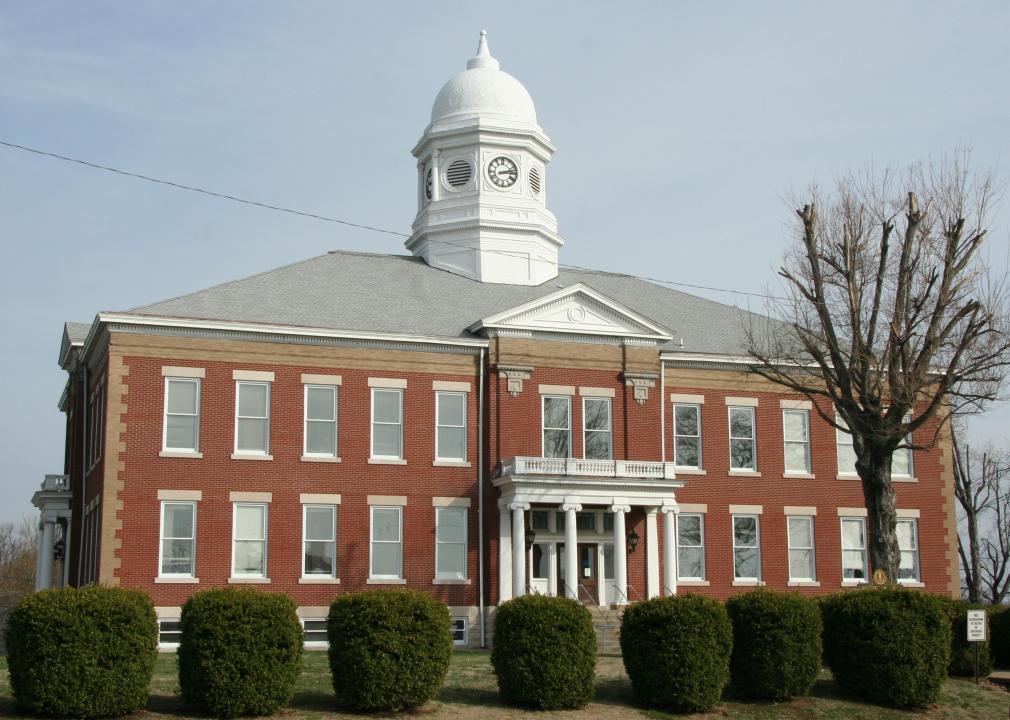 Jonathunder // Wikimedia Commons
#8. Ballard County
– Percent of residents that are veterans: 8.8% (553 veterans)
– Veterans by war:
— World War II: 28
— Korean War: 41
— Vietnam era: 259
— Gulf War (8/1990 to 8/2001): 94
— Gulf War (9/2001 or later): 131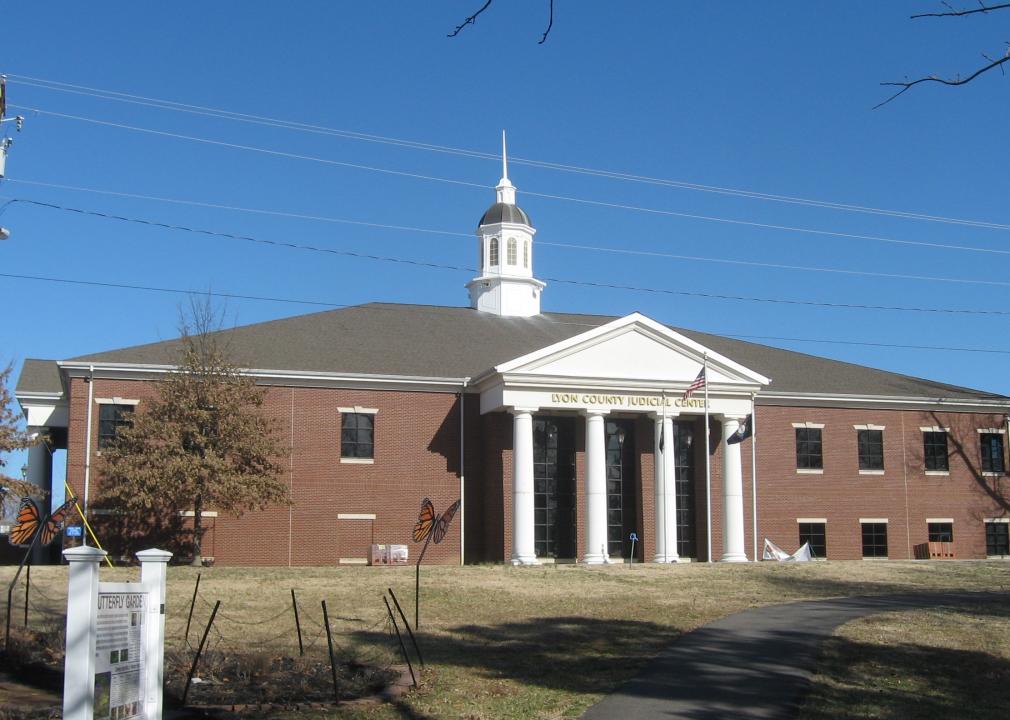 Nyttend // Wikimedia Commons
#7. Lyon County
– Percent of residents that are veterans: 8.9% (636 veterans)
– Veterans by war:
— World War II: 7
— Korean War: 37
— Vietnam era: 335
— Gulf War (8/1990 to 8/2001): 192
— Gulf War (9/2001 or later): 65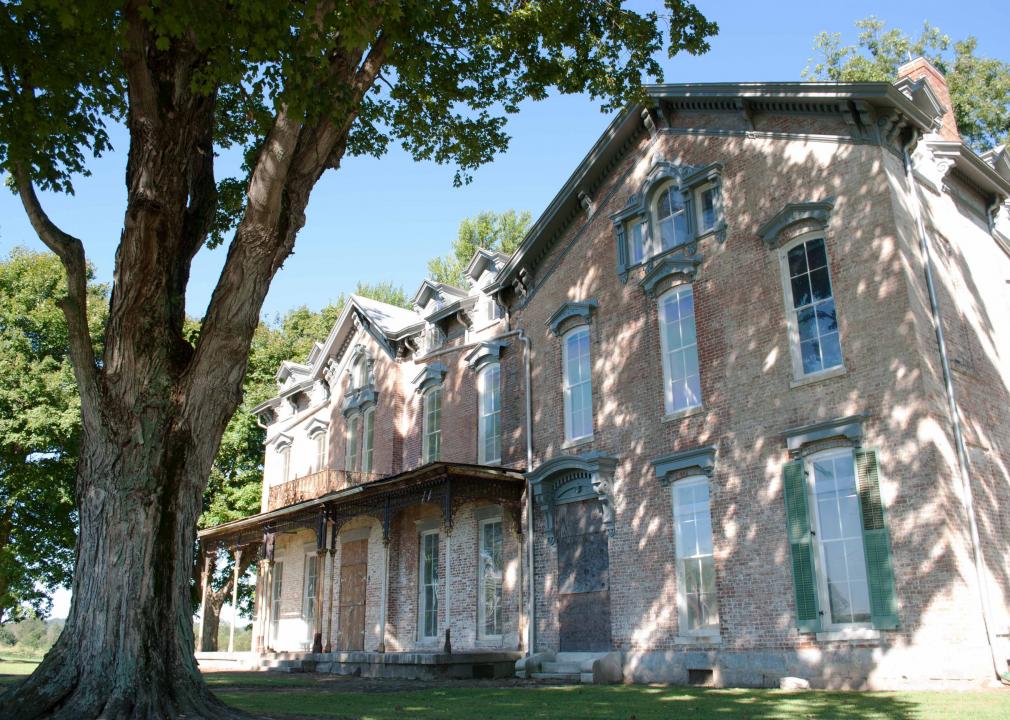 Hunter Hawley // Wikimedia Commons
#6. Breckinridge County
– Percent of residents that are veterans: 9.2% (1,437 veterans)
– Veterans by war:
— World War II: 6
— Korean War: 90
— Vietnam era: 771
— Gulf War (8/1990 to 8/2001): 360
— Gulf War (9/2001 or later): 210
You may also like: Highest-rated things to do in Kentucky, according to Tripadvisor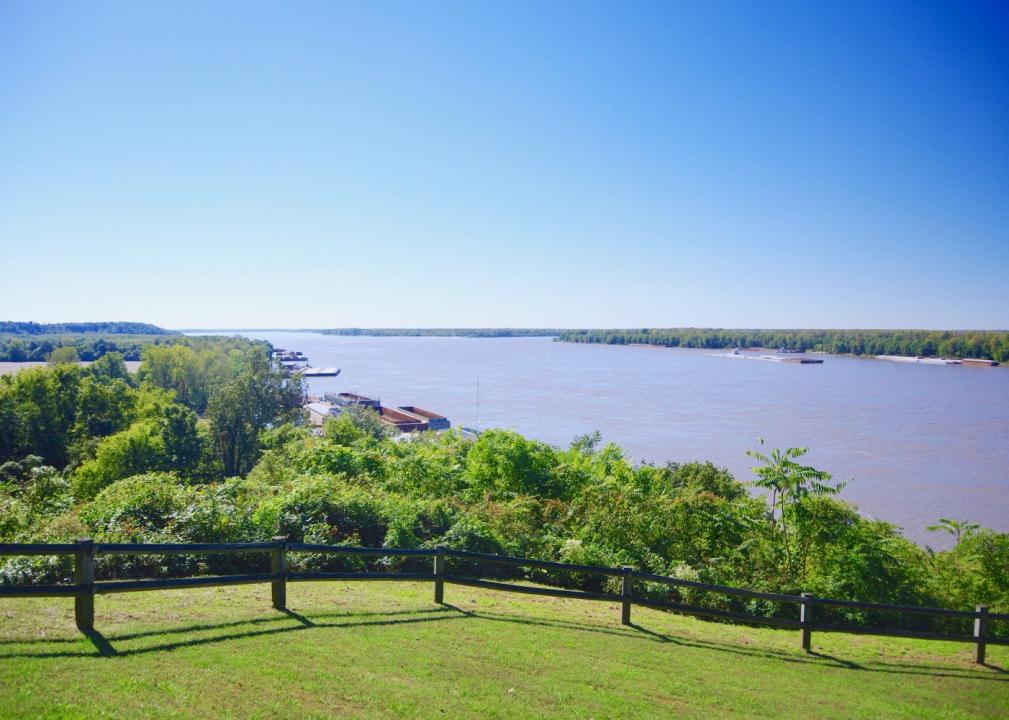 Brian Stansberry // Wikimedia Commons
#5. Hickman County
– Percent of residents that are veterans: 11.4% (414 veterans)
– Veterans by war:
— World War II: 4
— Korean War: 92
— Vietnam era: 169
— Gulf War (8/1990 to 8/2001): 78
— Gulf War (9/2001 or later): 71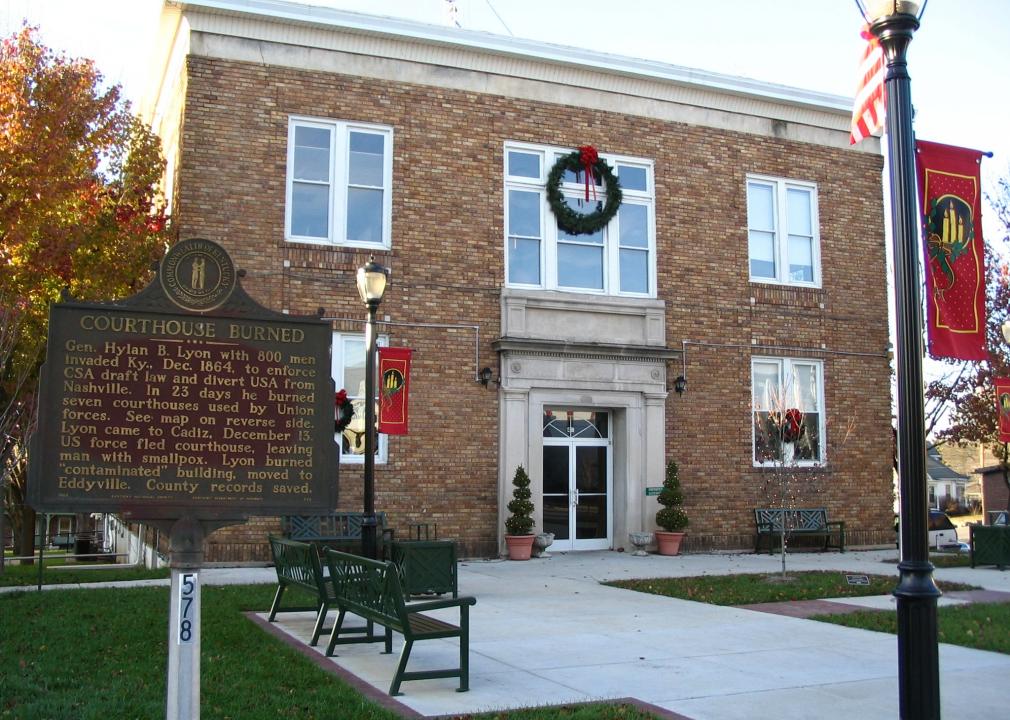 Dcoetzee // Wikimedia Commons
#4. Trigg County
– Percent of residents that are veterans: 12.9% (1,444 veterans)
– Veterans by war:
— World War II: 14
— Korean War: 86
— Vietnam era: 638
— Gulf War (8/1990 to 8/2001): 307
— Gulf War (9/2001 or later): 399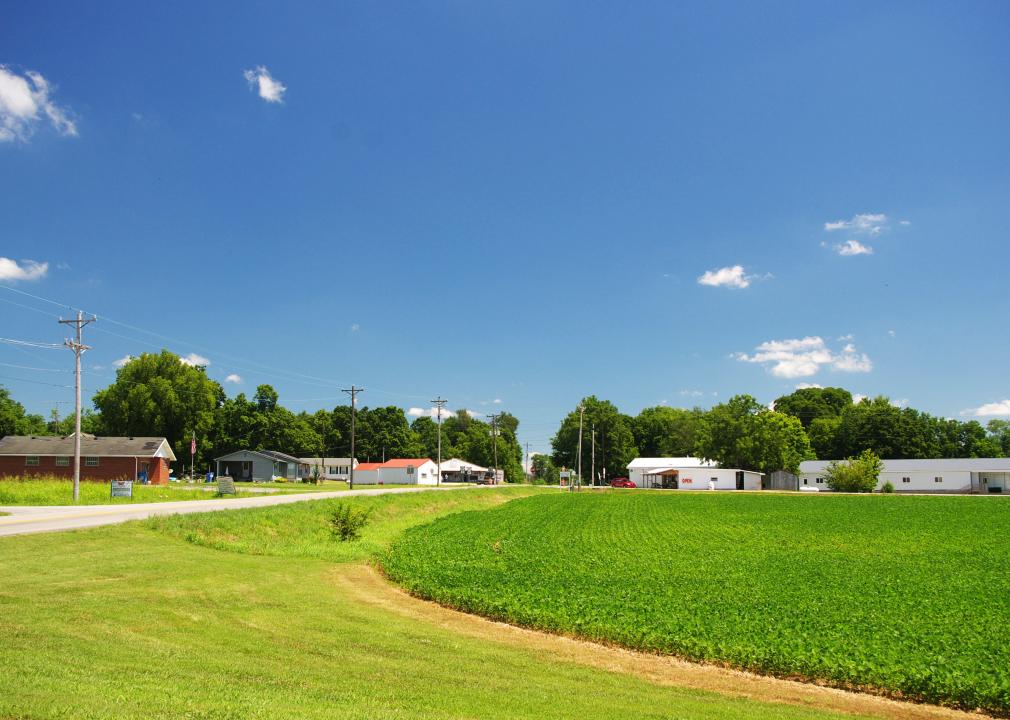 Brian Stansberry // Wikimedia Commons
#3. Christian County
– Percent of residents that are veterans: 13.1% (5,786 veterans)
– Veterans by war:
— World War II: 40
— Korean War: 335
— Vietnam era: 1,574
— Gulf War (8/1990 to 8/2001): 1,554
— Gulf War (9/2001 or later): 2,283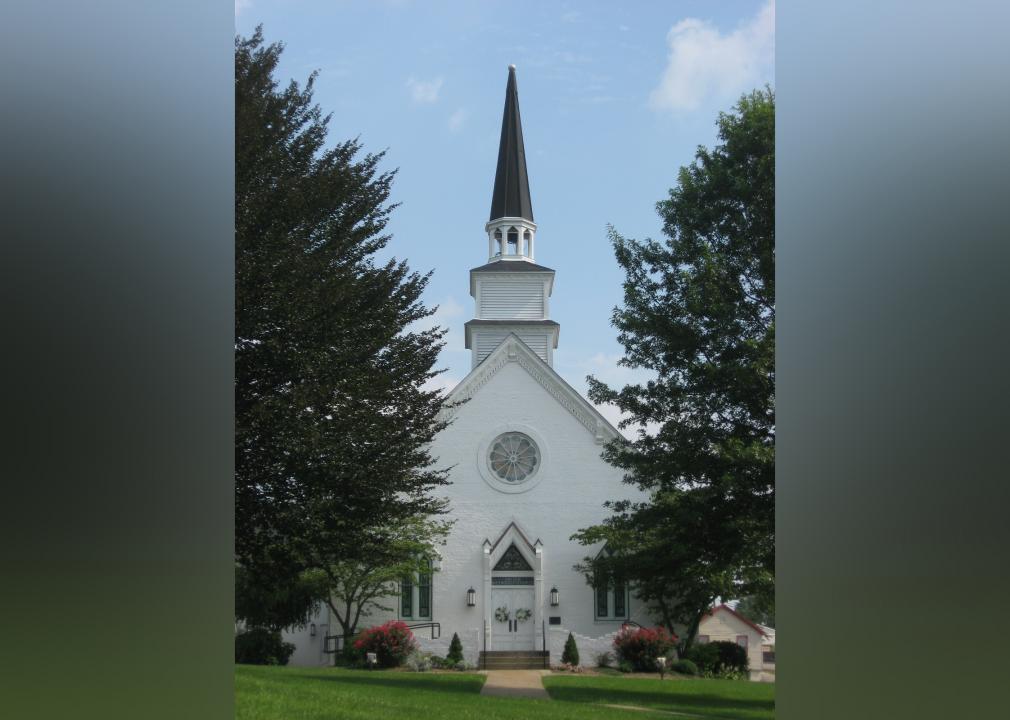 Nyttend // Wikimedia Commons
#2. Meade County
– Percent of residents that are veterans: 17.5% (3,670 veterans)
– Veterans by war:
— World War II: 29
— Korean War: 122
— Vietnam era: 1,095
— Gulf War (8/1990 to 8/2001): 1,254
— Gulf War (9/2001 or later): 1,170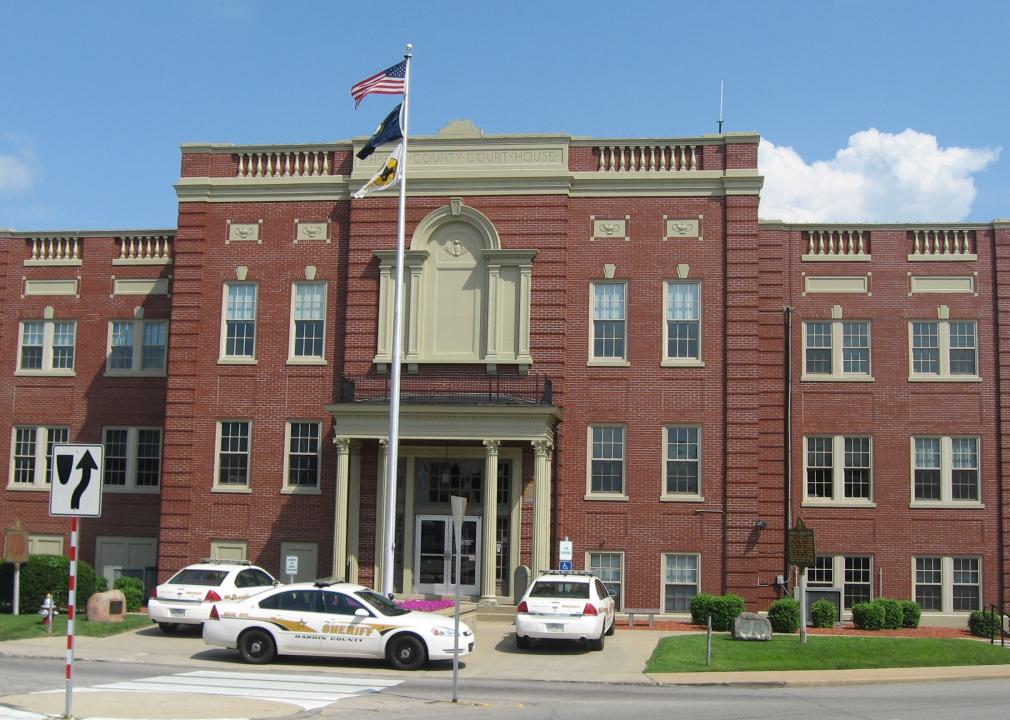 Nyttend // Wikimedia Commons
#1. Hardin County
– Percent of residents that are veterans: 20.8% (16,393 veterans)
– Veterans by war:
— World War II: 182
— Korean War: 467
— Vietnam era: 4,014
— Gulf War (8/1990 to 8/2001): 6,214
— Gulf War (9/2001 or later): 5,516
You may also like: Highest-rated Class of 2021 football recruits from Kentucky